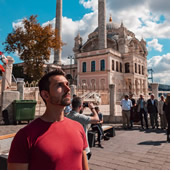 Turkey has some truly amazing places to visit – there are few places that capture the imagination more than Istanbul, where East meets West; the coastline of the Turquoise Coast in the south is stunning and the landscape of Cappadocia is like something from a fantasy novel. Visit the bazaars of Istanbul, do as the Turks do in Izmir and fly in a balloon over the famous fairytale towers of Cappadocia. With Holiday Houseboy guides in all three places your safety and welfare is assured in this Turkey tour. Lots of activities planned to get to know both the traditional and the modern. Have fun and book this once in a lifetime wonderful tour.
Long named as the meeting point between East and West, Turkey is a wild blend of Middle Eastern textures and Islamic culture complimented by European trends and ever-evolving liberal views.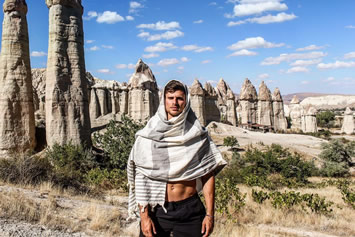 When you think of Turkey you may think of the ornate Ottoman-era mosques rising from Istanbul's pastel skyline or even the enlivening chaos of Ankara's colourful street markets. But to truly discover Turkey, one must veer from the well-worn path, journeying to far-flung ancient ports on the Aegean Sea, floating through the fairy-tale world of Cappadocia and beyond. Discover vast and hidden gay Turkey with us today.
Turkey boasts an extraordinary wealth of history, natural wonders, and culinary discovery. Travelers can visit the ancient port city of Efes, let Cappadocia take their breath away or hike the Lycian way. They can chill on a beach or pack a day full of the sights in Istanbul.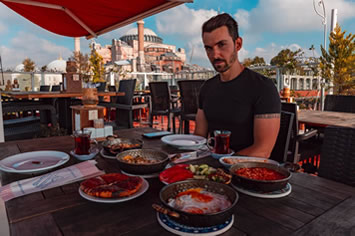 Day 1
Arrival in Istanbul, Turkey
• Warm welcome at Istanbul International Airport (IST)
• Meet Onder our gay friendly guide for Istanbul
• Transfer to your 5 star hotel in Istanbul
• Meet and Greet session at 8 pm in the hotel reception
The city acts as the bridge between Europe and Asia and as such has been heavily inlfuenced by both continents. Istanbul also has a growing gay scene, with a number of gay bars and gay clubs populating its gay districts. The main gay district of Istanbul is Taksim, where gay travelers will find many venues tailored towards gay visitors. Beyoglu is another gay district of the city and is known for being a hub of creativity and art, with many of the residents being trendy, young professionals. In these gay districts, travelers should feel completely at ease and comfortable.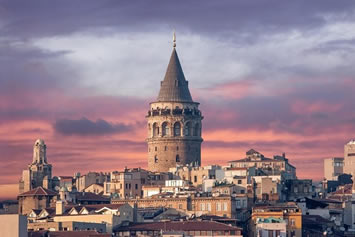 Day 2
Istanbul, Turkey
• Cihangir Walk
A district where caricaturists, painters and actors live in Istanbul, A "bohemia" with its cafes, where debates take place about theater, cinema, literature, and philosophy. This is Cihangir. Cihangir is a neighborhood in the Beyoglu district of Istanbul, Turkey, between Taksim Square and Kabatas. It has many narrow streets, two parks, and many street cafes especially in and around Akarsu Yokusu Sokagi.
• Main Street (Istiklal Caddesi)
Istiklal Avenue historically known as the Grand Avenue of Pera, in the historic Beyoglu district, is an 1.4 kilometre pedestrian street and one of the most famous avenues in Istanbul,
• Galata Tour
The focal point of lively Galata is the 14th-century Galata Tower, which has expansive views of the Bosphorus from its balcony. Below, the area's narrow streets are home to chic bars, old-school restaurants, and small shops that sell odds and ends. Centuries-old synagogues, churches, and mosques dot the neighborhood, while Galata Mevlevi House museum and cultural center has performances by whirling dervishes.
• Galatport
This unique waterfront complex aspires to change the city's relationship with water, shopping, gastronomy and arts forever. Although much disputed by history buffs, this modern complex has been an instant magnet for locals, and tourists alike, with unbeatable panoramic views of Istanbul's historic skyline, as well as with a unique combo of fashion outlets, dining venues and world-class art museums.
• Gay Hammam
Equivalent to the Western sauna, the Turkish bath or 'hamam' plays an important role in the Middle Eastern culture, serving as places of social gathering, ritual cleansing and architectural institutions. Experience the history and tradition of the Turkish bath.
• Gay Bars in the evening
Taksim, with its characteristically Turkish dome roofed mosques, trundling trams and high-end shops, is also Istanbul's main gay district. It's on the narrow streets surrounding the iconic Taksim Square that you'll find a plentiful selection of gay bars and clubs. Many operate as cafes during the day, but as the sun sets, and the city's gay population begin to descend, Taksim's streets are invigorated with the sound of gay revelry.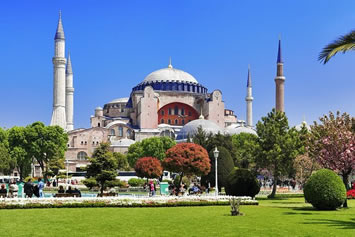 Day 3
Istanbul, Turkey
• Sultanahmet Square
The Sultanahmet Square, also known as Hippodrome and surrounded by the famous Blue Mosque, Hagia Sophia Museum and Museum of Turkish and Islamic Arts, one of the most famous tourist areas in Istanbul, as well as a popular meeting point.
• Sultan Ahmed Mosque (The Blue Mosque)
The Blue Mosque (Sultanahmet Mosque) is one of the most beautiful mosques and landmarks in both Istanbul and the world. Blue Mosque was built in the 17th century (1603-1617) by Sedefkar Mehmet Aga (2nd important architect after Mimar Sinan) with the order of Sultan Ahmet I.
• Topkapi Palace
Topkapi Palace, one of world's richest museums, can be considered as the best and the most visited sights in Istanbul together with the neighboring Hagia Sophia. Situated on a triangular promontory dominating the Bosphorus and Golden Horn, it is a magnificent oriental palace and one of the world's greatest architectural works.
• Hagia Sophia
Hagia Sophia (Ayasofya in Turkish) can be considered as the best and the most visited sights in Istanbul together with the neighboring Topkapi Palace. Hagia Sophia is a former church and museum and declared as one of the world's greatest architectural works and accepted as the 8th wonder of the world.
• Grand Bazaar of Istanbul
Istanbul's Grand Bazaar (Kapali Çarsi) is the ultimate covered market. Its 5,000+ vendors hawk carpets, beaded bracelets, gold and silver jewelry, multicolored lanterns, leather goods, ceramics, belly-dancing outfits, and more. With goods available at all price points, you're sure to find the perfect souvenir in the bazaar's labyrinthine alleys.
• Gay Bars in the evening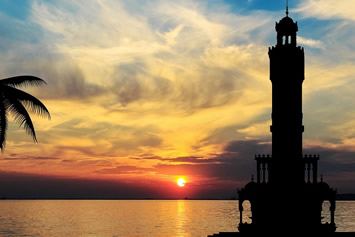 Day 4 - 6
Izmir, Istanbul
• Morning flight to Izmir
• Meet Hakan our gay friendly guide for Izmir
• Flexible tours according to the guests' wishes:
– Grand Bazaar of Izmir
– Izmir Center walk
– Local boat hire for swimming or fishing
– Traditional fish restaurant
– Going local, visit the places locals go to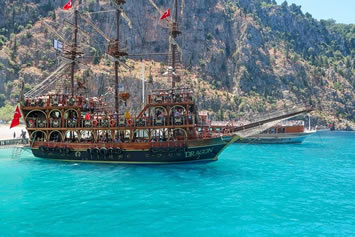 Izmir is a city on Turkey's Aegean coast. Known as Smyrna in antiquity, it was founded by the Greeks, taken over by the Romans and rebuilt by Alexander the Great before becoming part of the Ottoman Empire in the 15th century. Today, its expansive archaeological sites include the Roman Agora of Smyrna, now an open-air museum. The hilltop Kadifekale, or Velvet Castle, built during Alexander's reign, overlooks the city.
The jewel of the Aegean, Gay Izmir is not only Turkey's third largest city but one of its most fascinating boasting a remarkably liberal populous (compared to the rest of the country), a rich and beguiling history and unique gastronomy!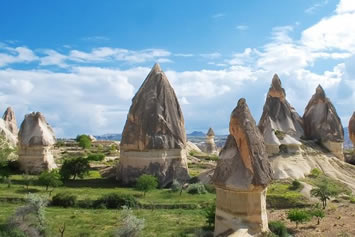 Day 7
Izmir to Cappadocia
• Morning flight to Cappadocia
• Meet Grant our gay friendly guide for Cappadocia
• Evening restaurant
Located in the Central Anatolia region of Turkey, Cappadocia is a destination like no other. In Göreme, ancient volcanic rock formations known as fairy chimneys grace the moon-like landscape. Cappadocia, also known as 'land of the beautiful horses', is a magical place in Turkey that you should visit at least once in your life!
Cappadocia is a beautiful region in central Turkey famous for its fairytale scenery, cave dwellings, remarkable rock formations and, of course, the hundreds of hot air balloons that soar in the sky during sunrise each morning.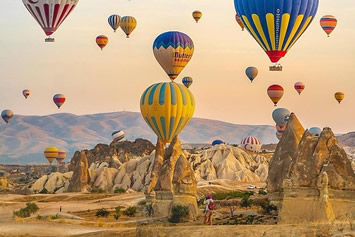 Day 8
Cappadocia, Turkey
• Early morning (5 am) hot air balloon flight (3 hrs)
A sandy kingdom carved into the mountainside of Central Anatolia lends Turkey one of its most spectacular landscapes, best seen from the sky at sunrise or sunset on a famous Cappadocia hot-air balloon ride. Look down on natural formations made from ancient volcanic rock that crest and fall with rivers of millennia past, the perfect foundation for the Bronze-age carvings that now dominate, both on the surface and deep underground.
• Cappadocia tour
See more of Cappadocia on a full-day tour that visits both historical and natural attractions. Check out the views from Göreme Panorama and Yaprakhisar Panorama, enter the subterranean chambers of Derinkuyu Underground City, and see ancient rock-cut churches at Selime Monastery. Also, take a leisurely walk through the scenic Ihlara Valley, and check out Pigeon Valley.
• Evening restaurant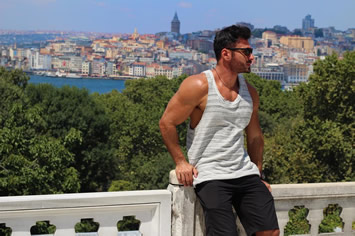 Day 9
Cappadocia to Istanbul
• Flight to Istanbul
• Meet Onder to plan the afternoon and evening as per guests' wishes
The biggest and most popular gay dance club in Istanbul. Tek Yön is open every night, attracting both a local crowd and visitors. Expect a crowded dance floor, especially on Saturdays. Drag shows feature on quieter weekdays and Sunday nights. There is an open-air garden for smoking and cruising. Tek Yön started out as a bear bar and hosts occasional BayBears Club events.
Love Dance Point is popular weekend gay nightclub and an institution in the Istanbul gay scene for over a decade. Love Dance Point features cool resident DJ's, house drag queens and some of the hottest male go-go dancers in town. Regular themed parties on Friday nights.
Aquarius Sauna - male Turkish bath, featuring a dry sauna, 10-man jacuzzi, gym with basic equipment, heated pool, massage service, private cabins with beds, shower room. There's a café bar serving coffee, tea, beer, soft drinks and snacks. Open 24 hours and centrally located – just off Istiklal Avenue in Taksim, on an alley opposite Aga Mosque.
Day 10
Istanbul Departure
Farewell at your hotel in Istanbul
Airport transfer to Istanbul International Airport (IST)