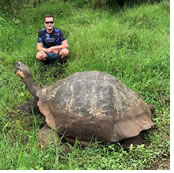 Discover one of the most diverse countries in South America and its beautiful Galapagos islands. Experience privacy, relaxation, and nature in a perfect all-gay getaway! An exclusive gay men's tour & cruise program designed for you… meet the best of Quito, Cloud Forest, The Galapagos Islands, and Guayaquil city. A perfect mix of flavors, colors, landscapes and of course, great times!
Ecuador is one of 17 megadiverse countries in the world. In addition to the mainland, Ecuador owns the Galápagos Islands. This is what the country is best known for
Ecuador has 1,600 bird species and 38 more endemic in the Galápagos. In addition to over 16,000 species of plants, the country has 106 endemic reptiles, 138 endemic amphibians, and 6,000 species of butterfly. The Galápagos Islands are famous as the place of birth of Darwin's Theory of Evolution. They are a UNESCO World Heritage Site.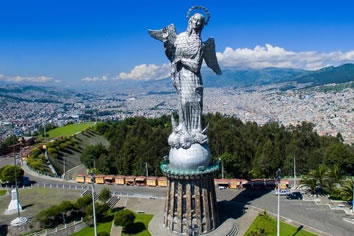 Day 1 - Arrive at Quito, Ecuador
Welcome to the country of the 4 worlds: Highlands, Amazon, Galapagos Islands and Pacific Coast. Your private guide and driver will be waiting for you: Welcome!
Quito is the capital and the largest city of Ecuador, and at an elevation of 2,850 meters (9,350 ft) above sea level, it is the second-highest official capital city in the world, after La Paz, and the one which is closest to the Equator.
In 2008, the city was designated as the headquarters of the Union of South American Nations. Quito and Kraków (Poland), were among the first World Cultural Heritage Sites declared by UNESCO, in 1978.
Transfer to Le Parc Hotel and Check-In. Welcome Cocktail and good music at the Vertigo Rooftop Bar (includes one Ecuadorian Traditional Spiced Hot Drink: Canelazo).
Le Parc Hotel the most exclusive and elegant accommodation specializing in leisure travel in the iconic capital of Ecuador. An experience full of comfort and relaxation, combining gourmet cuisine, a superb location and designer suites. Discover the magic of a 5-star boutique hotel in Quito with personalized service. Hotel Facilities: Neu Bistro Restaurant, Vertigo Rooftop Bar unlimited Wi-Fi, Room Service 18H00-22H00, Fitness, Sauna and Turco. Check In: 3 PM.
Accommodation: Le Parc Hotel Beyond Stars
, Quito, 5*
Day 2 - Colonial Quito, Ecuadorian Tastes & History
Breakfast at Neu Bistro Restaurant. Your private guide will pick up to start our journey visiting the colonial town of Quito. The historic Center of Quito has one of the largest, least altered, and best-preserved historic centers in the Americas.
Our guide will transfer you to our colonial past, narrow streets, old and historic buildings, and small workshops. This is a walking tour which allows you to catch with your camera the best of our colonial history; the architecture and surrounding landscapes will give you the best scenery.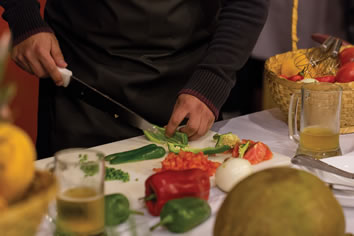 Transfer to Altamira Restaurant – Gastronomic Experience - for the beginning the Chef welcome you directly in the local market – Mercado Central (*) where you stop at various affiliated stations. He explains about the products and culinary traditions. You can take pictures and taste some endemic fruits. Once finish the local market tour (one hour approximately) we and the Chef return to Altamira Restaurant a crystal box with an impressive view of Old city of Quito.
*Cooking Class includes an optional visit to Mercado Central in Quito: Altamira restaurant guarantees the visit if the conditions allow it otherwise the exhibition of Ecuadorian products (fruits and vegetables) will take place in the restaurant.
The cooking class begins in the roof Top of our terrace: we lend you a chef's hat and an apron for preparing the 3 courses you will cook. They are typical Ecuadorian recipes: as starter « Locro Quiten~o or shrimp Ceviche », as main plate «Encocado» (fish or chicken) and as dessert Chocolate Soup with variety of endemic fruits. Those dishes have been chosen specifically because the ingredients used can be found worldwide, so you will have the chance to cook these recipes in your own country for your family or friends.
After elaborating the 3 plates, you have the pleasure to taste what you own prepared in a unique place: Altamira Experience restaurant which dominates the roofs of our colonial capital Quito! The experience finishes approx. at 14h00, you can be proud of you and the Chef convinces you to recreate the dishes at home!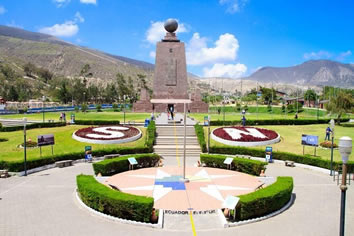 After this amazing experience our next stop is the famous monument to the Middle of the World and Intiñan Museum.
Middle of the World: It is one of the most visited places in Quito, just 30 minutes from the city. It is the monument that celebrates the location of our country, just in the middle of two hemispheres. North of Quito, in the San Antonio de Pichincha parish, is the most visited attraction in the country, the Middle of the World monument and complex dedicated to the Equator. Here, the tourist's favorite activity is to take a selfie on the yellow line painted on the cement that divides the planet in two.
Intiñan Museum: You will feel the energy of the earth and the sun! The museum exhibits the importance of Ecuador´s geographical location, water, and energy demonstration. One of the highlights is the "Solar chronometer" a unique instrument made in 1865. Travel to the past through our century's old huts, discover our history.
Return to Hotel.
Get handsome! Transfer to one of the top restaurants in Quito for our Welcome Dinner. We will enjoy of modern-fusion Ecuadorian cuisine. Bon appetite!
Return to our Hotel.
Accommodation: Le Parc Hotel Beyond Stars
, Quito, 5*
Meals: Breakfast, Lunch, and Dinner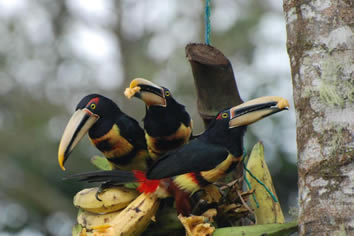 Day 3 - The Magic of Cloud Forest
Breakfast. Departure to the Cloud Forest approximately two-hour drive from Quito. This ecosystem includes many species from the rain forest, some from the highlands, and others that have evolved to its unique conditions. The vegetation is also surprisingly rich. Numerous epiphyte species, bounteous orchids, and bromeliads, dress these slopes. Currently it is believed by many scientists that the largest number of orchid species is found in this ecosystem, many of which remain undiscovered or unlabeled.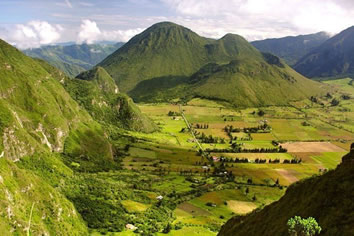 Visit Pululahua Crater viewpoint + Butterfly Farm. Arrive at Sachatamia. Welcome Drink.
Serenity + Peace and Spiritual Balance: Sachatamia has the privilege of being located next to the Protected Forest of Mindo-Nambillo. The zone is renowned as one of the foremost in term of the wealth of biodiversity that is rich in flora and fauna. Lunch.
Enjoy of the facilities of the lodge: swimming pool and hydromassage. Dinner and overnight.
Accommodation: Sachatamia Lodge
, Mindo, Cloud Forest, 4*
Meals: Breakfast, Lunch, and Dinner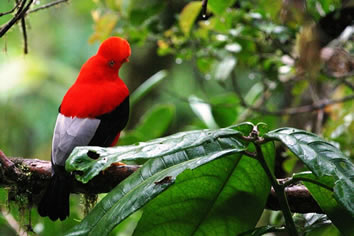 Day 4 - Discovering The Cloud Forest
Provenzal Breakfast. Hiking in the reserve, enjoy of the diversity of cloud forest.
Time of adventure: Lianas and Canopy (sliding from one place to another through horizontal cables and enjoying the feeling of flying, while appreciating the landscape and nature from above).
Lunch in the lodge and return to Quito.
Accommodation: Eb Hotel By Eurobuilding
, Quito Airport, 5*
Meals: Breakfast, and Lunch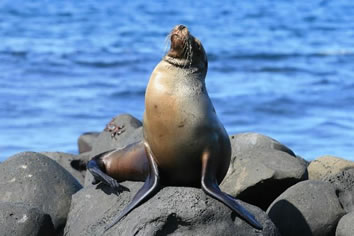 Day 5 - The Galapagos Islands
Breakfast. Private Transfer to Quito Airport. Our representative will assist the group with their Ingala Cards and boarding pass.
Ready to flight to the Enchanted Islands? Flights departing from Quito stop in Guayaquil before continuing to the Galapagos Islands; the flight time between Quito and Guayaquil is roughly 35 minutes and from Guayaquil to Galapagos is roughly 1 hour and 45 minutes.
Upon arrival at San Cristobal Airport, visitors must go through an inspection to verify that no foreign plants or animals are being introduced to the islands.
A representative of the cruise EcoGalaxy and our guide will meet you right outside and, help collect your luggage, and escort your bus ride to the cruise. Welcome and Lunch on board.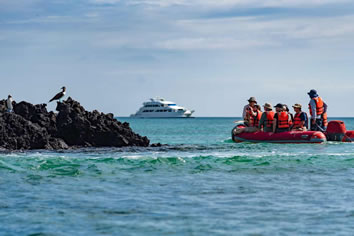 Lobos Island is a small islet separated from San Cristobal by a narrow channel, forming a sheltered bay where sea lion pups play in tidal pools. Despite its small size, the island is surprisingly packed with wildlife, especially with "lobos marinos", the Spanish name for sea lions. Groups of sea lions will welcome you at the landing spot, but as you walk a few steps inland, male frigatebirds displaying their inflated red balloons will be perched on the bushes and trees. A small colony of blue footed boobies, which often nest right on the trail, will give you the opportunity to observe their famous courtship dance.
Snorkel: This is a great snorkeling location as the water are usually calm and the sea lions often play with divers to show off their swimming skills. Sea turtles and rays are often seen resting in the sandy bottoms.
Highlights: Galapagos sea lions, marine Iguanas, magnificent & great frigatebirds, blue-footed Boobies, San Cristobal Lava Lizards.
Accommodation: M/C EcoGalaxy Cruise, Galapagos Islands, 4*
Meals: Breakfast, Lunch, and Dinner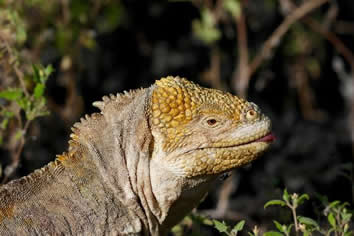 Day 6 - Santa Fe and South Plazas Islands
Santa Fe: Giant Prickly-pear cactus and barren lava rocks surround the landing spot at Santa Fe, located inside one of the most beautiful bays in the Galapagos. Turquoise water and white sand beaches make this location a perfect home for a large colony of sea lions which you will see basking in the sand. Inland, look down for endemic Santa Fe land iguanas, but also look up for Galapagos hawks, which often perch at the top of the cactus looking for prey. Darwin finches, Galapagos doves, mockingbirds and lava lizards are also common along the trail.
Snorkel: After the hike, you will have the option to kayak or snorkel in the sheltered waters inside the bay, where you can swim with sea lion pups and reef sharks. Also look for sea turtles, rays and a large variety of tropical fish including large schools of surgeonfish and parrotfish.
Highlights: Giant cactus, Santa Fe Bay, Galapagos sea lions, Santa Fe land iguanas, Galapagos hawks, Galapagos doves, reef sharks.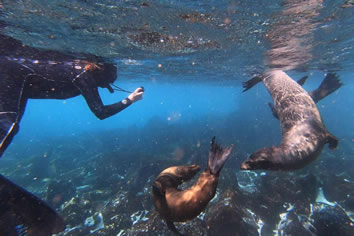 South Plazas: Of the two twin islands, only South Plazas is allowed to be visited, while North plazas is kept exclusively for scientific research. This is a small islet, but it packs an impressive amount of wildlife. Right after you land you will see Galapagos land iguanas waiting under prickly-pear cactus feed on their fruits. A large colony of sea lions will give you the opportunity to see playful pups enjoying the tide pools, but also large grumpy males defending their territories. The trail will take you to a cliff where you can observe many sea birds, such as frigatebirds, red-billed tropicbirds, boobies, swallow-tailed gulls, and pelicans. A reddish succulent vegetation with scattered cactus covers most of the islands like a carpet, giving this island a unique personality.
Highlights: Galapagos land iguanas, sea lions, tropicbirds, pelicans, boobies, Galapagos shearwaters, swallow-tailed gulls.
Accommodation: M/C EcoGalaxy Cruise, Galapagos Islands, 4*
Meals: Breakfast, Lunch, and Dinner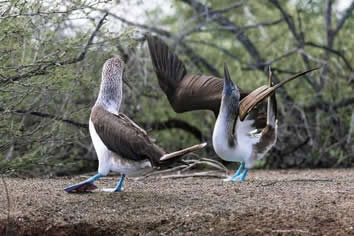 Day 7 - Seymour and Mosquera
North Seymour: This island is home for large colonies of both magnificent and great frigatebirds, and you can see them displaying their red balloons to attract a female. Blue-footed boobies' nest in the ground and perform their famous dance in the open areas, while swallow-tailed gulls perch on the cliff edges. Land iguanas are common inland while their marine cousins bask in the rocks by the sea, close to sea lions, which often like to body surf in the waves.
Snorkel: This place is a great snorkeling location, as it has tremendous diversity: sea lions, sharks, eels, turtles, rays and many more.
Highlights: Galapagos sea lions, blue footed boobies, magnificent & great frigatebirds, land & marine iguanas, swallow-tailed gulls, shearwaters, Darwin finches.
Mosquera: Mosquera is mostly a barren sand bar with some rocky areas and scattered salt-resistant plants. You can walk along the beach and enjoy seeing playful sea lion pups surfing the waves and having a great time in the tide pools. Look for endemic lava gulls which are often seen flying over the beach in the search of food.
Snorkel: If the waves are not too big you can snorkel at the northern tip of the island or at one of the small beaches in the sheltered side.
Highlights: Galapagos sea lions, lava gulls, oystercatchers, shorebirds.
Accommodation: M/C EcoGalaxy Cruise, Galapagos Islands, 4*
Meals: Breakfast, Lunch, and Dinner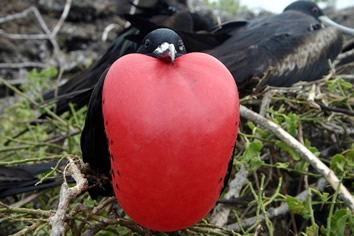 Day 8 - Genovesa Island
Darwin Bay: This bay has its origin when the crater of this island collapsed below sea level. The wet landing is on a beautiful white coral sandy beach. This is a favorite island for birdwatchers that allow the following species to be seen: red footed-booby, masked boobies, wandering tattlers, lava gulls, whimbrels, yellow-crowned, and black-crowned lava herons, and yellow warblers.
Continuing the trail, visitors climb gradually to the edge of the cliff seeing Red-Foots nesting in the Mangrove trees below. Bird watching includes sightings of sharp-beaked finches, large cactus and ground finches, Galapagos doves, and swallow-tailed gulls. Reaching the end of the trail, at the cliff's edge an incredible view of the island and the many birds living there can be observed.
Highlights: Nesting great frigatebirds, red footed & Nazca boobies, Galapagos sea lions, lava & swallow-tailed gulls, yellow-crown night herons, Genovesa ground finch, Genovesa cactus finch, Galapagos mockingbirds. Kayak and snorkel.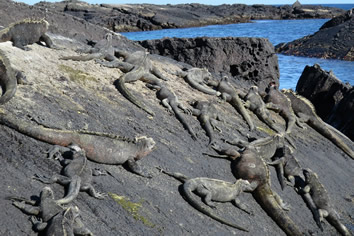 The visitor site of El Barranco is in the southern part of Darwin Bay from Genovesa Island. The trail is on volcanic rock, consists of 1.5 km and can be done in about 2 hours. The youngest area of the island, from a geological point of view, lies on this area. The cliffs located in the south, are composed of very fragile lava. The natural erosion in these lava flows has become the ideal place for nesting Storm Petrels. You can see two species of petrels that nest in cavities and holes in the lava.
One of its main predators is the short-eared owl. The red-footed booby nests only in the outer islands of the archipelago, Punta Pitt, Gardner (Floreana), Wolf, Darwin and Genovesa. Also present on this island is the masked booby. During the "panga rides" along the cliffs, fur sea lions and several species of seabirds can be seen.
Highlights: Nesting great frigatebirds, red footed & Nazca boobies, Galapagos sea lions, Galapagos fur seals, lava & swallow-tailed gulls, yellow-crown night herons, Genovesa ground finch, Genovesa cactus finch, Galapagos mockingbirds.
Accommodation: M/C EcoGalaxy Cruise, Galapagos Islands, 4*
Meals: Breakfast, Lunch, and Dinner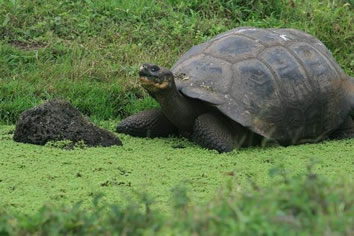 Day 9 - Highlands of Santa Cruz - Guayaquil
Our last day in Galapagos: visit the lush Highlands forests where you will look for Galapagos Giant tortoises in their natural environment. This is the best place in the Galapagos to see these gentle giants (reaching over 300 kg / 600 pounds!) casually grazing and resting in freshwater ponds. This is also home for a great diversity of birds rarely found at the lowlands, including finches (tree, woodpecker, and vegetarian finches), flycatchers and several species of water birds. You will visit a lava tunnel (depend on the itinerary) and learn how these extraordinary formations were created by ancient volcanic eruptions.
Highlights: Giant tortoises, Darwin finches, barn owls, white-cheeked pintails, Galapagos flycatchers, Lava tunnels. Then, transfer to the airport to take your flight back to continental Ecuador.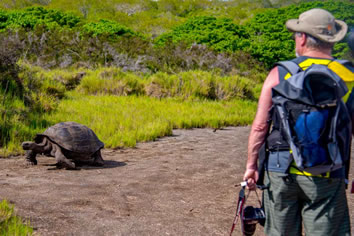 Arrive at Guayaquil city, reception at the airport and private transfer to hotel.
Hotel Del Parque: Guayaquil´s first Luxury Boutique Hotel. Spacious guestrooms and suites are thoughtfully adorned with boutique hotel touches like grand beds with premium linens, amenities and stunning marble bathrooms. Free afternoon.
Farewell Dinner in Casa Julian Restaurant: Our regularly updated menu bursts with rich seafood, fresh from the nearby Pacific Coast, as well as local ingredients like avocado, coconut, and world-renowned cacao in the delightfully original creations. Drawing on the customs of traditional Ecuadorian cuisine and inspired by its soups, stews, and tropical flavors, our experienced chef brings a maverick aesthetic with new shapes and texture.
Accommodation: Hotel Del Parque
, Guayaquil, 5*
Meals: Breakfast, Lunch, and Dinner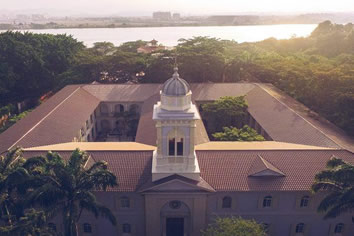 Day 10 - Guayaquil Departure
Breakfast. Thanks for travelling with us dear friends we hope to see you very soon.
Transfer to Guayaquil airport (GYE) to reach your international flight. End of Services.
Meals: Breakfast
Itinerary is subject to change. Your local guide (in mainland Ecuador and Galapagos) retains the right to change itinerary to guarantee the security of each passenger. Vessel's itinerary is subject to change without previous notice, due to seasonal changes, weather conditions or Galapagos National Park regulations.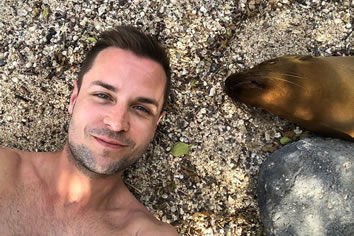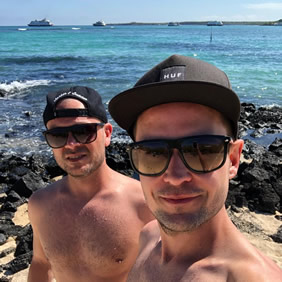 • Private all-gay services.
• Gay friendly luxury hotels in Quito (3 nights) and Guayaquil (1 night).
• Exquisite Ecuadorian gastronomy. Cooking class.
• 1 Night in a cozy lodge in the cloud forest + liana + canopy adventure.
• Discovering Galapagos by cruise: Private gay charter on board first class cruise (4 nights).
• Gay friendly staff and top guides.
• Nature, sand-white beach, snorkel, kayak, and closeup endemic wildlife encounters.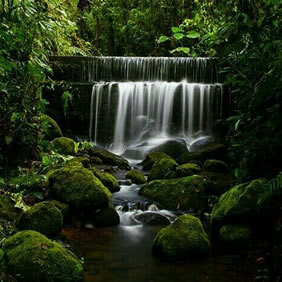 • Private Transportation for Transfers and land visits according with the program.
• Private English-speaking guide in Quito and Guayaquil.
• Accommodation in Quito – Le Parc Hotel (Junio Suite) and EB Hotel (Deluxe)
• Accommodation in Guayaquil – Hotel del Parque (Deluxe)
• Accommodation at Sachatamia Lodge.
• Meals indicated in the itinerary: Breakfast (B). Lunch (L). Dinner (D).
• Activities and visits according with the itinerary.
• Entrance Fee: La Compañia, Middle of the World city, Intiñan and Butterfly Farm.
• Gastronomic Tour (Cooking Class): ingredients, transport from local market to Altamira Restaurant and 1 soft drink per person during the lunch.
• Welcome Dinner (Quito) and Farewell Dinner (Guayaquil)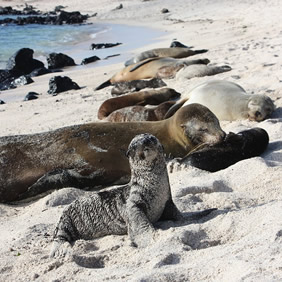 • Airport assistance in Quito and Galapagos.
• Private Transfer to the Cruise.
• Accommodation on board 04 Nights in double cabin.
• All Meals during the cruise.
• Galapagos English speaking guide.
• Visits and excursions according with the itinerary.
• Snorkel Gear: mask / tube and fines.
• Kayaks, Wetsuits, Paddle boards.
• Soft Drinks: coffee, tea and purify water.
• Wetsuit.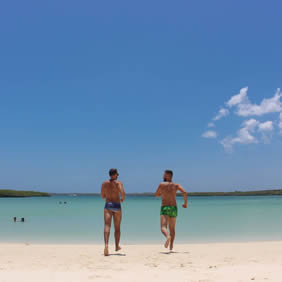 • Galapagos round trip airfare Quito – Galapagos – Guayaquil (approx. $ 500 pp)
• Galapagos Entrance Fee ($ 100 pp)
• Galapagos Transit Card ($ 20 pp)
• Additional Tours
• Soft and Alcoholic Drinks | Tips | Meals, activities not indicated
• Travel & Medical insurance (mandatory to confirm)
• International Services / Flights. Bank Fees.
• Early Check In / Late Check In.
Le Parc Hotel Beyond Stars
, Quito, 5*
This 5-star design hotel is located within the business and financial district of Quito. It offers free Wi-Fi, a gym and luxurious rooms fitted with modern furnishings. Each room has a flat-screen TV.
All air-conditioned rooms at Le Parc Hotel have a seating area. An elegant, marble bathroom with luxurious details designed by Philippe Stark is included with every room.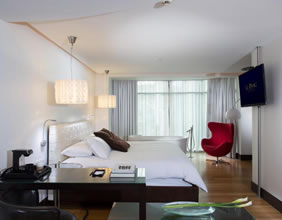 For relaxation, a sauna and massage treatments are offered at Le Parc Hotel. Staff at the tour desk can offer advice on excursions.
The hotel's restaurant serves an a la carte menu of local and international dishes. Le Parc's rooftop bar offers cocktails and drinks with an view of the city.
Sachatamia Lodge
, Mindo, Cloud Forest, 4*
Located in an ecological rain forest reserve, surrounded by a subtropical jungle, Sachatamia Lodge features an a la carte gourmet restaurant, spa facilities and an indoor pool in Mindo. Free Wi-Fi is available only in the main house.
Providing a tranquil environment, the rooms in Sachatamia Lodge feature private bathrooms and garden views. An American breakfast is served daily and guests can unwind in the garden.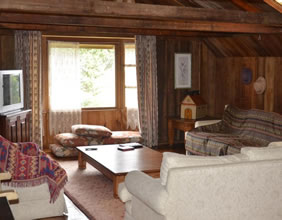 One of Sachatamia Lodge's main attraction, is that it's country house has been constructed in wood, complimenting the serenity of the surrounding ambiance. Sachatamia Lodge is a cozy and elegant rustic refuge, that offers the maximum in comfort while guests enjoy gourmet cuisine in complete union with the natural enviroment.
In Sachatamia, guests may walk thrugh a natural subtropical jungle, passing pristine rivers while enjoying and observing a variety of endemic trees, plant and wild flower species such as orchids, bromeliads, heliconias and anthuriums, among others.
Eb Hotel By Eurobuilding
, Quito Airport, 5*
EB Hotel Eurobuilding Airport Quito features free WiFi throughout the property and rooms with air conditioning in Tababela. Boasting free shuttle service, this property also provides guests with a year-round outdoor pool. The accommodations provides a 24-hour front desk and a concierge service for guests.
The property offers restaurant, business center and full-equipped gym.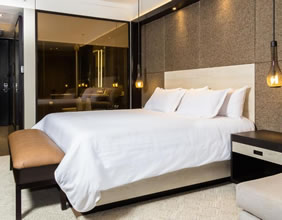 At the hotel, every room has a desk and a flat-screen TV. With a private bathroom fitted with a shower and free toiletries, rooms at EB Hotel Eurobuilding Airport Quito also offer a mountain view. All rooms will provide guests with a wardrobe and a coffee machine.
An American breakfast is served each morning at the property. At the accommodations guests are welcome to take advantage of a fitness room.
Hotel Del Parque
, Guayaquil, 5*
Hotel del Parque is part of Relais & Châteaux Hotels.Located in the Parque Histórico Guayaquil in Samborondón of Guayaquil, Hotel del Parque is surrounded by gardens.
Each accommodations at the 5-star hotel has garden views, and guests can enjoy access to a bar and to a restaurant where local produce is used to offer unique dishes. Attractions in the area include Malecon 2000, 3.7 mi away, or Mall del Sol Shopping Center, set 1.7 mi from the property.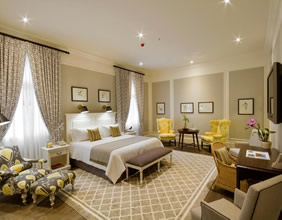 At the hotel, the rooms have a desk, a flat-screen TV and a private bathroom. Every room comes with air conditioning. All guest rooms will provide guests with a wardrobe, a safe and a coffee machine.
Guests at Hotel del Parque can enjoy a buffet breakfast. The restaurant Casa Julian serves signature cuisine within the property.
For guests' convenience, the accommodations has a business center. Speaking English and Spanish, staff are ready to help around the clock at the reception.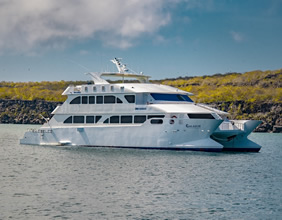 M/C EcoGalaxy, Galapagos Islands, 4*
Explore the "Enchanted Islands" on board the M/C EcoGalaxy a First Class Catamaran, built for sailing the Galapagos Islands while preserving its fragile ecosystem, and of course its beauty.
The social areas of the catamaran are the perfect place to witness the endless wonderful landscapes in a private and intimate athmosphere.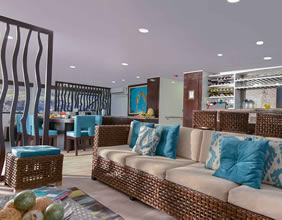 Main Deck Lounge
Comfortable space to travelers interaction
• Coffee station and bar
• Panoramic windows
• Entertainment center
• Eco style decoration
A special area where you can share with other fellow explores, exchange your own Galapagos` stories.
Complements: Thematic books, board games and multimedia library.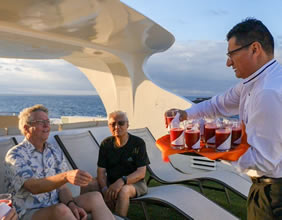 Sun Deck
Admire the nature every second of your journey.
• Comfortable loungers
• Observation area
• Sunroof
• Cocktail tables
The sundeck is the perfect space to witness the many wonderful and amazing Galapagos landscapes, where you can relax and enjoy the breathtaking views.
Facilities: Bar with soft and alcoholic drinks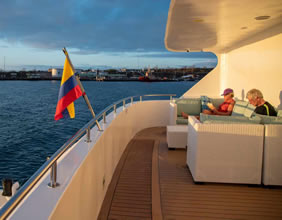 Upper Deck Al Fresco Area
Admire the nature each second on your journey.
• Comfortable cushions
• Observation area
• Sunroof
• Lower Table
The Al Fresco area invites you to feel the fresh of the drinks admiring the nature life, becoming another perfect space simply relax.
Facilities: Relaxing sofas, Bar Service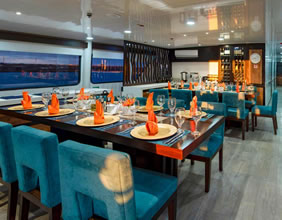 Dining Room Main Deck
A space to delight our fine cuisine.
• Family dinning room
• Elegant tableware
• Panoramic windows
• Eco-style decoration
A large dining room equipped with 2 tables for 9 persons each. The tables are long enough to favor the social environment that we like so much.
• Vegan and vegetarian options
• Breakfast and lunch menu
• Dinner with 2 menu options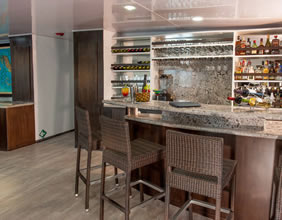 Bar Main Deck
Enjoy different options of cocktails, national and international drinks in our bar, located just next to the lounge.
• Elegant tableware
• Panoramic windows
• Eco-style decoration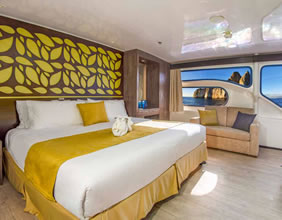 King Cabin, Upper Deck
Comfortable first class cabins
• Convertible bed
• Panoramic windows
• Eco style decoration
• 20 square meters cabins
These type of cabins are equipped with private bathroom, hot/cold water, air conditioning, hair dryer, towel dryer, internal phone, safe box, closet and speaker.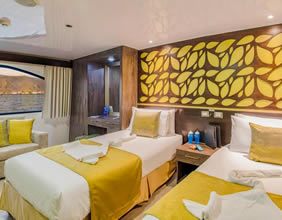 Twin Cabin, Main Deck
Comfortable cabin first class
• Convertible bed
• Panoramic windows
• Eco style decoration
• 22 square meters cabins
These type of cabins are equipped with private bathroom, hot/cold water, air conditioning, hair dryer, towel dryer, internal phone, safe box, closet and speaker.