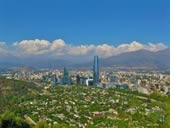 Can't decide whether to partake in a hardcore bike holiday, or an elegant wine country affair? This Chile gay trip offers both, for an unforgettable taste of South America's wild west. We kick off with a visit to vibrant Valparaiso, a couple days in wine country, then visit Atacama Desert - the driest place ON EARTH - with great bike rides and a trek thrown in. We'll also get a taste of Santiago, Chile's sensational capital and the heart of Chile's gay scene.
In 2015, Chile legalized same-sex civil unions lifting the nation one step higher on the list of gay travel destinations. Chile's energetic capital city Santiago has been the epicenter for the country's flourishing gay culture with a multitude of hotels, restaurants, bars, and adults-only places to visit.
Bellavista is known as Santiago's bohemian quarter, with new hip restaurants, boutiques, and avant-garde galleries occupying loft spaces and lordly mansions that punctuate tree-lined streets awash with colorful antique homes. Nightlife explodes on the weekends in Santiago, so make sure you are well rested. Luckily, bar crawling is quite easy if you stay in the "gayborhood" of Bellavista. Many of the bars and clubs are on Bombero Núñez, a street which shines with colorful graffiti by day, and colorful Chilenos by night.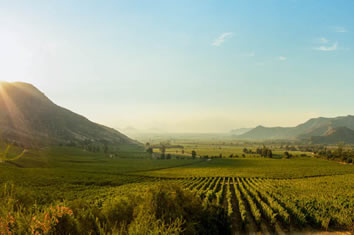 • Sample local pisco with a master distiller
• Taste some of Chile's finest vintages
• Cycle the country's acclaimed wine regions
• Trek unforgettable landscapes
• Photograph vibrant Valparaiso, Chile's famous coastal town
• Stargaze from the driest place on Earth
• Visit Chile's largest salt flat
• Appreciate local wildlife at the National Flamingo Reserve
• Explore the El Tatio geysers and soak in Puitama natural hot springs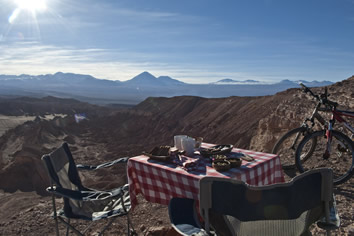 • Group leader from beginning to end of tour
• Professional, bilingual local guide
• Airconditioned vehicle with bottled water on bus
• Arrival/Departure Transfers to/from accommodation booked through OUT Adventures
• 9 nights hotel
• 9 Breakfasts, 5 Lunches & 5 Dinners
• All wine and pisco tastings mentioned in itinerary
• Bike and equipment rentals
• Porterage
• Gratuities for drivers, hotel staff and porters
• Gratuities at included meals
• Entrances Fees to Parks
• International Airfare
• Domestic Airfare during tour
• Meals & Activities not mentioned in itinerary
• Drinks during included meals, unless otherwise indicated
• Optional activities
• Gratuities for Local Guide ($75-$100)
• Visas required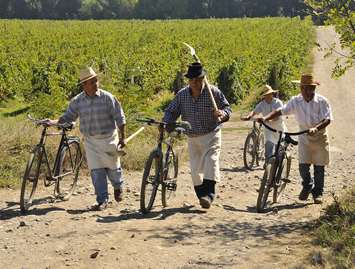 Day 1 - Arrival Santiago, Chile

Hola! Welcome to Chile! Upon arrival at Santiago International Airport, meet your guide and head to the hotel.
Chile's capital is a vibrant city full of character with thriving arts and culture, a trendy restaurant scene, and lively nightlife.
Tonight, as part of our complimentary Welcome Dinner, we'll sample pisco - a local brandy - with Master Distiller Rodrigo Bauzá. Rodrigo is the grandson of Pisco Bauzá, who founded the distillery in 1925.
Day 2 - Valparaiso

The day begins with a gorgeous 90 minute drive towards the coast through lush agricultural valleys and vineyards.
We'll arrive in Valparaiso (locally known as "Valpo"), a colourful UNESCO World Heritage city right on the Pacific coast. Together we'll enjoy a walking tour of the city and learn about its importance in South American trade and commerce. We'll be transported up steep hills via century-old hillside ascensores (elevators) into a labyrinth of streets and brightly coloured buildings, bohemian cafes and elegant restaurants. In the afternoon we'll visit one of poet and diplomat Pablo Neruda's three homes-turned-museums, La Sebastiana.
To end the day, we'll enjoy dinner at one of Valpo's top restaurants nestled in the hills before taking a private transfer back to Santiago.
Day 3 - Maipo & Colchagua Valley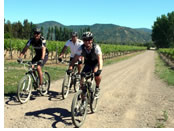 Meet your guide after breakfast - we're off to Maipo Valley. Chile's second-oldest wine region is among the most traditional, hence its glorious Cabernet Sauvignon (the Carménère is also divine).
At 8:30am we'll saddle up on bikes for a gentle cycle through this region, finishing at Casa Silva for lunch and a wine tasting. This fifth-generation family-run winery honours the people, traditions, and environment of the Colchagua Valley (each wine must be unanimously approved by a five-member tasting panel).
To conclude the day we'll dine at a fantastic regional restaurant.
Today's Distance: 20 miles / 32 km. Pedaling Level: Easy-Moderate
Day 4 - Colchagua Valley

Rise and shine! A full day of wine tasting awaits!
Beginning at Estampa winery, we'll enjoy a short tour and tasting. Architecture fanatics will adore the winery's avant-garde design, which houses cutting-edge winemaking equipment.
Next we'll cycle to family-run Viu Manent winery founded in 1935. We'll enjoy a leisurely lunch here.
After we're properly fuelled we'll jump back on our bikes to cycle a short distance to one of the region's oldest vineyards, Neyen Winery. The vines here date as far back as 1890 and represent some of the region's original Bordeaux stock.
Tonight you're free to explore on your own. Dinner is optional.
Today's Distance: 17.5 miles / 28 km. Pedaling Level: Easy-Moderate
Day 5 - Colchagua Valley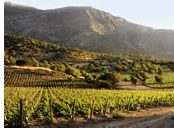 Today we rest our weary legs and lean into the vintages. The first winery has won acclaim in local and international press since opening in 1993. For an unforgettable souvenir you can even blend, label, and cork your own bottle.
Up next is lunch at a winery owned by Alexandra Marnier Lapostolle (of Grand Marnier fame). It produces some of Chile's best values.
After a lovely day together you have the choice of either joining your guide for an optional dinner or taking time to yourself.
Day 6 - Flight to Atacama Desert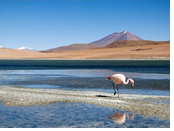 This morning we fly from Santiago to Calama, then transfer to San Pedro de Atacama (just over an hour away). The cost of today's flight isn't covered by your departure fee, however, our team will advise you which flights to book.
Take the day to explore this oasis amidst the world's DRIEST desert. In the afternoon we'll reconvene and take a private transfer to the National Flamingo Reserve which we enter through the Chaxa Lagoon. The scenic surrounds make for incredible camera fodder. Keep your eyes peeled for the three species of flamingo that call the lagoons and lakes home.
On the way back we pass through the tiny town of Toconao where you'll have a chance to pick up some artisan handcrafts (llama wool, cactus wood, volcanic rock etc). We'll end the day with an included meal together.
Day 7 - Cejar Lagoon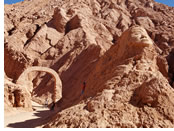 Today's bike ride brings us to lagoons north of the Atacama Saltpan. We'll float in Laguna Piedra, thanks to its salt-dense waters, then walk a few minutes to Cejar Lagoon for a box lunch.
In the afternoon we'll take a private transfer toward Calama and the Cornisas lookout point which offers a spectacular view of Valle de Marte. Our local guide will point out the region's incredible volcanos.
NOTE: This excursion is not recommended for people who suffer from vertigo or balance problems.
STAR GAZING: As the driest place on earth, the star gazing from Atacama Desert is second to none. Why not spend tonight observing splendid nebulas and constellations while wine, hot cocoa and sweet snacks are served?
Today's Distance: 22.3 miles / 36 km round-trip. Pedaling Level: Moderate-Difficult.
Day 8 - Tatio Geysers & Termas de Puritama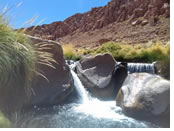 Today we trek by foot along a dirt road towards Tatio Geysers, one of the highest geothermal fields in the world.
We'll enjoy a picnic lunch before heading back towards Termas de Puritama.
Upriver along the Puritama, we discover how the riverbed is the ideal environment for a range of plants, like the Foxtail, Ojalar, Tikara and Cardon cactus.
The trek ends at the Puritama Thermal Springs. Be sure to unwind in the mineral-rich, 33°C (90° F) water while a symphony of birds like the Andean Ibis and Yellow-Finch serenade you. En route you'll also see Guatin Canyon, where a lukewarm stream flows.
Day 9 - Flight to Santiago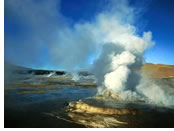 After breakfast we'll fly to Santiago (2hrs flight) for one last night in the city and our Farewell Dinner.
The cost of today's flight isn't covered by your departure fee, however, our team will advise you which flights to book.
Our Farewell Dinner will be at an exceptional restaurant and we'll be joined by the former president of Fundación Iguales, an inspiring LGBT organization.
Day 10 - Santiago / Outbound Flights
As the last day of our tour, there is nothing planned. Please confirm departure transfers with your trip leader, and safe travels home.