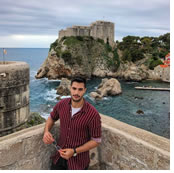 Experience the azure Adriatic and Croatia's Dalmatian Coast. Join up to 36 gay men on our signature Croatia gay cruise caressing the turquoise blue waters of The Dalmatian Coast. From the comfort of our private yacht - the Black Swan - we'll see splendid coastlines, explore national parks, wander through medieval towns, and plunge into the balmy waters of the Adriatic. Your Out Adventures hosts will also give you ample opportunities to socialize, explore, and dine at Croatia's best restaurants.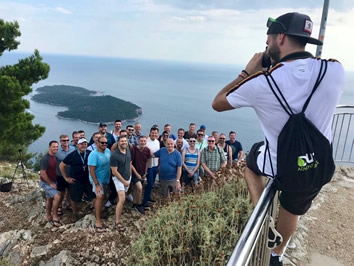 • Stroll the medieval walls surrounding old Dubrovnik
• Enjoy Roman architecture in Split
• Take daily dips in the crystal blue waters of the Adriatic Sea
• Lounge on the upper deck of our private yacht
• Savour Croatian wines at an exclusive and private vineyard dinner
• Channel your inner celebrity in Hvar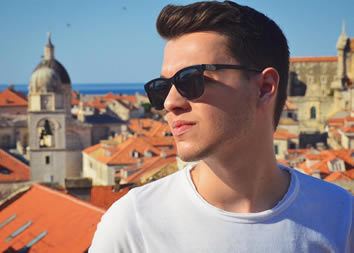 Day 1 - Dubrovnik, Croatia
Bok! Welcome to Dubrovnik, and thank you for joining our signature Croatia cruise.
We'll meet in the lobby of our host hotel at 2PM for a Welcome Meeting.
After getting acquainted we'll head to the old town of Dubrovnik around 4PM for a guided city tour including a cable ride up Srd Mountain. Soak up the scenic views of the Old City Walls and Elaphiti Islands, then enjoy some free time before a Welcome Dinner in the heart of the city's Old Town.
Our evening will be extra festive as we join the Farewell Dinner of our Southbound cruise giving you the chance to mix and mingle with guests wrapping up their trip.
Hotel: Lapad Hotel
, Dubrovnik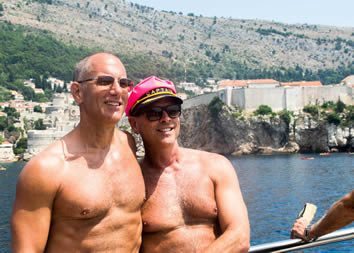 Day 2 - Dubrovnik / Mljet
Enjoy a leisurely morning before checking out of the hotel by 11AM. Wander the area near the hotel, and grab lunch on your own.
An included transfer will depart the hotel at 1:30PM to take us to the Black Swan – our luxurious private yacht.
Onboard we'll enjoy a safety briefing, then we'll set sail for the island of Mljet where we'll enjoy an included onboard dinner.
Accommodation: Katarina Line M/V Black Swan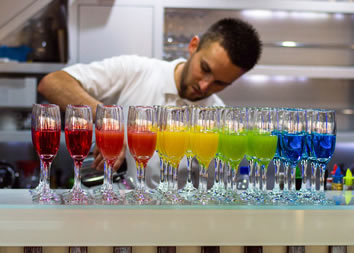 Day 3 - Mljet / Trstenik
This morning we stroll through the famous salt lakes of Mljet National Park, including a boat ride to St Mary Isle where we visit an ancient monastery, an old abbey, and a church that dates back to the 12th century.
If you'd like to get your blood flowing you can also rent a kayak, bike or scooter to roam on your own.
In the afternoon we set sail for Trstenik on the Pelješac peninsula with a swim stop en route.
On arrival we'll head to a modern winery where a private tour of the grounds and cellar await.
After learning about the local viticulture, we'll enjoy an exquisite 3-course dinner featuring five of the property's best wines. Our boat remains moored in Trstenik tonight.
Accommodation: Katarina Line M/V Black Swan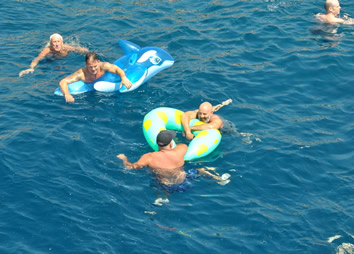 Day 4 - Trstenik / Korcula
Today we depart for the birthplace of Marco Polo and one of our favourite towns: Korcula.
Enjoy a swim stop, lunch, then another swim stop along the way, then upon arrival an afternoon walking tour. It's only a short walk to the old town so we encourage you to explore the area and its charming shops, bars and restaurants.
This evening features an optional dinner at one of the most famous restaurants in town.
Accommodation: Katarina Line M/V Black Swan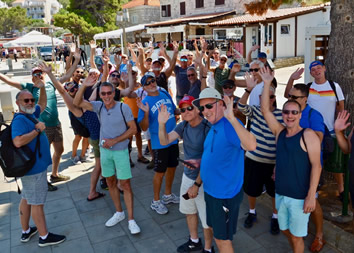 Day 5 - Korcula / Vis
Today features a swim stop before and after lunch before continuing to the island of Vis, an isolated former Yugoslav naval base that captures the Mediterranean "as it once was".
Here, you can either pay to visit the remains of the Roman thermal baths, hit up the city museum or simply take in the free views of the beautiful rustic village on the waterfront.
We overnight in the port and this evening you are free to explore this charming island and dine at one of the many local restaurants.
Accommodation: Katarina Line M/V Black Swan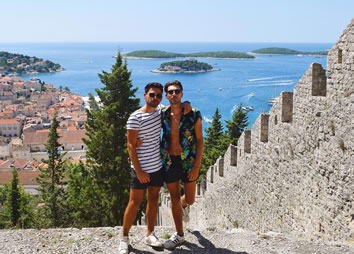 Day 6 - Blue Caves / Hvar
This morning we have an optional visit to the Blue Caves, weather permitting, before heading for jet-set Hvar: the island of mega yachts, fine dining, and celebrity sightings.
Orient yourself with our guided walking tour, then feel free to explore. We highly recommend the short hike to Tvrdava Fortica for one of the best views of your life.
Tonight is free, or you can join an optional dinner at one of our favourite gourmet restaurants.
Accommodation: Katarina Line M/V Black Swan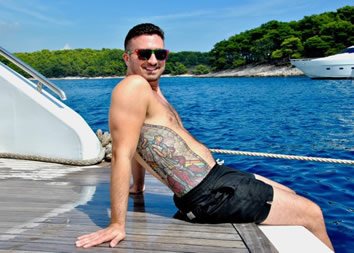 Day 7 - Hvar / Bol
This morning we set sail for the island of Brac, and if conditions allow we'll swim at Zlatni Rat (Golden Horn beach).
We'll then continue to the small village of Bol where we'll enjoy our captain's dinner.
Accommodation: Katarina Line M/V Black Swan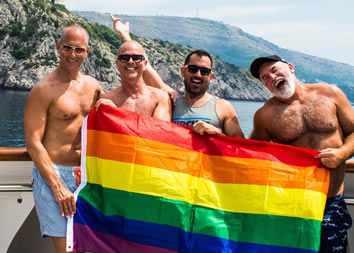 Day 8 - Bol / Split
Today marks our last full day aboard our private yacht.
This morning we have our final swim stop before having lunch on board.
To end the day we'll continue to Split for our final walking tour and Farewell Dinner.
Optional drinks at a queer-welcoming bar may follow.
Accommodation: Katarina Line M/V Black Swan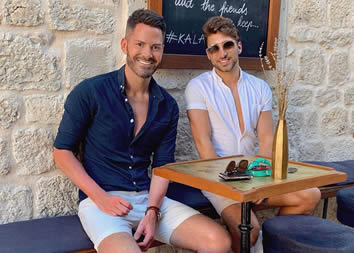 Day 9 - Split, Croatia Departure
This morning we bid farewell to our faithful crew, and each other, as our adventure comes to an end.
There are no activities planned, and we must disembark by 9AM. There will be a luggage storage option available for those with afternoon or evening flights, and we have a host hotel
for those wishing to spend more time in this ancient city.
As the Croatians say—Dovidenja, or goodbye!