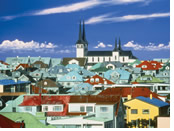 Drive the iconic Golden Circle, famous for Gullfoss Waterfall and the Great Geysir • Raft the Hvítá River and (safely) cliff-jump into the crisp, cool waters below • Hike an ancient glacier with an expert mountain guide • Float between the icebergs of Jökulsárión Lagoon • Soak and soften up in the Blue Lagoon • Enjoy the best of Icelandic cuisine • Indulge in a Pride-themed Champagne brunch • Delve into Reykjavík nightlife during Pride. From the cosmopolitan & friendly capital of Reykjavik to the remote countryside, you'll surely enjoy your time in Iceland. We've tailored this trip so you can enjoy the stunning South Shore as well as the excitement of Gay Pride in one of the most welcoming countries on Earth.
Delve into the ancient land of Vikings and volcanoes on this 8 day Icelandic adventure. Marvel at geothermal hot springs, witness the steamy eruptions of a giant geyser and touch the tongue of Europe's biggest glacier. Travel through desolate lands so mysterious and ethereal that they have inspired artists, poets and musicians for centuries. The ancient, untamed beauty of Iceland will stay with you forever.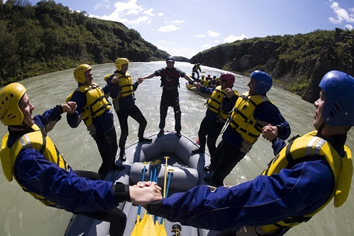 This is a list of included activities on this trip. All other activities are optional and at your own expense. If you choose not to participate in the included activities on this itinerary, the cost will not be refunded.
• Arrival/departure transfers to/from accommodation booked through us
• Group leader from beginning to end of tour
• 7 breakfasts, 1 lunch, 1 dinner
• 3-star or higher accommodation (7 nights)
• South Shore Tour & Sightseeing
• Snorkelling
• River Rafting
• Glacier Hike & Super Jeep tour
• Boat tour on the Glacial Lagoon
• Blue Lagoon entrance/towel/drink/algae mask
• Golden Circle tour
• Pink City history walk
• Pride Champagne brunch
• Pride Closing Party
Meals Included:
7 Breakfasts, 1 Lunch, 1 Dinner
Due to the high cost of restaurants in Iceland, many meals are optional, allowing you the freedom and flexibility to choose what and when you eat. Our group often enjoys optional meals together, but don't feel shy if you want to break away and do your own thing.
We recommend budgeting approximately $750 for meals not included, although this amount can vary based on your eating and drinking habits.
• International Airfare
• Meals and activities not outlined in itinerary
• Gratuities for Tour Leader ($40-80 USD)
• Gratuities for drivers, hotel staff, porters (approximately $50 USD)
• Travel insurance package covering medical, trip interruption & baggage loss

3 & 4 Star Hotels (7 nights)
We have carefully chosen these gay-welcoming properties with you in mind. They have the right balance of comfort while still being locally owned.
Joining/Finishing Point Hotel
CenterHotel Plaza, Reykjavik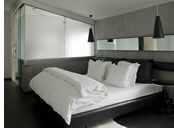 Centrally located on Ingólfstorg Square in Reykjavik's Old Town, CenterHotel Plaza
offers a bright, cosy bar and a popular breakfast buffet. The National Gallery and other attractions are within a few minutes' walk.
The modern guest rooms feature wooden floors, a minibar and satellite TV. Some also include a seating area and a flat-screen TV. Guests can check their email via the free in-room internet access.
The CenterHotel's breakfast buffet offers a wide variety of hot and cold choices. After exploring the city, guests are welcome to unwind with a drink in the Plaza Bar, which has floor-to-ceiling windows and a flat-screen TV.
Plaza's central location provides easy access to dining, shopping and culture. Staff is happy to provide tourist information and other services. The Flybus airport shuttle stops right by the hotel.
Physical Rating
Be prepared for some physical activity. Although you aren't required to be in great shape, the more fit you are, the more you will enjoy your holiday.
Group Size
Maximum of 16 travellers per group. Departure is guaranteed, subject to 4 people travelling.
Budget
Allow $800 USD for meals not included.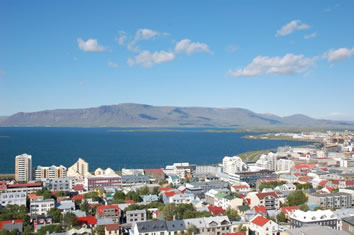 Day 1 - Reykjavik, Iceland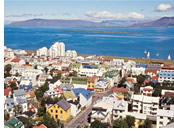 Hallo! Welcome to Iceland.
Our first day begins with our group meeting followed by an optional group dinner. Following dinner we head to a popular lounge for a welcome reception with locals.
You are met on arrival at Keflavík International airport and transferred to your hotel on a shared shuttle service. Transfer: approximately 55 km.
You can arrive at any time on day 1 as there are no activities planned until the important welcome meeting at 5:00pm. If your flight arrives after this time we recommend that you consider booking a night's accommodation prior to the trip so you can ensure you are able to attend this meeting.
Following our meeting, we'll have an included drink nearby, followed by our first group dinner. The rest of your night is free, although we may head out on the town!
The world's northernmost capital lies just a whisker below the Arctic circle, sees around four hours' sunlight in the depths of winter, but bathes in 22 or more hours of it in summer. Surrounded by gleaming volcanic peaks and crystalline ocean with a vibrant heart that beats with a wild nightlife, Reykjavik's contrasts are utterly beguiling, beautiful and must be touched, tasted and seen to be believed.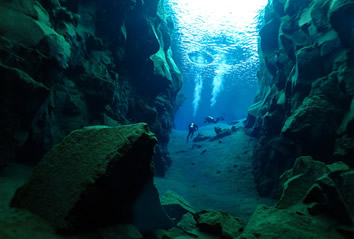 Day 2 - Silfra Snorkelling / Gjabakkahellir Cave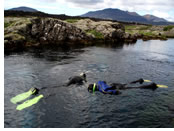 Today we head to Silfra where we swim and snorkel between the continents where the tectonic plates meet, with the opportunity to actually see the crack in the surface under water. Later in the day we continue our adventure with a cave hike through a lava tube that was created thousands of years ago by a river of red glowing lava.
After an early breakfast in the hotel, we are picked up and taken to Silfra for some snorkeling. Silfra has been rated as one of the top snorkeling and diving destinations in the world. Here, we get the unique experience to swim between two continents! As the tectonic plates here are pulling apart, this allows for us to swim overtop and take a look at the crack in the earth's crust. And don't worry about the cold - we're provided with wet suits and a nice cup of hot cocoa after this once-in-a-lifetime experience.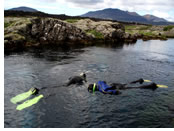 Then, we head by bus to our spelunking excursion in Gjabakkahellir Cave. This cave and lava tube was created thousands of years ago by a river of red lava at temperature up to 1800°C (3272°F). Following our safety briefing we strap on our caving gear and head into the depths of a cave. Be prepared for some climbing and crawling to get to the heart of the cave, but the journey is definitely worth it. After emerging back into the light of day, we head to our hotel for the evening to unwind and relax after this day of whirlwind adventures. You can grab dinner in the hotel bar, or perhaps grab a cold beer and relax in one of the natural geothermal Jacuzzis under the night sky.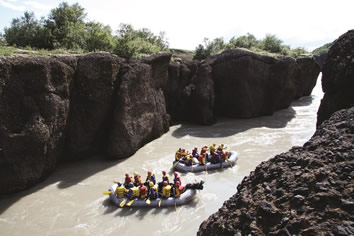 Day 3 - Hvíta River Rafting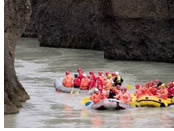 This morning we hit the water for an exciting and beautiful river rafting experience where you'll see great mix of serene canyons and adrenaline pumping waves and rapids. In the afternoon our drive takes us along the South coast of Iceland to iconic Seljalandsfoss and Skógarfoss waterfalls as well as the captivating rock formations of Reynisfjara and Reynisdrangar.
After checking out of the hotel this morning, we head by bus to Hvíta River for a day of whitewater rafting! The route is seven kilometers in length and is perfect for people with any level of rafting experience. Be prepared to paddle through picturesque canyons followed by adrenaline pumping waves and rafting. One of the highlights about this route is the stop at Brúarhlöđ canyon approximately half way through the route. Here there is the perfect place to stretch your legs, enjoy the scenery, and if you're up for it - cliff jump!
We continue down the river to our end point where lunch and a warm soup is waiting. After drying off, our private vehicle takes us along the southern coast of Iceland toward Vik, with some great stops along the way. Make sure to have your camera ready when we take a break at Seljalandsfoss and Skógarfoss waterfalls, the black sand beaches of Reynisfjara and the iconic Reynisdrangar sea stacks.
Once we arrive in Vik, there is an included dinner at our hotel and free time in the evening to relax after this busy day.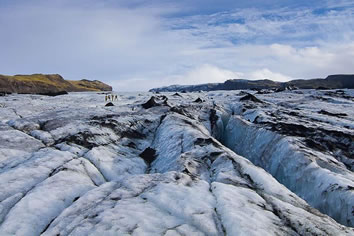 Day 4 - Myrdalsjökull Glacier Trek & Jökulsarlon Glacial Lagoon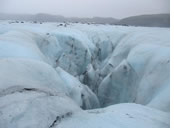 Are you ready to trek on a glacier? Great! After a lesson in ice walking we head onto the Myrdalsjokull Glacier to experience one of the most popular activities in Iceland; Ice Trekking. After you've conquered the glacier, we head to Jokulsarlon Glacial Lagoon where we have a relaxing boat ride amidst freshly calved icebergs.
We start the day off with a bang, with a glacier hike of Solheimajökull. The Solheimajökull glacier tongue extends from the great Myrdalsjökull glacier, down to the sandy plains of the Icelandic south coast. The spectacular surroundings are marked by rugged and majestic rock formations thoroughly shaped by the glacier. This is an easy walk on crampons up onto the ice field where a wonderland of ice sculptures, ridges and deep crevasses await your discovery.
After exploring the glacier we head to Jökulsarlon and the famous Glacier Lagoon. Here, small icebergs float in the lagoon that was previously formed by a glacier. We take off into the lagoon on boat to get up close and personal with the icebergs. Make sure to have your camera as the views are incredible! Afterwards we head onto our hotel for the evening.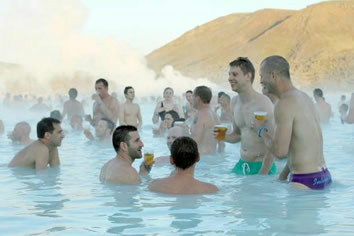 Day 5 - Blue Lagoon & Pride Opening Ceremonies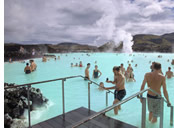 Your adventure becomes even more exciting when we head to the Blue Lagoon where we join other gay and lesbian travellers for a dip in the geothermal pool. Enjoy a drink and get to know some of the new guests before we head to our design hotel in Reykjavik which will serve as our base for the next few nights. This evening we attend the Reykjavik Pride opening ceremony where tourists and locals enjoy local and international entertainment.
This morning we check out of our hotel and head back toward Reykjavik, with a stop along the way at the Blue Lagoon. Arguably the most iconic attraction in Iceland, the Blue Lagoon is a geothermal spa known for its stunning colour.
Once we arrive, we connect with other LGBT travellers who we join for the next three days to celebrate Reykjavik Pride. We get the chance to meet and mingle, and of course take some time relaxing in the warm waters. After our warm dip and a chance to get to know other travellers we hop on our private bus and head back to Reykjavik where we check in to our hotel for our final nights in Iceland.
At 8:00pm those interested can take part in the Reykjavik Pride opening ceremonies which feature a mix of local and international performers. Following this event, those interested can head to a popular nightclub to dance the night away.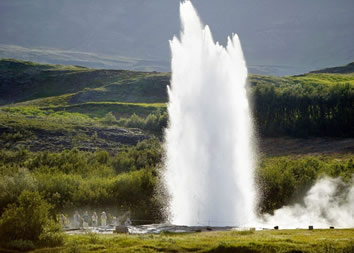 Day 6 - Golden Circle & Fontana Steam Baths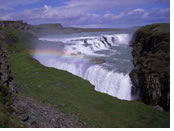 Today we will join a larger gay and lesbian group to experience Gullfoss waterfall, the world-famous Geysir & Pingvellir national park where you can see the Great Atlantic Rift. Following this we head to the Fontana Steam Baths where you will have a chance to enjoy three geothermally heated baths, a sauna, a warm sand beach and access to the pristine waters of Lake Laugarvatn. If you have energy after today we have an optional dinner followed by options for the Pride Concert, Queer Cruise and the other official Pride events.
Today, we enjoy the famous Golden Circle tour with the travellers we met yesterday from around the world. Our first stop is the national park Pingvellir followed by Haukadalur, a famous geothermal area with hot springs, pools of bubbling mud and erupting geysers. After spending some time here, we head to Gullfoss waterfall, one of the most well known waterfalls in Iceland.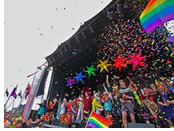 This afternoon we return to Reykjavik for a city tour that features both the mainstream and gay history of this incredibly progressive city and country.
For dinner, we recommend stopping by Kolabrautin restaurant in Harpa. The food is delicious, and the setting is breath taking. This evening, there are many optional activities for you to join in during Reykjavik Pride. There is the popular Reykjavik Pride Concert in the Harpa Concert Hall, a queer cruise from the Old harbour of Reykjavik (which departs after the concert), or you can just spend the night bar hopping in the city.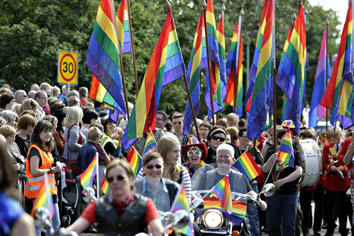 Day 7 - Reykjavik Gay Pride

What better way to start your last full day in Iceland than with a champagne brunch with the travellers you've met over the past three days? Afterwards, we take a short walk over to the route for the annual Pride Parade. One of the biggest events in Iceland, the parade attracts nearly a third of the population of Iceland and is always a great time! After the parade, there is a short outdoor concert at Arnarhóll where the party continues. We love to see such wide variety of people attending including families and children!
Our last dinner together (optional) will be arranged by your OUT Adventures leader at a fantastic restaurant.
We recommend rounding your trip off with a great party at Broadway, one of the most popular events during Reykjavik Pride. With great local DJ's and performers,. Spend as much time as you'd like celebrating and dancing tonight as many bars and clubs are open until 5:00am!
Day 7 - Reykjavik / Departure
There are no activities planned for Day 8 and you are free to depart at your leisure using your complimentary transfer.. If you are planning to stay in Reykjavik, please let us know as soon as possible as hotels in Reykjavik fill up quickly during Pride. Thank you for joining OUT Adventures in Iceland!