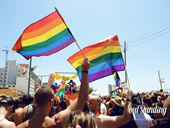 Tel-Aviv is quickly making a name for itself as one of the top Gay destinations in the world. The extravagant and lavish Pride Week takes place annually at the beginning of the summer, when the sun shines brightly on the Tel Aviv shores. This is one unforgettable week, as Gay tourists from all over the world flock their toned, chiseled bodies to get a glistening glimpse of the vibrant nightlife, outrageous parties, a must see-to-believe Pride Parade and of course, a plethora of gorgeously bronzed Israeli men and women.
We make celebrating your Pride as seamless as possible, from accommodations at the best hotels in the city, reservations at the trendiest restaurants and insuring your entry to the most exclusive parties and fabulous events taking place during Pride 2023. Avoid the hassles of limited vacancies and sold out soirees. Book your Pride Week with us and experience Gay Israel the right way.
Day 1 - Thursday, June 08, 2023
Tel Aviv, Israel
Shalom and welcome to Israel! Upon arrival at Ben Gurion Airport, you will be greeted by our OUTstanding Travel Representative, who will assist you with your baggage and escort you to transfer to your hotel for your first of many overnights in one of the hippest cities on Earth! Tel Aviv is a world hub and capital of gay vibrancy and pride, a paradise combining golden beaches with a world-class nightlife, incredible culture and cuisine, and fantastic listed Bauhaus architecture.
Night time - Party time!
(ticket is included)
Spend overnight in Tel Aviv.
Day 2 - Friday, June 09, 2023
Tel Aviv, Israel
After a refueling breakfast at the hotel, the big day has arrived! Experience the full magnitude of the world renowned Tel Aviv Pride Parade. Itís amazing! Itís colorful! Itís Gay!
Celebrate freedom by strutting your stuff at the Parade before heading to the Official Pride Beach Party in the afternoon, and finally converging later in the night at Main Pride Event. Spend the rest of the night partying your heart out, loud and proud in Tel Aviv.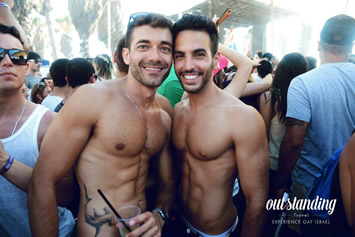 Day 3 - Saturday, June 10, 2023
Tel Aviv, Israel
A day to relax and recover, and make the most of your stay in Tel Aviv. spend the day lounging at the Hilton Gay Beach or visiting the Tel Aviv port and gather your strength for the tip top high of the Mega Pride closing party of FFF with DJ Offer NissimÖ we assure you wonít be disappointed.
Day 4 - Sunday, June 11, 2023
Tel Aviv, Israel
Following breakfast, check out from the hotel and transfer to Ben Gurion International Airport for your flight back home taking with you everlasting fond memories of your Israeli Pride Weekend.
Goodbye and LeíHitraot (till we see you again)!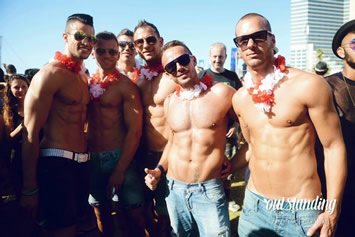 Below you may choose from 4 different rate options. Each rate includes 3 night hotel accommodations (bed & breakfast + free Wi-Fi), greet and assist at the airport by an OUTstanding Israel Travel Representative, private transport to and from Ben Gurion Airport, passes for 3 of the hottest Pride Weekend events.
Hilton Tel Aviv Hotel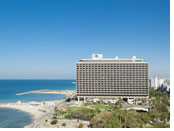 50 yards from the Mediterranean beach! Hilton Tel Aviv
, located within the beautiful Independence Park, has direct access to the Hilton Beach and Tel Aviv Promenade. Each of its 560 guest rooms comes with a private balcony, a stunning sea view and an elegant marble bathroom.
The hotel is situated in the heart of Tel Aviv, just a short stroll to the city's shopping centers, restaurants and cultural landmarks. Old Jaffa, one of the oldest cities in the world, is a few kilometers away. We are only 12 miles from Ben Gurion International Airport.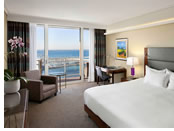 From your private balcony, you'll enjoy views of the Mediterranean Sea. After a busy day, relax by the outdoor saltwater pool or work out any stress in the fully equipped gym.
Choose from a buffet breakfast in Cafť Med, a relaxed lunch in Yakimono Sushi Bar or a gourmet dinner in the new Chef restaurant Chloelys. We also serve refreshments in the Lobby Lounge, the seasonal Pool Bar, and of course, any time with Room Service.
Sheva Spa, the first of the traditional Thai spas in Israel, features a full gym, sauna and steam rooms and relaxation area with sea views. As a guest, your access is complimentary. Our spa atmosphere combines the design, ambience and fragrances of Royal Thailand, creating a unique experience.
Double Occupancy, Deluxe Room: $1,400 USD per person
Single Occupancy, Deluxe Room: $2,290 USD
Brown Beach House Hotel, Tel Aviv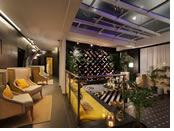 The new Brown Beach House Hotel
in Tel Aviv marks the arrival of Tel Aviv's leading contemporary boutique hotel brand, the Brown, to the city's coastal area, currently dominated by large chain hotels. It is for those who want to experience an authentic Tel-Avivian hospitality, without distancing themselves from the beach.
Sister to the world acclaimed Brown TLV Urban Hotel, the Beach House is designed as a luxury summer house with tropical influences and a retro feel.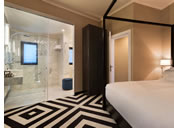 Introducing contemporary boutique hospitality to the area, the hotel offers 40 extra-spacious rooms and suites featuring sizable private sun terraces, 24 hours concierge, a viby bar, a Kosher cafe-restaurant (currently open for breakfast only) , spa and business facilities, all within a one minute walk of the cityís famous beaches.
Deluxe rooms can accommodate up to two adults. 27 SqM (290 SqF) with one King-size bed and a sofa bed, and a spacious sun terrace.
Double Occupancy, Classic Room: $1,135 USD per person
Single Occupancy, Classic Room: $1,755 USD
Melody - an Atlas Boutique Hotel, Tel Aviv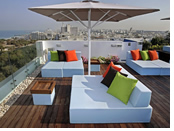 Situated near the beach, Melody - an Atlas Boutique Hotel
is in the heart of Tel Aviv, within walking distance of Independence Park, Hilton Beach, and Nordau Beach. Also nearby are Tel Aviv Port and Gordon Beach.
"If you want creative people, give them enough time to play," is the motto behind the Melody Hotel in Tel Aviv, Atlas Hotels' most sophisticated property. A unique selection of services and stylish design bring to life our WORK & PLAY philosophy.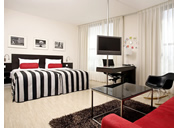 All rooms at Melody Hotel - an Atlas Boutique
Hotel are completely refurbished and include cable TV and free wireless internet access. DVDs are available from reception. Some rooms have sea views.
The hotel has a stunning rooftop terrace with views over the city and the Mediterranean Sea. The hotel lobby lounge is open all day, with complimentary evening snacks and beverages (Sun-Thurs).
Double Occupancy, Standard Room: $1,060 USD per person
Single Occupancy, Standard Room: $1,640 USD
Abraham Hostel, Tel Aviv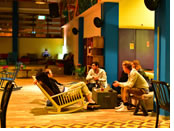 The Abraham Hostel Tel Aviv
is located in the beating heart of Tel Aviv surrounded by many of the city's hottest spots. With over 350 beds, the hostel hosts guests from around the world who enjoy its warm atmosphere, convenient location, friendly staff, daily events and tours, and extensive facilities. We look forward to welcoming you to Tel Aviv and extending the famous hospitality of Abraham, from Biblical times to your visit.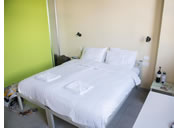 Abraham Hostel Tel Aviv is located in the Tel Aviv City-Centre district, 600 m from Independence Hall Museum and 700 m from Shenkin Street. This air-conditioned hostel has a terrace and views of the city. Free WiFi is available throughout the property.
All simply furnished rooms feature a refrigerator and a private bathroom with shower. There is a 24-hour front desk at the property.
Double Occupancy, Economy Room: $935 USD per person
Single Occupancy, Economy Room: $1,420 USD