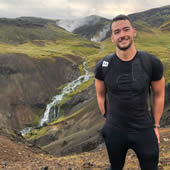 World renowned for its colourful volcanic landscapes and its rugged natural beauty the Landmannalaugar to Thorsmork trek is one of the top treks on the globe. This trail is most commonly known as the Laugavegur trail. Situated in South Central Iceland the area is part of the isolated Fjallabak nature reserve and is easily accessible from Reykjavik. The highlights of this classic Icelandic trail include walking through the rainbow coloured mountain ranges, fording rivers and relaxing in hot pools near to our campsites.
You will see steaming geysers, bubbling mud pools and brilliant white glaciers. This is a truly wilderness trip, escape the rat race and head into the Icelandic wilderness with an LGBTQ friendly trekking company.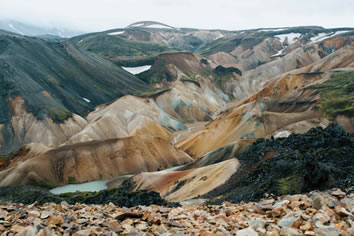 Whilst trekking the Laugavegur trail we will be avoiding the overly crowded and noisy mountain huts and instead will be camping nearby. Our food will be provided, with a little help, from a mountain chef in a cook tent and we will be using two person mountain tents to overnight in These are provided in Iceland. Our main luggage, cooking equipment and tents will be transported from campsite to campsite by an all terrain vehicle.
This trek is achievable to anyone who walks in mountains regularly and is comfortable wilderness camping. The conditions in Iceland can be challenging with strong winds and heavy rain. It is very important to pay special attention to the kit list on this expedition. It is a remote trek with river crossings and no infrastructure. It is important to not underestimate it.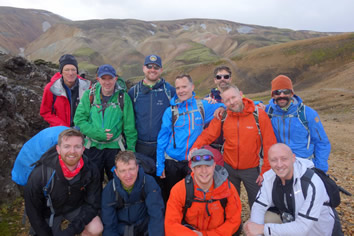 Day 1 - Arrive in Reykjavik and transfer to Hostel
Fly into Keflavik Airport. Flights will be recommended once you have paid a deposit and the trip has been confirmed. On arrival you will be transferred to our hostel by shuttle bus. You have the afternoon to explore Reykjavik. We will eat out at a restaurant near the Hostel.
Day 2 - Transfer Reykjavik to Landmanalaguar
A sightseeing drive through Southern Iceland to the start of the Laugavegur trek. The drive will take approximately 4 hrs. We will stop on the way to view the dramatic landscapes we pass. On arrival in Landmanalaguar we will pitch our tents and have a meal prepared for us. After dinner there will be the chance to enjoy the hot pools and prepare for our trek the following day.
Day 3 - Landmanalaguar to Alfavtn (22km, 8hrs 600m of ascent)
After an early breakfast you will need to pack your tent and bag to be transferred to the next campsite. After breakfast you will also need to prepare a packed lunch from food provided. Todays trek starts of gently winding through lava fields before climbing 500m to Hrafntinnusker Hut where we will have packed lunch. After lunch we descend to Alftavn crossing a lunar-like landscape with bubbling mud pools.
Day 4 - Alfavtn to Emstrur (15km 6hrs 200m of ascent)
After a more leisurely breakfast you will once again need to pack up your tents and equipment ready for todays walk. The trail leads you over the Brattháls ridge into Hvanngil ravine. At the bottom of this ravine we will need to paddle across the small Bratthálskvísl river. After lunch we will pass some small huts before once again fording another river. A short walk leads to our final river of the day, which is considerably larger and thankfully has a bridge.
Day 5 - Emstrur to Thorsmork (15km 7 hrs gradual descent)
Breakfast and pack equipment. Today we are passing through the mountains and leaving the black ash deserts before descending towards the forested valley of Thorsmork. Of course being Iceland we will need to ford a number of rivers including the deepest of the trek before reaching the safety of the land of Thor. This lush Artic valley is dotted with silver birch trees and colourful flowers in summer. It's a stunning place to spend the night and tonight our campsite has fireplaces and showers!
Day 6 - Thorsmork transfer to Reykjavik
This morning will be the final time you will need to pack up your tent. There will be the opportunity to explore Thorsmork and it's many short trails before we make the 4hr journey back to Reykjavik in an all terrain vehicle.
Day 7 - Free day to explore Reykjavik and relax in the Blue Lagoon.
Day 8 - Reykjavik Departure
You will be transferred back to Keflavik in time for your flights home.