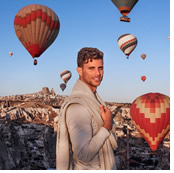 Adonis Gay Holiday & Source Events invites you to combine magical Cappadocia and Istanbul on this 4-night Turkey gay tour. After our Athens to Istanbul Luxury Gay Cruise, your adventure begins in Istanbul, one of the world's most remarkable cities, full of ancient monuments, awe-inspiring religious buildings, and intoxicating bazaars. Istanbul's strategic location has attracted many marauding armies over the centuries. The Greeks, Roman, and Venetians took turns ruling before the Ottomans stormed into town and decided to stay. Exploring the iconic sites of the Blue Mosque, Hagia Sophia, and Grand Bazaar and cruising on the Bosphorus is sure to be just some of the highlights of spectacular Istanbul.
After 2 days in Istanbul, we fly to Cappadocia is like landing on another planet filled with lunarscape panoramas and 'fairy chimney' rock formations. This regions' accordion ridged valleys, shaded in a palette of dusky orange and cream, are the stuff of psychedelic daydreams. The fantastical topography is matched by human history here. People have long utilized the region's soft stone, seeking shelter underground and leaving the countryside scattered with underground cavern architecture. Highlights will include staying in one of Cappadocia's exquisite cave hotels and witnessing the spectacular surreal landscape from a hot air balloon at sunrise.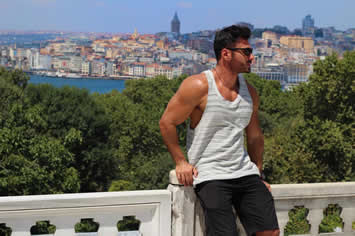 Join us for our pre-trip: Athens to Istanbul All-Gay Cruise aboard the luxury ship Ponant Le Jacques Cartier! We invite you to step aboard your private yacht and join us for the voyage of a lifetime. Discover the beauty and mythology of the Greek Islands and Turkey on a spectacular voyage from Athens to Istanbul aboard Ponant's luxurious brand-new yacht, Le Jacques Cartier.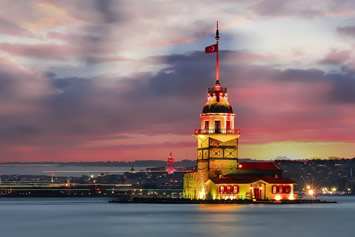 Day 1 - Tuesday, August 9, 2022
Istanbul, Turkey
Disembark Le Jacques Cartier upon arrival at Galata port, drive to the Old City and visit Suleymaniye Mosque. Enjoy lunch at Halat Restaurant which is part of a private Museum Koc family.
After lunch, we'll visit the spice market and will finish the afternoon with a cruise on the Bosphorus also known as the Strait of Istanbul, is a narrow, natural strait and an internationally significant waterway located in northwestern Turkey. It forms part of the continental boundary between Europe and Asia and divides Turkey by separating Anatolia from Thrace. Afterward, check into the hotel.
Hotel: Pera Palace Hotel
, Istanbul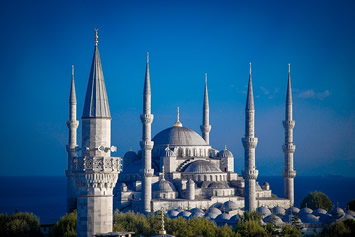 Day 2 - Wednesday, August 10, 2022
Istanbul
After breakfast at the Pera Palace Hotel, we'll visit Old Peninsula including Byzantium Hippodrome, Topkapi Palace, including Harem Section, The Unesco site "The Blue Mosque" and underground Cistern and the Grand Bazaar.
Return to hotel for a leisure afternoon and time to visit a Hamman.
Hotel: Pera Palace Hotel
, Istanbul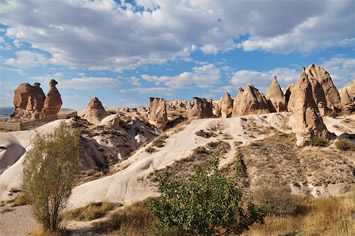 Day 3 - Thursday, August 11, 2022
From Istanbul To Cappadocia
Depart to Istanbul Airport for departure for those flying from I?stanbul taking the flight to Kayseri Airport- One hour drive to Cappadocia Panoramic stop at Esentepe visit a house carved in the rocks to experience the traditional life of a local people.
After lunch at "Prokopi Restaurant" visit the local handicraft center. Drive-thru spectacular valley for our local wine tasting. Check into our Hotel
Hotel: Argos Hotel
, Cappadocia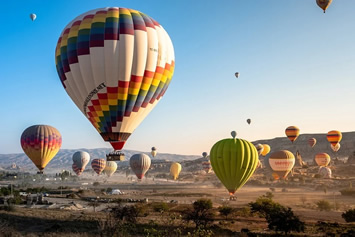 Day 4 - Friday, August 12, 2022
Cappadocia
Early morning for Optional Balloon ride. Not to be missed this wonderful adventure with hundreds of Hot Air Balloons flying over the beautiful landscape of Cappadocia.
Afterward, return to Argos hotel for breakfast then a tour of Cappadocia, Pigeon Valley, Kaymkli Underground city, Goreme Open Air Museum, Uchisar Rock Castle.
After lunch, visit Pottery making workshop in Avanos and visit Devrent Valley.
Farewell dinner tonight at the Argos Hotel.
Hotel: Argos Hotel
, Cappadocia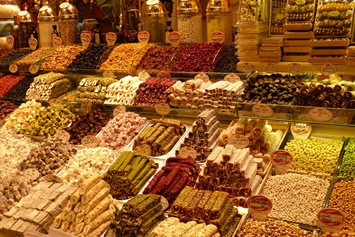 Day 5 - Saturday, August 13, 2022
Cappadocia to Istanbul
Depart to Istanbul Airport for connecting International flights.