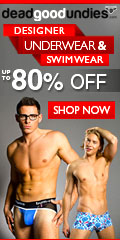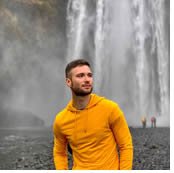 A land of surprises. Iceland is a rather unfortunate name for this land of exquisite beauty and sharp contrasts. In the Viking Sagas, there is a legend that the first explorer to discover the island wanted to keep it all to himself, so he named a green country "Iceland" and a nearby frozen wasteland "Greenland," hoping that future immigrants would chart their course further north. Who knew Vikings were such practical jokers?
Once you experience Iceland, you'll understand what early settlers were eager to protect. Majestic landscapes, twisting coastlines, deep fjords, intricately carved mountains, belching mud pools, steaming hot springs, blinding glaciers, heavenly waterfalls and hellish volcanoes all contribute to the sense that the land has just emerged from Mother Nature's forge.
This magnificent country is perfect for a summer fling! The sky is light almost 24 hours per day, everyone speaks English, the friendly city of Reykjavík is festooned with gay flags, and it seems like the entire country turns out for a spectacular celebration of Iceland's Gay Pride. Join us, as we revel in an electric green landscape, full of wide-open spaces, and discover one of Europe's best kept secrets.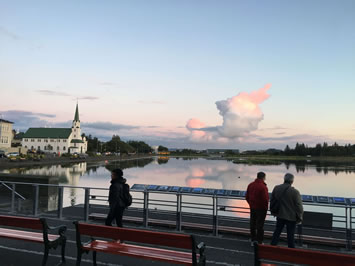 Day 1 - Friday, July 29, 2022
Arrive in Reykjavík – Welcome to Iceland
Arrive at the Keflavik International Airport. It is very easy to book your own Flybus shuttle from Keflavik International Airport to Reykjavík. It will cost you approximately $60 round trip, and details about how to book online will be provided prior to departure. Our rooms should be available for check-in in the early afternoon, so if you arrive early, plan on enjoying some down time exploring the city.
Our guide will meet the group at 17:30 local time at the hotel and share highlights of the adventure ahead before leading the group to dinner. This evening Toto Tours hosts a festive Welcome Dinner at a local restaurant.
Meals: Welcome Dinner
Hotel: Alda Hotel
, Reykjavík, 4*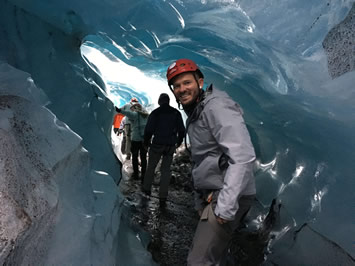 Day 2 - Saturday, July 30, 2022
Day Tour to Borgarfjörđur
Today's full day excursion will take you north of Reykjavík to Borgarfjörđur, a fjord in the southwest of Iceland. You will get your first taste of the natural beauty that Iceland offers as we drive through rural countryside decorated with scenic, varied mountains.
Along the way we stop and experience Deildartunguhver, the highest flowing hot spring in Europe, known for its rapid flow rate of 47.5 gallons per second. The hot spring also serves as a perfect example of how Iceland has harnessed its natural resources to meet the needs of its citizens. Deildartunguhver produces water at an incredibly consistent 207 degrees Fahrenheit, which is piped as far as 40 miles away to heat homes. We explore the hot spring safely from the wooden walkways and observation points situated throughout.
Continue on to the breathtaking Hraunfossar and Barnafoss waterfalls. Hraunfossar, which translates to "Lava Waterfalls," is a collection of countless creeks and cascades of all sizes streaming out over a half mile lava field. The water can sometimes be a dazzling turquoise, but on occasion you will see it as milky white. Barnafoss is another beautiful waterfall steeped in local lore.
The final stop of today's tour is the Langjökull Glacier where we explore an ice cave. This journey into the glacier is an adventure unlike any other. The manmade tunnel was constructed to allow visitors to explore the inside of a glacier year-round. Experience the vivid blue walls within and see the glacier's beauty from the inside.
Today's tour ends after returning to the hotel. You have the evening free for dinner and independent exploring in Reykjavík.
Meals: Breakfast
Hotel: Alda Hotel
, Reykjavík, 4*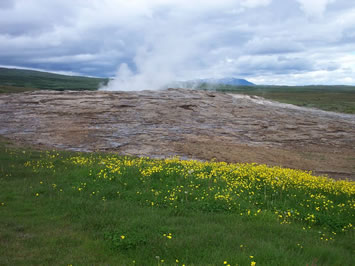 Day 3 - Sunday, July 31, 2022
Reykjavík – Golden Circle - Hella
Pack your bags and meet the group for breakfast before beginning a full day tour of Iceland's popular Golden Circle. The tour focuses on the scenic natural wonders for which Iceland is justly renowned. The National Park of Thingvellir was for centuries the open-air Viking parliament. We will walk through the natural, beautiful and historic site, where the continents of North America and Europe separate.
Afterwards we visit the original Geysir, Iceland's "Old Faithful" and discover Gullfoss, considered by many to be Iceland's finest waterfall. We end the day with a group dinner at Hotel Hella, where we stay one night.
Meals: Breakfast & Dinner
Hotel: Hella Hotel
, Hella, 3*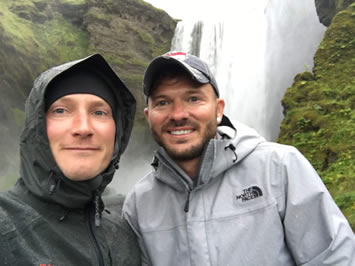 Day 4 - Monday, August 01, 2022
Hella – South Shore – Vík
Today's full day excursion takes us across the South Shore. Along this beautifully scenic drive we stop to experience two of Iceland's most popular waterfalls.
The spectacular Skógafoss is one of the biggest waterfalls in Iceland, falling from a height of nearly 200 feet and measuring nearly 80 feet wide. We hike right up to the waterfall's base and experience its thunderous crashing, but be prepared with the proper waterproof gear. You can also hike up to the top of the waterfall and experience it from above.
Seljalandsfoss also falls nearly 200 feet, but is much narrower. It is popular because it can be fully encircled by following a pathway into the cavern behind it. We finish our day by continuing on to Vik where we spend the next 2 nights. Enjoy dinner with the group at Hotel Vik.
Meals: Breakfast & Dinner
Hotel: Vik Hotel
, Vik, 4*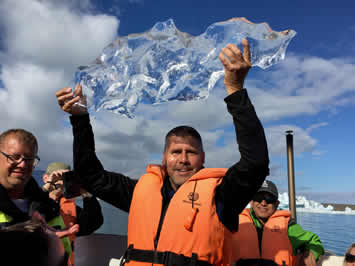 Day 5 - Tuesday, August 2, 2022
Vik – Skaftafell - Jökulsárlón Glacier Lagoon – Vik
The Skaftafell nature reserve is a part of the Vatnajökull National Park, the largest national park in Europe. The area nestles under the slopes of Vatnajökull, Europe's largest glacier, and is dominated by Iceland's highest peak, Mount Hvannadalshnjúkur (6,922 feet). This area used to be one of the most isolated communities in Iceland because of the ice cap on its north, the harbourless sandy beach of the Atlantic Ocean to the south and the wild glacial rivers in the barren sands to the east and the west. The landscape has been formed through thousands of years by different influences of fire, ice and water and the mild climate is characteristic for Skaftafell compared to the rest of southern Iceland. We hike up to the waterfall Svartifoss (Black Fall), which is surrounded by black basalt columns, and from there to Sjónsker (View Cliff) where we have a magnificent view of Mount Hvannadalshnjúkur and the area that was flooded during an eruption under the ice cap in the year 1996.
In the afternoon we head over to the famous glacier lagoon for an amphibian boat tour, cruising between icebergs of all shapes and sizes, which float in the clear blue water. After the boat tour we visit a black sand beach to take a closer look at icebergs that have floated all the way from the glacier lagoon into the Atlantic Ocean.
We return to Hotel Vik in time for dinner at the hotel with the group.
Meals: Breakfast & Dinner
Hotel: Vik Hotel
, Vik, 4*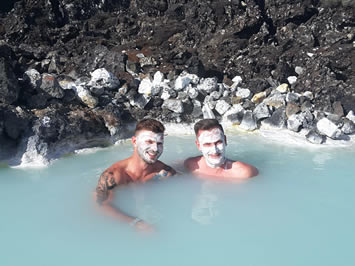 Day 6 - Wednesday, August 3, 2022
Vik – Blue Lagoon – Reykjavík
Today we return to Reykjavík with a stop at the Blue Lagoon along the way. The Blue Lagoon is one of Iceland's most popular attractions. The beautiful milky-blue water is unlike anything else found on earth, and stands in stark contrast to the surrounding black lava fields and grey moss. The water remains at 102°F year-round, making it the perfect bathing temperature. Our admission includes a towel, a free drink from the swim up bar, and a silica mud mask.
After finishing at the Blue Lagoon, we have a short drive back to Hotel Alda in Reykjavík. You have the evening free for dinner and exploring in Reykjavík, which should be buzzing with pre-Pride festivities.
Meals: Breakfast
Hotel: Alda Hotel
, Reykjavík, 4*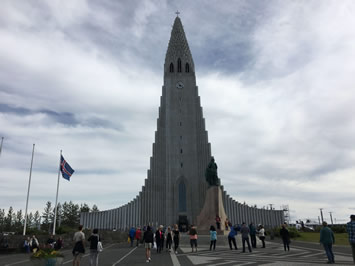 Day 7 - Thursday, August 4, 2022
Reykjavík City Tour and Whale Watching
After breakfast, experience Reykjavík with our guide and learn all about Iceland's capital and largest city. Included in the tour is entry to Hallgrímskirkja Bell Tower which offers expansive views of the city and surrounding countryside.
In the afternoon enjoy a whale-watching tour from Reykjavík harbor before returning to the hotel.
Tonight we celebrate the conclusion of our hiking adventures and the start of Gay Pride festivities with a celebratory dinner.
Meals: Breakfast & Farewell Dinner
Hotel: Alda Hotel
, Reykjavík, 4*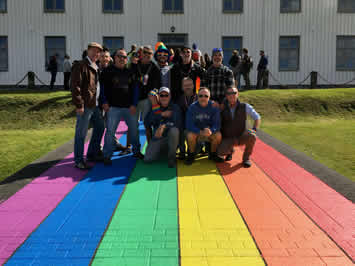 Days 8 & 9 - Friday & Saturday, August 5 & 6, 2022
Reykjavík Gay Pride
Since there are so many parties and venues, we keep the days and nights free for your own personal choices. We will provide information about the various Pride festivities prior to departure.
On Saturday, the annual gay pride begins at 2 pm, and this is an unforgettable event attended by almost one third of the country's population! Live concerts in the park where the parade ends continue into the night, and the party goes on from there. You will probably get back to your room just in time to check out!
Meals: Breakfast Daily
Hotel: Alda Hotel
, Reykjavík, 4*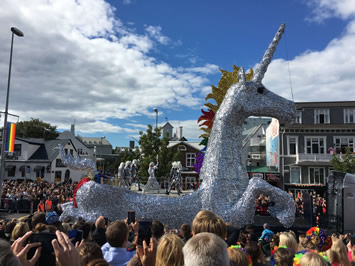 Day 10 - Sunday, August 7, 2022
Iceland Departure
Your tour ends officially after breakfast this morning.
Schedule your return flights home for any convenient time today. No airport transfers are included, but we can help you book your shuttle with FlyBus, which picks up at all the downtown hotels.
Meals: Breakfast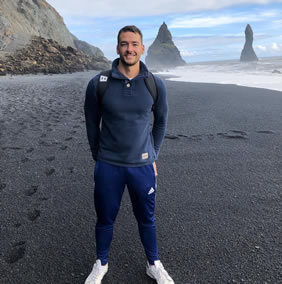 • Reykjavík
• Golden Circle Tour *
• Blue Lagoon *
• Thingvellir, Viking open air parliament *
• Geysir Park *
• Skaftafell Reserve *
• Jökulsárlón Lagoon boat ride *
• Thundering waterfalls *
• Langjökull Glacier Ice Cave *
• Whale Watching *
• Moderate hiking in spectacular scenery 2-5 hours daily *
• Iceland Gay Pride – one of the greatest parties in the world!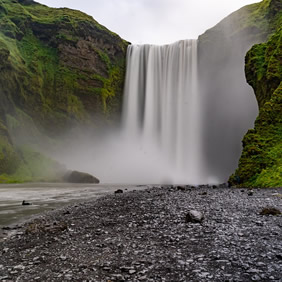 • 9 nights hotel accommodations:
- 6 nights at Alda Hotel
, Reykjavík;
- 1 night at Hella Hotel
in Hella
- 2 nights at Vik Hotel
in Vik
• Hotel breakfasts daily plus Welcome & Farewell Dinners and other meals as specified in the itinerary;
• Full time tour leader;
• Private vehicle and driver;
• English-speaking guide for sightseeing;
• Sightseeing activities and entrances as listed in the itinerary;
• Fully guided and escorted tour.
• Round trip airfare to Reykjavik (KEF);
• Airport transfers (you will book this directly at a cost of about $60 round trip);
• Ground transportation for sightseeing on your own (taxis, local guides, etc.);
• Meals and optional activities not specifically listed in the itinerary;
• Camera fees; alcoholic beverages; Travel Insurance; laundry, telephone calls, faxes, or any other expenses of a personal nature.
• Tips to drivers and guides and other conveyance attendants are not included; tipping guidelines for our group tips will be provided prior to departure.
Alda Hotel
, Reykjavík
At Alda Hotel Reykjavik, we combine a fantastic location, on Reykjavik's main shopping street, Laugavegur, with a harmonious atmosphere. Our boutique-style hotel, where rooms vary in shapes and sizes, offer a calm escape.
The idea of Alda Hotel Reykjavík is to provide tranquil space in the middle of the city to take in and process the expressions from the adventures experienced in Iceland. We are located on the upper end of Laugavegur (otherwise known as the quiet part), around a 15-minute walk from the center of the city. We are close to shops, cafés, and restaurants but away from the central nightlife area.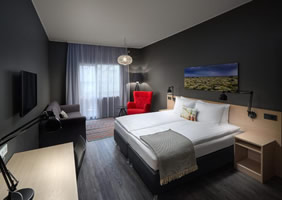 All guest rooms at Alda Hotel Reykjavík have a private bathroom with a bath or shower, hairdryer and free toiletries. Some rooms feature a private balcony with sea or city views.
Guests enjoy free access to Alda Hotel's gym, sauna and outdoor hot tub. Bicycles can be rented on site. Guests can also have a drink at the hotel bar. Reykjavik Art Museum is a 10-minute walk away. Lake Tjörnin is 0.6 mi from the hotel.
Hella Hotel
, Hella
Hotel Hella is a 3-star hotel located in South Central Iceland. It has 39 modern rooms, free WiFi and great hiking routes.
Hotel Hella is a great place for travellers keen to experience Icelandic nature. There are many hiking trails nearby, including Hekla Volcano, Fimmvörđuháls and Ţórsmörk. The hotel is 4 km from Ćgissíđufoss Waterfall and 11 km from Sagnagarđur. In this part of Iceland, there are a lot of horse rentals and the guides can take you on some famous tours. The golden circle, Gullfoss, Geysir, and Thingvellir are only an hour away.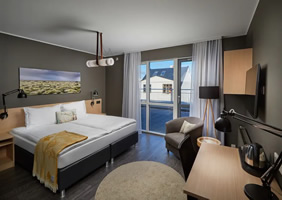 Hótel Hella has five types of room with enough variety to suit any group size. All rooms have a private bathroom, flat-screen TV and free WiFi. There is a restaurant at the hotel with a diverse menu. The hotel also has free parking, a bar, breakfast, and a small conference/video room.
Hótel Hella is a perfect place for those who want to explore the south coast and enjoy their stay in beautiful nature.
Vik Hotel
, Vik
Based in the country's southernmost village, Hótel Vík í Mýrdal has provided a warm welcome to visitors since 2004. The family-run hotel is remote and yet modern with its style being inspired by the natural wonders it is wrapped in: a mix of concrete, basalt, wood, and glass creates a contemporary feel that reflects the natural environment in which the hotel sits.
At the hotel, all rooms have a desk, a flat-screen TV, a private bathroom, bed linen and towels. All rooms feature a safety deposit box. Guests at Hotel Vík í Mýrdal can enjoy a continental or a buffet breakfast.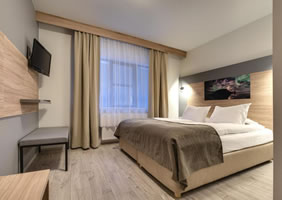 With a 10 minute walk to the beach or a 2 minute drive to town, Hotel Vík í Mýrdal is set on the most beautiful location in Iceland. You will find our hotel to be perfect for a peaceful holiday, with plenty of space for a quiet night's sleep after hiking outside during the day, and lots of attractions within easy reach.
Guests at the accommodation will be able to enjoy activities in and around Vík, like hiking.
Entry Requirements
For citizens of the United States, Canada, and EU, no visas are necessary. All you need is a valid passport.
Immunizations & Health
At the current time all travelers to Iceland must show either a certificate of full vaccination against COVID, or a certificate of previous COVID infection. In addition, most passengers must have a negative test (PCR or rapid antigen) taken within 72 hours of departure when traveling to Iceland. Important notes: Self-tests are not accepted. Passengers recovered from COVID-19 who have proof of a positive PCR test taken 14 to 180 days prior to the flight do not have to supply a negative test to travel. No quarantine period is required for those who meet these requirements.
Exit Requirements
Your airport departure tax will be included in the cost of your international airline ticket. All passengers traveling to the USA need to have a negative COVID-19 test to enter the country. Some rapid antigen and self-tests are accepted. We will organize a testing event within the required time-frame. Costs of the test will be the responsibility of each tour member.
Moderate Hiking
This Iceland Walking & Hiking Adventure Tour is accessible and suitable to all those with good health and those who are doing some sport regularly and are able to walk/hike 4-6 hours without much carrying. This tour is based on moderate daily hiking of 2-5 hours, 4-16 km and with elevation gains of from 200-800 meters.
What to Bring
Iceland's name and northern location influence the packing list. Even summer weather can be quite cool, so light woolens, wind/rain proof jacket and coat are essential. Wearing a number of layers is best, as items can be added or removed as need be when temperatures change quickly. Pack light and try to limit yourself to one suitcase plus carry-on. Pack medications in a carry-on just in case your bag doesn't arrive when you do. We suggest leaving expensive jewelry at home!
Money Matters
The monetary unit is the Icelandic "krona." Bills come in denominations of ISK 5000, 2000, 1000 and 500. Coins are ISK 100, 50, 10, 5 and 1. MasterCard and Visa are widely accepted; American Express is less common. On July 1, 2021, the interbank exchange rate was 123 ISK to the US dollar.
Taxes and Tipping:
Tipping at restaurants and bars is not expected. However, we will make a collective tip to our driver and guide at the end of touring. Budget at least $50 U.S. each day for out-of-pocket expenses.
Why Is Iceland Expensive?
Iceland's geographic isolation and harsh climate make it virtually 100 percent dependent on imports for everything except meat, potatoes, fish and dairy products. While virtually every conceivable item is available, import tariffs inflate retail prices considerably.