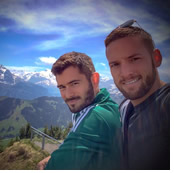 Switzerland...Land of Enchantment. Don't just visit; Live It like a Swiss! Travel by train, by bus, by cable car & by boat. Join us on a unique luxury gay adventure tour and see for yourself why Switzerland has been voted the #1 destination in the world by U.S. News & World Reports. Look beyond the chocolate, cuckoo clocks and yodelling – contemporary Switzerland, land of four languages, is all about once-in-a-lifetime journeys, heart-racing Alpine pursuits and urban culture.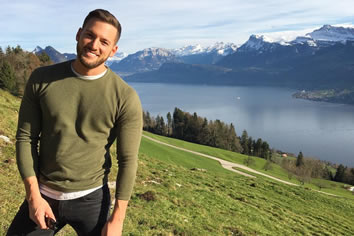 • Tours of Zurich, Lausanne, Gstaad, Bern, Lucerne
• Wine tasting in Lavaux
• Fondue Hike in Gstaad
• Ebiking & Hiking
• Scenic cruise on Lake Lucerne
• Cog Railway to top of Mt. Pilatus
• Cable Car to Krienz
• Craft Brewery Crawl
• Chocolate Train to Gruyeres & the Cailler-Nestle Chocolate Factory
• Optional: paragliding, mountain biking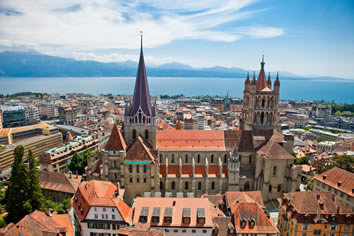 Day 1 - Ariive in Lausanne, Switzerland
Welcome to Lausanne. Our tour host will assist you in your check-in to our 4 Star hotel, where you have accommodations for 3 nights.
The nearest airport to Lausanne is Geneva (GVA). Swiss Railways (SBB/CFF/FFS) operates a train from Genève-Aéroport to Lausanne every 20 minutes and the journey takes approx. 50 min.
In late afternoon you will meet with your travelling companions for a welcome cocktail.
Then it's off to one of Lausanne's finer restaurants for a delicious Welcome Dinner.
Overninght in Lausanne
Meals Included: Welcome Dinner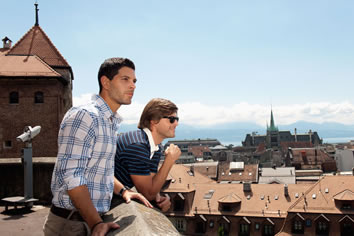 Day 2 - Lausanne & Wine Tasting
We take a morning tour of Lausanne, which lies in the middle of one of Switzerland's most popular wine growing regions, with Lake Geneva at its feet.
The upper town features small alleyways with cafes and boutiques, which shape the streetscape in the medieval town centre.
The lower town's scenic setting alongside Lake Geneva, known as Ouchy, is a great place to stroll along the waterfront promenade, enjoy its outdoor cafes and parks or just relax and watch the world go by.
Some more fun is planned as we enjoy a wine-tasting of the region's finest wines. This is followed by a 45 minute hike up to another vintner's wine cellar for a tasting of some additional wines (those not wishing to hike will take a mini-tour of the lakeside town of Vevey and then be driven to the wine cellar to join the group for the 2nd tasting).
We're treated to a traditional Swiss dinner tonight. After dinner there will be plenty of time to enjoy the many clubs, lounges and bars in the famous Flon District of Lausanne.
Overninght in Lausanne
Meals Included: Breakfast & Dinner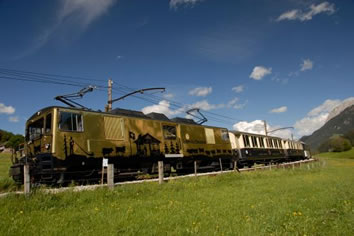 Day 3 - Chocolate Train
Fairytale-like scenery abounds as we take a ride on the famous "Chocolate Train." We'll pass through a region of meadows, brilliant mountain peaks and countryside dotted with quaint farmhouses replete with grazing sheep and cows.
We visit the charming town of Gruyeres to learn how its famous cheese is made.
Lunch on your own in one of Gruyeres' great restaurants – fondue anyone?
We then continue on to the Cailler-Nestle factory, pioneers of Milk Chocolate, where we see how their delicious chocolates are created and get to taste some of the freshly made goodies.
Free time in Montreux, a piece of paradise that has attracted artists and writers in search of beauty, tranquility and inspiration. Enjoy the promenade alongside Lake Geneva (immortalized by Freddie Mercury with the peaks of Le Grammont on the cover of the album "Made in Heaven").
Overninght in Lausanne
Meals Included: Breakfast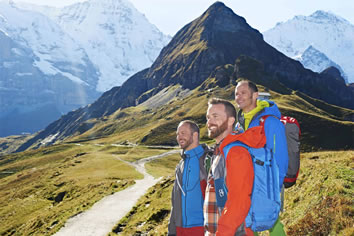 Day 4 - Fondue Hike or Ebike in Gstaad
A scenic morning drive takes us to Gstaad where it's your choice!
You can either take:
• 1. A Fondue Hike: we take a cable car ride to the top of the mountain for a hike, with views that are not to be believed, to a local farmhouse where we enjoy preparing and eating our delicious fondue or
• 2. Get your heart pumping on an Ebike tour through the gorgeous Gstaad-Sonnenland region.
We spend two nights in Gstaad, known as a destination of choice for the world's rich & famous.
Overninght in Gstaad
Meals Included: Breakfast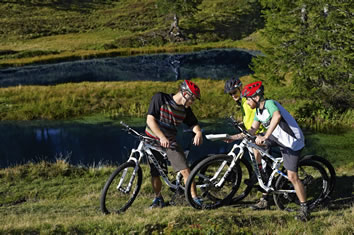 Day 5 - Free Day in Gstaad
Today is a free day to do what you please in this incredibly beautiful mountain setting.
We will assist you in arranging a mountain hike, an Ebike experience, downhill biking, paragliding or just relaxing in charming Gstaad, surrounded by these majestic Alpine mountains.
Overninght in Gstaad
Meals Included: Breakfast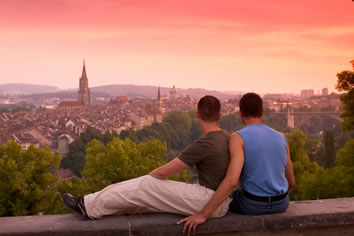 Day 6 - Bern
We drive to and tour Switzerland's capital city, Bern, known for its more than 100 ornate fountains and one of the most impressive examples of medieval town architecture in Europe.
Particularly appealing is the Astronomical Clock, which was built in 1530, whose puppets pop out of tiny doorways on the tower hourly to perform little skits.
Afternoon choice:
• 1. Take a craft brewery crawl to sample the numerous craft beers produced in Bern or
• 2. Free time to explore this magical medieval city on your own.
After checking into our hotel we are treated to a fabulous dinner in Bern.
Overninght in Bern
Meals Included: Breakfast & Dinner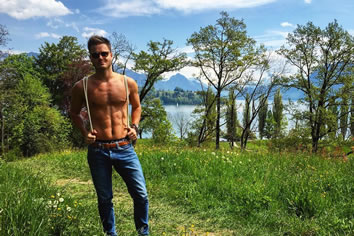 Day 7 - Lucerne / Zurich
A memorable day begins with a drive to Lucerne where we board our boat for a relaxing cruise on Lake Lucerne.
Disembarking in Alpnachstad, we take the world's steepest cog railway for a ride to the top of Mt. Pilatus, from where you'll feel as if you can see all of Switzerland.
Following our visit, we descend on the other side of the mountain in a cable car.
At the midway point down we get off at Fräkmuntegg, where we have time to enjoy a toboggan run, rope park or just gaze at the magnificent panoramic views afforded us.
We then board a gondola for the rest of the trip down.
A visit to Lucerne follows so that we can see the famous wooden Chapel Bridge and the weeping Lion Rock Monument.
Then it's on to Zurich, where we have accommodations for the next 2 evenings.
Our hotel's location is perfect for those wanting to enjoy Zurich's exciting gay nightlife.
Overninght in Zurich
Meals Included: Breakfast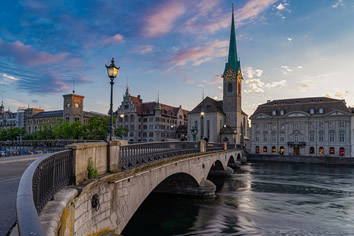 Day 8 - Zurich
We take a tour of Zurich, the cosmopolitan city by the water that combines creative urban life with nature in all its glory.
A tour of Old Town lets visitors experience Zurich's multi-faceted past; its medieval houses, narrow lanes, Europe's largest clockface and its guild and town halls from the Renaissance period.
We'll stroll along Bahnhofstrasse, Zurich's "shopping mile," which is regarded as Switzerland's Champs Élysées. It features a multitude of exclusive fashion boutiques, stores, banks, restaurants and street cafes that invite passersby to linger.
A walk farther down the street brings us to lovely Lake Zurich, a gathering place for people, ferries and boats.
The afternoon and evening are free to once again enjoy Zurich: its sights, restaurants, clubs, lounges and gay bars.
Overninght in Zurich
Meals Included: Breakfast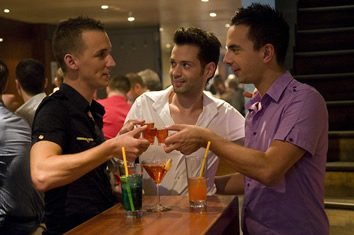 Day 9 - Zurich / Departure
We check out of our hotel, leaving with memories of a remarkable trip to an extraordinary country.
... or you may stay an additional night in exciting Zurich.
Meals Included: Breakfast