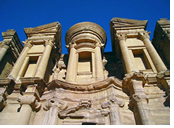 Jordan Luxury Gay Tour
Gay Israel & Tel Aviv Pride Tour Add-On Trip!

Ask most gay men who are avid travelers to list the top three destinations that they are dying to visit, and Petra, in the Kingdom of Jordan almost always makes the list.
Petra is an archeological city that was established around the 6th century BCE as a capital for the Nabataeans. Petra has been a UNESCO World Heritage Site since 1985, and UNESCO considers Petra "one of the most precious cultural properties of man's cultural heritage."
Zoom Vacations trip to Jordan is a perfect add-on to the Zoom Israel trip and explores the history, culture, cuisine, and gay nightlife with sensational guides, while enjoying the finest hotels in Jordan.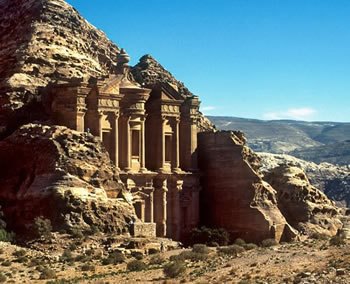 • Services of a Zoom Vacations Concierge throughout the trip
• Meet & greet service inside the airport upon arrival & departure, available upon request, to make your arrival as carefree as possible.
• Swim in the world famous rejuvenating waters of the Dead Sea
• Transport in air conditioned vehicle from Amman to Petra, and Petra to the Dead Sea
• Professionally guided tour of Petra
• Accommodations at the finest 5 star hotel on the Dead Sea, and the best spa in the Middle East
• Transfers & excursions by a private air-conditioned small bus with a driver throughout
• Breakfast daily
• Professional English speaking guides throughout the trip
• All entrance fees to the sites mentioned in the itinerary.
• Tour the caves of Qumran, where back in 1948 a Bedouin boy herding his sheep discovered the Dead Sea Scrolls
• Visit Jerash, perhaps the best preserved ancient Roman city in the world.
• Swim in the world famous rejuvenating waters of the Dead Sea
• All land and Zoom Vacations event transfers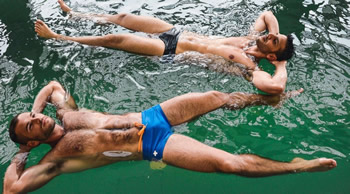 Amman, Petra, The Dead Sea, and more!
Day 1 - Monday, May 31, 2021
Arrive in Amman, Jordan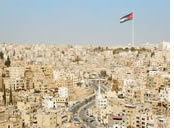 Welcome to Jordan!
Arrive at Queen Alia International Airport in Amman. You will be met by our representative inside the airport, holding a sign with your name on it and be assisted through customs and immigration. Your driver will take you to the elegant Four Seasons Hotel Amman by private vehicle, for overnight.
Tonight, dinner reservations have been made for our group for who have arrived and are interested in joining.
Accommodations: Four Seasons Hotel Amman
, Amman, 5*
Meals Included: Dinner
Day 2 - Tuesday, June 1, 2021
Jerash and Amman
Buffet Breakfast at the hotel.
Morning:
Depart for Jerash, about 1.5 hours from Amman. The city encompasses a sprawling site of Roman ruins, including two theaters, a temple to Artemis, and a forum surrounded by more than 100 columns. And given its lack of star status, this secret gem is often free of the crowds that swarm to Petra.
We will return in the early afternoon. Includes lunch and entrance fees.
Time permitting, we will tour Amman before arriving back at our hotel.
Accommodations: Four Seasons Hotel Amman
, Amman, 5*
Meals Included: Breakfast & Lunch
Day 3 - Wednesday, June 2, 2021
Petra, Jordan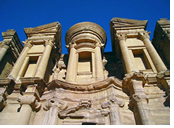 Buffet Breakfast at the hotel.
Arrival at Petra. Built from 800 BC to 100 AD by Nabetean Arabs as a fortress, Petra was carved out of craggy rocks in an area which was virtually inaccessible. In the first and second century, the city reached the apex of its prosperity under Roman rule. When shipping slowly displaced caravan routes, however, the city's importance gradually dwindled. Petra fell into disuse and was lost to the world until 1812, when it was "re-discovered" by the Swiss explorer Johann Ludwig Burckhardt. Today, Petra is Jordan's number 1 tourist attraction, known as the "rose-red city half as old as time". The city covers an area of about 100 square kilometers, where over 800 monuments can be found. On arrival, we will enter this UNESCO World Heritage site on horseback.
Evening at Leisure
Accommodations: The Mövenpick Nabatean Castle Hotel
, Petra, 5*
Meals Included: Breakfast and Lunch
Day 4 - Thursday, June 3, 2021
Dead Sea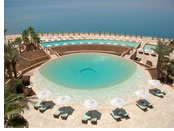 Full Breakfast is served at our hotel.
We drive to the Dead Sea, enjoying, movies, snacks, and laughs on the way. The Dead Sea has for centuries been a spa retreat, so it is befitting that we stay in the best hotel in the area, with the best rated spa in the Middle East. The Dead Sea is world renowned for its healing properties. It's also a LOT of fun.
Afternoon at leisure to float in the Dead Sea, take in a spa treatment, and more.
Accommodations: The Kempinski Hotel Ishtar, Swaimeh, 5*
Meals Included: Breakfast and Lunch
Day 5 - Friday, June 4, 2021
Dead Sea, Optional Spa Treatments, and Departure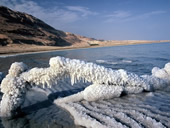 Full Buffet breakfast at the hotel.
Early morning: At leisure to float in the Dead Sea, take in a spa treatment, and more.
After your morning enjoying the Dead Sea, you will be assisted with your luggage and check out, and transferred to Queen Alia International Airport for our departure, or via air conditioned vehicle if continuing on to Israel.
Meals Included: Breakfast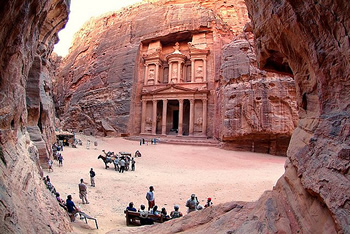 Four Seasons Hotel Amman, Amman
2 nights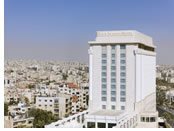 Experience a crown jewel in the heart of Jordan's bustling capital city: Four Seasons Hotel Amman, a majestic luxury hotel set atop the highest of the White City's famous seven hills. Set between the upscale Sweifieh neighborhood and Shmeisani financial district, this luxury hotel atop the city's highest hill is 2 km from Baraka Mall and 6 km from King Abdullah I Mosque.
Located on the highest hill of Amman, Four Seasons Hotel Amman
boasts luxurious accommodation with panoramic views of the city. It offers indoor and outdoor pools, a gym, a spa and a squash court. At the Spa you can enjoy massages, body treatments, facials or nail treatments for male and female. Guests can enjoy free WiFi throughout the property.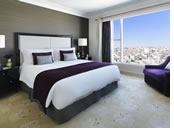 All air-conditioned accommodation at Four Seasons Amman is furnished with warm colours and carpeted floors. Each suite and room comes with a private bathroom and a flat-screen TV.
Enjoy Levant cuisine at Olea or our unique Friday Brunch; The Foyer Lounge for light meals and international favourites; our new Garden Terrace for continental sandwiches and salads; and Five Grill & Lounger offers refreshments while boasting a view of Amman in the summer.
The Mövenpick Nabatean Castle Hotel, Petra
1 night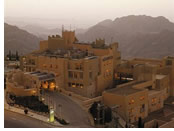 The Mövenpick Nabatean Castle Hotel
is a 10-minute drive from the entrance to the historic site of Petra. Situated at an altitude of 1,400 m, this hotel offers breathtaking views over sweeping hillsides. The hotel was designed by the recipient of the Agha Khan Award for Islamic Architecture, Engineer Rasem Badran.
Relax in the unique 110 sqm heated indoor pool located on the hotel's garden level. Surrounded with windows opened during summer, enjoy the view onto the private terrace.
All the hotel's 90 rooms and suites are spacious and most have extraordinary views over the Great Rift Valley. Interconnecting rooms and non-smoking rooms are available on request.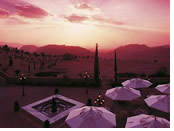 All rooms are equipped with hairdryer, digital satellite TV, direct-dial phone, coffee and tea-making facilities and air-conditioning. A special benefit is our free minibar, available in all rooms.
The hotel's Al Madafa main dining room and the Al Nadeem Bar, each with its own terrace, invite you to relax and enjoy life.
Recreational facilities cater for young and old, whatever the weather. Swim in the 110-square metre heated indoor pool, or relax on the large outdoor terrace after a strenuous workout in the fully equipped gym.
The Kempinski Hotel Ishtar - The Dead Sea
1 night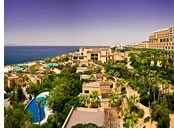 Hidden away for centuries in the cradle of history and the lowest point on Earth, Kempinski Hotel Ishtar
welcomes you to the world's oldest and very first natural spa – The Dead Sea!
The Kempinski Hotel Ishtar Dead Sea offers three luxurious enclaves set amidst gardens dotted with lagoons, waterfalls and private pools, where ancient olive trees mingle with bamboo palms, providing guests with absolute privacy in a serene and exclusive setting.
Designed in affectionate tribute to the Hanging Gardens of Babylon, the Kempinski Hotel Ishtar Dead Sea
is built with local stone boasting 345 rooms and suites within a stylish Arabesque monument building that weaves clean and simple lines into an Arabian theme.
All rooms and suites are enriched with quintessential facilities, luxurious Dead Sea inspired amenities, and complimentary benefits.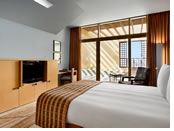 From prolific infinity pools to soothing treatment rooms. Our facilities are at your disposal to help you create your private sanctuary of healing and enchantment. The resort is exclusive to resident hotel guests only. Plunge into the popular Lazy River during the day, get that perfect tan by the modernly designed Sunken Pool. Take a gentle swim at sunset in the Ashur Pool, then top it all off with a brisk lap under the starry sky in the Akkad Infinity Pool. Take your pick from several heated and non-heated pools.