Norwegian Epic
Ship Facts
Gross Tonnage: 155,873
Length: 1,081 feet
Beam: 171 feet
Draft: 29 feet
Cruising Speed: 22 knots
Guests: 4,100
Crew: 1,724
Staterooms: 2,050
Decks: 19
Refurbished: 2015
Mediterranean Diva Lesbian Group Cruise 2018
7 nights from/to Barcelona, Spain
July 8 – 15, 2018
NCL Norwegian Epic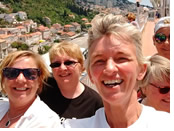 Western Mediterranean Lesbian Group Cruise Hosted by Diva Destinations. The ultimate cruise holiday for gay women whether you are a solo traveller, friends or couples. Our lesbian cruise holidays provide the perfect opportunity to meet other gay women, make new friends, share some amazing experiences and have a wonderfully relaxing holiday all in a relaxed and friendly environment. Plus you get to visit some of the Europe's most beautiful and exotic locations.
From the High Renaissance to high fashion and from a fascinating heritage to fantastically chic beaches, the Mediterranean has it all. Enjoy the very best that Europe has to offer on our European Lesbian Mediterranean cruise from gay friendly Barcelona.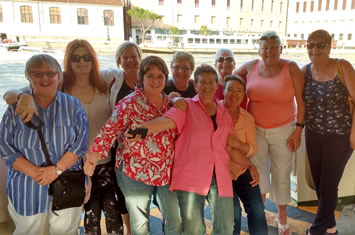 Stand in awe before Spanish landmarks, Italian landscapes, and French icons that echo the history-changing moments that once happened there. Climb up inside the spires of Gaudí's Sagrada Familia Cathedral in Barcelona, whisper in awe in the Sistine Chapel, and discover French Cannes. Explore the Western Mediterranean cities where myth and history converge on your next vacation.
Italy is home to one of the world's most historical and spiritual sites, a universally adored cuisine and a passionate nation. In ancient Rome you can gaze at Michelangelo's magnificent Sistine Chapel ceiling or explore the Colosseum where gladiators once fought. In Florence, feast your eyes on intricate Renaissance art or browse the jewellery shops along the Ponte Vecchio, the bridge dating back to 1345. Pose in Pisa for the essential holiday snap standing against the famous leaning tower or lick some of the most sensational gelato under the Mediterranean sun.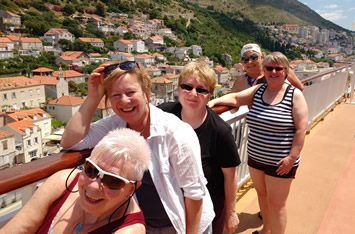 Meet & mix with like-minded women & enjoy a wonderfully relaxing holiday
Diva Destinations representative will look after you from the moment you arrive to the moment you leave. During our Med cruise you will visit some of the most enchanting cities along the Mediterranean coast. Diva Destinations will host some fun social events throughout your holiday, exclusive to our guests; including our welcome drinks party, quiz night, deck & pool games & casino evening. Plus you have the whole of the ship's entertainment and facilities at your disposal. There will be days at sea when we will chill out on deck by the pool, organise some deck games and just soak up the sunshine.
Our group will meet each day for breakfast, lunch and dinner; with evenings spent at one of our hosted events or if you prefer you have all the on-board entertainment and facilities aboard ship at your disposal.
During the full days at sea you can join our representative for some fun activities on deck. For the remainder of your voyage the days will be taken up going ashore to explore the many sites on offer. Please feel free to dip in and out of our events and dining times, whatever fits in best with your day.
We don't charter the whole ship instead we take a group of lesbians on a fun, sociable and memorable holiday. Whether you are travelling solo, a couple or friends travelling together there will be something for everyone.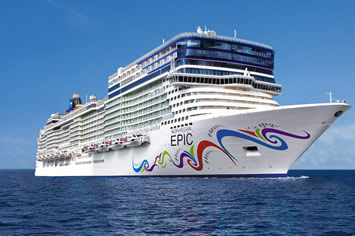 NCL's Norwegian Epic
Explore the history of the Mediterranean and just sit back and relax whilst you cruise the crystal blue waters of the Med. Whatever you choose to do, Norwegian Epic
is sure to dazzle. Awarded Best Cruise Ship Entertainment by Frommer's, Norwegian Epic keeps the bar high with two new Broadway shows: Ballroom Blitz and Priscilla, Queen of the Desert. Not only is Norwegian Epic offering world-class performers but a new wave of accommodations as well - from Studios, designed and priced for the solo traveller, to the private Haven.
Add more than 20 different dining options and you'll understand why this is Freestyle Cruising on a truly grand scale. Norwegian Epic has taken fun to the next level. Splash down in our multi-slide Aqua Park featuring the largest bowl slide at sea and the new Splash Golf™ interactive water-based game for all age groups. Go rock climbing or shoot some hoops in our two-story Sports Complex. Or break a sweat in our fitness centre complete with a boxercise ring. Whatever you decide to do there is something for everyone around every corner of our ship.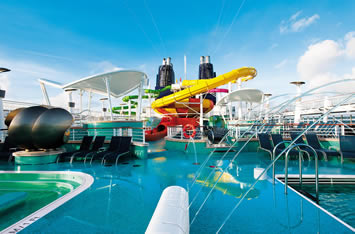 Activities on Norwegian Epic
Norwegian Epic has it all. Explore this amazing ship and enjoy all it has to offer. Check out the Sports Complex, with two decks of play including a basketball court, rock climbing walls and a rope adventure course. Speaking of adventure, head over to the AquaPark and check out the water slides, or just relax on the deck and soak up the sun. There is a fitness center where you can work up a sweat, and a Mandara Spa where you can relax and pamper yourself all day with your favorite spa treatments.
The Marketplace has a huge variety of shopping options; from jewelry to designer clothing, it is here! If you love art, don't miss The Collection, where you can gaze at great artwork, and even bid on it in an auction.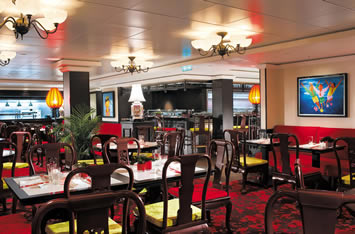 Dining / Food on Norwegian Epic
Norwegian Epic will delight your taste buds. Taste is a restaurant serving traditional and contemporary cuisine for all meals of the day; enjoy a great atmosphere and dramatic décor while you dine. Le Bistro is a French Restaurant, and O'Sheehan's Bar and Grill has great comfort food. Try Shanghai's, Wasabi, Teppanyaki, or the Manhattan Room. There is also Cagney's Steakhouse and Churrascaria, La Cucina Italian Restaurant, the Great Outdoors, the Garden Café, Spice H20 by the pool, and the Epic Club/Courtyard Grill. Room service, of course, is available 24-7.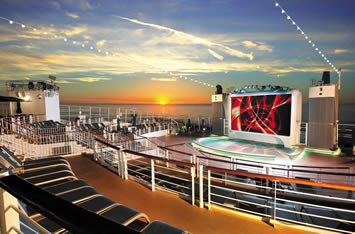 Entertainment on Norwegian Epic
Once you have been on board Norwegian Epic, you will never look at entertainment the same way. The Ice Bar is a great spot where the bar, walls, stools, tables and statues are carved from ice. Spice H2O is a great adults-only Ibiza-style beach club with great music played by great DJs. There's the Atrium Bar, Shaker's Martini Bar, Maltings Whiskey Bar, the Cascades Bar, the Waves Bar, and the Humidor Cigar Lounge to name a few - and there are 17 bars and lounges total, each with a unique theme and atmosphere. You can also enjoy live jazz and blues music, the Epic Theatre (which has live musical and Broadway-style performances), the Headliners Comedy Club, and the Living Room for more entertainment. The fun never stops here.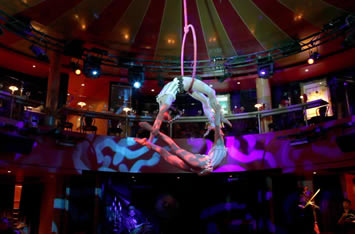 Included in your cruise package

• Diva Destinations representative throughout your cruise

• Diva Destinations hosted events exclusive to our clients including welcome drinks party, quiz night, deck & pool games + more

• Group breakfasts, lunch & dinner

• Norwegian Cruise Line's full evening entertainment programme at your disposal

• 7 nights full board accommodation

• Wide choice of premium beverages - From spirits and draft or bottled beer, wines by the glass and cocktails to alcohol-free beer, soft drinks and juices in all bars, lounges and restaurants at any time throughout your cruise

• Selected speciality coffees during mealtimes - Enjoy the perfect ending to your meal with your choice of Lavazza speciality coffees, served with our compliments in all our dining venues.

• Soft drinks & bottled water - You will be offered unlimited juices, soft drinks and water. You can also refresh yourself at any time because now one bottle of water per person per day is provided in your stateroom for your convenience.

/

• All tips related to all-inclusive services - Service charges on all NCL's inclusive services are included in your holiday cost. So there's no need to budget for these and you can simply relax and get on with enjoying your cruise.

• Unrivalled dining experiences - From buffets with live-cooking stations to pan-Asian restaurants and casual eateries, as well as up to three main dining rooms with daily changing menus and à la carte service

• Award-winning entertainment - Enjoy Broadway shows, live music, comedy, dancing and much more & Aqua Parks, sports and leisure facilities

• Total financial protection through our ATOL bonding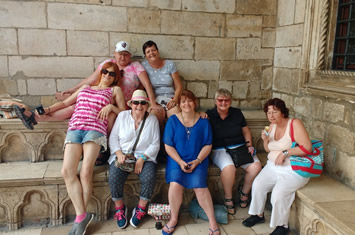 Mediterranean Lesbian Group Cruise Itinerary


Date

Port

Arrive

Depart

08 July
Barcelona, Spain
6 PM
09 July

A Day at Sea!

10 July
Naples, Italy
7 AM
7 PM
11 July
Rome (Civitavecchia), Italy
6 AM
7 PM

12 July

Florence/Pisa (Livorno), Italy
7 AM
7 PM
13 July
Cannes, France
8 AM
6 PM

14 July

Palma, Majorca (Spain)
1 PM
8 PM
15 July
Barcelona, Spain
5 AM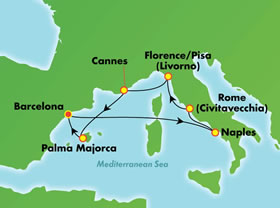 This is a provisional itinerary for the week and will be adapted depending on our ports of calls and timings at that particular port. Although we encourage our guests to join in and meet at meal times please feel free to dip in and out as little or as much as you wish.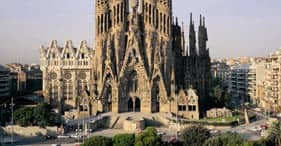 Day 1 - Barcelona, Spain
The capital of Catalonia, and one of its provinces, Barcelona, is a place of palpable history, where you can lose yourself strolling down the medieval streets of the Barri Gotic. It's a city designed to delight the senses: visit other-worldly Modernista churches like Gaudi's La Sagrada Familia, or treat yourself at a street side cafe to Patatas Bravas or a Passion Fruit Mojito.
Your Diva Destinations representative will meet you at the Cruise Port and get everyone checked in and to their cabins. There will be free time to explore the ship before we meet on deck as we set sail for the open waters. For those who have never cruised before it really is a lovely experience watching the ship leave port and head into open water.
6.30pm Diva Destinations will host their welcome drinks party where you will get to meet everyone in the group and chat about the planned excursions and events during our week's holiday.
8.30pm Dinner. Our group will be seated together during our evening meals. After dinner join us for a drink in the bar, a great opportunity to chat and get to know everyone in a relaxed and friendly environment.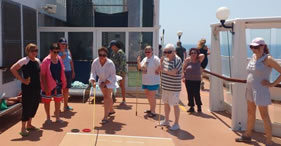 Day 2 - A Day at Sea!
9am Your Diva Destinations representatives will meet you at breakfast. For those wanting a relaxing morning please feel free to join us later. We will be on deck sunbathing and organising some deck and pool games. It's also a great time to chat and chill. We will have lunch on board, please feel free to join the group.
8pm Meet for pre-dinner drinks in the bar for an 8.30pm Dinner.
Join us after dinner and put your "Eggheads" heads on for our fun and "easy" group quiz. Play your joker and double your points – all general knowledge with a few curve balls thrown in. Plus a prize for the winning team. After the quiz we'll go through excursion options for tomorrow and where and what time to meet.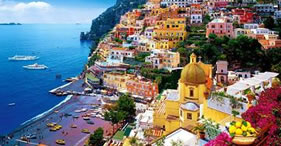 Day 3 - Naples, Italy
Cruise to Naples, located on Italy's stunning Amalfi coast, a city rich in history. A tour around Naples' grand piazzas, cathedrals and castles in the old centre will take you back centuries. Pompeii is not too far either, a dashing city which boasts diverse cultural offerings and charming streets.
9am Your Diva Destinations representative will meet you at breakfast.
Disembark for shore excursions. Spend the afternoon relaxing by the pool for afternoon pool games or a sunbathe.
8pm Meet for pre-dinner drinks in the bar for an 8.30pm Dinner. After dinner join us for the screening of a lesbian film, followed by drinks in the bar or if anyone is up for a go at the Karaoke we'll go along for a few tunes.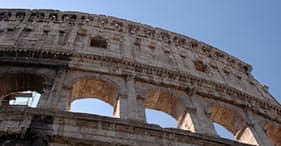 Day 4 - Rome (Civitavecchia), Italy
Endless adventures await in Rome. With two and a half thousand years of history, art and culture, it is no wonder Rome is one of the most visited cities on the planet. Gaze at the masterpieces of the Vatican or walk into the past with visits to ancient relics, historic monuments and legendary museums. Or people-watch whilst sipping on an espresso in a quaint cafe.
8am Meet us for group breakfast. We will disembark for shore excursions. For anyone wanting to stay on board for the day one of our representatives will be on the ship and will meet our guests for lunch and a sunbathe.
8pm Meet for pre-dinner drinks in the bar for dinner at 8.30pm. After dinner get ready for Sticky 13's, a game of no skill whatsoever but a fun and usually nail-biting hour with a cash prize for the winner! We will also go through tomorrow's schedule. After our exciting hour of Sticky 13's we will head off to one of the ship's bars for a drink.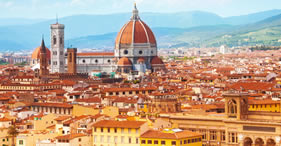 Day 5 - Florence/Pisa (Livorno), Italy
How lucky to visit the Tuscan region, Florence & Pisa, resplendent in art and history. What's even more fortunate is that all the main attractions in Florence are centrally located for the perfect walking tour. See Santa Croce, Piazza del Duomo and Michelangelo's David.
9am As we have a late start we will meet everyone a little later breakfast.
We'll spend the morning on deck before heading disembarking for shore excursions. One of our representatives will be on board for anyone not wishing to go ashore.
After dinner join us for a casino night. Have a small flutter or just watch as others strike it lucky or unlucky... it all depends how the cards are dealt or the dice is thrown!! After the casino join us in one of the ship's bars for a night cap.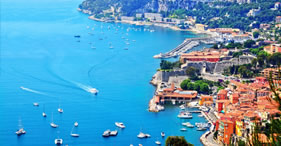 Day 6 - Cannes, France
Drive up Suquet Hill for a view of the city, sea and Lerins Island - fabulous dahling! How many rich and famous can you spot, walk the palm-lined promenade de la Croisette and count. The French Riviera at its best...the International Film Festival calls this home.
8am Meet for our group breakfast. For those wanting a late start we will meet you up on deck. We will spend the day relaxing by the pool with some deck and pool games organised throughout the day. After lunch, for anyone wanting to do some sports activities we'll head over to the golf driving nets & if you are feeling energetic we'll hit the volleyball court. Or you might just want to kick back and relax on deck.
8pm Meet for pre-dinner drinks in the bar. After dinner we will arrange for our group to go to one of the West End style shows arranged by NCL (free of charge). After the show we will go for a night cap.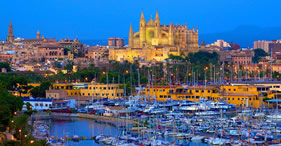 Day 7 - Palma de MMallorca, Spain
On the one hand, this city, founded by the Romans some 2,100 years ago, is replete with (literally) wall-to-wall history and architectural splendor. You can journey back in time and wander the mazes of alleyways and cobblestone paths that surround the Gothic cathedral. On the other hand, Palma is bustling with life, showcasing the island's best restaurants, shops, nightlife and a vibrant art scene.
8am We will meet everyone for breakfast before heading into our final port of call. For those wanting to stay on board for the day one of our representatives will be on the ship and will meet our guests for lunch and a sunbathe.
8pm Meet for pre-dinner drinks in the bar for dinner at 8.30pm. We will make our last evening a special occasion and will announce in the morning our plans for our farewell party tonight.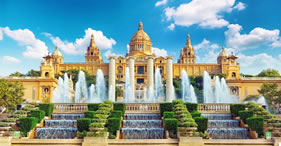 Day 8 - Barcelona, Spain
An important cultural and economic center in Spain, and indeed Europe, Barcelona is known as much for its unique architecture as its gay friendliness. Since its founding, Barcelona has always been a center of art and design, culminating with Gaudi's masterpiece, the Sagrada Familia Basilica, a prime example of Art Nouveau architecture, with its bold color, beautiful tile work and swirling lines. Spend a day wandering through the old Gothic quarter or take a 30-minute trip to Sitges, the famed gay Spanish beach resort.
Our representative will meet everyone for breakfast for our final goodbyes and to ensure you get off in time to catch your flight home.