Pullmantur Cruises
Sovereign
Renovated in 2017
Flag: Malta
Capacity: 2.324
Crew: 820
Cabins: 1.193
Tonnage: 73.937 tons
Length: 268 meters
Beam: 36 meters
Draught: 7.55 meters
Top speed: 19 knots
Electric current: 110/220 Volts
12 decks for passengers




The Cruise European Gay Cruise 2018
July 9–16, 2018
Pullmantur Cruises Sovereign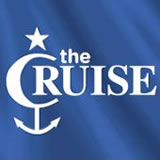 Treat yourself to a gay vacation of a lifetime, and join us on European gay cruise Produced by La Demence! The stunning Mediterranean Sea with its cultural cities, rugged coastlines, white sandy beaches and delicious food, will be your ideal summer destination in 2018. The unique ports of call, and the best parties at sea with an international crowd, make this an incredible European gay cruise! The Cruise, is the best gay holiday experience ever!
Departing from Barcelona, The Cruise by La Demence 2018, on the newly renovated MS Sovereign will set sail to bustling Sicily, passing by Medieval Malta and glitzy Mallorca, before ending back in Barcelona.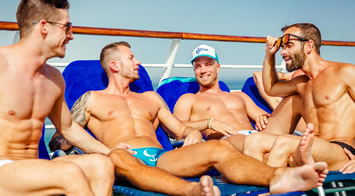 The Experience
Unique
Experience our friendly village atmosphere in a custom-tailored holiday you won't find anywhere else.
Unforgettable
Create moments and encounters you will remember the rest of your life.
Unexpected
Exciting ports of call. Wild parties and new friends. Quiet moments alone with the sea. Open yourself each day to new surprises.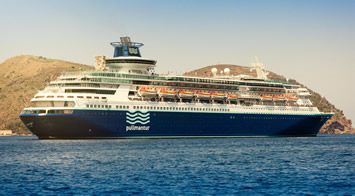 The Ship
Our friendly space.
For our 8th edition, we will enjoy the spaciousness, comfort and amazing views of the Sovereign. Sovereign is the sister ship of Monarch, and will be renovated in November 2017. It is operated by Pullmantur Cruise Lines. A ship offering the perfect size for our community feeling, that we all love so much.
So join us on Sovereign, operated by Pullmantur Cruise Lines:
• 2.324 passenger capacity
• 5-story Central Atrium
• Double Pools
• 360° Panoramic Bar
• Expanded Gym
• the Waves Yacht Club (new) - exclusive area for Suites.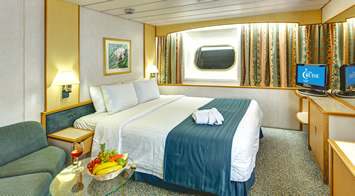 The Cabins
A range of cabins to fit your style
The Cruise offers a selection of private homes at sea, so you can choose the one that best suits your style and pocketbook.
One of our luxury suites with a private balcony? A comfortable interior cabin for the budget traveller? A sea view? The choice is yours.
All cabins provide you with a private en-suite bathroom, dressing table, television, safe box, hair dryer and 220V outlets.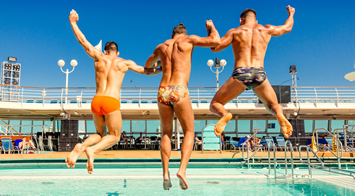 The Experience
Laugh. Chill. Explore. We supply everything, but you are the artist.
A rich palette of possibilities has been carefully assembled for you: fabulous shore visits, good food, dozens of on-board activities, entertainments and parties, plus always the option to sit back and do absolutely nothing.
On The Cruise, we set up the canvas and hand you the brush, so you can paint the perfect holiday by following your own inspiration, each moment.
Traveling Alone? you wont be for very long.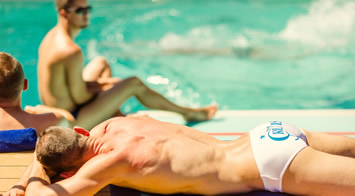 Relax: Water + Sun
The ship has left the pier. Leave your shore-bound life behind.
On board this floating gay village, two large pools, two jacuzzis and sundecks for every taste, guarantee you will get all the sun and water you want.
Afternoons, DJs spin chilled lounge music around the pools. Relax with new and old friends, take a dip, chat, order a refreshing drink. Or slip away to one of our quiet decks, where all you hear is the sound of the breeze and the sea. If tan lines aren't your thing, head up to our highest deck—a discrete haven for nude sunbathers.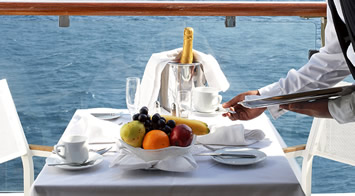 Eat Well
Eat what you like, when you like. Feel like a midnight snack, formal dinner or healthy lunch? The choice is yours.
With four restaurants on board plus room service, you will never go hungry. The Sovereign features three à-la-carte dinner restaurants (also serving lunch on days we are at sea), a full buffet with extended opening hours, and a 24-hour snack buffet.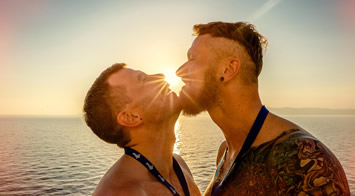 Daytime Fun
When (and if) you're ready to leave your deck chair, we're ready for some fun.
Sporty? Head to the ocean-view gym, test your grip on the climbing wall or challenge a friend to a game of paddle tennis. Want pampering? Book a treatment at the Spa and Beauty Salon. Did you meet someone you'd like to sit in the dark with? Sneak into the 24-hour cinema. Shopaholic? Eight duty free shops are calling.
In addition, we organize fun activities like the Mister The Cruise competition, the hilarious "High Heels Run", a treasure hunt, singles games and much more.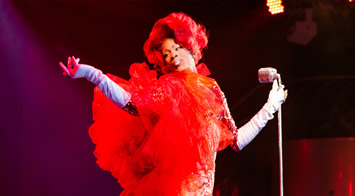 Entertain Me
Once again this year, we add our own specialty entertainment to the ship's excellent offerings.
Laugh with Nickie Nicole, Maman and her girls. Thrill at the unstoppable voice of La Diva Live. In addition, marvel at the shows offered in the Broadway Theatre by the ship's international team of professional dancers and singers.
Prefer to make your own fun? Test your talent in the karaoke bar or try your luck at the on-board casino.
Or enjoy the cocktails for groups (singles, nationalities, ...) in the spectacular 360° Panoramic Bar.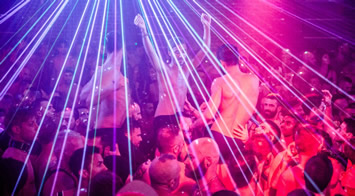 Naughty/Nice Parties
As evening falls, the pool deck is transformed into Europe's hottest and friendliest floating open-air gay party land, complete with the best sounds, lights and a happy, high-energy crowd.
Check out the party themes and start planning your costumes! While costumes are not mandatory, it is much more fun to have a little something in your suitcase, so you can join in.
Sunset Tea Dance
The perfect way to celebrate another day of blissful relaxation at sea and intriguing adventures on shore. Gather for some light-hearted fun as the light turns to gold.
Night Party
Dance the night away under the stars in the middle of the Mediterranean Sea, to the beats of the best LA DEMENCE DJs. We greet the magic moment of sunrise with a last dance. Open air cruising zone.
After Party
Not ready for the party to end? Or just waking up and feel like dancing your way to breakfast? Head to the ship's disco for our after party. With darkroom.
DJs on board
to be announced soon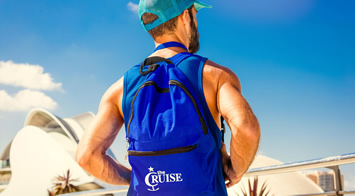 The Single Experience
Every year, we welcome hundreds of singles on board. Join us!
Some just love to do their own thing. For the others, we offer several opportunities to make new friends or strike up a romance. From singles dinner tables to mix-and-mingle cocktail hours, we help you connect. The ship itself does the rest of the work—the warm, friendly village atmosphere means you won't find yourself alone unless you choose to create some "me" time.
Most of our single friends share a cabin with someone they didn't know before. And while many say they were nervous about this at the start, by the end they rush to tell us what a wonderful time they had with their roommate. If you join our "single share program", you will share the cabin with someone of your age.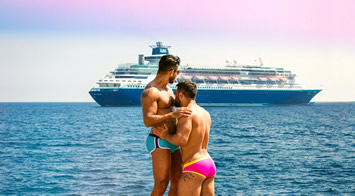 The Sovereign
Space. Large Choice. Still Friendly
This sister ship of Monarch will be renovated in November 2017, which you will feel and see as soon as you board the ship.
The Cruise is known for its friendly atmosphere, and the more intimate setting of its mid-size ships, the perfect size for our community feeling, that we all love so much.
So, join us in this epic journey and enjoy the 5-storey central atrium and the 12 decks offering a room for 2.324 passengers. Sovereign is operated by Pullmantur Cruise Lines.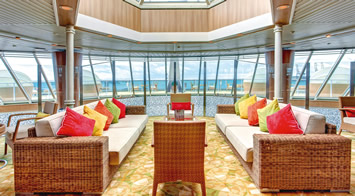 The Waves Yacht Club
If you are staying in a Royal, Deluxe or Grand Suite, enjoy free access to exclusive new Waves Yacht Club.
It has both an inside lounge with private bar and buffet, and an outside deck with astonishing panoramic views from the bow of the ship.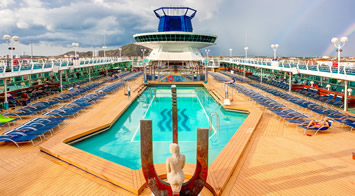 The Pools
Resort amenities include double pools on deck - the perfect setting for relaxing, cooling off in the water and making new friends under the Mediterranean sun.
• 2 swimming pools
• 2 jacuzzis
• 1 nudist sundeck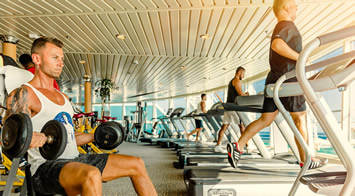 Sports and Fitness
Get sporty at the climbing wall. Work out in the expanded gym with panoramic views of the sea. Challenge a mate to a game of paddle tennis, or go for a sunrise jog around the decks. There are plenty of options on board to stay active, have fun and keep fit.
• Climbing wall
• Gymnasium
• Paddle court
• Running track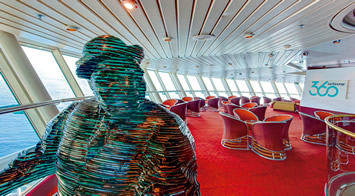 The Bars
With six bars plus poolside service, there are plenty of comfortable spots to enjoy a drink on board. So take a friend up to the spectacular 360º panoramic bar for a quiet conversation as the sea slips by, or gather a group at the piano bar to enjoy a few tunes before dinner. For the talented or simply fun loving, there is nightly karaoke as well.
• 360° Bar
• Panorama Bar
• Marina Bar
• Spinnaker Bar
• Rendez-vous Bar and Lounge
• Casino Bar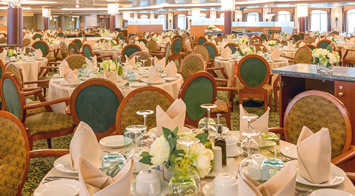 The Restaurants
With four restaurants on board, you'll never go hungry. The Sovereign features three à-la-carte dinner restaurants (also serving lunch on days we are at sea), a full buffet with extended opening hours, and a 24-hour snack buffet.
• El Guardiana Restaurant
• El Duero Restaurant
• Panorama Buffet • Wu Restaurant (fee applicable)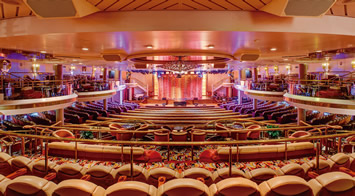 Broadway Theatre
Once again this year, we add our own specialty entertainment to the ship's excellent offerings. Laugh with La Prohibida, Maman and her girls. Thrill at the unstoppable voice of La Diva Live. In addition, marvel at the spectacles offered every afternoon and evening by the ship's international team of professional dancers and singers.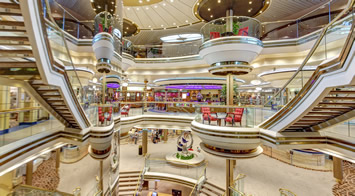 The Atrium
At the heart of the ship, a gleaming central atrium rises five stories, ringed with duty free shops, lounges, a library, game room, business centre and many other amenities.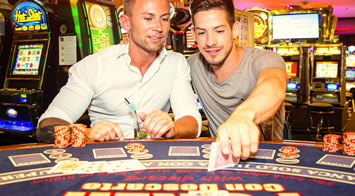 The Casino
Bring your 007 luck (or just your love for the thrill of the game) to the ship's casino. Who knows—you might win big!. Black Jack, Roulette, Poker, slot machines, … it is all there …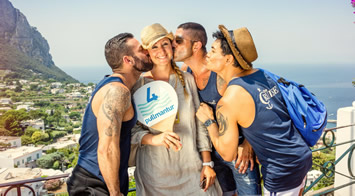 The Cruise European Gay Cruise 2018 Itinerary


Date

Port

Arrive

Depart

09 July

Barcelona, Spain
6 PM
10 July
Day At Sea

11 July

Palermo (Sicily), Italy
9 AM
6 PM

12 July

Catania (Sicily), Italy
9 AM
9 PM
13 July
Valletta, Malta
9 AM
6 PM

14 July

Day at Sea

15 July

Palma de Mallorca, Spain
12 PM
8 PM
16 July
Barcelona, Spain
8 AM

Itinerary is subject of change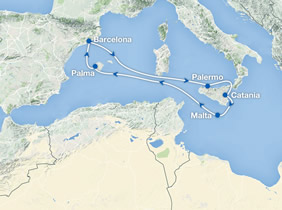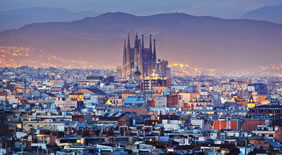 Day 1 - Monday, July 09, 2018
Barcelona, Spain
Perhaps the most gay-friendly city in Europe, the Catalan capital offers visitors a rich mix of unique textures, sights and experiences. Lose yourself in the winding, medieval streets of Barrio Gótico.
Marvel at world-renowned architectural treasures like Gaudí's Guëll, as well as striking contemporary creations like Aqbar Tower. Show off your latest swimwear on the gay beaches of Barceloneta or Mar Bella.
Warm nights bring the city alive, so slip into a local bar to sample the tapas on offer, then hit the Eixample neighbourhood and discover why it's also called "Gayxample".
Must Do:
• Sagrada Familia (Gaudí)
• Cable car from Montjuïc to Barceloneta
• Sample the best of the Spanish cuisine at La Boqueria market
Tips:
• Plan to stay extra days before and after the cruise; the city is worth it!
• Barcelona is big. Buy a "one day" metro ticket, take the hop-on hop-off bus or rent a bicycle.
• Shopping queens feel at home on the Passeig de Gracia, which boasts various shops and stunning architecture.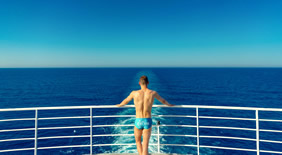 Day 2 - Tuesday, July 10, 2018
Day At Sea
Slow down. Relax. Maybe visit the gym. Lay in the sun. Dangle your feet in the pool, or enjoy one of the activities: Mister The Cruise Election, games, cinema,...
Meet new friends...and get ready for the T-Dance Party!
Must Do
• An early morning yoga session under the sun
• Offer yourself a spa treatment
• Try the climbing wall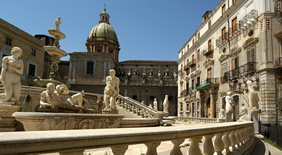 Day 3 - Wednesday, July 11, 2018
Palermo (Sicily), Italy
The capital of Sicily stands for adventure. Its streets are chaotic, its buildings magnificent and its residents may seem suspicious from outsiders' point of view.
To gain an initial understanding of Palermo's unique culture, start by wandering the streets of the old city.
The mix of architectural styles reveals the waves of different invaders that conquered this place over the centuries. So do the features of the locals!
Not to be missed
• The Cathedral and Palazzo Reale.
• Piazza Pretoria with its impressive fountain, the Quattro Canti crossroad, Piazza Bellini área.
• Spectacular baroque churches I Tesori della Loggia and Chiesa del Gesù
• The street markets of Vucciria and Mercato del Capo.
Tips
• Try a "cannolo", a typical Sicilian dessert
• If you want to head out of town, visit Monreale and its cathedral (10km away) or Mondello Beach (also 10 km away), with its Art Nouveau jetty and luxurious villas.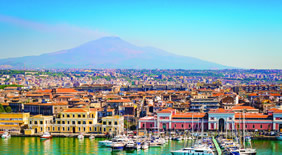 Day 4 - Thursday, July 12, 2018
Catania (Sicily), Italy
Catania is Sicily's second largest city and lies under the shadow of mount Etna. This stunning volcano shaped both the history and existence of Catania. The city, having been destroyed by lava eruptions on many occasions, was rebuilt in baroque style in the 17th century. Nicknamed the 'lava city', this 'grey city' with large avenues and wide open squares is unique in the world.
Discover the splendid locations made famous by Coppola's Godfather films.
Not to be missed
• Ever hiked up a volcano? Discover the mighty Mount Etna by foot.
• Head out and explore the neighbouring town of Taormina.
• Climb up to the top of the Duomo for majestic views over the city.
• Your ideal starting point for a tour of the old city.
Tips
• Sample some of the best street food at the bustling market in the old town.
• Discover the nooks and crannies of the Roman amphitheatre in town
Day 5 - Friday, July 13, 2018
Valletta, Malta
The Archipelago of Malta consists of 19 islands, from which only the larger three, Malta, Gozo and Comino are inhabited. Malta's geographical location in the centre of the Mediterranean, made it an alluring and much-fought-over prize, which shows in the various above- and below-ground defences that can be found everywhere on the islands.
The capital, Valletta, built by the Knights of St John, is a harmonious grid. It is packed with interest, yet is laid-back and easy. Rocky stretches of coast, limestone cliffs with sheltered bays, gold beaches, beautiful towns, crystal clear sea, friendly people and breath-taking views, make this an ideal holiday destination. In brief, Malta equals architectural elegance and layers of undisturbed history that are definitely worth a visit.
Not to be missed
• Discover Take a boat trip to Gozo and swim in the pristine waters of the blue lagoon.
• Explore the Blue Grotto's stunning sea caverns.
• Relax at the gay friendly secluded beach of Riviera Bay
• Wander in the charming streets of Vittoriosa
Tips
• Enjoy a sumptuous seafood lunch at Marsaxlokk fishing village
• Hop off the ship and discover the medieval city of Valletta (UNESCO World heritage site) on foot or by Segway
• Be out on deck for the sail away of the Great Harbour, one of Europe's most scenic sailings.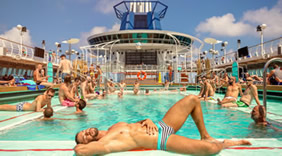 Day 6 - Saturday, July 14, 2018
Day at Sea
Luxuriate in a long day to hang out with your new friends, enjoy the beauty of the wide blue sea and take full advantage of all the ship has to offer.
Must Do
• Participate to the hilarious "High Heels Run"
• Gather contact information from your new friends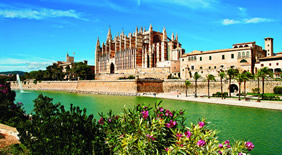 Day 7 - Sunday, July 15, 2018
Palma de Mallorca, Spain
Palma is the capital of Mallorca, the biggest of the Balearic Islands in Spain. Almost half of the total population of Mallorca live in Palma, which has a population of 500.000.
The Marivent Palace was offered by the city to the then Prince Juan Carlos I of Spain. The royals have since spent their summer holidays in Palma.
The city has a very rich history with many cultural highlights: the old city with its famous La Seu cathedral, the Arab Baths, the Town Hall, the Plaza de España, just to name a few.
Not to be missed
• Explore the caves of Drach and lake Martel, the largest underground lake of Europe.
• Visit the Mallorcan village of Valldemossa, a slice of Mediterranean Paradise.
• Take a sailing trip to Formentor and Puerto Pollensa for an afternoon on this perfect beach.
Tips
• Treat yourself to tapas and a drink on the Paseo Maritimo.
• Visit the 'La Seu' cathedral and the Almudaina Palace in the old town.
• Climb up to Bellver Castle for the best views over Palma Bay.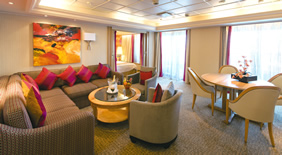 Royal Suite with Balcony (RS)
Space, comfort and luxury
Invite new and old friends over for a private dinner and drinks, or to get ready for one of our famous pool parties. Throw open the doors to your balcony and take the party outside. Need some quiet time? When the guests have gone, or at the end of an exciting day of shore visits, claim all that space for yourself and relax on the balcony with the sunset.
However you choose to live in your home at sea, space, comfort and luxury reign.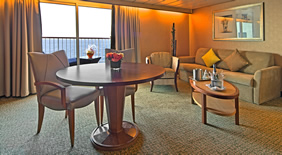 Deluxe Suite with Balcony (DS)
A sanctuary offering both indoor and outdoor spaces
Put some music on. Change out of your shore visit clothes in your private dressing room. Depending on your mood, open the doors to the sea breeze and relax in your lounge area. Or step out onto the private balcony, put your feet up and enjoy the sunset with a refreshing drink.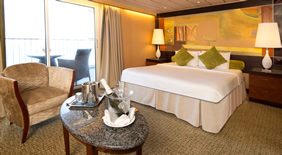 Grande Suite with Balcony (GS)
At home on the high seas
Relax in your lounge area with your mate, comparing your photos of the day. Take an afternoon siesta to freshen up for an evening of dancing. Leave the doors open to the sea. Wake up and step out onto your private balcony to enjoy the sunset before dressing for dinner.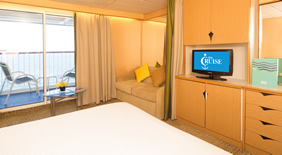 Junior Suite with Balcony (JS)
Open to the breeze
Getting excited for tonight's parties? Have friends over for drinks on your private balcony as another perfect Mediterranean evening softens the skies. Our best value for a balcony suite.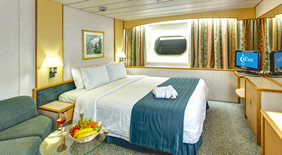 Exterior Deluxe Cabins
Endless sea views
Enjoy full sea views from the window of this comfortable cabin. Perhaps you're just back from your excursion, or or perhaps you never made it further than your deck chair by the pool. Either way, this cabin is your personal retreat to prepare for the parties or rest peacefully at the end of another fabulous day.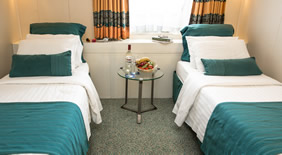 Exterior Superior Cabins
Endless sea views
Only slightly smaller than the Exterior Deluxe, you'll still enjoy full sea views from the window of this comfortable cabin. Perhaps you're just back from your excursion, or or perhaps you never made it further than your deck chair by the pool. Either way, this cabin is your personal retreat to prepare for the parties or rest peacefully at the end of another fabulous day.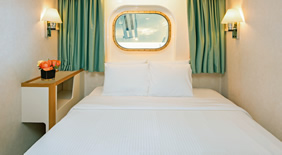 Exterior Porthole or Obstructed View Cabins
Natural light + all the comforts
Plenty of natural light graces this comfortable cabin. You may have a sea view porthole, or a full-size window with a partially obstructed view. Either way, you still have a window onto the world, and a crisp, clean cabin to welcome you back from the day's adventures.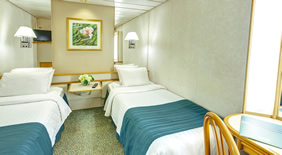 Interior Superior Cabins
Budget-friendly + all the comforts
Offering all the amenities and comfort of the exterior cabins, at a price that leaves more in your pocket for a day of luxury during your visit ashore, or extra pampering at the ship's spa.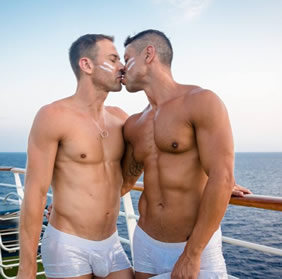 Frequently Asked Questions
What type of passenger?
There is not a type of typical passenger: you will find all types, ages and nationalities represented on board, which creates a very friendly and familiar atmosphere. That's what makes this cruise so special!
Is there a minimum age?
The minimum age is 18 years at the time of boarding the ship.
Are women welcome?
You will mainly find gay men on board, but we are more than happy to have some 'crazy' women and lesbians with us!
Are pets welcome?
Animals are not allowed on board, so you will have to look for a babysitter for your dog or cat.
Do the cabins have one double bed or 2 twin beds?
Almost all the cabins have 2 twin beds that can be converted into a double bed. Give us your preference when booking, and as long as your choice is available, you will have the bed configuration that you prefer.
What if I am travelling alone ?
You can book a room to share with another single in categories H (interior), PH2 (port hole) or C (exterior). We will then put you together with someone of your age in the same cabin. You can of course also pay for 2, and then you will have your cabin for single occupancy. In that case, until the 29th of June 2018, you can give us the name of a person joining you in your cabin at no extra cost.