Croatia & Dalmatian Coast Deluxe Gay Cruise 2018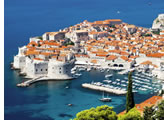 A unique small ship gay cruise on the lavishly designed brand new deluxe MV Avangard. Cruise along the charming Croatian coastline and islands from Split to Dubrovnik and back, including exciting sightseeing experiences and visits to the Mljet National Park, Hvar, Dubrovnik, Korcula, Brac, and more. Indulge all your senses, explore inspiring destinations, fishermen's villages and small and cosy restaurants on shore for tasting local Mediterranean cuisine and nightlife.
With only 36 passengers on board, this is a relaxing gay cruise experience within a very friendly atmosphere. Intention of this cruise is to show beauty of Croatia islands and thousand year old cities and their rich history, to present Croatian lifestyle and heritage.
During this amazing gay cruise you will have the opportunity to visit the various gay and nudist beaches of the beautiful islands.

Croatia & Dalmatian Coast Deluxe Gay Cruise 2018
August 4 - 11, 2018
Europe's Largest All-Gay Cruise 2018 - Italy & Greek Isles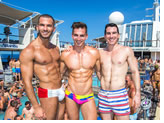 Get onboard the largest gay cruise Europe has ever seen with our all-new adventure on the massive 3000-guest Celebrity Reflection. Explore the best of Italy and the Greek Isles as we sail from Rome to some of the most beautiful islands in the world – including an overnight in stunning Mykonos. Onboard we'll dazzle you with endless stellar entertainment, the world's best outdoor parties, and more fun than you ever imagined.

With over 3000 guests joining us from over 50 different nations, the Atlantis Med gay cruise has become the largest and most diverse gay experience in the world. Over half of our 3000 guests are from Europe, with large groups from Australia, Brazil, and beyond. It's a unique place to revel together, take pride in who we are, and have fun along the way. In 2018, we're thrilled to create a brand new experience on the largest we've ever sailed in Europe!

Italy & Greek Isles - Europe's Largest All-Gay Cruise 2018
August 21 - 31, 2018
TropOut Phuket, Thailand All-Gay Resort Holidays 2018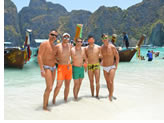 TropOut – the festival for the modern gay traveller – in 2018 is heading back to Phuket, Thailand bigger and even better! So much more than a traditional 'resort holiday', TropOut gay resort week is filled with opportunities to Chill, Party & Explore in a tropical paradise with guys from all over the globe in stylish settings. Come join us in tropical Phuket and experience it all!
For the 2018 edition of TropOut Phuket, we have scheduled parties at Phuket's most exclusive venues, including Café del Mar, Dream Beach, Majestic Chalawan & Level 1.
Thailand offers unbelievable cultural and sightseeing opportunities- during the week you'll have the opportunity to explore secluded islands surrounded by the most turquoise water, learn to cook from Thai chefs, and be blessed by monks.
TropOut Gay Thailand - Chill! Party! Explore!

TropOut Phuket, Thailand All-Gay Resort Holidays 2018
April 15 - 22, 2018
Auckland to Sydney Mardi Gras 2018
All-Gay New Zealand & Australia Cruise

There's never been a better time to head "down under" with Atlantis when we return to Australia and New Zealand for a spectacular gay cruise heading into the 40th anniversary of Sydney's legendary Gay and Lesbian Mardi Gras. From the awe-inspiring natural wonders of New Zealand to the cosmopolitan charm of Melbourne, you'll experience unparalleled wonders through two fascinating countries. Onboard, we'll thrill you with two continents of entertainment, spectacular outdoor parties, and expert guides throughout your journey. All at the lowest fares we've ever offered in Australia!
Atlantis has been bringing guests to Sydney since 1996 and we're proud of our partnership with Mardi Gras over the years. Make history with us as we explore two amazing countries and celebrate 40 years of Mardi Gras together in 2018!

All-Gay New Zealand & Australia Cruise 2018
February 18 - March 1, 2018
New European Summer All-Gay River Cruises 2019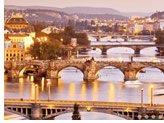 There's no better way to experience Eastern Europe than on a Brand g riverboat cruise. Discovery, friendship, style and comfort all come together for the perfect all gay vacation. Your all gay adventure begins with two nights hotel and guided sightseeing in Prague, the "Jewel of Eastern Europe." One of Europe's best-preserved cities, Prague's medieval center remains a beautiful mixture of cobblestone pathways, guilded towers and gothic catherdrals. From Prague we travel to one of Europe's most fabled rivers, the Danube. On board the ms Amadeus Queen, you will be pampered by a crew of forty in an atmosphere of total relaxation. With this great riverboat, we've created an itinerary that includes the two best Eastern European cities which have become prime destinations for gay and lesbian travelers.
These all-gay cruise vacation has it all—historic sites, charming towns, world-class wine and cuisine and more!

Prague & Legendary Danube All-Gay River Cruise 2019
August 11 - 20, 2019

Budapest to Bucharest Danube River All-Gay Cruise 2019
August 20 - 29, 2019
Miami Beach Gay Pride Cruise 2018 to Cuba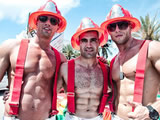 Adonis Holiday & Source Events invite you to join the 9th Annual Miami Gay Pride Cruise 2018 on a 5 Night Cruise sailing from Ocean Drive to Ocean with Pride! We invite you to make history on this first ever Miami Pride Cruise to Cuba! Legendary nightlife. Iconic music. Distinct culture. This is more than a cruise. This is Havana, Cuba. And right now, you can be among the first to explore a place where yesterday lives today. Best of all you'll be joining a group of over 200 LGBT travelers from around the world on this people to people trip to Cuba, extending the magic of Miami Beach Pride in style on the newly renovated Royal Caribbean Empress of the Seas
.
Take the unique opportunity to get to know fascinating local culture while discovering the timeless sights and sounds of nostalgic Havana. Take a ride in a classic car through the historic Malecon. Explore the classic architecture of Old Havana, mingle with locals and partake of the cafecito ritual at Cafe Marina. Dance to live salsa. Come Seek a place untouched by time.

Miami Beach Gay Pride Cruise 2018 to Cuba
April 9 - 14, 2018