Basel, Switzerland (Embarkation)
Saturday, April 22, 2018

Welcome to Switzerland, home of the Matterhorn and the majestic Alps! Your bus transfer from Olivia's host hotel in Zurich to the ship in Basel, where your river cruise vessel docked is included. Meet your crew at an evening welcome reception.
Breisach, Germany
Sunday, April 23, 2018

Located at the foot of Kaiserstuhl Mountain on the French-German border, Breisach is the gateway to Germany's Black Forest region, an area of unrivaled natural beauty. The area got its name because the pine forests are so dense, local residents described them as black. The most well-known products from this region are Black Forest ham, Black Forest cherry cake, and cuckoo clocks!
Strasbourg, France
Monday, April 24, 2018

Situated on the border of France and Germany, Strasbourg is influenced by the culture of both countries and is the capital of the Alsace region. It is the seat of the Council of Europe and the European Parliament. Noteworthy sights are the Gothic Cathedral, the lovely La Petite France district, Place Kléber, and Place Gutenberg with the statue of the inventor of the printing press. An optional excursion to the Alsace wine region is available today.
Mainz / Heidelberg, Germany


Tuesday, April 25, 2018
Situated on the left bank of the Rhine, opposite the mouth of the Main River, Mainz is Germany's largest and most important wine town. The Altstadt (Old Town) has many intriguing shops and the whimsical Fastnachtsbrunnen (Carnival Fountain) on the Schillerplatz, a tribute to the jesters at the city's annual Carnival celebration. Gutenberg, the father of modern printing, was born here and you'll visit the Gutenberg Museum.Heidelberg is Germany's oldest university town. Take pictures of the ruins of the imposing red sandstone castle towering above the city, and enjoy free time to explore. Ask us about the most delicious hot chocolate at the Illes Café!
Koblenz / Rhine Gorge / Rüdesheim, Germany
Wednesday, April 26, 2018

Situated at the confluence of the Rhine and Mosel Rivers, 2,000-year-old Koblenz is the cultural and business center of the Middle Rhine region. The dramatic Rhine Gorge is the most beautiful stretch of river. Pass the legendary rock of the Lorelei, where sweet songs of local beauties lured enchanted sailors to their doom. In Rüdesheim, Siegfried's Mechanical Musical Museum is a real surprise! Enjoy the special "Rudensheim coffee" or wine tasting, then explore the Drosselgasse and pick up some souvenirs.
Cologne, Germany
Thursday, April 27, 2018

Cologne is one of Germany's largest cities, with a river skyline dominated by the soaring twin spires of its magnificent gothic cathedral. In 2010, it was the site of the Gay Games. The Germano-Roman Museum located next to the cathedral is a must for history buffs! Try a Kölsch in one of the many beer taverns or shop for a bottle of "4711," the original eau de cologne.
Amsterdam, The Netherlands
Friday, April 28, 2018

Welcome to Amsterdam! The capital of The Netherlands is sophisticated and modern, with a rich and fascinating history. The works of famous Dutch masters can be seen in world-renowned museums such as the Rijksmuseum or the Van Gogh. There is no better way to see the city than by canal boat, cruising through the elegant grachten-lined canals with stately homes dating back to Amsterdam's "Golden Age."
Amsterdam, The Netherlands (Disembarkation)
Sunday, April 29, 2018
After breakfast, we'll depart the ship and either return home or enjoy a post-vacation stretcher in Amsterdam.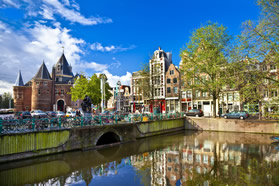 Traveler Info
Being Gay in Amsterdam
Amsterdam is a very gay-friendly city. The Netherlands was the first country to legalize gay marriage. You can feel very secure holding hands and being yourself while walking the streets. We often work with "Pink Point," the main kiosk near the Homo monument to let them know we are arriving, and you will see many store fronts with Olivia signs, welcoming you all to Amsterdam!
Food
Traditional Dutch cuisine includes raw herring, meat, potatoes and oliebol (fried dough with currants and powdered sugar). Cheese, along with butter and buttermilk, are in abundance because dairy farms saturate the countryside. Cheeses such as Gouda, Edam and Leyden (cumin-infused) can be found in many markets in Amsterdam. Dutch colonization brought Indonesian immigration and cuisine to Holland and Turkish restaurants dot the city. Along the "walking" route, there are several pastry shops, pizza and Chinese food restaurants. There are also many Indian and Thai food choices as well.
There are few women-owned restaurants to enjoy; one we have visited for the past 4 years, Bistro Bij Ons, offers up local treats like stampot and boerenkool at affordable prices (we suggest you get a local to help you with pronunciation!). Run by Carla and Esther, this popular lesbian spot seems to have more people than tables, so make sure to call ahead for reservations.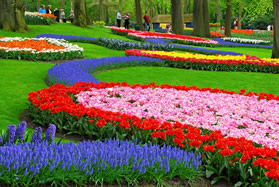 Travel documentation and identification
You will need a passport that is valid for six months past the date of the trip. If you are not a U.S., or EU citizen, please check with both your country's consulate and the consulates of the countries we will be visiting to make sure that you do not need an entry visa or other additional documentation.
Where to fly into/out of
You will need to fly into Zurich International Airport (ZRH) and out of Amsterdam-Schiphol International Airport (AMS). We encourage all passengers to extend their trip with our pre- and post-trip stretchers to enjoy all Zurich and Amsterdam have to offer, as well as to avoid the stress of unexpected delays. If you wish to arrive one night prior to the cruise, we will be giving information about the Zurich Airport host hotel so you can book directly with them.
Suggested arrival/departure times
Arrive into Zurich prior to 3 pm. Shuttle from the Zurich Airport Hotel to the ship is included and will depart at approximately 4 pm. The ship is approximately one hour from Zurich. Please note that ship embarkation begins at 5 pm.
Your flight can depart Amsterdam airport at any time on April 29. Transfer to the airport will be on your own. The ship reception can assist you with your taxi to your next destination.
Luggage allowances
While there is no luggage limit on the cruise itself, airlines often restrict (or charge) for excess baggage. Because each airline is different, and the regulations change over time, please check with your airline for baggage allowances. For travel in Europe, we recommend no more than one large piece and a smaller carry-on for ease of travel.
Transfers and Meeting up with Olivia
If arriving on the day of embarkation, you will meet at a designated airport hotel for your transfer to the ship. A complimentary airport shuttle to the hotel will be available. Your transfer to the ship is included in our group transfer. The transfer should take approximately 60 minutes. Information on ship location will be in your final documents.
Dining
Fine dining on board offers European cuisine. Breakfast and lunch are served buffet style, and dinner is sit-down menu service.
Electricity
The cabins have 110 and 220volt electricity. Adapters should be 2-round prongs.
Excursions
A walking and/or city tour is included in each of the ports visited. Optional tours are available to book on board that range from approximately €39 to €60. These tours do not conflict with the included tours.
We will designate a group on each included tour as a "gentle walkers" group. This is for those who need a little extra time walking, perhaps have scooters, canes and even for photographers who like to stop and take more photos. For those with mobility issues, we suggest purchasing a cane that can also fold out to be a seat so you can rest while the group stops to listen to the guide.
Gratuities
Gratuities are provided for your Avalon Cruise Director, cabin steward, dining room steward, bus person, maître d', reception, bar staff and other-behind-the-scenes crew members and are included in the cost of the cruise. Tipping is not included for the local guides. Below is a suggested guideline:
Local Guide: ½ day - €2-€3 or full day €4-€5
Bus driver: €1
Internet / e-mail / fax
Complimentary Wi-Fi is included on board in public spaces and in your cabins for use on your personal laptops and iPads. There is an onboard internet center with two desktop computers for guest use. Faxes can be sent from the reception desk for a charge.
Laundry and dry cleaning
Laundry and pressing service is available. Dry-cleaning or self-service laundry facilities are not available on board. Check on board for pricing.
Medical services
The ship is minutes away from hospitals when we are docked and close to local towns along the river. The ship does not have an onboard doctor.
Money: Paying for things on board
The currency used on board is €Euros. All purchases made on the ship will be charged to your onboard account, which you create when you first check in. Cash, Visa, MasterCard and American Express are accepted. Please check with the front office on the ship for further details.