Norwegian Bliss
Ship Facts
Occupancy: 4004
Tonnage: 168,028
Length: 333 m
Beam: 41 m
Draught: 8.7 m
Cruise speed: 22.5 knots
Built: 2018
Crew: 1716

Osos On The Ocean!
Mexican Riviera Gay Bears Cruise 2023
8 nights from/to Fort Lauderdale, Florida
March 19 – 26, 2023
NCL Norwegian Bliss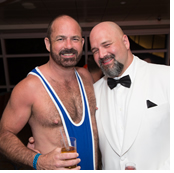 Join your hosts the Bears of San Francisco sailing on the Norwegian Bliss one of the most exciting ships to sail to the Mexican Riviera! Nightly parties, optional excursions just for our bears & gay group. They should be fun. Fun, FREE Drinks, FREE Specialty Dining, Go Karts, Laser Tag, and special private games and prizes. Each port on our Mexican Cruise holidays is filled with fun and adventure including kayaking, zip lining, swimming with dolphins, scuba diving and much more.
You're never far from a beautiful beach or a good party on Norwegian's cruise to Mexico. Explore old traditions and stunning towns when you cruise to the Mexican Riviera on one of NCL newest cruise ships, Norwegian Bliss.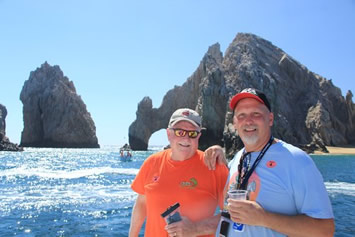 Spice up your holiday with margaritas, guacamole, and authentic Mexican tacos as you cruise through the Pacific Ocean aboard Norwegian Bliss, one of NCL's newest and most incredible ships. Galivant along Lover's Beach or dare to run through Divorce Beach near Land's End in Cabo, the choice is yours! Visit the capital of Mariachi Music in Puerto Vallarta and get to know Mazatlán, one of the most unique destinations in Mexico, with plenty of opportunities to island-hop. Then, it's back to Los Angeles just in time for sunset at the Santa Monica Pier.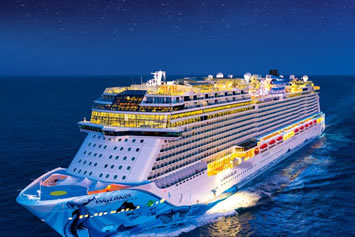 Your Ship - Norwegian Bliss
Imagine relaxation upon finding your slice of paradise in Mexico. Imagine Bliss. That's what you'll experience when you holiday on board Norwegian Bliss. Custom-built for the spectacular, Norwegian Bliss features a revolutionary Observation Lounge for you to soak in every stunning moment, from bald eagles soaring over glaciers to dolphins splashing through warm turquoise waters.
Come aboard and experience the best dining, entertainment, and amenities at sea against a backdrop of unrivaled natural beauty. Whether you choose to go tropical or a little wild, there's one word to describe the experiences awaiting you on one of Norwegian's newest ships: Bliss.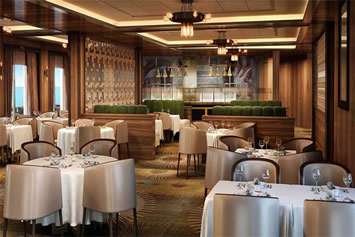 Dining
Serving a wide variety of culinary delights to please every palate, the complimentary dining options include three main dining rooms, a help-yourself buffet and a variety of casual cafés, grills and on-the-go choices. Plus, the Main Dining Rooms offer a menu that changes daily, Chef's Signature Dishes and carefully selected wine recommendations, guaranteeing a different culinary adventure with every visit.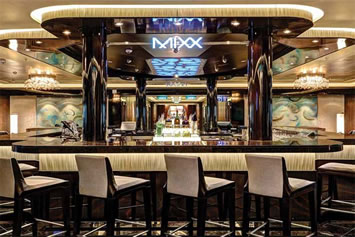 Bars & Lounges
With so many bars and lounges to discover, finding your favourite may take a few days. Pull up a stool on The Waterfront and pair your favourite vintage with soothing waves at The Cellars - A Michael Mondavi Family Wine Bar. Grab a freshly muddled mojito anytime you like at Sugarcane Mojito Bar. Or Let your hair down in The District Brew House, offering more than 50 different bottled beers and 24 draft beers on tap.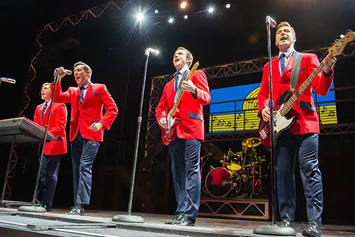 Entertainment & Nightlife
Top off spectacular days with legendary nights aboard Norwegian Bliss. Spend an evening in a swinging speakeasy on the eve of Prohibition. Perfect your dance moves and clear your pipes as you go on an incredible audible journey with The Four Seasons in a Tony Award®-winning musical. Fans of the Beatles shouldn't miss a night rocking out in the famous Liverpool nightclub where the band played. Which will be your soundtrack to an unforgettable night?
Outdoor Activities
Interested in a little excitement? Burn rubber on the largest racetrack at sea and then challenge your friends or family to some friendly competition on the Aqua Racer. Dare to whoosh over the side of the ship on Ocean Loops before dodging lasers during an exhilarating game of laser tag. Top off all your victories by hitting the jackpot in the Bliss Casino - where an electric atmosphere buzzes late into the night.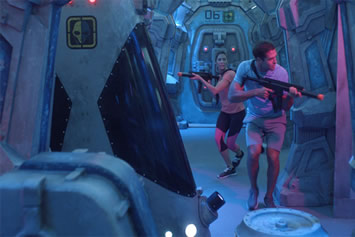 Onboard Activities
Get ready for a laser tag battle of galactic proportions under the stars. Completely closed shoes are required to participate. Drug and alcohol consumption before participating in this event is strictly prohibited.
Wellness
Welcome to Mandara Spa. Start with a hot-stone massage, one of over 50 specialty treatments offered by the well-trained massage therapists. Then unwind in the Thermal Suite with a steam or a dip in the Vitality Pool. Within these tranquil walls, experience the Salt Room, a dramatic grotto surrounded with layers of body-cleansing salt crystals.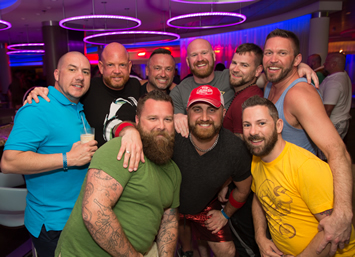 Osos On The Ocean!
Mexican Riviera Gay Bears Cruise 2023
Itinerary


Date

Port

Arrive

Depart

19 Mar
Los Angeles, California
4 PM
20 Mar

A Day at Sea!

21 Mar
Cabo San Lucas, Mexico
11 AM
7 PM
22 Mar
Puerto Vallarta, Mexico
12 PM
8 PM

23 Mar

Mazatlan, Mexico
7 AM
2 PM
24 Mar

A Day at Sea!

25 Mar

Ensenada, Mexico
12 PM
7 PM
26 Mar
Los Angeles, California
7 AM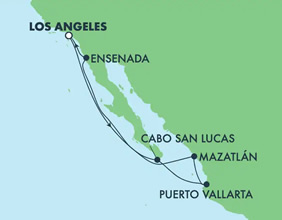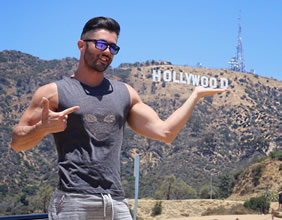 Day 1 - Los Angeles, California
It's an exciting semitropical city of palm trees, swimming pools, television studios and aerospace factories. Los Angeles is one of the world's most exciting cities and the movie-making capital of the world. Wherever you visit, from ritzy Beverly Hills to the wondrous Hollywood Bowl, you'll have an unforgettable stay.
Check out the scene at Venice Beach. Spot a celebrity or two on Rodeo Drive. Take a walk down the Hollywood Walk of Fame. Explore the La Brea Tar Pits or Getty Centre. Find out more and book now.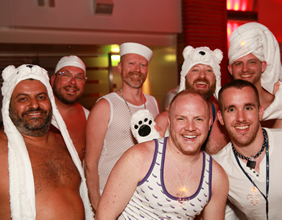 Day 2 - A Day at Sea!
While at sea, take the time to recharge before the next adventure. Lounge by the pool, be spoiled at the spa, taste the delicacies or explore the venues on-board, until we arrive at the next amazing destination.
Day 3 - Cabo San Lucas, Mexico
Cabo's signature landmark is El Arco ("The Arch"), a rock formation at the tip of "Land's End." The jewel of the Baja Peninsula is famous for its world-class sportfishing, as well as its high-end resorts and exclusive gated communities that line an area simply called "the Corridor." Here you can spy on a no-longer-secret underwater garden through a glass-bottom boat, flirt with a whale or sea lion, shop at a quayside bazaar, or rekindle romance at the secluded Playa del Amor.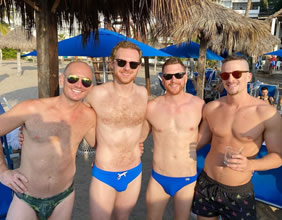 Day 4 - Puerto Vallarta, Mexico
Experience the warmth of Puerto Vallarta, which is quaint and full of history, yet modern, vibrant, exotic. Discover a destination of relaxing beaches, world class restaurants, and the latest in ecotourism and extreme adventure, in a setting that is internationally recognized for its charm and friendliness, with a backdrop of mountains, rivers, coastline, and emerald green waves of the Pacific Ocean.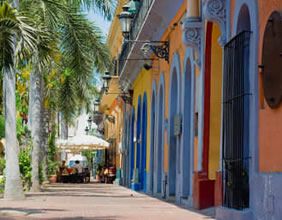 Day 5 - Mazatlan, Mexico
Combine a first-class beach resort with a city with an illustrious, colonial past and you've got Mazatlán. Noted for its sparkling sand beaches and warm Pacfic waters, Mazatlan is an ideal spot to get in a swim. Sip on some Margaritas and enjoy the authentic Mexican cuisine. Take a drive along the foothills of the Sierra Madre Mountains. Then visit the many shops offering local crafts.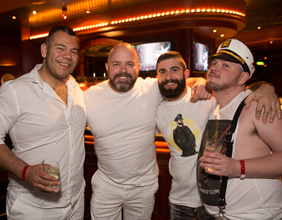 Day 6 - A Day at Sea!
While at sea, take the time to recharge before the next adventure. Lounge by the pool, be spoiled at the spa, taste the delicacies or explore the venues on-board, until we arrive at the next amazing destination.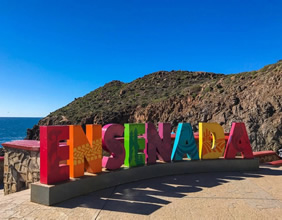 Day 7 - Ensenada, Mexico
Just 90-miles south of San Diego, you'll enjoy Ensenada's warm climate and friendly atmosphere. Visit La Bufadora, a unique blowhole, then shop at local wineries. Try your luck at the Riveriera del Pacifico resort and casino built in the '30s. Once a sleepy fishing village, Ensenada and its sheltered bay are popular as a haven for weekend sailors and a site for "Gringo" vacations resorts. Its dusty streets bustle with the promise of duty-free shopping that features Mexican crafts and folk art.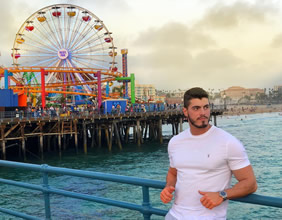 Day 8 - Los Angeles, California
Los Angeles is an exciting semitropical city of palm trees, swimming pools, television studios and aerospace factories. No trip to L.A. is complete without a stop in Disneyland. This world-famous park has been a favorite of children - and adults - for generations. While you're there, you should stop by Disney's California Adventure park. This newest Disney park is an idealized version of California, from its gold-mining history to its colorful present.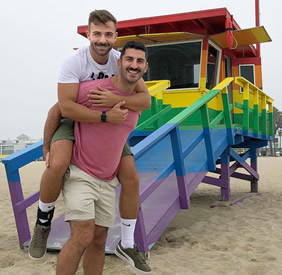 Guests: 4,004 • Gross Tonnage: 168,028 • Length: 1094' • Beam: 136' • Draft: 28.5' • Cruising Speed: 22.5 knots • Built: 2018 • Crew: 1,716

Osos On The Ocean!
Mexican Riviera Bears Cruise 2023 Rates

IB - Inside Stateroom
Style meets sophistication in modern staterooms that offer comfort and amenities like TV, sitting area and more. These staterooms include two lower beds that convert to a queen-size bed. Approx. Size: 12-33 m2

$ 1,550

$ 2,739

IA - Inside Stateroom
Relax in lively style and smart sophistication. Our modern inside staterooms are highlighted with appointments like a TV, sitting area and more. Located on higher decks near the fun, these staterooms feature two lower beds that convert to a queen-size bed and some feature additional bedding for up to one guest. Some connect.

$ 1,570

$ 2,759

BB - Balcony Stateroom
See the world from your room. Floor-to-ceiling glass doors open to your own private balcony - and breathtaking views. Enjoy easy access to all the outdoor fun on the top decks. Your stateroom includes two lower beds that convert to a queen-size bed and some feature additional bedding for up to 2 guests. Average: 207 sq ft sq ft Balcony 32 sq ft sq ft

$ 1,700

$ 3,039

BA - Mid-Ship Balcony Stateroom
See the world like never before. Floor-to-ceiling glass doors open to your very own private balcony. Stylish and sophisticated appointments enhance these modern rooms. Enjoy easy access to all the outdoor fun on the top decks. Your stateroom includes two lower beds that convert to a queen-size bed and some feature additional bedding for up to 2 guests. Average: 207 sq ft sq ft Balcony 32 sq ft sq ft

$ 1,720

$ 3,079

MB - Mid-Ship Mini Suite
Most located mid-ship with easy access to everything, these Mini-Suites feature two lower beds that convert to a queen-size bed, sofa bed, some feature additional bedding for up to four total guests, and a private balcony.

$ 1,810

$ 3,259

All prices are per person, double occupancy, and include all meals, accommodations and entertainment!

Taxes of $190 pp, gratuities ($112 pp), and optional insurance are additional.

First deposit of $440 per person ($690 for singles) is required upon booking. Balance payment is due November 09, 2022.

Optional shore excursions will be offered.

Prices are cruise only and DO NOT INCLUDE return airfare! Please ask for airfare add-ons back to your home city.

Fares are subject to availability and may change without prior notice.

Our pricing includes all of the Bears on the Boat events, game sessions, exclusive interactions with our Hosts as well as other Surprise VIP experiences our staff has planned. All parties are strictly PRIVATE Events and you must book through our agency to enter the events. No exceptions. Sorry!

Please ask for further details.

Free Perks Included!
Your fare includes FREE Unlimited Drinks, 2 Nights of Specialty dining, all you can eat at the complimentary restaurants, all private events, games, prizes. optional excursions in each port of call, your cabin, Broadway shows featuring Momma Mia, 150 Minutes FREE WiFi for 2 guests per cabin (oceanview and above cabins) and group events. It does not include daily service charges (gratuities), optional excursion costs, hotel, transportation, travel protection and cabin bois!

Special Airfares











Pre-Cruise Hotels







Post-Cruise Hotel