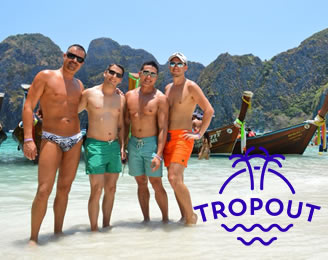 Get Wet in Phuket! TropOut – the festival for the modern gay traveller – in 2020 is heading back to Phuket, Thailand bigger and even better! So much more than a traditional 'resort holiday', TropOut gay resort week is filled with opportunities to Chill, Party & Explore in a tropical paradise with guys from all over the globe in stylish settings. Come join us in tropical Phuket and experience it all!
Thailand offers unbelievable cultural and sightseeing opportunities- during the week you'll have the opportunity to explore secluded islands surrounded by the most turquoise water, learn to cook from Thai chefs, and be blessed by monks.
Coinciding with the Thai New Year – Songkran – this will be epic. It's a chance to meet old friends and make new ones. All in the unique community vibe that is TropOut. This is the ultimate week of party, relaxation and discovery in the unmistakable TropOut style.

TropOut Thailand Phuket Gay Resort Week 2020
April 11 - 18, 2020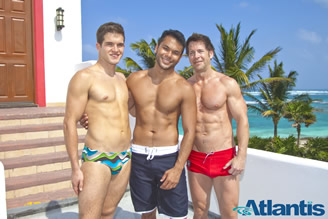 Some experiences are worth waiting for, and Club Atlantis Caribbean Gay Resort raises the bar on gay vacations to a new level. Atlantis returns to take over the entire 5-star Club Med Punta Cana for an epic week of non-stop fun, brilliant entertainment, thrilling activities, engaging sports & activities, awesome parties, and great friends from around the world. It's the biggest all-gay resort in our history, on one of the world's most beautiful private beaches. And it's all ours for this very special week.
Club Med has completely rebuilt their most popular Caribbean resort into a deluxe resort experience, with new deluxe rooms, fabulous new restaurants, amazing new activities, a brilliant central pool, and so much more. All surrounded by crystal blue Caribbean waters and picture-perfect white sand beaches.

Club Atlantis Caribbean Gay Resort Week Punta Cana
October 31 - November 7, 2020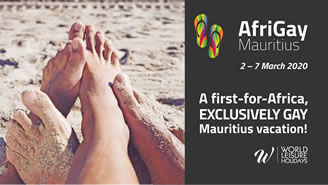 All Gay, All Inclusive - AfriGay Mauritius 2020! For the first time in history, an all gay vacation hits the shores of Africa! Not only the first of its kind in Southern Africa, but the first of its kind on the beautiful island of Mauritius.
The first Mauritius All Gay Vacation will take place from 2 – 7 March 2020 at Ambre Resort & Spa on the east coast of Mauritius – the perfect paradise for AfriGay debut event.
Experience magnificent beaches, sun, sea, unique entertainment and parties, sports and activities. And make new friends from all over the world!
It's All Gay. All Exclusive. And for one All Inclusive price.

AfriGay Mauritius All-Gay Resort Week 2020
March 02 - 07, 2020