Celebrity Apex
Ship Facts
Occupancy: 2910
Tonnage: 129,500 feet
Length: 1004 feet
Beam: 128 feet
Draught: 27 feet
Cruising Speed: 21.8 feet
Inaugural Date: April, 2020

Post-Thanksgiving Caribbean Gay Group Cruise 2021
7 nights cruise from/to Fort Lauderdale, Florida
November 27 – December 04, 2021
Celebrity's Apex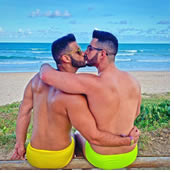 Discover Paradise on a Western Caribbean Cruise! Join us on brand new Celebrity Apex Post-Thanksgiving cruise and explore The Caribbean with us! Enjoy luxurious staterooms, cuisine, and service as you discover Fort Lauderdale, Key West, Costa Maya, Cozumel, and George Town, Grand Cayman. Climb, hike, swim, bike or chill in some of the world's most beautiful places. Revolutionary experiences await you onboard. From the Magic Carpet that reaches heights of 13 stories above sea level to the 20 ft LED wall in The Theatre, Celebrity Apex
breaks from traditional ship design
From verdant mountain peaks to dazzling coral reefs teeming with tropical fish, the Caribbean is a never-ending show of nature's wonders. Azure seas, sugar-white beaches, rainforests, volcanoes – there is nothing subtle about the various landscapes of the Caribbean. Every island has its own personality, from sleepy to bustling, and on a Caribbean cruise you can experience it all.
The chill vibe of the Caribbean is the perfect place to refresh and renew yourself. Of course, basking on any beach is a must-do. There are many opportunities to snorkel among colorful reef fish on every island.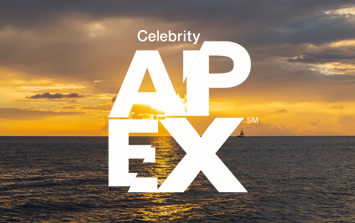 The Western Caribbean is home to all kinds of tropical delights, from some of the world's best coral reefs to historic ruins and spectacular beaches. On a Western Caribbean cruise, spend your days in or on the water, savoring fresh seafood al fresco, hiking lush rainforests, or lounging on the region's unparalleled stretches of sand.
Pet stingrays in Grand Cayman and play with dolphins in Cozumel. Try an authentic slice of key lime pie in Key West, or experience the jovial atmosphere of Duval Street's bars. Embark on the adventure of a lifetime in Belize, where you can go tubing in caves, snorkel alongside sharks, or zipline over a verdant jungle canopy.
Whether you're looking for thrills or a little R&R, you'll find it on Western Caribbean gay group cruise with Celebrity.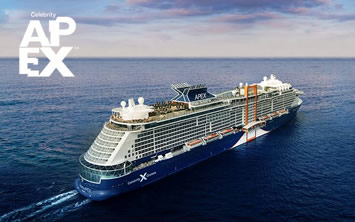 Celebrity Apex - A Ship Designed to Leave the Future Behind
Celebrity Cruises, the company that brought you modern luxury cruising, has done it again. Introducing a revolutionary new ship that's poised to change the way you experience the world—and a new class of ships designed to shatter all expectations.
With an innovative outward-facing design and visionary spaces that stand apart from anything else at sea (with the exception of her equally stunning sister, Celebrity Edge, of course), Celebrity Apex
will revolutionize the way you experience the world.
Discover the unparalleled luxury of The Retreat, exclusively for all suite guests. Unwind in transformational accommodations that blur the boundaries between indoor and outdoor living. Soar above the sea on the Magic Carpet. Surrender to the carefree pleasures of the Rooftop Garden. And embark on a culinary journey through an unrivaled collection of restaurants, bars, and lounges.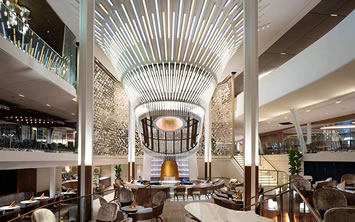 The Grand Plaza
The Grand Plaza, a majestic, open, three-storey venue onboard our brand new Edge Class ships. Inspired by the piazzas of Italy and the invigorating energy of everyone coming together to savour a taste of the good life. Home to our incredible speciality restaurants, featured on different levels of the plaza - along with our popular Martini Bar, Café al Bacio, and the new Grand Plaza Café - the Grand Plaza is the ultimate gathering place on Edge Class.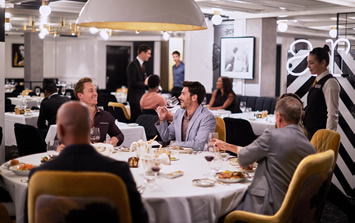 Dining & Bars
Brand new Edge Class ships are truly designed to change the way you experience the world - and such an unbelievable ship needs cuisine to match. Boasting a total of 29 distinctive restaurants, cafés, bars, and lounges to choose from, you're sure to find a new favourite dish or cocktail every night of your holiday. With an incredible palate-pleasing collection of menus inspired by the destinations we visit, and visionary recipes created by our Michelin-starred chef Cornelius Gallagher, we'll bring the flavours of the world to you - right onboard.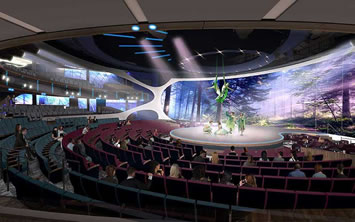 Entertainment
Entertainment onboard our Edge Class ships is just as revolutionary, just as technologically mind-blowing. It isn't something that starts and stops on a schedule. It lives and breathes, surprising you at every turn and making your holiday unforgettable.
Celebrity Edge Class ships surround you with engaging, spontaneous, and unforgettable entertainment moments that transport you from the everyday, every moment of your holiday.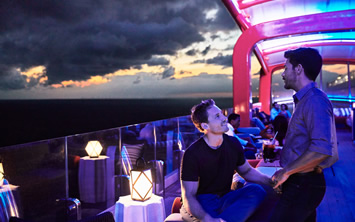 Magic Carpet
Onboard our Edge Class ships, the highlight of our outward-facing vision is the Magic Carpet. The size of a tennis court, and reaching heights of 13 storeys above sea level, it is the world's first cantilevered, floating platform. Majestically situated on the starboard side of our Edge Class ships, it is designed with comfortable seating, a full bar, and space for live music performances – so it truly is a destination itself. This spectacular space opens to several decks and transforms into a new and exciting venue depending on where it's positioned.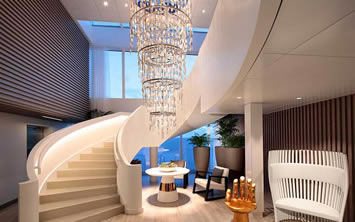 Relaxation
Whether you want to clear your mind, fine-tune your body, reinvigorate your spirit - or all of the above - The Spa onboard our Edge Class ships is the unparalleled escape you deserve. The Spa elevates "me time" to a fine art, its design rivals any of the best spas in the world, and its nature-inspired approach to wellness includes an array of spa, beauty, and fitness experiences never before offered at sea.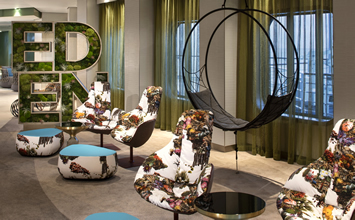 Eden
Eden is unlike anything at sea – or anywhere. With three levels of sensory experiences, fully encased in glass and looking out to the ocean, it is a true window to the world. Where nature is effortlessly intertwined with design and performance art.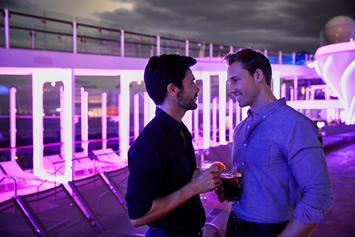 Pool Bar
Situated alongside the 25-yard lap pool (the largest in our fleet) and underneath an ever-changing, abstract mirror installation is the Pool Bar. An serene spot to relax, sip your favourite cocktail and take in your stunning surroundings.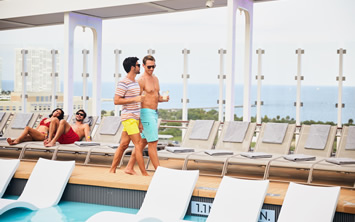 The Resort Deck
On The Resort Deck, which can be found on our Edge Class ships, you'll enjoy the main pool area, the new Rooftop Garden, the jogging track, and the adults-only Solarium. You'll find endless ways to enjoy the outdoors and connect with the sea.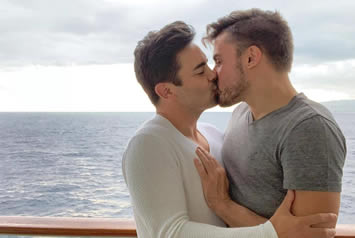 Post-Thanksgiving Caribbean
Gay Group Cruise 2021 Itinerary


Date

Port

Arrive

Depart

27 Nov
Fort Lauderdale, Florida
3:30 PM
28 Nov
Key West, Florida
7 AM
5 PM
29 Nov

A Day at Sea!

30 Nov
Belize City, Belize
7 AM
4 PM

01 Dec

Cozumel, Mexico
7 AM
4 PM
02 Dec
George Town, Grand Cayman
9:30 AM
6 PM

03 Dec

A Day at Sea!

04 Dec
Fort Lauderdale, Florida
7 AM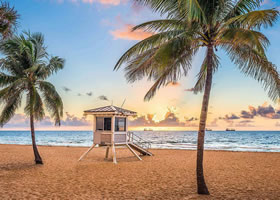 Day 1 - Fort Lauderdale, Florida
16 million visitors come each year for miles of broad white sandy beaches, dozens of lush green golf courses, and Caribbean cruises from gay friendly Fort Lauderdale
. Stroll the famous beachfront promenade, just 15 minutes from the port, and plunge into the warm Atlantic.
Head downtown to Las Olas Boulevard, paralleling New River, to sip lattes in outdoor cafés, shop chic boutiques, and catch concerts at the performing arts center. Stop at Stranahan House, the city's oldest structure, built in 1901 as a trading post and preserved as a museum, or explore a whole village of historic buildings at History Fort Lauderdale. Join a Segway tour along the river or a waterborne cruise of Millionaire's Row.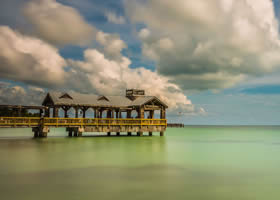 Day 2 - Key West, Florida
Ernest Hemingway made wild, colorful Key West his home, and you will want to do the same. Home to modern-day adventurers, artists and poets, the island's charming Old Town teems with restaurants, gay bars and unique shops. Add pristine coral reefs, coconut palms and a laid-back attitude that's truly contagious, and it's easy to see why so many visitors to Key West never leave.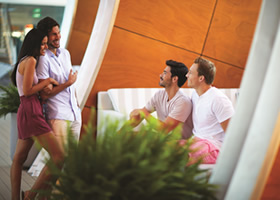 Day 3 - Day at Sea!
While at sea, take the time to recharge before the next adventure. Lounge by the pool, be spoiled at the spa, taste the delicacies or explore the venues on-board, until we arrive at the next amazing destination.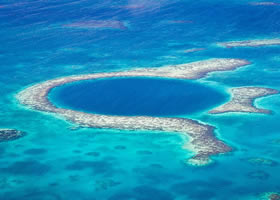 Day 4 - Belize City, Belize
Pristine Belize sets aside a fifth of its area as nature preserves, and the human history dates back 4,000 years. On local tours, you can see manatees lumbering, crocodiles sunning, black howler monkeys screeching, and colorful parrots swooping. West of Belize City, the Belize Zoo is home to powerful jaguars, jabiru storks, and howler monkeys. The huge Belize Barrier Reef offers spectacular diving, snorkeling, and fishing. You can take a boat to Ambergris Caye or Rendezvous Caye. At Lighthouse Reef Atoll, the famous Blue Hole plunges 400 feet deep.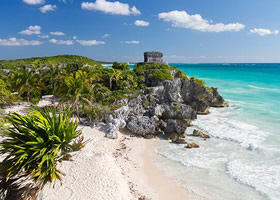 Day 5 - Cozumel, Mexico
Amid the largest coral reef in the West, this Caribbean island lures anglers, divers, snorkelers, and beachgoers. Fish the flats or head out to blue water to hunt for big game—mahi-mahi, marlin, sailfish, and more. Curl up on the beach in a hammock with a cold one. At Playa Mia, you can even fly down Twin Twister waterslides.
Go cruise shopping for beautiful Mexican silver, amber, and other artisanal gifts in San Miguel. Or, hop a ferry to charming Playa del Carmen, on the mainland, and stroll along la Quinta Avenida for more inviting restaurants, bars, and shops. Down the coast from Playa, you can explore the ancient Maya city of Tulum, perched impressively on a cliff, overlooking the brilliant sea and powdery beach below.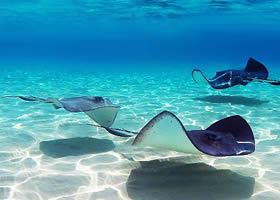 Day 6 - George Town, Grand Cayman
This upscale destination offers world-class restaurants, designer boutiques, and duty-free shopping, plus white sand beaches, brilliant blue waters, and teeming coral reefs. Enjoy postcard views of George Town, Seven Mile Beach, and West Bay from the custom-designed Cayman Explorer. You can step down easily into shallow waters to interact with the welcoming stingrays. You'll shop till you drop in the duty-free boutiques of George Town.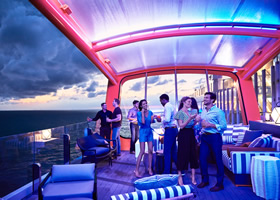 Day 7 - Day at Sea!
Revolutionary experiences await you onboard. From the Magic Carpet that reaches heights of 13 stories above sea level to the 20 ft LED wall in The Theatre, Celebrity Apex breaks from traditional ship design. Explore 29 distinct restaurants, bars, and lounges that will awaken all your senses, and savor new globally inspired menus crafted by our Michelin-starred chefs.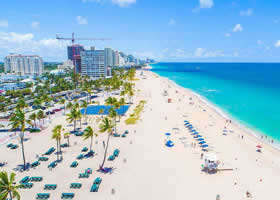 Day 8 - Fort Lauderdale, Florida
During your cruise to gay friendly Fort Lauderdale
, head out to the Everglades and enjoy Flamingo Gardens, home to pink flamingos, snarling alligators, black bears, and Florida panthers—plus exotic trees, butterfly gardens, and native flowers.
You'll find great shopping on Fort Lauderdale cruises. Look for high fashion at Galleria Fort Lauderdale, north of the port and blocks from the ocean. Head west to Sawgrass Mills for 350 designer outlets, specialty shops, and eateries. Spend a relaxing day in downtown Hollywood, south of the port, for quaint shops, sidewalk cafés, and events in the park.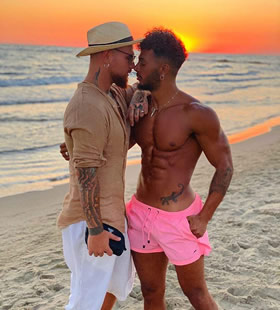 Guests: 2,910 • Tonnage: 129,500 • Length: 1004'• Beam: 128' • Draught: 27' • Cruising Speed: 21.8 kts • Inaugural: April, 2020

Celebrity Apex Post-Thanksgiving Caribbean Gay Group Cruise 2021 Rates

9 - Inside Double Stateroom
Our cosy and contemporary interior staterooms are ideal for relaxing and refreshing, ready for a holiday you will never forget. With a sofa and flatscreen TV, it is a home away from home. When night falls, settle down in your sumptuous bed for a serene and well-deserved rest.

$ 1,385

7 - Ocean View double stateroom with window
Enjoy some of the best views of your holiday, before you have even reached your destination. From the sumptuous bed, look out to see oceans and islands passing by. With warm décor and thoughtful design, learn more about the best place to wind down after a day of discovery.

$ 1,530

ES - Edge Single Stateroom with Infinite Veranda
The Edge Single Stateroom with Infinite Veranda is for modern travelers who love to explore the world on their own. Please note that this rate is for the stateroom since the room is only for one guest.

$ 2,347

E1 - Edge Stateroom with Infinite Veranda
The most transformational aspect of our stateroom design is the introduction of the Edge Stateroom with Infinite Veranda, where with the touch of a button, your entire living space becomes the veranda, letting you walk right out to the water's edge.

$ 1,879

C3 - Concierge Class double stateroom with veranda
Concierge Class is the perfect choice if you want to know everything is taken care of. And, exclusive to Edge Class, your Concierge Class Stateroom features an Infinite Balcony - with the touch of a button your doors will fold away and your entire living space will become your balcony.

$ 2,042

A2 - Aqua Class stateroom with veranda
Our AquaClass staterooms are designed for anybody seeking well-being and relaxation. Exclusive to Edge Class, your AquaClass Stateroom features an Infinite Balcony. With the touch of a button your doors will fold away and your entire living space will become your balcony.

$ 2,331

S2 - Sky Suite with floor-to-ceiling windows and veranda
A sliding panel provides views to the room and the ocean beyond. Sky Suite guests enjoy access to The Retreat, featuring a private restaurant, exclusive lounge, and a private pool area complete with its own pool bar. Sky suites also offer a variety of connection options with other staterooms for friends who want to stay close when traveling together.

$ 2,795

All prices are per person, double occupancy (except ES Single Stateroom), and include all meals, accommodations and entertainment!

Taxes of $164.32pp, gratuities, and optional insurance are additional.

A deposit of $400 per person is required upon booking. Balance payment is due 90 days prior to sailing.

Optional shore excursions will be offered.

Prices are cruise only and DO NOT INCLUDE return airfare! Please ask for airfare add-ons back to your home city.

Fares are subject to availability and may change without prior notice.

Also included are the traditional gay group cruise escort and activities, subject to minimum participation.

Traveling alone? Ask about our single roommate share program to help you avoid the single supplement of 200% of the per person double occupancy rate.

Please ask for further details.

Always Included!
Book any non-suite category and receive the following three complimentary perks: Classic beverage packages, onboard tips, and unlimited onboard internet packages!

Elevate!
Book any non-suite category, and for only $30 per person, per day extra, receive the following four complimentary perks: Premium beverage packages, onboard tips, unlimited onboard internet packages, and an onboard credit of $200 per person to be used for shore excursions!

Indulge!
Book any non-suite category, and for only $60 per person, per day extra, receive the following four complimentary perks: Premium beverage packages, onboard tips, unlimited onboard 'stream' internet packages, and an onboard credit of $200 per person!

Indulge Suite deal!
Book a Suite and get all the perks in the Indulge package: complimentary Premium beverage packages, onboard tips, unlimited onboard 'stream' internet packages, and an onboard credit of $400 per person!

Lower non-refundable deposit rates!
Lower rates are available which require a non-refundable deposit. Regular rates require a refundable deposit. Please refer to our pricing columns for the available rates. (Non-refundable deposit rates apply after final payment due date.)

CRUISE WITH CONFIDENCE!
Book your cruise by October 31, 2021 and it will be covered by Celebrity new Cruise with Confidence cancellation program. Change your sail date up to 48 hours before your cruise, or receive a future cruise credit good through September 30, 2022.

Special Airfares








Pre-Cruise Hotels







Post-Cruise Hotel