Wonder of the Seas
Ship Facts
Gross Tonnage: 236,857
Length: 1,188 feet
Beam: 210 feet
Draft: 30 feet
Cruising Speed: 22 knots
Guests: 5,734
Crew: 2,300
Decks: 18
Registry: Bahamas
Maiden Voyage: March 4, 2022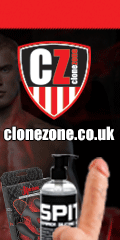 Wonder Mediterranean Gay Group Cruise 2022
7 nights from/to Barcelona, Spain
September 11 – 18, 2022
Royal Caribbeean Wonder of the Seas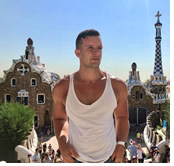 Travel again & Rediscover Mediterranean on Brand New World's Largest cruise ship! Join us on European gay group cruise to Western Mediterranean! In 2022 spectacular & filled with adventures Wonder of the Seas comes to the Mediterranean, and we'll travel on it! From the High Renaissance to high fashion and from a fascinating heritage to fantastically chic beaches, the Mediterranean has it all. Enjoy the very best that Europe has to offer on our European Gay Mediterranean cruise from gay friendly Barcelona.
Stand in awe before Spanish landmarks, Italian landscapes, and French icons that echo the history-changing moments that once happened there. Climb up inside the spires of Gaudí's Sagrada Familia Cathedral in Barcelona, whisper in awe in the Sistine Chapel, and discover French Marseilles. Explore the Western Mediterranean cities where myth and history converge on your next vacation.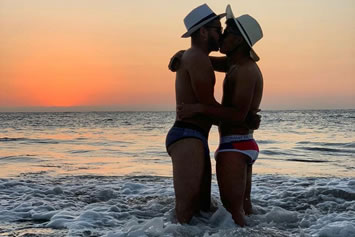 With its fast-paced cities, laid-back islands and passion for football, fashion, food and wine, Spain is a truly fascinating country. In buzzing Barcelona you can marvel at Gaudi's inspiring architecture or feast on delicious tapas in a shaded pavement café; explore the city's many churches and cathedrals or hit the shops for a shot of Catalan style.
Italy is home to one of the world's most historical and spiritual sites, a universally adored cuisine and a passionate nation. In ancient Rome you can gaze at Michelangelo's magnificent Sistine Chapel ceiling or explore the Colosseum where gladiators once fought. In Florence, feast your eyes on intricate Renaissance art or browse the jewellery shops along the Ponte Vecchio, the bridge dating back to 1345. Pose in Pisa for the essential holiday snap standing against the famous leaning tower or lick some of the most sensational gelato under the Mediterranean sun.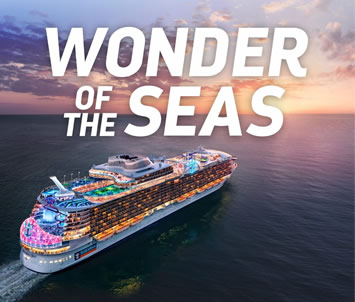 Your Ship - Royal Caribbean's Brand New Wonder of the Seas
The World's Newest Wonder - Wonder of the Seas
The ship class that redefined cruising just got bolder. The world's biggest ship, Wonder of the Seas, brings even bigger adventures to the award-winning Oasis Class. Like eight unique neighborhoods, including the all-new Suite Neighborhood. A totally redesigned pool deck with more ways to soak up the sun — or shade — than ever before.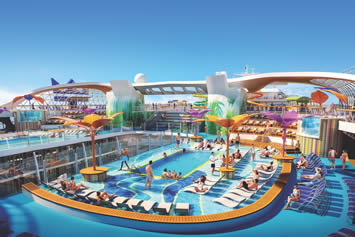 AquaTheater adds edge-of-your-seat-inducing entertainment to the line-up with stunning ocean views and a dramatic new backdrop. And the all-new Playscape, an underwater world studded with slides, climbing walls and games, where imaginations can soar. Plus returning fan-favorites like the FlowRider® and Ultimate Abyss.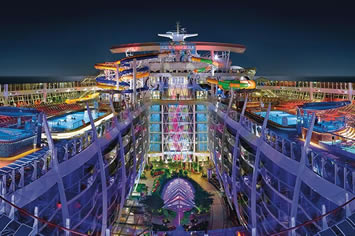 The biggest ship in the world and the first of its class to feature eight unique neighborhoods — including the luxurious new Suite Neighborhood — Wonder of the Seas offers even more room for onboard adventure, palate-pleasing dining and awe-inspiring entertainment.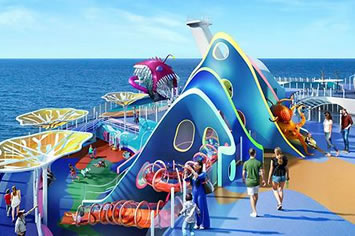 All Out. All Day.
This isn't just another day at sea. It's way more to see — and do. From fleet favorite thrills, like the FlowRider® surf simulator's 30,000 gallons of rushing awesome, to all-new adventures designed to change the way you play, including a whole new immersive spin on mini golf and a climbable, slidable space that's leagues away from your ordinary playground.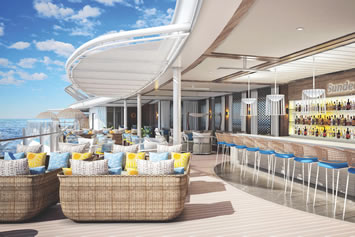 Bold Bites and Endless Delights
The biggest ship in the world is going even bigger on flavor, with limitless options to satisfy every palette. Upscale cuisine? Check. Craveable comforts? Check. Quick but delicious bites you can grab between adventures? It's all on the menu.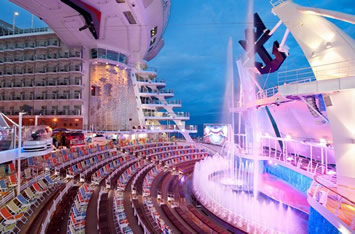 Shows Whoas
Vacation is no time for tame — and the new Wonder of the Seas definitely ups the ante on downtime. Whether you're looking for jawdropping feats at the AquaTheater, your own slice of the spotlight at our signature karaoke bar, or cocktails with a view at the all new Vue Bar.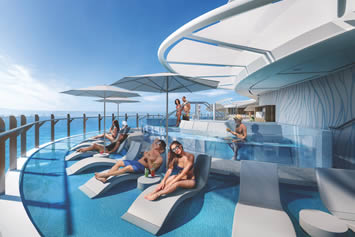 For the Sun Of It
It's all about that vacay wade of life at the redesigned pool deck on the all-new Wonder of the Seas. Soak up the sun, chill in the shade, get your adrenaline fix, or grab a cocktail from the two-story poolside bar The Lime & Coconut. And for the ultimate pool day upgrade, reserve one of our private poolside casitas..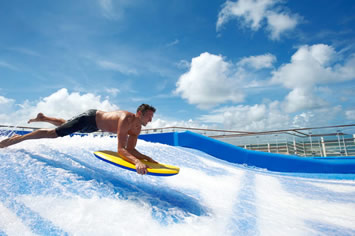 Big Time Playtime
Ditch the same-old neighborhood playground for a whole new way to explore. The all-new Playscape is studded with slides, climbing walls, games and puzzles where adventurers of all ages can discover an underwater world with endless possibilities.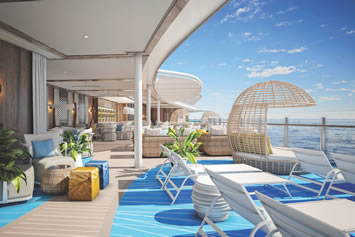 A New Way To Sea Day
Make the most of every moment at sea, with more to see, do, play and conquer. Like the all-new Playscape, an underwater-themed world with endless opportunities to explore. Wonder Dunes, where you can tee up under the sun or stars for an immersive, story-based mini golf journey like nothing you've played before. The fleet-favorite FlowRider surf simulator. And the twisting, turning, fun-drenched thrills of The Perfect Storm waterslide trio.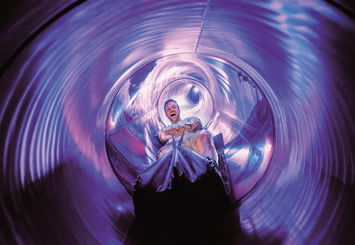 Only For the Brave
There's a place where only the bold venture and only the bravest return. Step to the edge. Peer into the darkness. There's no turning back once you take the plunge 10 stories down the tallest slide at sea. Are you brave enough — or will you become a permanent resident of the Ultimate Abyss?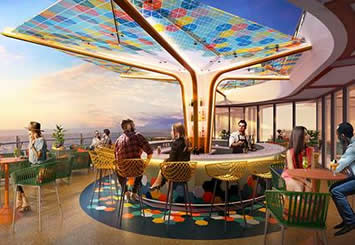 Dialed Up Dishes For Days
Wonder what it's like to dine onboard the biggest ship in the world? Wonder no more — this ship is packed with an abundance of options to please every possible craving. Whether you're dressing up for date night, taking your taste buds on a world tour, or just looking for a quick and easy meal that delivers on big time quality and flavor.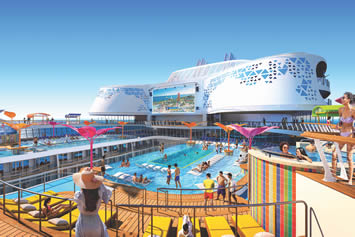 Fine Dining Is Our Speciality
If you're looking to upgrade your already amazing dining experience onboard, specialty restaurants are the move. Snag favorite coastal faves like melt-in-your-mouth lobster rolls at Hooked SeafoodSM. Savor elevated cuisine driven by seasonal ingredients at the elegant 150 Central Park. And dine on dishes that defy the imagination at Wonderland Imaginative Cuisine.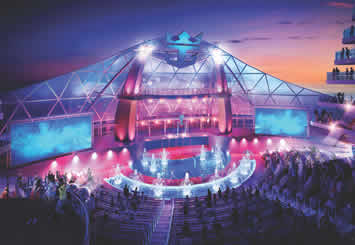 Showstopping & Chart Topping
The shows onboard set a new high-water mark for entertainment at sea — starting with the AquaTheater featuring 30-foot diving platforms, stunning ocean views, a dramatic new backdrop and 137,000 gallons of water. Or head to Music Hall for a front row view of cover bands that rock like the real thing.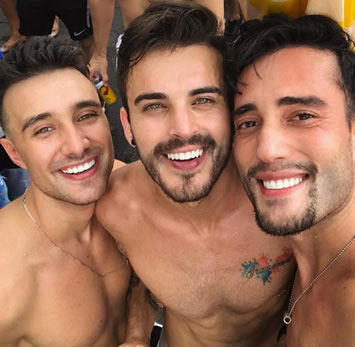 Wonder Mediterranean
Gay Group Cruise 2022 Itinerary


Date

Port

Arrive

Depart

11 Sep
Barcelona, Spain
6 PM
12 Sep
Palma de Mallorca, Spain
8 AM
4 PM
13 Sep
Provence (Marseille), France
9 AM
6 PM
14 Sep
Florence/Pisa (La Spezia), Italy
8:30 AM
8:30 PM

15 Sep

Rome (Civitavecchia), Italy
7 AM
8 PM
16 Sep
Naples (Capri), Italy
7 AM
8 PM

17 Sep

A Day at Sea!

18 Sep
Barcelona, Spain
5 AM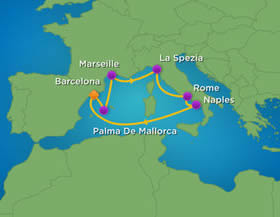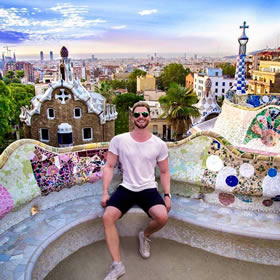 Day 1 - Barcelona, Spain
A top European center for art, architecture, design and cuisine, this stylish city has its own language and culture. The soul of old Barcelona
is its Gothic Quarter; outside the medieval district, discover iconic landmarks and more. Vying for your attention in Catalonia's visually stunning capital are the magnificent medieval buildings of the lively Gothic quarter and the exotic creations of architect Antoni Gaudi - the Sagrada Familia Temple and Parc Güell, to name just a few.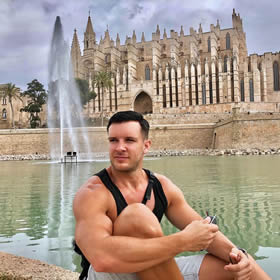 Day 2 - Palma De Mallorca, Spain
Flirt with Flamenco in this beautiful town, the capital of Mallorca. Try tapas or wine tasting or explore the city by bike with an expert guide. Be inspired by the magnificent Santa María Cathedral, a 13th century Gothic landmark overlooking the Bay of Palma, or visit the Almudaina, a Moorish-style Arab fortress, or medieval Bellver Castle. Enjoy swimming, sailing, diving or snorkelling in Palma de Mallorca too.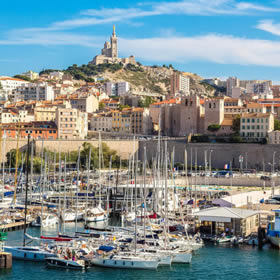 Day 3 - Provence (Marseille), France
Marseille is one of the most visited cities in France. With many museums and galleries, along with ancient buildings of historical interest. Along the coast, cycling tracks veer around sunny coves and sandy beaches. France's oldest city is one of its most dynamic, with a melting pot culture and vibrant arts scene. The soul of the city is its Vieux Port, the working waterfront. Marseille is also a gateway port to the scenic villages and coastal areas of Provence.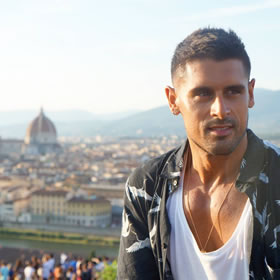 Day 4 - Florence/Pisa (La Spezia), Italy
A former fishing village at the border of two enchanting regions, La Spezia offers easy access to Tuscany and its great cities like Florence and Pisa and the Liguria's rugged coast and terraced villages known as Cinque Terre. From La Spezia, which provides ready access to the Cinque Terre region, you cn travel to Florence as well as to the Leaning Tower of Pisa. Or enjoy La Spezia's, spectacular collection of cathedrals and the art-nouveau-style villas.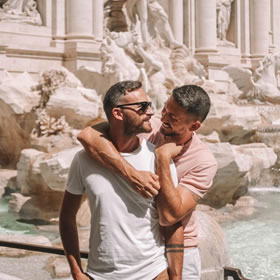 Day 5 - Rome (Civitavecchia), Italy
Hidden piazzas, opulent baroque churches, classical ruins at every turn. The best of Italian fashion. Countless art galleries, gardens and palaces. If ever there was a place to return to and delve deeper, it's Rome. From the monuments of the ancient empire to the pursuit of la dolce vita, the Eternal City is an unrivaled open-air museum and a lively modern metropolis. The tiny enclave of Vatican City is home to sacred sites and priceless art.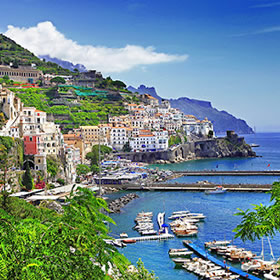 Day 6 - Naples / Capri, Italy
One of Europe's oldest cities, Naples is vibrant and filled with rich artistic and architectural heritage. Nearby sights include the ruins of ancient Pompeii uncovers, the idyllic resort isle of Capri, and the jewel-like towns that dot the Amalfi Coast. You're spoiled for choice in the city that invented the pizza. Embark on a trip to Mt. Vesuvius for mind-blowing views before descending to Pompeii. Board a boat for Capri, or a scenic day trip to Positano and Sorrento down the stunning Amalfi coast.
Day 7 - Day at Sea
An 'at sea' day is your chance to explore all the amazing activities the ship has to offer, including doing nothing at all. Relax in the Spa, take in a show at the theatre, or experience any of the incredible dining venues. There's so much to do the difficulty will be choosing what to do next! Whether you seek an adrenaline rush or total tranquility, our ships have it all. Try rock climbing, zip-lining and surfing 200 feet above the waves. Melt away land-based stress with a spa massage, build a scrapbook of memories or simply relax poolside.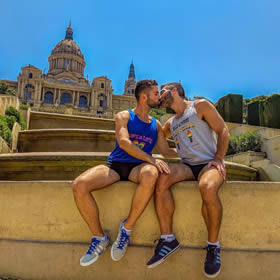 Day 8 - Barcelona, Spain
An important cultural and economic center in Spain, and indeed Europe, Barcelona
is known as much for its unique architecture as its gay friendliness. Since its founding, Barcelona has always been a center of art and design, culminating with Gaudi's masterpiece, the Sagrada Familia Basilica, a prime example of Art Nouveau architecture, with its bold color, beautiful tile work and swirling lines. Spend a day wandering through the old Gothic quarter or take a 30-minute trip to Sitges, the famed gay Spanish beach resort.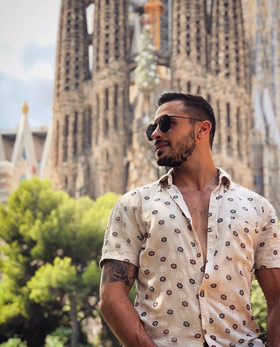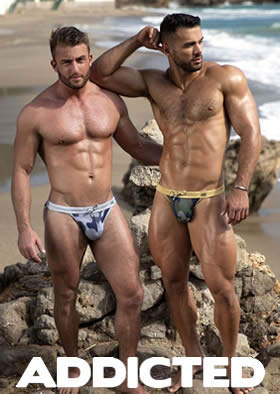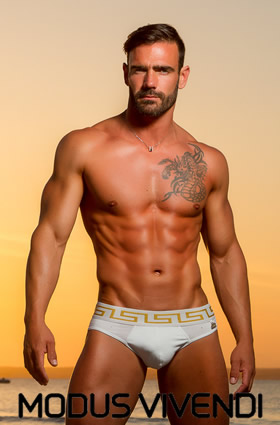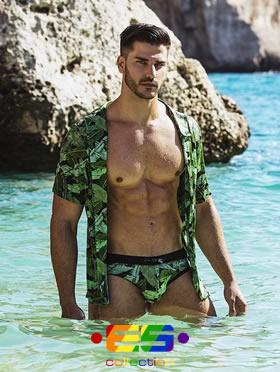 Guests: 5,734 • Gross Tonnage: 236,857 • Length: 1,188' • Beam: 210' • Draft: 30' • Cruising Speed: 22 knots

Wonder Mediterranean Gay Group Cruise 2022 Rates

Interior Stateroom
Have a fabulous holiday staying in one of our affordable and accessible interior staterooms, with super comfy beds and everything you'll need, including TV, sitting area, telephone, safe, private bathroom with shower, vanity area and hair dryer.
€ 999

€ 1,099

€ 1,799

Oceanview Stateroom
Have a fabulous holiday staying in one of our affordable and accessible oceanview staterooms, with super comfy beds and everything you'll need, including TV, sitting area, telephone, safe, private bathroom with shower, vanity area and hair dryer.
€ 1,099

€ 1,199

€ 1,999

Central Park View /
Boardwalk View
Balcony Stateroom
Relax with a view over Central Park or Boardwalk in our spacious, luxurious and accessible balcony staterooms. With your own private balcony, telephone, refrigerator or minibar, private bathroom with shower, vanity and sitting area, hair-dryer and TV, you'll be in heaven.
€ 1,199

€ 1,299

€ 2,199

Oceanview Balcony Stateroom
Relax with beautiful sea views in our spacious, luxurious and accessible balcony staterooms. With your own private balcony, telephone, refrigerator or minibar, private bathroom with shower, vanity and sitting area, hair-dryer and TV, you'll be in heaven.
€ 1,599

€ 1,749

€ 2,999

Suite
Indulge yourself with one of our stunning suites, where you'll find facilities to rival the best hotels in the world. With elegant and glamorous interiors, spacious private balconies, superior facilities such as a mezzanine or private bathroom with bathtub, and special privileges such as a complimentary Concierge service, you'll have the holiday of a lifetime.
On Request
N/A
On Request
All prices are per person, occupancy selected, and include all meals, accommodations and entertainment!

Taxes of €95pp, Gratuities of €95pp and optional insurance are additional.

First deposit of €500 per person is required upon booking. Full payment is due by June 01, 2022.

Optional shore excursions will be offered.

Prices are cruise only and DO NOT INCLUDE return airfare! Please ask for airfare add-ons back to your home city.

Fares are subject to availability and may change without prior notice.

Also included are the traditional Ambien Travel activities, subject to minimum participation.

Please ask for further details.

Special Airfares








Pre-Cruise Hotels







Post-Cruise Hotel