Costa Fortuna
Ship Facts
Gross Tonnage: 102,669
Length: 272.2 m
Width: 35.5 m
Draft: 8.2 m
Cruising Speed: 23 knots
Guests: 2,702
Crew: 1,090
Decks: 13
Registry: Italy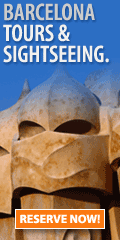 Mediterranean Halloween Gay Cruise 2022
4 nights from/to Barcelona, Spain
October 28 – November 01, 2022
Costa Cruises Costa Fortuna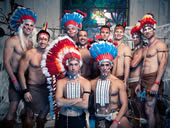 Join us on very special European gay group cruise on board of Costa Fortuna
- Ambien Mediterranean Halloween Cruise 2022. Five days and four nights sailing through the Mediterranean. A trip packed with fun, laughter, friends, spectacular Halloween Party ... and LOTS OF SURPRISES! Don't forget to choose a good costume and put it in your suitcase because there will be prizes for the best!! Are you going to miss it?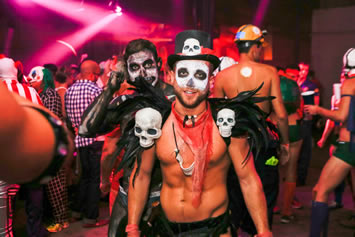 During this cruise we'll host some private parties for our gay-friendly group. The entry to those parties are totally free for every cruiser on our group. You'll enjoy the funniest music, some very special shows, live acts and lots of surprises.
To celebrate Halloween, we'll have on board the funniest, biggest (& gayest!) parties in Mediterranean.
On this cruise, obviously, we will celebrate a spectacular HALLOWEEN PARTY.
Of course, as traditional, we'll enjoy an exquisite GALA NIGHT and our famous WHITE PARTY! With prizes to te best costumes!!
Don't forget to pack everything!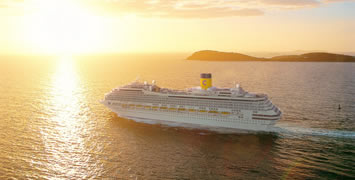 On Board the Costa Fortuna
Costa Fortuna
is a tribute to ocean liners of the past. Symbolically built in the legendary shipyards of Genova Sestri ponente, it is the sister of Costa Magica. Its motto is "first class" for the refinement of the furnishings and the elegance of its atmosphere.
The public areas and restaurants are decorated with reproductions of advertising images of the roaring '20s and '30s. In the lobby there are models of 26 ships of the past that have been part of the Costa Cruises fleet.
Thirteen decks are dedicated to international ports. 4 pools, one with a retractable roof, hot tubs and slide, open decks, casino, disco, and theater; all of this classified Costa Fortuna as one of the first ships with new standards of quality and hospitality for cruise vacations, to sail in great comfort to any destination in all seasons.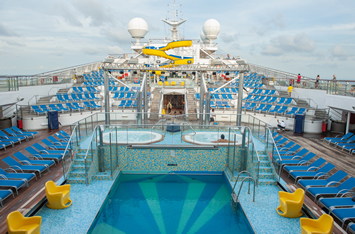 Dining
For guests who want to try something different! There are 4 restaurants, including one the Club Restaurant and 11 bars, including a Cognac & Cigar Bar. Club Restaurant is the special restaurant for Suite Guests and Members of the highest level of the Costa Club, where you can enjoy breakfast, lunch and dinner in an intimate and elegant setting. In the Club restaurants, pure flavor is the order of the day, and the presentation and service is even more meticulous. For dinner, the restaurant serves both regional menus from the main restaurants and gourmet specialties.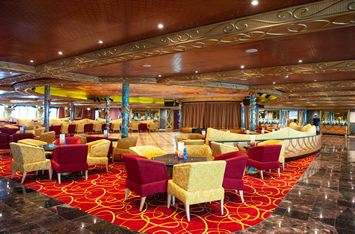 Entertainment & Nightlife
Plenty of the Entertainment places on-board. Theatre on three levels Casino Disco Pool deck with retractable glass roof Water slide Internet Point Library Shopping Center Virtual World and Squok Club
Bars & Lounges
The Ferrari Wine Bar is a classy corner on a Costa Cruise ship, where they can sip exceptional Italian bubbly. Ferrari is the Italian brand of excellence for sparkling wine. Arising from the desire of its founder to create a wine able to compete with the best French Champagne in Trentino, it is now known worldwide as a high-quality label. Costa ships have a wonderful Ferrari Bar on board, where you can taste a brut, rose or demi-sec or participate in the tasting of grande cuvee labels. Meanwhile, the windows of the ship overlook the sea, which will accompany you during this exclusive experience.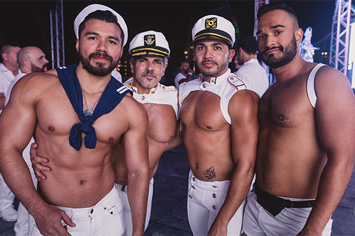 What's Included?
The price of this cruise includes:
• A wonderful 5 days / 4 nights cruise through the Mediterranean.
• Free access to every show on board the ship
• Free access to every AmbienTravel's Group Parties (including Halloween Party)
• Meals: breakfast, lunch, dinner and supper (at the main restaurant or at the buffet)
Not Included
• Gratuities: The service tips are not included on the final price and must be payed on board (40€)
• Private Tours: One month before departure, we'll send to all the members of our group a list of the private tours we'll ofer on the ports we visit. Each tour has to be payed individually and they are not included on the final price.
• Travel & Cancellation Insurance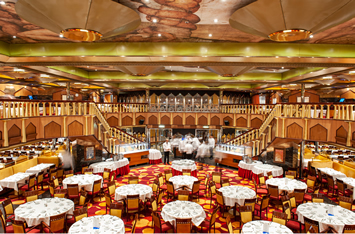 Beverage Packages
Drinks, like sodas, water at the restaurant, wines, cocktails, beers, premium coffees... are NOT included in the final price. For this reason we offer you the chance to buy an optional beverage package. If you do not wish to buy a package, you can always order and pay your drinks on every bar while on board.
OPTION A: Lunch & Dinner – 70€
During every lunch & dinner you'll be able to consume an unlimited quantity of glasses of a series of wines, beers and sodas. Who can say 'no' to a good glass of red wine, or a refreshing beer while having lunch? This is the ideal package if you're only going to drink while eating, and it's also the most economic.
OPTION B: All included – 119€
This pack includes the unlimited consumption of glasses of a series of drinks (with or without alcohol), that can be ordered at any time at the restaurant, the buffet (during lunch & dinner) and in the rest of bars on board the ship. This is the best formula for the lovers of cocktails, because this pack includes a selection of 34 cocktail types (with or without alcohol).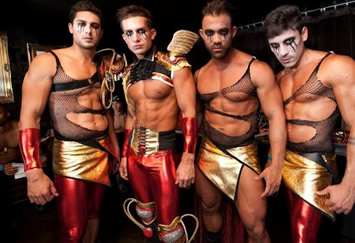 Mediterranean Halloween Gay Cruise Itinerary


Date

Port

Arrive

Depart

28 Oct
Barcelona, Spain
6 PM
29 Oct
Marseille, France
9 AM
5 PM
30 Oct
Savona, Italy
9 AM
6 PM
31 Oct

Fun Day at Sea!

01 Nov
Barcelona, Spain
8 AM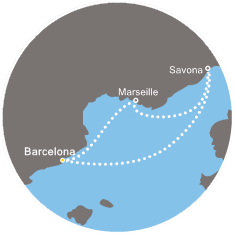 BOARDING of the cruise at Barcelona's Port on Friday, October 28th will take place between Noon to 4 PM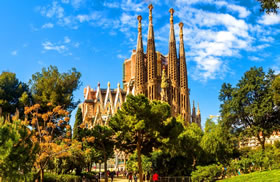 Day 1 - Barcelona, Spain
A city you can't help falling in love with: vibrant, cosmopolitan, proud, magnificent and generous, it will indulge you with exciting and vivid sensations.
The night before the cruise, Thursday, October 27th, 2022, we'll celebrate Ambien Halloween Cruise with SPECIAL PARTY in Barcelona
; and we'll love to see you there. This can be an excellent point of rendezvous for the travelers of our Special Halloween Cruise, and a good way to start to know each other.
Day 2 - Marseille, France
A strategic transit point for goods, but also a meeting place for cultures: you'll find vibrant evidence of these in the mosaic of its people.
Marseille is one of the most visited cities in France. With many museums and galleries, along with ancient buildings of historical interest. Along the coast, cycling tracks veer around sunny coves and sandy beaches. France's oldest city is one of its most dynamic, with a melting pot culture and vibrant arts scene. The soul of the city is its Vieux Port, the working waterfront. Marseille is also a gateway port to the scenic villages and coastal areas of Provence.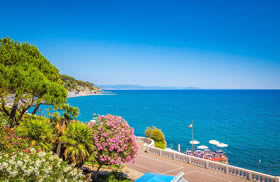 Day 3 - Savona, Italy
Overlooked by the imposing fortress of Priamar, the port city will welcome you to the Riviera di Ponente, with its celebrated seaside resorts.
Behind Savona's sprawling port facilities, the city's unexpectedly graceful medieval centre is well worth a stop. Among the old-town treasures to survive destruction by Genoese forces in the 16th century are the baroque Cattedrale di Nostra Signora Assunta and the lumbering Fortezza del Priamàr. There's also a nice urban buzz, with lots of new shops, bars and restaurants regenerating the old centre.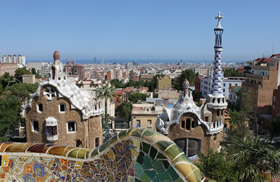 Day 5 - Barcelona, Spain
An important cultural and economic center in Spain, and indeed Europe, Barcelona
is known as much for its unique architecture as its gay friendliness. Since its founding, Barcelona has always been a center of art and design, culminating with Gaudi's masterpiece, the Sagrada Familia Basilica, a prime example of Art Nouveau architecture, with its bold color, beautiful tile work and swirling lines. Spend a day wandering through the old Gothic quarter or take a 30-minute trip to Sitges, the famed gay Spanish beach resort.