Celebrity Infinity
Ship Facts
Occupancy: 2218
Tonnage: 90,940
Length: 965 feet
Beam: 105 feet
Draught: 24 feet
Revolution Date: Nov, 2020
Antarctica & South America Gay Group Cruise 2023
14 nights roundtrip from/to Buenos Aires, Argentina
January 14 – 28, 2023
Celebrity's Infinity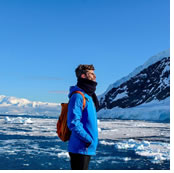 Experience the unmatched beauty of Antarctica and South America on a Celebrity Infinity World travelers gay group cruise around South America. On this 14-night cruise you'll set sail round-trip from the contemporary urban capital of Argentina, Buenos Aires. On your journey around Cape Horn through the Strait of Magellan, you'll head to the unparalled beauty and magnificence of Antarctica. After that, we will visit Falkland Islands and interesting port in Argentina. It's the perfect time to get away for the South American summer!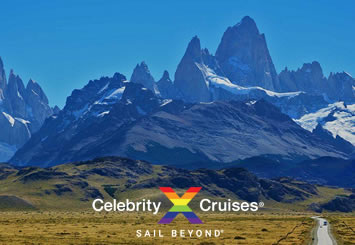 Discover The The Many Sides of South America
Celebrity award-winning South America cruises are as diverse as the continent itself. Experience the Old World culture and romance of Argentina. Explore the unrivaled natural beauty of Patagonia, a land of towering fjords, active glaciers, and captivating wildlife that stretches across the southern regions of Chile and Argentina.
Sail past the otherworldly shores of northern Antarctica, including Elephant Island, Paradise Bay, and Schollart Channel. Discover the rugged charm of the Falkland Islands, where you can get up close and personal with several different species of penguins.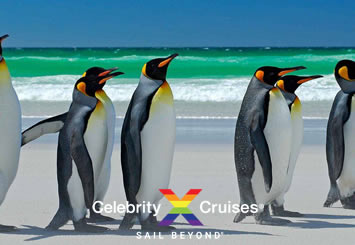 Explore the colors and magic of South America. From the sizzle of Argentina to the breathtaking tip of Antarctica, these destinations will pique curiosity and enlighten. Follow the paths of great explorers as you discover adventures as diverse and captivating as the continent itself. Venture through Patagonia, while visiting Punta Arenas and Ushuaia, known as the end of the world, filled with limitless horizons and lovely guanacos. Experience the grandeur of nature at the different Antarctica cruise ports, such as Paradise Bay and Elephant Island, accompanied by whales and albatrosses.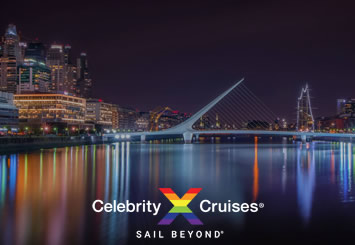 And not only is Buenos Aires one of the sexiest cities on the planet, it's also known for the best cuts of beef. Head to a local parrilla (steakhouse) for steak and pair that steak with a delicious Malbec wine. Finish it off the delectable meal with a tongue-swirling ice cream or, perhaps, dance the tango.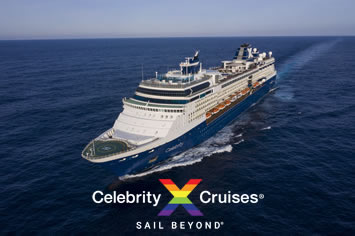 Every detail has been elevated, every comfort refined.
Celebrity Infinity
takes you to some of the most incredible destinations on the globe, so it's only fitting that she offers some of the best experiences at sea, too.
By night, head to the Martini Bar to enjoy a classic cocktail upon a real ice bar, while you watch the bartenders put on a high-energy show every night. The sophisticated atmosphere at Cellar Masters provides a more intimate venue – recline in deep leather seats and enjoy a menu of the finest beers, wines and more.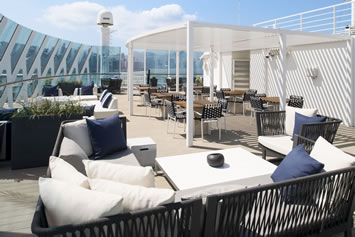 And now Celebrity Infinity has been modernised as part of The Celebrity Revolution - a $500-million investment to take all of Celebrity Cruises ships to the edge. Stay in brand new staterooms, enjoy beautifully reimagined restaurants and lounges, and relax in the newly redesigned spa. For our Suite Class guests, we now also have The Retreat Sundeck and The Retreat Lounge in addition to our Suite Class restaurant Luminae. Discover all of this and more onboard Celebrity Infinity.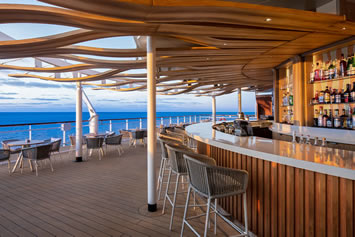 Celebrity Infinity is like the pinnacle of a tall mountain – breathtakingly amazing. It is the best way to travel the world in style and enjoy an incredible cruise: the amenities that Celebrity features in its exceptional ships, combined with extremely personal service, means that you can cruise guilt-free, knowing that you'll be taken care of in every way possible. Luxury, class, and accommodation - these three words describe a trip on Celebrity Infinity perfectly.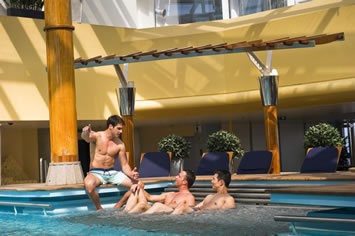 Activities on Celebrity Infinity
On Celebrity Infinity, the best amenities are yours for the asking. Relax by the swimming pool on deck, and soak up the sun with a nice drink. Take away the stress in the whirlpool, or pamper yourself at the AquaSpa. Enjoy the Conservatory, a stunning and meticulously designed garden with flourishing plant life.
Go to the library and read a book in the peace and quiet, or just wander around the ship and take in the ocean views. There are also internet stations on the ship, where you can catch up on your emails, or send pictures home to make your friends and family jealous.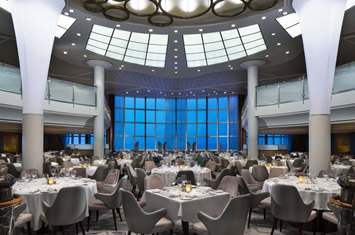 Dining / Food on Celebrity Infinity
Celebrity Infinity will treat you to the best food you can imagine. Get ready for an explosion of flavor and class - check out the main dining room, and dine in style while feasting on your favorite foods, all prepared to order.
Head over to the SS Normandie Restaurant, where you can sample food prepared tableside in an atmosphere reminiscent of the famous old ocean liners such as the Titanic. Do not forget - there is also 24-hour room service available, which offers great food from the dinner menus.
Entertainment on Celebrity Infinity
An excellent ship like Celebrity Infinity offers world-class entertainment. Your night will be full of memorable activities, so where to begin? Head over to one of the bars and lounges and enjoy a cocktail with great company - you can decide what to do next while you are relaxing.
The ship offers great live performances - live music, Broadway-style performances, and even current movies. You can also dance the night away at the nightclub, where the DJ will play your favorite tunes. If you feel lucky, head over to the casino onboard and try your luck.
Antarctica & South America
Gay Group Cruise 2023 Itinerary


Date

Port

Arrive

Depart

14 Jan
Buenos Aires, Argentina
5 PM
15 Jan

Fun Day at Sea!

16 Jan

Fun Day at Sea!

17 Jan

Fun Day at Sea!

18 Jan

Ushuaia, Argentina
10 AM
9 PM
19 Jan
Cape Horn, Chile
6 AM
8 AM

20 Jan

Schollart Channel, Antarctica
11 AM
1 PM
20 Jan
Paradise Bay, Antarctica
2:30 PM
4 PM

20 Jan

Gerlache Strait, Antarctica
5 PM
7 PM
21 Jan
Elephant Island, Antarctica
2 PM
6 PM

22 Jan

Fun Day at Sea!

23 Jan
Port Stanley, Falkland Islands
8 AM
5 PM

24 Jan

Fun Day at Sea!

25 Jan
Puerto Madryn, Argentina
7 AM
4 PM

26 Jan

Fun Day at Sea!

27 Jan
Montevideo, Uruguay
10 AM
5 PM

28 Jan

Buenos Aires, Argentina
5 AM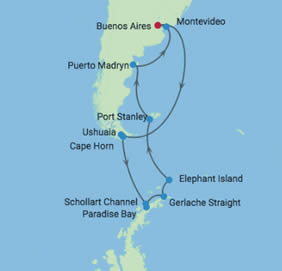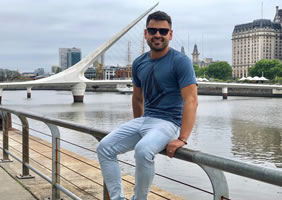 Day 1 & 15 - Buenos Aires, Argentina
The capital of Argentina throbs with creative energy. In this melting pot of cultures—native American, Spanish colonial, Italian, French, British, and more—the local Porteños greet you warmly with a kiss. Connoisseurs of culture find 300 theaters and 160 museums. Explore the French neoclassical Museo Nacional de Arte Decorativo, near the port, or Teatro Colón, an opera house with interiors as beautiful as the acoustics, in the Centro. You'll shop till you drop in Buenos Aires
, a leader in design.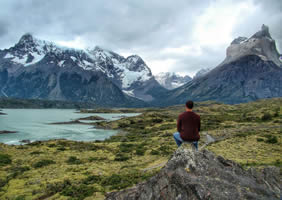 Day 5 - Ushuaia, Argentina
No city on the planet has a more southerly latitude. As a result, the sun shines for 18 hours during each summer day, providing ample opportunity to view the mix of glaciers, forests and sea, all framed by Mount Martial to the west and Mounts Olivia and Cinco Hermanos to the east. There's a magnificent wealth of history and culture to discover on an Ushuaia cruise. Ushuaia has increasingly become a major tourist destination with many attractions, including restaurants, sight-seeing, and casinos. Explore Tierra del Fuego National Park on a day hike through the wilderness, or hike along the coast and glacial lakes.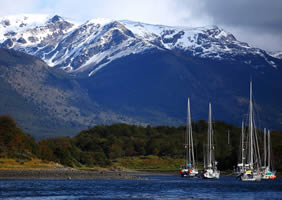 Day 6 - Cape Horn, Chile (Cruising)
Tierra del Fuego, Land of Fire, is the most isolated place in the Americas, and Cape Horn is its southernmost point. Named after the Dutch town of Hoorn in 1616, its craggy cliffs and windswept shores are stark, with a rugged beauty that creates a dramatic setting for the collision between the Atlantic and Pacific Oceans. And, depending on the time of year, you'll either encounter "hold on to your hat" waves, or gentle currents on a Cape Horn cruise.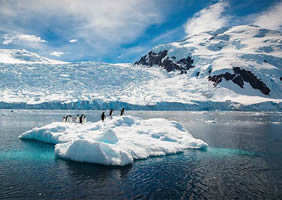 Day 7 - Schollart Channel, Antarctica (Cruising)
Journey to the far reaches of the world with a Schollart Channel cruise. Experience the spectacular wildlife that inhabits the great white South Pole and breathe in the exhilarating air. With Anvers Island to the southwest and Brabant Island to the northeast, take in the mesmerizing sights of massive ice flows, humpback whales, waddling penguins, leopard seals and more in their natural, and somewhat extreme, element. You are certain to leave with amazing memories, and pictures, as you cruise through Schollart Channel located near Antarctica.
Day 7 - Paradise Bay, Antarctica
This name aptly reflects the stunning beauty you'll find here, just as the clear waters beautifully reflect the spectacular mountains, such as Rojas Peak, Bryde Peak, and the Petzvol Glacier. Within these waters we may see Minke whales feeding and Gentoo penguins curiously observing us from the rocky shores.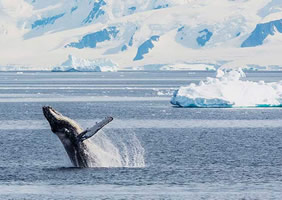 Day 7 - Gerlache Strait, Antarctica (Cruising)
A number of geographical anomalies around this channel make these waters among the most plankton-rich in the world. You're likely to see a profusion of whales feeding in the rich ecosystem, which is a sight you'll not soon forget.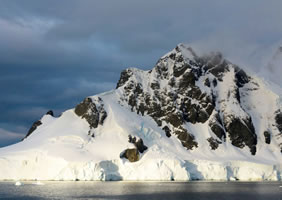 Day 8 - Elephant Island, Antarctica (Cruising)
Located in the Southern Ocean near the outer reaches of the South Shetland Islands, Elephant Island has claims from not only Argentina and Chile, but also the United Kingdom. Brazil also has two shelters here that contain up to six researchers that work during the summer months. The island is covered with elephant seals, hence the name Elephant Island. At Cape Lookout, a bluff on the southern coast where various penguins (chinstrap, gentoo, and macaroni) call home. Other birds of note include sheathbills, cape petrels, and stormy petrels; it's also a great place to spot the elephant seals and Antarctic fur seals. The truly adventurous can explore the moss colonies, which are thought to be thousands of years old.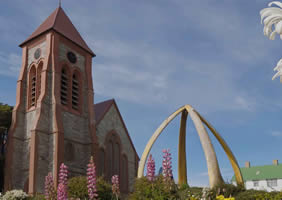 Day 10 - Port Stanley, Falkland Islands
Commune with the roughly 2,000 intrepid souls who call this remote former whaling outpost home. As you hike through the rocky, windswept landscape you may observe a few of the island's flightless residents—including Magellan penguins burrowing underground, and rockhoppers carefully observing you from outcroppings.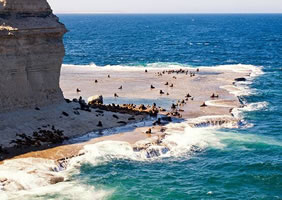 Day 12 - Puerto Madryn, Argentina
This deep water port was founded in 1865 by Welsh immigrants. Extending out into the Atlantic from Puerto Madryn is the Península Valdés, a wildlife sanctuary where vast numbers of sea elephants, whales and penguins far outnumber the few human visitors who make it out this far.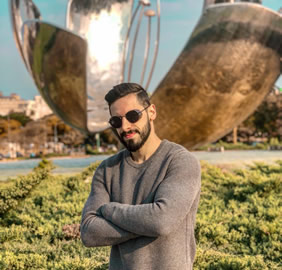 Guests: 2,218 • Tonnage: 90,940 • Length: 965' • Beam: 105' • Draught: 26' • Cruising Speed: 24 kts • Revolution: November, 2020

Antarctica & South America Gay Group Cruise 2023 Rates

10 - Inside Double Stateroom
Stateroom Size approx.: 170 sq.ft. Two lower beds that convert to one queen-sized bed, sitting area, private bathroom with shower, complimentary use of bathrobes, minibar, 20-inch interactive flat-screen TV, direct-dial telephone and voicemail, air-conditioning, individual safe, hairdryer, and 24-hour room service.

$ 2,680

8 - Ocean View double stateroom with window
Two lower beds that convert to one queen-sized bed, large 48-inch porthole window, sitting area, private bathroom with shower, complimentary use of bathrobes, minibar, 20-inch interactive flat-screen TV, direct-dial telephone and voicemail, air-conditioning, individual safe, hairdryer, and 24-hour room service.

$ 2,859

2B - Deluxe ocean view double stateroom with veranda
Stateroom Area approx.: 170 sq. ft.| Veranda Area: 38 sq. ft. Two lower beds convertible to queen-size bed (some staterooms do not), floor-to-ceiling sliding glass doors that open to a veranda with lounge seating, sitting area with sofa, 20-inch TV, bathroom with shower, mini-bar, telephone, thermostat-controlled air-conditioning, 24-hour room service, and hairdryer. Some sitting areas include a sofa bed. Note: Some staterooms of this category have smaller verandas that are semi-private.



C2 - Concierge Class double stateroom with veranda
Stateroom Area approx.: 191 sq. ft.| Veranda Area: 41 sq. ft. Two lower beds that convert to a queen-size bed (some staterooms do not), floor-to-ceiling glass doors that open to a veranda with lounge seating, sitting area with sofa, 32" TV, vanity, bathroom with shower, Hansgrohe massaging showerhead, mini-bar, 24-hour room service, thermostat-controlled air-conditioning, safe, telephone and hairdryer. Additional concierge class indulgences include: priority check-in, welcome sparkling wine, daily hors d'oeuvres, pillow menu, dining and seating preference.

$ 3,959

A2 - Aqua Class stateroom with veranda
Stateroom Area approx.: 194 sq. ft. | Veranda Area: 54 sq. ft. Features: Floor-to-ceiling sliding glass doors. Sitting area with sofa. Two beds convertible to queen-size; Vanity; TV; Veranda. Designed for the ultimate spa enthusiast. Available only on Celebrity Cruises, these serene staterooms, each with a private veranda, are located high above it all, nestled comfortably close to the AquaSpa by Elemis Relaxation Room, the Solarium and the Persian Garden. And dine in your own restaurant, Blu, featuring health-conscious dishes.



A1 - Aqua Class stateroom with veranda
Stateroom Area approx.: 194 sq. ft. | Veranda Area: 54 sq. ft. Features: Floor-to-ceiling sliding glass doors. Sitting area with sofa. Two beds convertible to queen-size; Vanity; TV; Veranda. Designed for the ultimate spa enthusiast. Available only on Celebrity Cruises, these serene staterooms, each with a private veranda, are located high above it all, nestled comfortably close to the AquaSpa by Elemis Relaxation Room, the Solarium and the Persian Garden. And dine in your own restaurant, Blu, featuring health-conscious dishes.

$ 4,299

All prices are per person, double occupancy, and include all meals, accommodations and entertainment!

Other cabin categories are available on request.

Taxes of $379.08pp, and optional insurance are additional.

A deposit of $700 per person is required upon booking. Final payment is due October 1, 2022

Optional shore excursions will be offered.

Prices are cruise only and DO NOT INCLUDE return airfare! Please ask for airfare add-ons back to your home city.

Fares are subject to availability and may change without prior notice.

Also included are the traditional Arno's Bear Cruise activities, subject to minimum participation. To enjoy Arno's Group functions and excursions you must reserve room with us.

Traveling alone? Ask about our single roommate share program to help you avoid the single supplement of 200% of the per person double occupancy rate.

Please ask for further details.

Always Included!
Book any non-suite category and receive the following three complimentary perks: Classic beverage packages, onboard tips, and unlimited onboard internet packages!

Elevate!
Book any non-suite category, and for only $30 per person, per day extra, receive the following four complimentary perks: Premium beverage packages, onboard tips, unlimited onboard internet packages, and an onboard credit of $200 per person to be used for shore excursions!

Indulge!
Book any non-suite category, and for only $60 per person, per day extra, receive the following four complimentary perks: Premium beverage packages, onboard tips, unlimited onboard 'stream' internet packages, and an onboard credit of $200 per person!

Indulge Suite deal!
Book a Suite and get all the perks in the Indulge package: complimentary Premium beverage packages, onboard tips, unlimited onboard 'stream' internet packages, and an onboard credit of $400 per person!

Special Airfares