Symphony of the Seas
Ship Facts
Gross Tonnage: 230,000
Length: 1,188 feet
Beam: 215.5 feet
Draft: 30 feet
Cruising Speed: 22 knots
Guests: 5,494
Crew: 2,175
Staterooms: 2,775
Decks: 18
Inaugural: April, 2018
Western Caribbean Gay Bears Cruise 2020
7 nights from/to Miami, Florida
February 15 – 22, 2020
Royal Caribbean Symphony of the Seas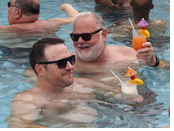 Join like minded bears, cubs, chubs, chasers, their friends and families on Arno's Bears Western Caribbean gay group cruise. We set sail from Miami to beautiful Roatan, Costa Maya, Cozumel & Cococay on brand new World's Largest cruise ship, Royal Caribbean's Symphony of the Seas
! Palm-fringed beaches, pure white sand, turquoise seas, thrilling watersports and superb shopping – you'll be in paradise on your holiday to the lovely Caribbean.
Feeling adventurous? Why not parasail above the sun-soaked sands at exclusive Cococay or try an encounter with dolphins and stingrays. You will love the aquapark and underwater treasure hunt at Cococay or you can chill out at the floating bar.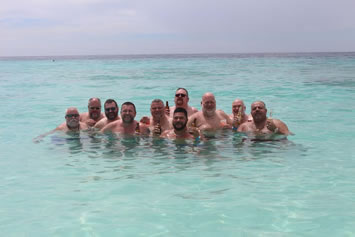 Kayaking, off-roading, diving with dolphins – if you love high energy and exploring the fun starts here! Our amazing choice of shore excursions includes activities for every level, from exciting boat rides and heart-thumping plane trips to adrenalin-packed hikes and bikes.
Picture yourself on beautiful stretches of pure white sand, beside turquoise waters filled with tropical fish, listening to calypso rhythms under sun-soaked skies. Round off the day with a rum punch on the beach, taking in the breath-taking views.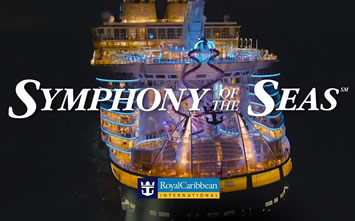 Royal Caribbean's Brand New Symphony of the Seas
The new sound of adventure, Symphony of the Seas
, is music to your eyes and ears, a floating adventure of fun, with all the classics you love and new hits that will blow your mind including incredible shows, robotic barmen and slides.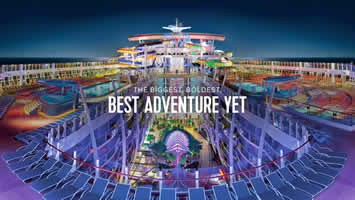 Introducing the Symphony of the Seas
- the newest addition to Royal Caribbean's award-winning Oasis Class fleet. The world's biggest ship with the world's best features just got even better. There's no turning back once you take the plunge 10 stories into the mysteries of the deep on the tallest slide at sea, Ultimate Abyss, as well as the exhilarating multilevel Perfect Storm slides. As the kids explore Splashaway Bay, take a tree-lined stroll through Central Park, or find your own haven in any of the other seven iconic onboard neighborhoods. Sip a post-dinner cocktail crafted by a robot in our unique Bionic Bar, and share every moment with not just your family onboard, but friends back home with VOOM - the fastest Internet at sea. Discover the biggest, boldest vacation ever on a ship unlike anything else on the ocean.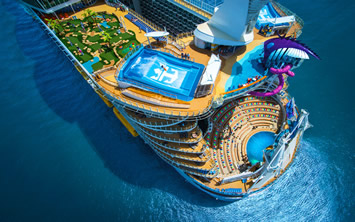 Bigger And Better
Clocking in at 1,188 feet long and with 18 total decks—about the height of the Leaning Tower of Pisa—this ship dominates with the title of the largest in the world.
People And Power
There are more rooms for guests on Symphony than previous record holder, with 2,775 total staterooms (28 more than Harmony). To ensure our guests have the best vacation possible, there are 2,175 crew members hailing from around the world.
If you were wondering how this mammoth moves, there are four bow thrusters each with 7,500 horsepower to swiftly propel guests to every destination the ship visits.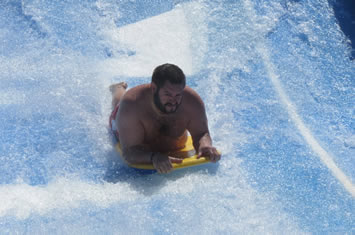 Every Amenity
Symphony of the Seas offer guests seven distinct neighborhoods, like the tree-lined Central Park and the luxury shop-filled Royal Promenade, creating unique areas for travelers to enjoy and explore. For adrenaline-packed adventure, Symphony also has the 10-story slide Ultimate Abyss; a trio of waterslides; and Splashaway Bay kids waterpark. In addition, a second pool will be added to the Solarium on deck 15, meaning even more space for adults to kick back and relax.
Things to Do
Our ship boast a sea of vacation possibilities for every guest. Like the chance to learn Italian, salsa dancing, or the recipe for a perfect martini. To conquer the rock climbing wall and ice skate on the equator. Or slow things down with a hot stone massage and duty-free designer shopping. See, do and learn more at sea than you ever thought possible.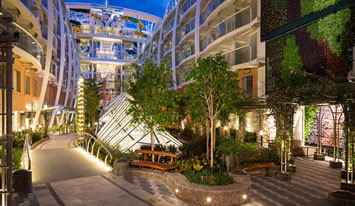 Dining
From confectionery delights to California rolls, finger foods to a five-course gourmet meal, a Royal Caribbean cruise is a journey of culinary discovery. Our innovative chefs, each trained and certified, will take your palate global with a lineup of complimentary and specialty options. Pair your meals with a beverage package and save on your favorite drinks.
Shows & Nightlife
Let's hear a round of applause for an unrivaled entertainment lineup—an amazing array of shows and performers, included with your cruise fare. Picture Broadway shows just steps from your stateroom. World-class performers that WOW on stage, ice, and in the water. And when the sun goes down, the night heats up with energetic parades, live music, comedy shows and much more.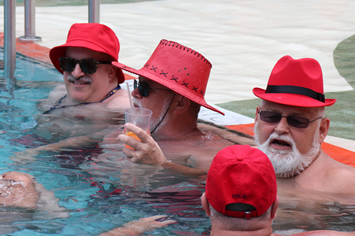 Western Caribbean Bears Cruise 2020
Itinerary


Date

Port

Arrive

Depart

15 Feb
Miami, Florida
4:30 PM
16 Feb

A Day at Sea!

17 Feb
Roatan, Honduras
9:30 AM
6 PM
18 Feb
Costa Maya, Mexico
8 AM
5 PM

19 Feb

Cozumel, Mexico
7 AM
6 PM
20 Feb

A Day at Sea!

21 Feb

CocoCay, Bahamas
8 AM
5 PM
22 Feb
Miami, Florida
6 AM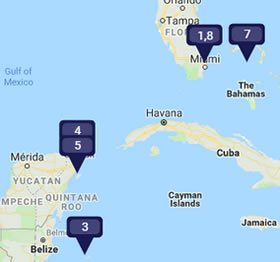 Day 1 & 8 - Miami, Florida

Go on parade at glamorous South Beach, famed for its colourful art deco buildings, white sand and lively nightlife. Soak up the sounds of salsa and merengue in atmospheric Little Havana, where you'll find coffee shops, cigar shops, markets and Cuban bakeries. Shop till you drop in the modern malls or tee off on one of the many golf courses. For thrills, take a speedboat ride or explore the rich marine life of the Florida Reef.
Days 2 - A Day at Sea!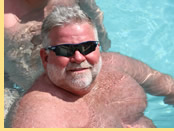 Sit back, kick off your shoes and put your feet up during our 'at sea' days, where you can chill in the bar, lounge by the pool or enjoy a relaxing beauty treatment in the spa. For simple pleasures, why not try a game of table tennis? Or if you're feeling energetic, now's the chance to explore all the amazing activities the ship has to offer, from spectacular, West-End-style entertainment to adrenalin-charged sports.
Day 3 - Roatan, Honduras

Soar through the skies on a zip-line, snorkel in turquoise waters or soak up the sun on an idyllic private beach. It's your choice on the beautiful island paradise of Roatán, home to the second largest coral reef in the world. Dive among the colourful corals, sponges and fish or swim with dolphins for the experience of a lifetime. See 2,000 iguanas or pet capuchin monkeys and macaws at Iguana and Gumbalimba Parks.
Day 4 - Costa Maya, Mexico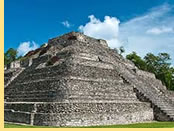 For aqua fun with the family visit Maya, the Lost Mayan Kingdom waterpark in Puerto Costa Maya in Mexico. The paradise beaches and translucent lagoons make for some dream outdoor activities such as snorkelling, sailing and scuba diving and inland there are real Mayan ruins to explore. Look out for toucans, spider monkeys, and iguanas on a 4x4 adventure into the jungle interior.
Day 5 - Cozumel, Mexico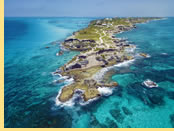 Drive your own mini submarine, snorkel on world famous reefs or see the colourful underwater world by glass bottomed boat in lovely Cozumel, on the Caribbean coast of Mexico. There are fascinating Mayan ruins to explore too and abundant wildlife, including brightly-hued tropical birds. Look out for dolphins, manatees and sea turtles in the lovely lagoon and underwater caverns of the Chankanaab eco-park.
Day 6 - Day at Sea!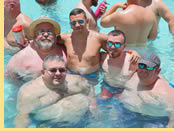 Whether you seek an adrenaline rush or total tranquility, our ship have it all. Try rock climbing, ice skating and mini golf on green that overlooks a sea of blue. Melt away land-based stress with a spa massage, build a scrapbook of memories or simply relax poolside. World-class performers from across the globe come together on our ships to WOW you from morning to night. Catch Broadway musicals, the DreamWorks Experience, ice-skating spectaculars — plus thrilling casino action, live comedy and music, bars, clubs and much more.
Day 7 - CocoCay, Bahamas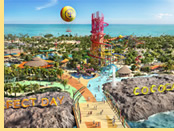 Be one of the brave first to conquer the tallest waterslide in North America and snap a shot from 400 feet up in a helium balloon. Grab a drink at the swim-up bar and soak up the scene in the largest freshwater pool in the Bahamas. Or get a taste of Bora Bora with your own overwater cabana. This is perfection created for you. This is Perfect Day at CocoCay — only on Royal Caribbean®.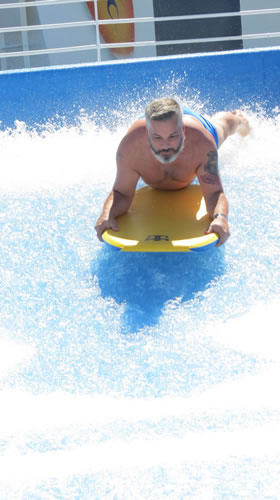 Guests: 5,494 • Gross Tonnage: 230,000 • Length: 1,188' • Beam: 215.5' • Draft: 30' • Cruising Speed: 22 knots

Western Caribbean Gay Bears Cruise 2020 Rates

Interior Stateroom
172 sq. ft. Description: Two twin beds that convert to Royal King, private bathroom and sitting area.
$ 1,179

Ocean View Stateroom
179 sq.ft. Ocean View staterooms offer a gorgeous view, two twin beds and a private bathroom, sitting area.


Central Park View Balcony Stateroom
Size approx: 182 sq. ft. Balcony: 52 sq. ft. Relax with a view over Central Park in our spacious, luxurious and accessible balcony staterooms. With your own private balcony, telephone, refrigerator or minibar, private bathroom with shower, vanity and sitting area, hair-dryer and TV, you'll be in heaven.
$ 1,260

Boardwalk View Balcony Stateroom
Size approx: 182 sq. ft. Balcony 52 sq. ft. Stay entertained with the sight of activities that occur on the Boardwalk from your balcony. Your own private balcony, telephone, refrigerator or minibar, private bathroom with shower, vanity and sitting area, hair-dryer and TV.
$ 1,759

Oceanview Balcony Stateroom
182 sq. ft. Balcony 50 sq. ft. Description: Two twin beds that convert to a Royal King, sitting area, private balcony, private bathroom, closet space.
$ 2,064

Suite
Indulge yourself with one of our stunning suites, where you'll find facilities to rival the best hotels in the world. With elegant and glamorous interiors, spacious private balconies, superior facilities such as a mezzanine or private bathroom with bathtub, and special privileges such as a complimentary Concierge service, you'll have the holiday of a lifetime.


All prices are per person, occupancy selected, and include all meals, accommodations and entertainment!

Taxes of $190.39pp, gratuities ($101.50 pp) and optional insurance are additional.

First deposit of $400 per person is required upon booking. Full payment is due November 1, 2019

Optional shore excursions will be offered.

Prices are cruise only and DO NOT INCLUDE return airfare! Please ask for airfare add-ons back to your home city.

Fares are subject to availability and may change without prior notice.

Also included are the traditional Arno's Bear Cruise activities, subject to minimum participation. To enjoy Arno's Group functions and excursions you must reserve room with us.

If you cancel 90 days before departure: $150; 89-57 days: $350; 56-29 days: 60% of total price; 28-15 days: 85% of total. Less than 14 days: 100% of total. Costs are applied to total (incl. Taxes).

Please ask for further details.

Special Airfares








Pre-Cruise Hotels







Post-Cruise Hotel