Freedom of the Seas
Ship Facts
Gross Tonnage: 156,271
Length: 1,111 feet
Beam: 185 feet
Draft: 29.5 feet
Cruising Speed: 21.6 knots
Guests: 3,926
Crew: 1,365
Decks: 15
Crew: 1,365

Bahamas & Perfect Day MayDaze Gay Bears Cruise 2022
4 nights from/to Miami, Florida
May 30 – June 03, 2022
Royal Caribbean Freedom of the Seas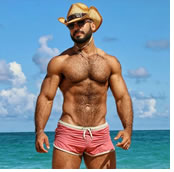 Join your bear buddies and friends on remarkable and memorable MayDaze getaway Bears & Gay Cruise! We will depart from Miami to Nassau, Bahamas, and to the Royal Caribbean's over-the-top private Island "CocoCay", sailing on the beautiful recently-refurbished Freedom of the Seas
.
There's no such thing as a 'one-size-fits-all' vacation — especially on Perfect Day® at CocoCay®. Whether your ideal beach getaway involves larger-than-life thrills or unwinding at a peaceful waterfront chill spot, you'll find there's no right or wrong way to make the most out of your adventure.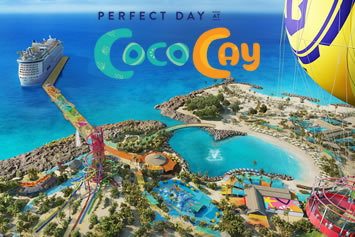 Royal Caribbean's private island, Perfect Day at CocoCay, offers endless discoveries for every kind of visitor. Fill your summer with sun-soaked adventures onboard Freedom of the Seas, sailing from Miami with stop in Nassau and at this guest-favorite isle.
Most of the experiences at Perfect Day at CocoCay are complimentary, and there are plenty of free beach chairs and beachside activities — not to mention five new complimentary dining venues located throughout the island. Other attractions, like Thrill Waterpark®, Floating Cabanas, the Zip Line, and Up, Up and Away helium balloon, are available for a charge.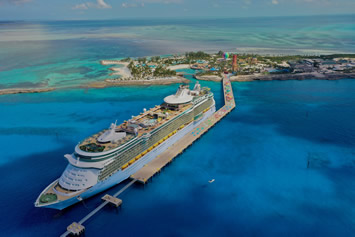 Royal Caribbean's Freedom of the Seas
The Amplified Freedom of the Seas
is as wow-worthy as the destinations it sails to. Top-rated coasts. Bow-to-stern boasts. The best of both worlds combine for an all-in-one adventure on the Amplified Freedom of the Seas®. Wherever you choose to wander, you'll find plenty of unparalleled thrills onboard in between adventures ashore. Like adrenaline-pumping slides and rides right on deck. A new pool scene designed to level up your time in the sun. And fresh, authentic flavors that will satisfy any craving.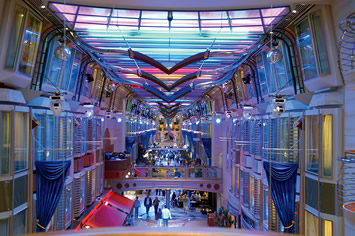 Resplendent in its décor, its themed bars and lounges, and its fine dining, the Freedom of the Seas is the ideal start to an unforgettable vacation. Check out the climbing wall, the swimming pools, and wander around the ship to take in the scenery both inside and out! You get a stunning ocean view from every angle on the ship! Every stateroom comes with a full-size flat screen TV - and the entire ship is outfitted to be Wi-Fi capable. There is even cell phone connectivity, so you can call your friends and tell them what a great time you're having on your vacation! They'll all be jealous!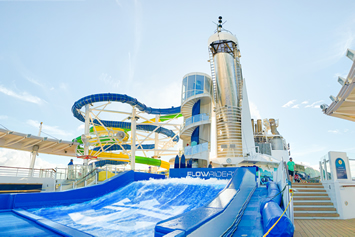 Activities on Freedom of the Seas
On the Freedom of the Seas, the abundance of activities is astounding! You've got several swimming pools to choose from, including the H2O Zone water park (it's got ground geysers, interactive water sculptures AND a gorgeous cascading waterfall!), cantilevered whirlpools that even extend over the edges of the deck, and the fun doesn't stop there! There's an ice-skating rink, a boxing ring, and a rock climbing wall that features 11 different routes and a spire that you can swing around! There's a 9-hole mini-golf course, a full-size sports court, a Promenade you can walk around, and a fully equipped spa and gym - your day will be so full of activities you won't believe it! The only question is: What will you do first?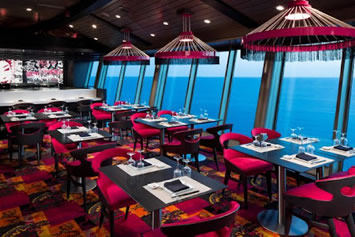 Dining / Food on Freedom of the Seas
On the Freedom of the Seas, your mouth will start watering when you see the array of food available! Choose from your regular dining options for breakfast, lunch and dinner and enjoy delicious food prepared to your taste! Or, check out the Johnny Rockets on the ship for 50's style diner food! There's a Portofino Italian Restaurant, a Chops Grille, Sorrento's Pizza and even a Ben and Jerry's Ice Cream parlor! Don't forget, there's 24-hour room service as well, serving the full menu!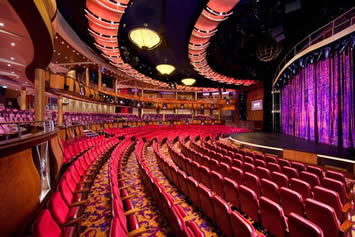 Entertainment on Freedom of the Seas
Expect the best in entertainment on board the Freedom of the Seas! Go see a Broadway-style show, listen to some great live jazz music, or big band and disco too! Each of the lounges and bars on the ship are themed, so you can find your favorite fantasy and have the time of your life! There's a nightclub where you can dance the night away, a vintage wine bar, and even the Casino Royale, where you can try your luck! The day doesn't have to end when the sun goes down - the night is just beginning! Attend a themed party, or relax with your favorite drink and just talk with new and old friends! You're guaranteed to have the time of your life on this amazing cruise ship!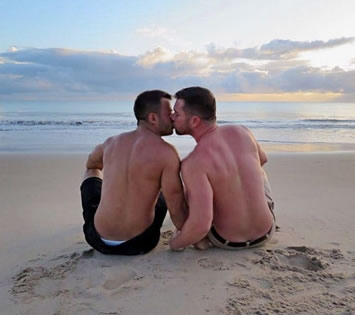 Bahamas & Perfect Day
MayDaze Gay Bears Cruise 2022
Itinerary


Date

Port

Arrive

Depart

30 May
Miami, Florida
4:30 PM
31 May

Fun Day at Sea!

01 June
Nassau, Bahamas
8 AM
5 PM
02 June
Perfect Day at CocoCay, Bahamas
7 AM
5 PM

03 June

Miami, Florida
6 AM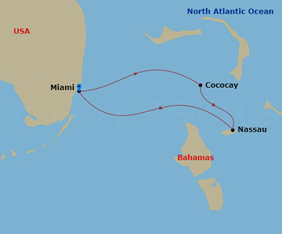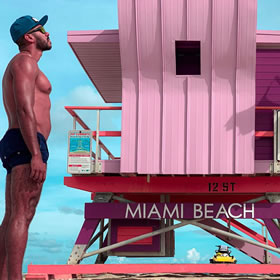 Day 1 & 5 - Miami, Florida
Miami
moves to a rhythm all its own— from the sun-drenched beaches to a diverse blend of cultures. Indulge in the glitzy chic of Miami Beach and explore Little Havana's deep-rooted Cuban heritage. Unwind on Key Biscayne's serene shorelines, pedal along Ocean Drive or paddle a kayak through Oleta River State Park's winding mangrove channels. Head to Coconut Grove to take in the bohemian vibe. Tour the Vizcaya estate's Renaissance-inspired gardens. Miami cruises give guests the opportunity to check out the Perez Art Museum's contemporary collections. Whether it's deep-sea fishing, Art Deco architecture, world-class cuisine or endless nightlife, adventure shines bright in The Magic City.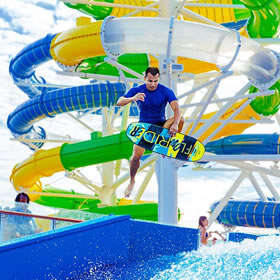 Day 2 - Fun Day at Sea!
Up for adventure? Put on your brave face and get ready to race through twists, turns and next-level thrills on the boldest slides at sea. No matter which ship you sail on, The Perfect Storm waterslides take excitement off the charts.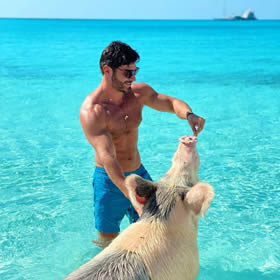 Day 3 - Nassau, Bahamas
Caribbean charm shines in the Bahamian capital, where you're never more than a few steps away from rhythmic percussions, appetizing flavors, white-sand beaches, and some of the clearest waters in the world. This picture-perfect paradise was once a pirate's haven— and you can explore its colorful past of buccaneers, blockade-runners and bootleggers along historical streets and at the three colonial fortresses that line the shores. If you're looking for a more hands-on maritime adventure, look no further. Cruise to Nassau and swim with stingrays, dive with dolphins, or spot colorful coral on a glass-bottom boat. And just across the bridge is beautiful Paradise Island, home to world-famous luxury hotels and resorts. Spend the day at the famous Atlantis
famous Atlantis and splash your way through its expansive water park, grab a piña colada at the Marina Village, and spot the hammerhead sharks in Predator Lagoon.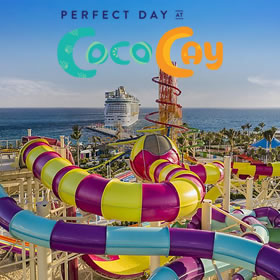 Day 4 - Perfect Day at CocoCay, Bahamas
This isn't vacation days spent. This is bragging rights earned. Conquer the tallest waterslide in North America and snap a shot from up to 450 feet up in a helium balloon. Grab a drink at the swim-up bar and soak up the scene in the largest freshwater pool in The Bahamas. Or get a taste of Bora Bora with your own Floating Cabana.
This is a drench a minute thrill-a-thon for every adventurer. From giggle-worthy tides to shriek-inducing slides towering high into the clouds. Bounce, climb and swing your way through the obstacles in Adventure Pool. Get swept up by the biggest Wave Pool in the Caribbean. Or if you're up for a true rush, take on the tallest waterslide in North America — Daredevil's Peak. Whatever your thrill threshold, you'll find firsts to test your bravery at Thrill Waterpark®.