Sky Princess
Ship Facts
Gross Tonnage: 141,000
Length: 1,083 feet
Height: 217 feet
Guests: 3,660
Crew: 1,346
Staterooms: 1,830
Service Speed: 22 knots
Decks: 19
Ships Registry: Bermuda

Drake Jensen Western Caribbean Gay Bears Cruise 2022
7 nights from/to Fort Lauderdale, Florida
December 03 – 10, 2022
Princess Cruises Sky Princess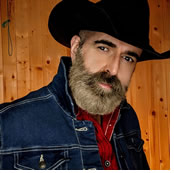 Join Out Country Singer Drake Jensen and special guest Jon Hemingway on this fun-filled bears, gay & buddies cruise to Western Caribbean. Enjoy two private performances and an intimate storytime with Drake onboard the beautiful Sky Princess. We are sailing from gay friendly Fort Lauderdale and visiting Cozumel, Roatan, Belize City, and Costa Maya! With numerous additional fun-filled events this is bears & gay cruise you won't want to miss!
Mayan ruins, exciting eco adventures and the friendly spirit of Mexico await in the Western Caribbean. Enjoy the lush wildernesses of southern Mexico, unspoiled coral reefs of Belize and Roatan, underground caves on the Island of Cozumel and so much more.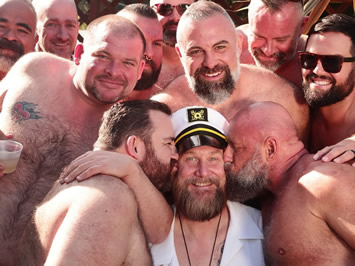 Your Cruise Fare includes
• 2 Private shows with Drake Jensen
• A Private talk by Drake of his personal journey
• Group Meet & Greet Cocktail Party
• Private Dance Party
• Event Goody Bag
• Autograph and Photo Opportunities
• And more surprises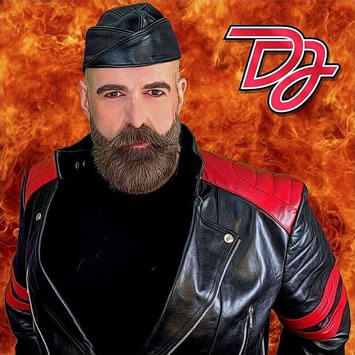 Featuring Country Artist Drake Jensen
Drake Jensen is a driving force, and a man on a mission, to bridge the gap between the LGBTQ Community and Country Music.
Jensenís vocal style is an earthy combination of Cape Breton grass-roots country with a strong draw to a vintage, organic platform of sound.
Drawing on his ability to spin a yarn, wind it around a note and tie it all with honest emotion and raw passion, Jensenís music is driving him ever forward, on the road to recognition as a dexterous country vocalist and a force to be reckoned with in the country music genre.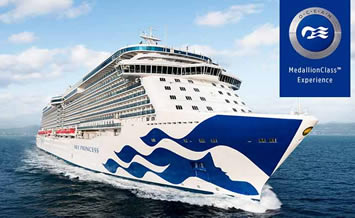 Your Ship - New Sky Princess
Sky Princess, the newest addition to Princess Cruises fleet, elevates the distinctive, contemporary design and luxurious attractions of our renowned Royal-class ships to even loftier heights. You can look forward to our most exciting entertainment venues yet, our newest dining choices and award-winning chef partnerships, as well as more staterooms than ever to relax in. And thatís just the start!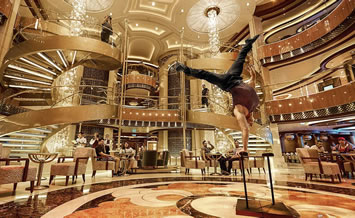 Built in 2019 the Sky Princess offers space for up to 3,660 passengers. With a length of 330m she is one the largest cruise ships in the world. Thanks to Princess Cruises' "Big Ship - Small Ship Feel" concept guests nevertheless enjoy a feeling of intimacy on board. A special feature on the Sky Princess is the "SeaWalk" - a glass-paneled walkway extending several meters beyond the edge of the ship.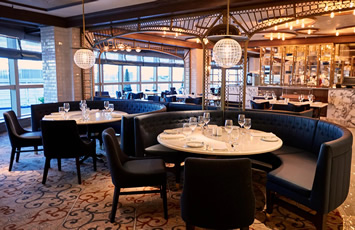 On the Sky Princess you will enjoy all amenities of a large and modern ocean liner, but at the same time get the intimate feeling of much smaller ships. Many small bars, lounges and public areas are one reason - the crew's individual and discreet service is another. Though most guests are English native speakers the travellers come from all over the world and create an international and classy atmosphere. This is reflected in the dress code: casual during the day and elegant in the evenings.
All staterooms are spacious, comfortably equipped and provide enough storage room for your luggage. Staterooms have a minimum size of 16m≤. Most of the cabins on board feature a private balcony.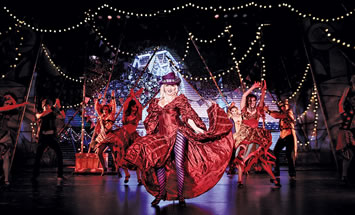 Gourmets will be delighted by the excellent food on board Sky Princess. No matter if you dine in the included buffet and ŗ la carte restaurants or in one of the specialty restaurants - quality and taste have a superior level. Guests may choose between the traditional early and late dining with assigned tables or "anytime dining", where you are free to dine whenever it suites you best.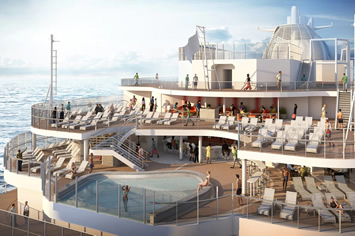 Princess Cruises is famous for their "movies under the stars" where the pool deck turns into a romantic cinema. Daily shows are entertaining the audience in the evening, the Casino invites all who love to play and several lounges and bars are ideal places to socialize. On the other hand the Regal Princess offers wonderful places to relax and enjoy calmness. The large Spa area is the perfect place to revitalize yourself. For all those who enjoy sports the fitness center, a jogging track, the court for volleyball, basketball and tennis are some of the places to be.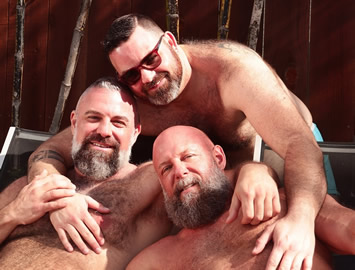 Western Caribbean
Gay Bears Cruise 2022 Itinerary


Date

Port

Arrive

Depart

03 Dec
Fort Lauderdale, Florida
4 PM
04 Dec

Fun Day at Sea!

05 Dec
Cozumel, Mexico
8 AM
6 PM
06 Dec
Roatan, Honduras
9 AM
7 PM

07 Dec

Belize City, Belize
7 AM
6 PM
08 Dec
Costa Maya, Mexico
7 AM
5 PM

09 Dec

Fun Day at Sea!

10 Dec
Fort Lauderdale, Florida
6 AM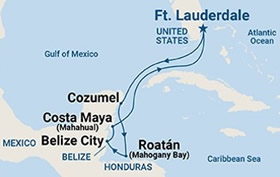 Ancient Mayan ruins rise up from the jungle floor, breaking the pristine beauty of the rainforest to remind all who cruise the Western Caribbean of its deep cultural heritage. White-sand beaches and pristine azure waters are just the beginning with this region of the Caribbean. With just a little exploration on a Western Caribbean cruise, you can open up a world of jungle adventures, breathtaking barrier reefs and powerful cultural connections unlike any other.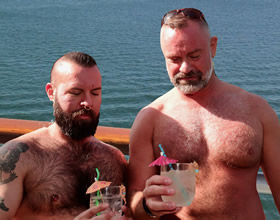 Days 1 & 8 - Fort Lauderdale, Florida
Known as the "Venice of America", gay friendly Fort Lauderdale
has 165 miles of canals that wind through this waterfront city. With plenty of sun and sand, you'll find the beaches inviting and only minutes from elegant shops and championship golf courses. After dark, the town offers many five-star restaurants and exciting nightclubs, all set in a lush tropical environment.
People have been flocking to Fort Lauderdale's beaches for decades. And with good reason. Fort Lauderdale Beach is a two-mile strip of beautiful beach featuring the recently renovated Promenade, which offers all sorts of bars, restaurants and shops.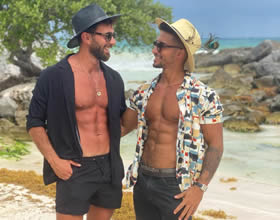 Day 3 - Cozumel, Mexico
Cruise to Cozumel, which was once the home to the legendary Mayan goddess of the moon, Ixchel, and the moment you step onto this tropical wonder you'll understand why they believed a goddess called this island home. From white-sand beaches and azure waters to snorkeling through an immense coral reef and exploring ancient Mayan ruins, Cozumel is one of the most dynamic Caribbean cruise ports.
Don't miss the opportunity to explore the ruins of the ancient Mayan city of Tulķm, majestically perched above the turquoise Caribbean. The site was occupied as far back as 600 A.D. However, it was most densely populated around 1200 A.D. You will be struck by the pyramid-shaped El Castillo, which dominates the city from atop a forty-foot cliff. The nearby Temple of the Descending God provides equally excellent insight into the architecture of the Mayan people, who gained considerable achievements in the arts and sciences, only to decline and vanish for no apparent reason.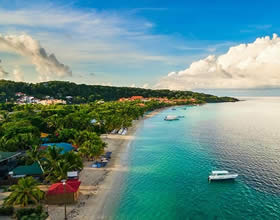 Day 4 - Roatan, Honduras
The Bay Islands, just north of the Caribbean coast of Honduras, have a long and colorful history. The earliest Indian inhabitants are thought to have traded with the Maya of Yucatan. Roatan is the largest of the islands with small towns and fishing villages built along the waters edge. Snorkeling and diving is at its best here. Youīll find beautiful palm-fringed beaches and miles of off-shore coral reef inhabited by brilliantly colored fish and multicolored gardens of aquatic plants.
Sitting atop an ancient coral reef system, surrounded by gorgeous crystal blue waters and featuring a lush tropical environment, the island of Roatan looks every bit the Caribbean wonderland. Visit the local iguana farm with over 3,000 iguanas roaming the grounds, snorkel and dive the pristine local reefs or sunken ships and Mayan artifacts, or just sit on the picture-perfect beach and relax without a care in the world.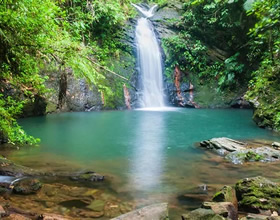 Day 5 - Belize City, Belize
Nestled among lush rainforests teeming with life and situated on the western edge of the Caribbean Sea, Belize City is a paradise for those looking to have an unparalleled eco adventure. Take a relaxing inner tube ride down a river and through ancient caves once used for rituals by the Maya, ride horses through a stunning nature park with hundreds of species, and snorkel through the northern hemisphere's largest barrier reef on a cruise to Belize!
Formerly a British colony, the independent country of Belize has a rich history that dates back more than a thousand years. You may wish to explore the massive pyramids and temples at the ancient Mayan sites of Xunantunich or Altun-Ha. Pristine beaches and the second longest barrier reef in the world provide ample opportunity for swimming, snorkeling and diving. Combined with over 500 species of exotic birds, 250 varieties of orchids and more than 600 archeological sites, Belize is a paradise.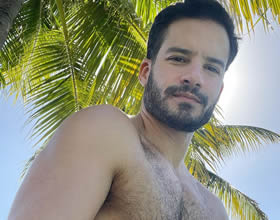 Day 6 - Costa Maya, Mexico
Beginning where the Mayan Riviera ends, the Costa Maya stretches along the coastline up to Belize. The Costa Maya is the last remaining section of coastal properties yet to be exploited and there are acres of coastal land with absolutely no development. The odd fishing village spots the landscape but not much beyond that. Flying along the coastline you encounter numerous cenotes and you can still see the outlines and impressions of villages that were there centuries ago.
Experience the ancient Mayan City of Chacchoben. Largely unexplored until 1999, this Mayan site dates back to 360 A.D. when it played an important role in the distribution of such precious items as wood, jade and exotic birds.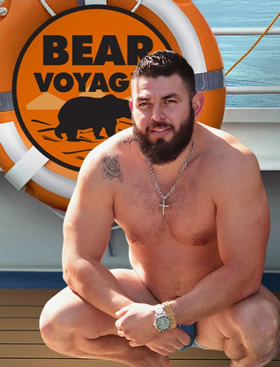 Guests: 3,660 • Crew: 1,346 • Gross Tonnage: 141,000 • Length: 1,083' • Height: 217' • Guest Cabins: 1,830 • Registry: Bermuda

Drake Jensen Western Caribbean Gay Bears Cruise 2022 Rates

Interior Stateroom
The Interior stateroom is approximately 158 to 162 square feet and richly appointed with fine amenities. Twin beds that convert to a queen size bed*. Private bathroom with shower. Shampoo, conditioner, body lotion. 100% Egyptian cotton linens. Satellite TV, refrigerator, hair dryer, safe, closet, phone and desk. 110V, 60-cycle alternating current (AC) with standard U.S. plug fittings. Daily housekeeping service. Evening bed turn-down, chocolates on your pillow.
$ 1,898

$ 1,369

Balcony Stateroom
The spacious approximately 222 square foot Balcony stateroom is appointed with fine amenities and outstanding views from an approximately 41 square foot private balcony. Balcony with patio furniture. Twin beds that convert to a queen size bed. Private bathroom with shower. Shampoo, conditioner, body lotion. 100% Egyptian cotton linens. Satellite TV, refrigerator, hair dryer, safe, closet, phone and desk. Daily housekeeping service. Evening bed turn-down, chocolates on your pillow.
$ 2,558

$ 1,699

Deluxe Balcony Stateroom
Larger than Standard Balcony staterooms, Deluxe Balcony cabins provide approximately 233 square feet of comfort, and an approximately 41 square foot balcony and includes all the same features of the Balcony stateroom, plus an additional sofa bed for lounging or sleeping a third passenger. Seating area with a sofa bed. Balcony with patio furniture. Twin beds that convert to a queen size bed. Shampoo, conditioner, body lotion. 100% Egyptian cotton linens. Private bathroom with shower. Satellite TV, refrigerator, hair dryer, safe, closet, phone and desk
$ 2,778

$ 1,809

Mini Suite
The luxurious Mini-Suite offers approximately 299 square feet of comfort and an additional, separate seating area with a sofa bed for lounging or sleeping a third passenger. The spacious balcony is approximately 41 square feet and the bathroom offers a combination tub and shower. Welcome glass of champagne. Separate seating area with a sofabed. Twin beds that convert to a queen size bed. Private bathroom with combination tub and shower. Shampoo, conditioner, body lotion. 100% Egyptian cotton linens. Two flat-panel televsions
$ 3,098

$ 1,969

All prices are per person, based on double or single occupancy, and include all meals, accommodations and entertainment!

Taxes & charges of $150 pp,
Pre-Paid Gratuities: $14.50 ($15.50 in Mini Suites) per person per day, and optional insurance are additional.

$400 per person deposit required at time of booking. Balance payment is due 90 days prior to sailing.

Optional shore excursions will be offered.

Prices are cruise only and DO NOT INCLUDE return airfare! Please ask for airfare add-ons back to your home city.

Fares are subject to availability and may change without prior notice.

Also included are the traditional Bear Cruise activities, subject to minimum participation.

Please ask for further details.

Current Promotion:
Book Now and you will receive:
• Premium Beverage package
• WiFi Package
• Full onboard gratuities!

Special Airfares








Pre-Cruise Hotels







Post-Cruise Hotel