Harmony of the Seas
Ship Facts
Gross Tonnage: 226,963
Length: 1,188 feet
Beam: 155.6 feet
Draft: 30.6 feet
Cruising Speed: 23 knots
Guests: 5479
Crew: 2,193
Ship's Registry: Bahamas
Harmony Caribbean Bears & Gay Group Cruise 2024
7 nights from/to Galveston (Houston), Texas
September 29 – October 06, 2024
Royal Caribbean Harmony of the Seas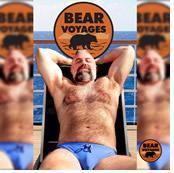 Join like minded bears, gay guys, cubs, chubs, chasers, their friends on the fabulous, filled with exciting adventures and, one of the World's Largest cruise ships, Harmony of the Seas
for 7-nights Western Caribbean & Costa Maya cruise! If you're craving sun-kissed shores, nothing beats Caribbean cruise. Though best known for their beautiful beaches, Caribbean destinations offer much more than that — like bold cuisine, colorful colonial towns, and rich cultural traditions from all over the world. Embark the ship in Galveston and you'll be taken on an epic journey to experience flavorful food, mesmerizing landscapes and ancient past of Mexico.
Dive under the sea, fly above the ocean, and treasure-hunt through the jungle with a cruise to Western Caribbean. Cruise to the Western Caribbean and find yourself immersed in bygone eras and pristine natural scenery. Hike through Mayan ruins in Tulum, Mexico, before diving into deep blue cenotes — aquamarine sinkholes surrounded by limestone caves, perfect for swimming and snorkeling.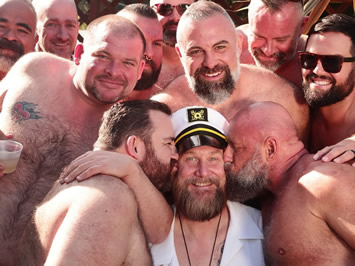 Puerto Costa Maya in Mexico is home to Mayan art and architecture (as its name implies), but you can also find the Spanish fort Fuerte San Felipe Bacalar. Spend your day exploring this historic site, just over an hour from the port — there's also a cenote cavern nearby if you're uparagraphCopy for some diving.
Known around the world for its vibrant coral reefs and diving sites, Roatan, Honduras is also one of Central America's cultural capitals. Turn back time as you wander the breathtaking ancient ruins of Copan, a Maya city that dates back nearly a millennium. The site is so rich in artifacts that archaeologists are still uncovering new finds.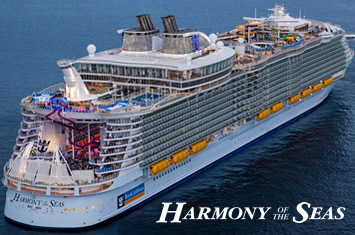 Royal Caribbean's Fun Filled Harmony of the Seas
What do you get when you combine one of the biggest ships in the world with some of the boldest thrills at sea? A gravity defying, status-quo denying, electrifying expedition onboard Harmony of the Seas
that will set a new standard for Mediterranean vacations.
From first-at-sea feats to the favorites you know and love, you'll find so many ways to make memories onboard — like the tallest slide at sea, Ultimate Abyss, deck-defying stunts at the AquaTheater, and the robot-helmed Bionic Bar. Not to mention dazzling Broadway performances and globetrotting gastronomic experiences that go from Asia to the Mediterranean, and beyond.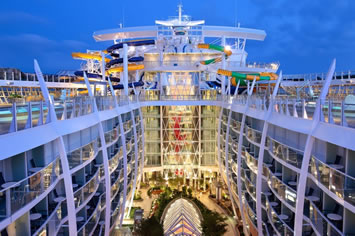 One of world's largest ships offer more of everything you want in a vacation – changing whatever you think about a cruise is all about. It's an unforgettable experience starting with Harmony's fantastic features:
• 5 theaters starring original Harmony performers and more
• 13 tantalizing restaurants and cafes
• 4 gorgeous pools on the world's largest and highest open-air deck
• The world's biggest live music concerts at sea
• 7 unique "neighborhoods" to meet friends, explore, play, and relax
• An ice rink, two rock walls, zip line, sports court, two FlowRider surf simulators
• And great friends from around the world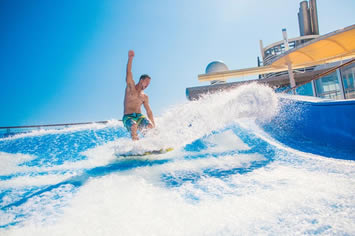 Activities on Harmony of the Seas
If you're wondering what there is to do on the Harmony of the Seas, rest assured that this ship has you covered! Take a dip in one of the four swimming pools, or relax in one of the ten whirlpools! The Pool Zone has a water park (H2O Zone), cantilevered whirlpools, a Flowrider - which is a state of the art wave simulator where you can surf on the ship - and, there's even a zip-line that goes through the pool area so you can get a birds-eye view of the ship and ocean!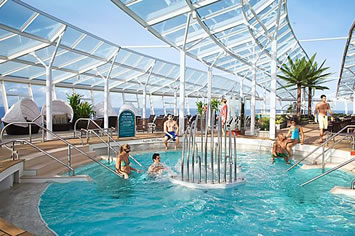 The Youth Zone, an area of the ship dedicated to entertaining the younger crowd, and relax in the quiet Solarium (which is adults-only)! Take a stroll through the Boardwalk neighborhood, and look through the shops and restaurants - and there is even a classic carousel for you to ride!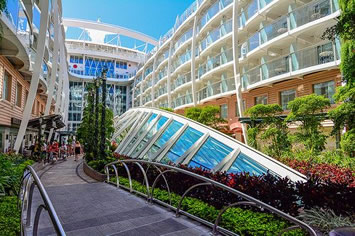 The Central Park area is full of lush greenery and restaurants, so you know you're in for a treat when you meander through! Check out the onboard amphitheater, the AquaTheater - and take in the breathtaking view from any of the decks on the ship!
If you'd just like to relax, head over to the spa and pamper yourself with a massage! The Vitality at Sea Spa and Fitness center offers cardio machines, pilates, kickboxing, spinning, a weight room, and even full hair and makeup services!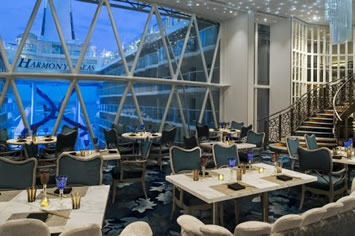 Dining / Food on Harmony of the Seas
Dining opportunities on the Harmony of the Seas can only be described with one word - delicious! Choose from main dining options, upscale restaurants, and also casual dining options in various places all over the ship! Try the Vitality Cafe for a healthy option, or the Solarium Bistro and Wipe Out for poolside dining! There is also room service available!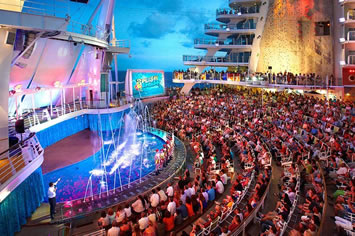 Entertainment on Harmony of the Seas
If you're ready to enjoy what the night has to offer, head out and brace yourself! The Harmony of the Seas features a jazz club, a comedy club, Studio B (which features ice shows), Dazzles (which features musical performances of anything from big band to disco), and the Opal Theater, a 1,380-seat theater! There is also the Blaze Nightclub, where you can dance the night away, and the Casino Royale, where you can bet you'll have a great time!
Ready for a great party? The Harmony of the Seas has themed parades and themed nights, so you can get swept away in your favorite fantasies! Join in the fun! Head over to one of the bars, pubs, or lounges and just relax with your favorite beverage! Your night will be full of fun on the Harmony of the Seas!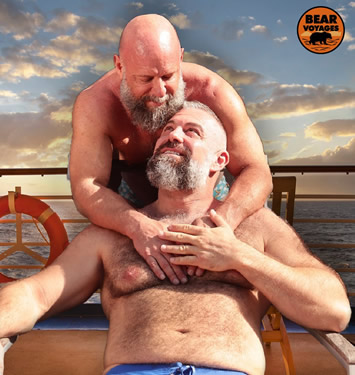 Harmony Caribbean
Bears & Gay Group Cruise 2024
Itinerary


Date

Port

Arrive

Depart

29 Sep
Galveston, Texas
4 PM
30 Sep

Fun Day at Sea!

01 Oct

Fun Day at Sea!

02 Oct
Roatan, Honduras
8 AM
5 PM

03 Oct

Costa Maya, Mexico
8 AM
5 PM
04 Oct
Cozumel, Mexico
7 AM
5 PM

05 Oct

Fun Day at Sea!

06 Oct
Galveston, Texas
7 AM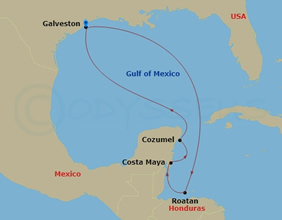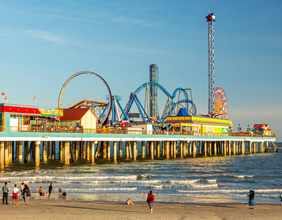 Day 1 - Galveston (Houston), Texas
A quaint seaside city toting a Texas-sized personality, Galveston offers both action-packed adventure and an easygoing beach vibe. Dangling on a barrier island fringing the Gulf of Mexico, the sea meets the South here in spectacular fashion. Over 60 National Register of Historic Places play backdrop to the Pleasure Pier's waterfront amusements. Jump onboard a Galveston cruise to experience the lively seawall scene on two wheels, or relive the port's glory days at the Texas Seaport Museum. Head to the island's west end for kayaking and fishing— or brave the world's tallest water coaster at Schlitterbahn Water Park. Houston is a major metropolitan area - fourth largest in the US and is about 50 miles inland from Downtown Galveston.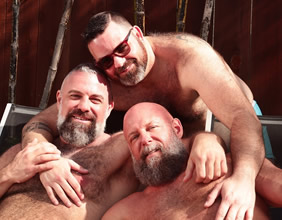 Days 2 & 3 - Fun Day at Sea!
While at sea, take the time to recharge before the next adventure. Lounge by the pool, be spoiled at the spa, taste the delicacies or explore the venues on-board, until we arrive at the next amazing destination.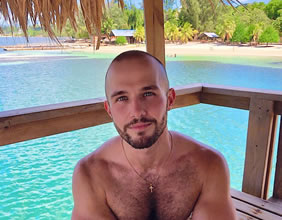 Day 4 - Roatan, Honduras
Roatán's diverse blend of cultures and traditions is enough to charm anyone. But its mangrove forests, dense jungles, and swaths of white-sand beach will make you want to stay forever. Divers and snorkelers from all over the globe flock to the largest of Honduras' Bay Islands every year see to the world's second largest barrier reef firsthand. Roatán cruises provide access to laid-back beach towns and secluded shores. On the Big Island, you can mingle with monkeys and "Jesus" lizards, snorkel with stingrays, and zipline through rainforest canopies. If it's culture you crave, the island's unique and vibrant blend is more than satisfying— made up of ex-pat sun seekers, Hondurans from the mainland, descendants of European settlers, and Garífuna, whose Afro-Carib-Arawak heritage still flavors centuries-old communities like Punta Gorda.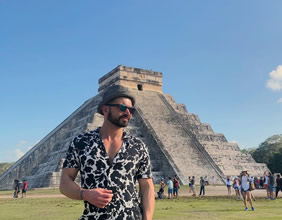 Day 5 - Puerto Costa Maya, Mexico
Past meets present in Costa Maya. Cruise to Costa Maya and find ancient Maya ruins and mysterious jungles just begging to be explored, as well as private beach clubs and trendy restaurants— all in one place. It's 250 square miles of paradise packed with entertainment and history, all just 30 miles south of Cancun. The Great Maya Reef just off the coast is the second largest in the world— it's a must-snorkel spot. Or you can kick back at the port village of Mahahual with an ice-cold michelada— a spicy beer cocktail— in hand. For a culture fix, head to the Kohunlick ruins to see the famous Temple of the Masks.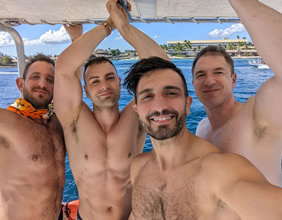 Day 6 - Cozumel, Mexico
With its lively tropical reefs, crystal-clear waters and ancient ruins, Cozumel is ripe for one-of-a-kind adventures. Cruise to Cozumel and head to Chankanaab National Park, where you can snorkel among the colorful reefs and schools of tropical fish that give this island its premier diving status. Or travel back in time on an adventure through the towering Maya ruins of Tulum. When you're done exploring, unwind with a beachside massage at Playa Mia. From culture savoring to soaking up sunshine, you'll find a world of adventure waiting for you in Cozumel.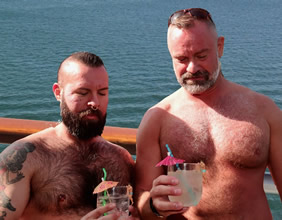 Day 7 - Fun Day at Sea!
An 'at sea' day is your chance to explore all the amazing activities the ship has to offer, including doing nothing at all. Relax in the Spa, take in a show at the theatre, or experience any of the incredible dining venues. There's so much to do the difficulty will be choosing what to do next! Whether you seek an adrenaline rush or total tranquility, our ships have it all. Try rock climbing, zip-lining and surfing 200 feet above the waves. Melt away land-based stress with a spa massage, build a scrapbook of memories or simply relax poolside.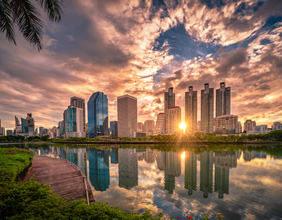 Day 8 - Galveston (Houston), Texas
It is 51 miles by road from Galveston to Houston. Houston is home to Space Centre Houston, the coastal visitor centre at NASA's astronaut training and flight control complex. Complete with a large gay community and plenty of nightlife, this city is simply out of this world. Gay life here is mostly centered in the Montrose neighborhood, with nearly two dozen gay bars and clubs sprinkled in between lovely craftsman-style homes and apartment buildings. You'll find something for everyone here from popular gay dance clubs to leather bars and neighborhood haunts popular with locals.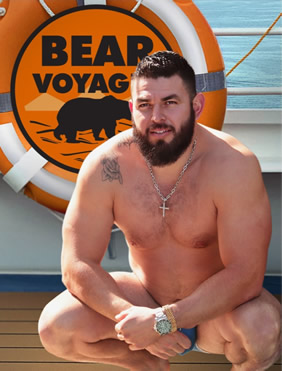 Gross Tonnage: 226,693 • Length: 1,188 feet • Beam: 155.6 feet • Maximum Speed: 25 knots • Guests: 5,479 • Crew: 2,394 • Shop's Registry: Bahamas
Harmony Caribbean Bears & Gay Group Cruise 2024 Rates

Interior Stateroom
Have a fabulous holiday staying in one of our affordable and accessible interior staterooms, with super comfy beds and everything you'll need, including TV, sitting area, telephone, safe, private bathroom with shower, vanity area and hair dryer.
$ 712

Single Interior Studio
Our studios offer a full-sized bed and full bathroom. Stateroom: 96 sq. ft. or 8.92 sq. m. One full-size bed. 1 guest
$ 1,428

Oceanview Stateroom
Size approx: 179 sq. ft. Gaze into the beautiful views from your cozy room. Two twin beds that convert to a Royal King bed. One bathroom.
$ 913

Central Park View Balcony Stateroom
Relax with a view over Central Park in our spacious, luxurious and accessible balcony staterooms. With your own private balcony, telephone, refrigerator or minibar, private bathroom with shower, vanity and sitting area, hair-dryer and TV, you'll be in heaven.
$ 785

Boardwalk View Balcony Stateroom
Size approx: 182 sq. ft. Balcony: 52 sq. ft. Stay entertained with the sight of activities that occur on the Boardwalk from your balcony. Two twin beds that convert to a Royal King bed. Boardwalk view. One bathroom.
$ 835

Oceanview Balcony Stateroom
Relax with beautiful sea views in our spacious, luxurious and accessible balcony staterooms. With your own private balcony, telephone, refrigerator or minibar, private bathroom with shower, vanity and sitting area, hair-dryer and TV, you'll be in heaven.
$ 1,075

Junior Suite
Size approx: 287 sq. ft. Balcony: 80 sq. ft. An incredibly intimate suite with a great view. Two twin beds that convert to a Royal King bed. One double sofa bed. Bedroom area. Sitting area with sofa. Private balcony. One bathroom with tub.
$ 2,076

Grand Suite
Size approx: 371 sq. ft. Balcony: 105 sq. ft. Enjoy a comfortable suite and extra perks. Two twin beds that convert to a Royal King bed. One double sofa bed. Living room with sitting area. Private balcony with seating area and private dining. One bathroom with tub and two sinks.
$ 2,960

Crown Loft Suite
Size Approx: 545 sq. ft. Balcony: 114 sq. ft. Two-level urban loft with contemporary décor, private balconies, guest baths, and so much more. Up to 4 guests. One King bed. One double sofa bed. Open living and dining room on main level. Master bedroom on second level. Private balcony. One bathroom on main level. Master bathroom with tub on second level.
$ 3,468

Owner's Suite
Size approx: 556 sq. ft. Balcony: 243 sq. ft. Enjoy the ultimate suite for a perfect vacation. Up to 4 guests. Two twin beds that convert to a Royal King bed. One double sofa bed. Living area with dining table and sitting area. Private balcony with seating area and private dining. One bathroom with tub and two sinks.
$ 3,693

AquaTheater Suite
Size approx: 562 sq. ft. Balcony: 589 sq. ft. Enjoy a great space to the AquaTheater performances from your balcony. Up to 4 guests. Two twin beds that convert to a Royal King bed. One double sofa bed. Large closets. Sitting area with table and sofa bed. Private balcony with seating area and private dining. One bathroom with tub.
$ 4,223

All prices are per person, occupancy selected, and include all meals, accommodations and entertainment!

Taxes of $145 pp, gratuities, and optional insurance are additional.

First deposit of $500 per person is required upon booking (Suites require higher deposit). Full payment is due 90 days prior to departure.

Optional shore excursions will be offered.

Prices are cruise only and DO NOT INCLUDE return airfare! Please ask for airfare add-ons back to your home city.

Fares are subject to availability and may change without prior notice.

Also included are the traditional Bears Cruise activities, subject to minimum participation.

Please ask for further details.

Special Airfares








Pre-Cruise Hotels







Post-Cruise Hotel