Adventure of the Seas
Ship Facts
Gross Tonnage: 137,276
Length: 1,020 feet
Beam: 157.5 feet
Draft: 29 feet
Cruising Speed: 22 knots
Guests: 3,114
Crew: 1,185
Ship's Registry: Bahamas

Eastern Caribbean & Perfect Day Gay Group Cruise 2023
9 nights from/to Fort Lauderdale, Florida
May 04 – 13, 2023
Royal Caribbean Adventure of the Seas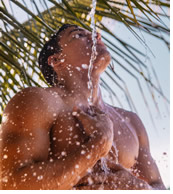 Chill out with some rum punch after an adventure-filled day with a gay group cruise to the Eastern Caribbean. Flex your sense of wonder at the crystal-clear blue sea on the Caribbean's pristine white-sand beaches. Explore ancient ruins and colonial towns, or hike tropical rainforests and hidden waterfalls. And for the ultimate adventure, you can't miss Royal Caribbean's private island, Perfect Day at CocoCay. Palm-fringed beaches, pure white sand, turquoise seas, thrilling watersports and superb shopping – you'll be in paradise on your holiday to the lovely Caribbean.
Cruise to Caribbean and discover the cliff-diving, breeze-swaying, sand-between-your-toes, no-worries pace of island life. Hundreds of years of history have left jungle ruins from ancient times and vibrant colonial towns with brightly painted buildings reflecting a fascinating history.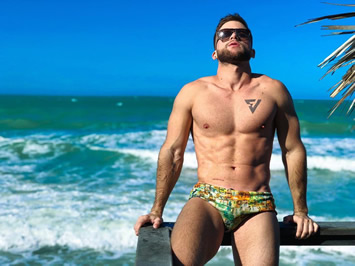 The best Caribbean cruises will take you to dive into the aquamarine water and see the beautiful underwater life up close and personal with a snorkeling or scuba diving adventure and to discover captivating coral reefs and unique species of jellyfish like the orange Moochers, Loggerhead sea turtles and the red cushion sea star, which can be seen in shallow waters. 
Leave your troubles behind and get on island time with a cruise to Eastern Caribbean. Hike through dense jungle and pass by thunderous waterfalls, or take on zip-line over water. Dive into the crystal-clear waters of St. Maarten and go for a snorkel or swim with dolphins. Grab your eye patch and set sail on a schooner to Buck Island before dropping anchor at Turtle Bay, where you can learn about the pirate history of St. Thomas. Discover the magic with an Eastern Caribbean cruise.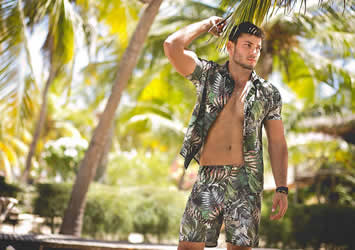 Whether your idea of adventure is historical or adrenaline-pumping, the best Eastern Caribbean cruises something that will light up your senses during your vacation. Explore the colonial past of the region's vibrant cities, or take a trek through dense rainforests full of singing tree frogs and exotic parrots. Explore the area in style. Hop on the St. Kitts Scenic Railway and be transported back in time as you visit the old sugar plantation. Or visit Blackbeard's Castle in St. Thomas and learn all about the pirates who once came there.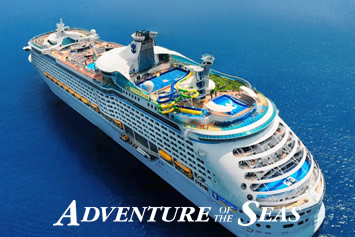 Your Ship - The Newly Amplified Adventure of the Seas
The newly amped up Adventure of the Seas
is packed with more ways to play. Take on three stories of twisting, turning adventure on two high-speed waterslides in The Perfect Storm or go head to head in a glow-in-the-dark laser tag clash in Battle for Planet Z. Hang ten on the FlowRider surf simulator or recharge and reinvigorate at the newly designed spa and adults-only solarium. Plus enjoy Voyager Dunes, ice-skating, rock-climbing wall, and totally reimagined spaces.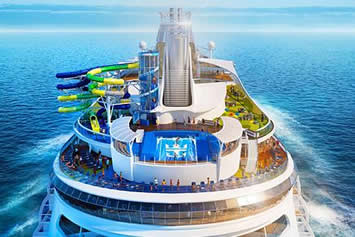 • Emerge renewed, relaxed and rejuvenated at the new Vitality Spa and Fitness Center onboard
• Satisfy your cravings all day and night at this round-the-clock fleet favorite Café Promenade
• Shop the biggest designer names and onboard exclusives, all at prices you won't find on land
• The iconic Viking Crown Lounge is the ultimate spot to soak up panoramic views while you sip your favorite cocktails
• Gear up for a glow-in-the-dark laser tag faceoff in Battle for Planet Z and catch a wave on the FlowRider surf simulator.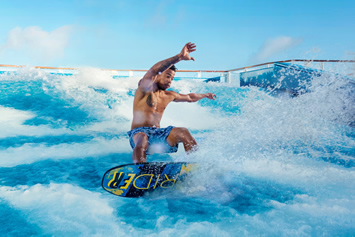 Activities on Adventure of the Seas
Grab your bravest friend and challenge them to a test of speed. The ride of your life awaits on twin racers Typhoon and Cyclone — part of The Perfect Storm, the boldest waterslides at sea. As you speed through each white-knuckle twist and turn, long, translucent stretches offer sea views as exhilarating as the ride itself. These slides have everything it takes to keep even the most courageous daredevils' adrenaline levels way, way up.
You may not expect to wrap up a sunny day with figure eights on the ice rink. But onboard, excitement like this comes standard— and the ice skating comes complimentary.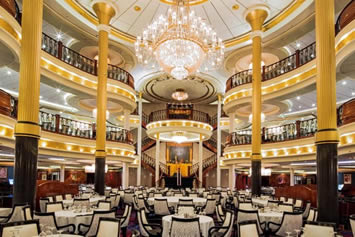 Dining / Food on Adventure of the Seas
The ship boast a sea of vacation possibilities for every guest. A Royal Caribbean cruise is a journey of culinary discovery. The innovative chefs, each trained and certified, will take your palate global with a lineup of complimentary and specialty options. Pair your meals with a beverage package and save on your favorite drinks.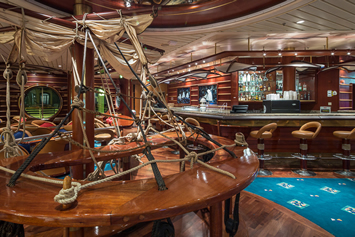 Distinct, sophisticated and retro, R Bar serves up classic cocktails garnished with vintage vibe. Whether your drink of choice is a dry gin martini, an Old Fashioned, or even a specialty drink crafted by the resident mixologist.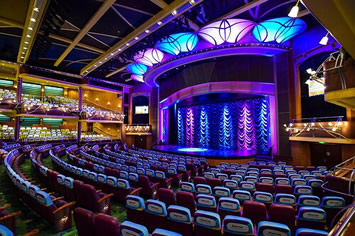 Entertainment on Adventure of the Seas
Let's hear a round of applause for an unrivaled entertainment lineup, An amazing array of shows and performers, included with your cruise fare. Picture Broadway-style shows and original Royal Caribbean productions just steps from your stateroom, with world-class performers that WOW on stage. And when the sun goes down, the night heats up with live music and much more.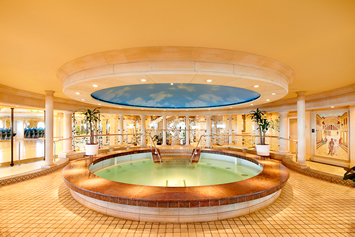 Wellness on Adventure of the Seas
Emerge renewed, relaxed and rejuvenated at the Vitality Spa. Professional spa products from acclaimed brands such as Elemis, bliss, La Thérapie and Ionithermie bring the most advanced services to the sea. Massages, wraps, facials and acupuncture, or choose medi-spa treatments to smooth wrinkles, lift and tone. A more brilliant smile is just a tooth whitening away, while a salon completes the perfect look with hair and nail services.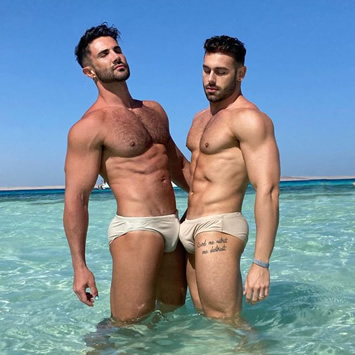 Eastern Caribbean & Perfect Day
Gay Group Cruise Itinerary


Date

Port

Arrive

Depart

04 May
Fort Lauderdale, Florida
4 PM
05 May
CocoCay, Bahamas
7 AM
4 PM
06 May

Fun Day at Sea!

07 May
Charlotte Amalie, St. Thomas
1:30 PM
8 PM

08 May

Philipsburg, St. Maarten
8 AM
6 PM
09 May
Basseterre, St. Kitts & Nevis
8 AM
6 PM

10 May

St. John's, Antigua
7 AM
4 PM
11 May

A Day at Sea!

12 May

A Day at Sea!

13 May
Fort Lauderdale, Florida
7 AM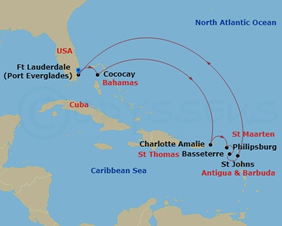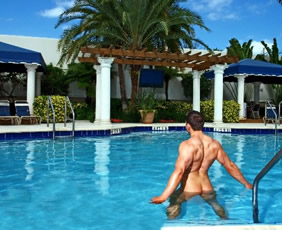 Days 1 & 10 - Fort Lauderdale, Florida
One of the most desirable gay-friendly cities in Florida and a perfect destination for the gay visitor. Fort Lauderdale is home to beautiful sandy beaches and an exciting gay scene. Sometimes referred to as America's Venice, most travelers stay close to the beach and the waterfront. Heading further into town you'll find many restaurants, a good selection of hotels and numerous gay bars. The gay scene in Fort Lauderdale is expansive and diverse and boasts one of the largest scenes in Florida. The hub of the city's gay community is Wilton Manors, a neighbourhood of Fort Lauderdale that is iconic for its high concentration of gay bars and clubs.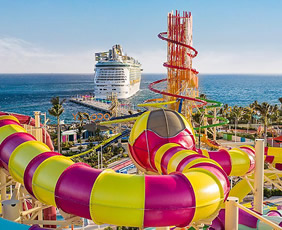 Day 2 - Perfect Day at CocoCay, Bahamas
This isn't vacation days spent. This is bragging rights earned. Conquer the tallest waterslide in North America and snap a shot from up to 450 feet up in a helium balloon. Grab a drink at the swim-up bar and soak up the scene in the largest freshwater pool in The Bahamas. Or get a taste of Bora Bora with your own Overwater Cabana. This is a drench a minute thrill-a-thon for every adventurer. From giggle-worthy tides to shriek-inducing slides towering high into the clouds. Bounce, climb and swing your way through the obstacles in Adventure Pool. Get swept up by the biggest Wave Pool in the Caribbean. Or if you're up for a true rush, take on the tallest waterslide in North America — Daredevil's Peak. Whatever your thrill threshold, you'll find firsts to test your bravery at Thrill Waterpark®.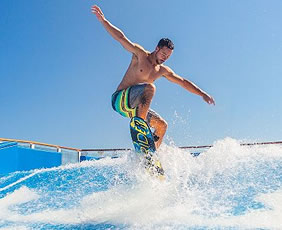 Day 3 - A Day at Sea!
Sit back, kick off your shoes and put your feet up during our 'at sea' days, where you can chill in the bar, lounge by the pool or enjoy a relaxing beauty treatment in the spa. For simple pleasures, why not try a game of table tennis? Or if you're feeling energetic, now's the chance to explore all the amazing activities the ship has to offer, from spectacular, West-End-style entertainment to adrenalin-charged sports.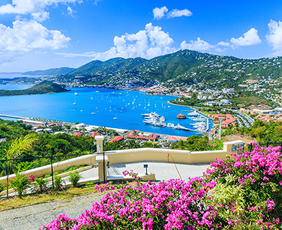 Day 4 - Charlotte Amalie, St. Thomas
Charlotte Amalie is one of the world's most beautiful harbors; blue waters peppered with sailboats and green hills dotted with quaint little cottages make for post-card perfect brags. Just outside the lively port town, you'll find ribbons of powdery sand beaches dotted with hammocks. Cruise to St. Thomas and explore colonial landmarks like Blackbeard's Castle or raise a pint of the local lager at quaint microbreweries. And when it's time to fuel up, you'll find plenty of beachside bars serving conch fritters, johnnycakes, and coconut patties. St. Thomas may technically be part of the U.S., but with its colorful markets, unspoiled beaches, and the ever-present sound of steel drums, you'll feel a world away.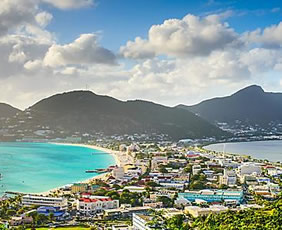 Day 5 - Philipsburg, St. Maarten
What makes St. Maarten so unique is its blend of cultures. The island is home to 120 different nationalities speaking over 80 languages, and is governed by two countries: the Netherlands and France. In fact, it's the smallest land mass in the world to be shared by two different nations. While it may be less than 40 square miles, there's plenty to do on this little island: you can travel back in time while exploring centuries-old ruins and get your adrenaline fix ziplining through lush tropical forests. If you're after a little rest and relaxation during your cruise to St. Maarten, you'll find plenty of secluded beaches where you can work on your suntan before treating your taste buds to some of the best cuisine in the Caribbean.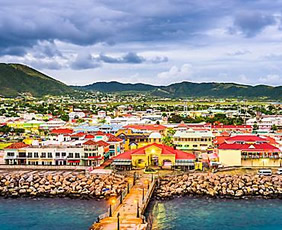 Day 6 - Basseterre, St. Kitts & Nevis
Greens in every shade spring from the rolling hills of St. Kitts— an island ripe with eco-tourism adventures. In the port city of Basseterre, you'll find centuries of history to explore in impressive estates and photo-worthy monuments like the Brimstone Hill Fortress, one of the best preserved military structures in the Americas. Cruise to St. Kitts & Nevis and venture beyond the port and gear up for a unique climb up the 3,792-foot Mount Liamuiga volcano for views well worth the hike. Or hop in a kayak to get up close with a rainbow of tropical reef fish. Looking for something a little more laidback? Escape to the tiny unhurried sister island, Nevis, for smooth golden beaches and clear-water snorkeling— it's just a thirty minute ferry ride away.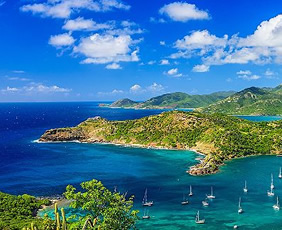 Day 7 - St. John's, Antigua
Antigua has a beach for every day of the year— literally. But the island experience goes beyond 365 distinct ribbons of white sand and clear waters. In the capital city of St. John's, you'll discover charming candy-colored architecture, lively markets, and a beautiful baroque cathedral. And smiling locals greet you everywhere you go. On the southern coast, you can explore Nelson's Dockyard, a centuries-old British naval base built by Admiral Horatio Nelson. Past Antigua's yacht-studded coastline, you'll find upscale boutiques, wild forest trails, hidden coves, and coral reefs bustling with tropical fish. But the best way to really see the island is from up above, so cruise to Antigua and hop into a helicopter for a panoramic look at lush jungles, golden beaches, and the nearby volcanic island, Montserrat.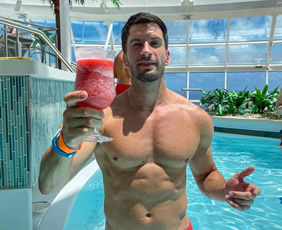 Days 8 & 9 - Day at Sea!
Whether you seek an adrenaline rush or total tranquility, our ship have it all. Catch a dive-in movie on the poolside screen. Scale the Rock Climbing Wall. Melt away land-based stress with a spa massage, build a scrapbook of memories or simply relax poolside. World-class performers from across the globe come together on our ships to WOW you from morning to night. Catch Broadway musicals, thrilling casino action, live comedy and music, bars, clubs and much more.