European Christmas Markets Danube River All-Gay Cruise
6 nights from Vienna, Austria to Nuremberg, Germany
December 04 – 10, 2022
Lüftner Cruises Amadeus Star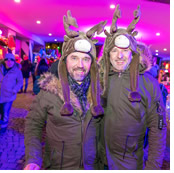 Join us at this most festive time of year to visit the very best Christmas Markets along the Danube River. Explore sleepy little towns and riverscapes, warm yourself with a delicious glass of mulled wine and immerse yourself in the wonderful traditions of the holiday season. At this most contemplative time of year, you can enter a real winter fairytale. Even if you've done the Danube in summer, the Christmas-time experience is one not to be missed – it's magical!
Your all-LGBT+ river cruise takes you from vibrant Vienna to Melk, Passau or an optional tour to Salzburg, and Regensburg, and culminates with an overnight in German city of Roth/Nuremberg. Sail Europe's most fabled river, the Danube, indulging in some of the best Christmas markets Europe has to offer.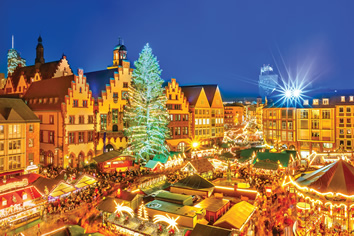 On board the beautiful, Amadeus Star, you will be pampered by attentive crew in an atmosphere of total relaxation, while enjoying signature Brand g entertainment and the kind of atmosphere that only comes with a cruise fully chartered by us for our guests.
We've created an itinerary that delivers iconic European cities at the most festive and joyous time of year. Come celebrate the holidays in style and comfort with your Brand g family!
This vacation has it all – Christmas markets, historic sites, charming towns, world-class wine and cuisine, and more!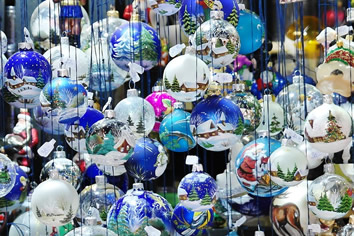 European Christmas Markets Danube Gay Cruise Highlights
• "Sounds of Vienna" concert and visit to Schönbrunn Palace and it's Christmas Market
• Melk's Benedictine Abbey – Austria's largest Baroque structure
• Passau's Baroque St. Stephen's Cathedral, with the world's largest organ
• Optional day trip to Salzburg from Passau
• Romantic Christmas Market at the Thurn and Taxis Castle of Regensburg
• World-famous Nuremberg Christmas Market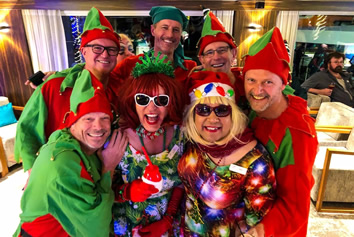 European Christmas Markets Danube Gay Cruise Inclusions
• Guaranteed all-LGBT+ charter
• Transfer from airport or train station to the ship in Vienna
• 6 nights cruise accommodation on deluxe Amadeus Star
• Complimentary beer, wine, spirits and non-alcoholic beverages throughout the cruise
• Superb Dining: all meals included during your cruise
• Complimentary shore excursions offered daily
• Brand g signature entertainment
• Airport transfer from the ship to the airport or train station in Nuremberg
• Services of an experienced cruise director and Brand g host throughout the cruise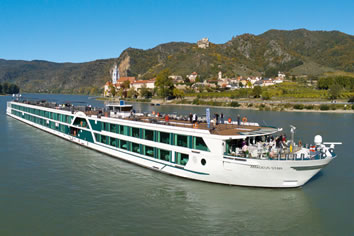 Your Ship - Amadeus Star
The Amadeus Star follows the award-winning model of Amadeus' new generation Silver class ships, but offers even further innovative developments. The Amadeus Star, a masterpiece of engineering and ship design, joined the fleet in April 2019.
The ship offers a total of 70 spacious deluxe cabins and 12 Amadeus Suites. Similar to other Amadeus ships, the Amadeus Star cabins on the Mozart and Strauss Deck also feature lowerable panoramic windows which extend across the entire cabin front and have been specially designed for the Amadeus ships.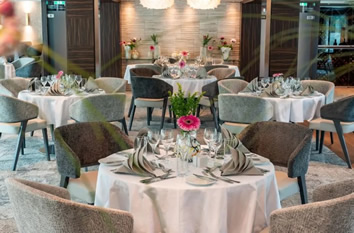 All deluxe cabins and suites offer comfortable, spacious bathrooms, infotainment systems, flat screen television, telephone, cabin safe, minibar and air conditioning which can be individually regulated.
Furthermore, the suites feature a comfortable corner sofa, luxurious bathroom and walk-out external balcony.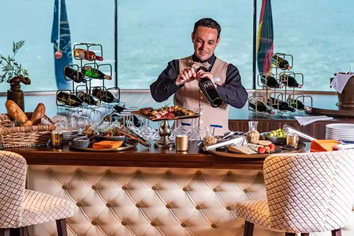 Wine Bar
The highlight of the Amadeus Star is the AMADEUS Club at the stern of the ship - a successful combination of a stylish exclusive club and a wine bar with lowerable side front which has been specially conceived for this ship.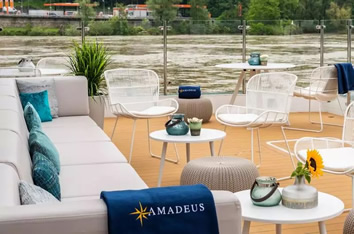 River Terrace
The ship's exclusive "River Terrace" open-air lounge is in the bow and its specially designed glazing provides an incomparable view of the passing riverside scenery while simultaneously providing protection against wind and rain.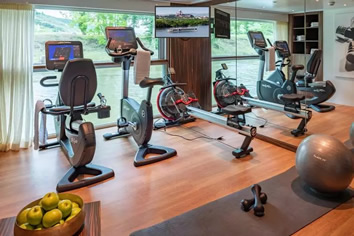 Fitness & Wellness
Start a feel-good programme of your very own: You could best do this by booking a relaxing massage in our Vital club or arranging for a beauty treatment with our onboard hairdresser. An excellent way to make an active start to the day would be to join the early morning exercise group on the sun deck or visit our well-equipped fitness room, which is open for you round the clock.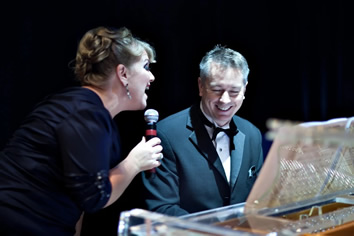 Entertainment
On a Brand g European river cruise, every night is opening night. Our cruises always include two featured acts (occasionally three) who provide nightly entertainment throughout the cruise.
Although the focus of our cruises is mainly on sightseeing and socializing, we do like to mix in a bit of frivolity as well. With that in mind, we're planning a couple of themed parties during the cruise. If you should choose to participate great, if you'd rather just be a voyeur that is totally fine as well.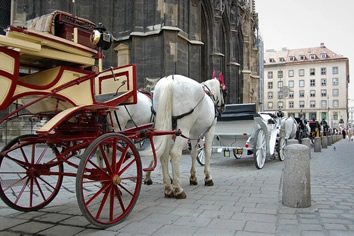 Frequently Asked Questions
When should I schedule my flights?
Arrivals: You may arrive at anytime on December 4th, or prior. Transfers will be provided from the Vienna International Airport (VIE) or train station to the ship. Please contact us to discuss your travel plans and we will advise you regarding availability of non-airport transfers.
Departures: Post cruise transfers will be provided on December 10th. All guests must disembark by approximately 10:00am. We will transfer you from the ship to the Nuremberg Airport (NUE) or train station. We will also provide transfers to Nuremberg hotel properties, but any further transfers will need to be arranged independently at your own expense.
What arrival and departure transfers are included?
Arrival Transfers are provided from the Vienna International Airport (VIE) to the ship.
Departure Transfers are provide from the ship to the Nuremberg Airport (NUE).
What should I expect on the included shore excursions?
Excursions during your travel program are mostly in groups of 25 people led by expert English speaking local guides. Utilizing wireless audio guides enables you to hear every word of your travel guide at absolutely all times. It provides maximum flexibility and convenience without missing a moment of fascinating commentary and is compatible with hearing aids.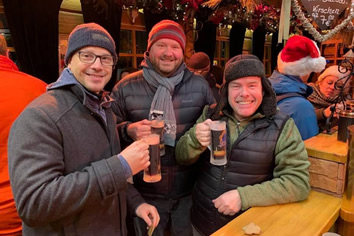 What if I have dietary requirements?
We will make every effort to accommodate special dietary requests. Please inform our office at least 45 days prior to departure of these requests.
Will there be smoking areas?
The comfort and safety of our guests is our first priority. Smoking is not permitted in the suites or enclosed, public areas on board. There is a designated smoking area on the Sun Deck. Land properties will have designated smoking areas.
Is there a dress code?
You are on vacation as the last thing we want to impose is a dress code. We will however appreciate you wearing more than a thong or mankini at dinner and in the bar/performance area. Be as dressed up or down as you see fit as long as you are comfortable and dress appropriately for changeable weather.
What weather can I expect from this trip?
Generally, the temperature range for this trip will be 28 to 40 F (-3 to 4 C). Average precipitation is 1-2 inches of rain, sleet or snow.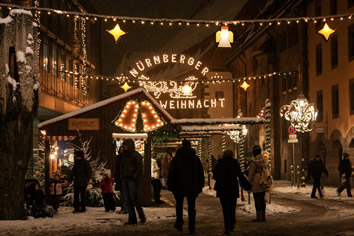 European Christmas Markets
Danube River All-Gay Cruise 2022
Itinerary


Date

Port

Meals

04 Dec
Vienna, Austria
D
05 Dec
Vienna, Austria
B, L, D
06 Dec
Melk, Austria
B, L, D
07 Dec
Passau, Austria
B, L, D

08 Dec

Regensburg, Germany
B, L, D
09 Dec
Roth / Nuremberg, Germany
B, L, D

10 Dec

Nuremberg, Germany
B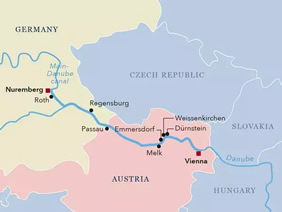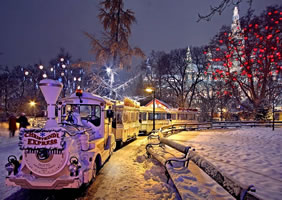 Day 1 - Vienna, Austria
Your wintery Advent & Christmas Markets all-gay cruise begins in Vienna
, where, after embarking, you can explore your Amadeus ship and join the cruise director for a Welcome Cocktail in the Panorama Bar. This is followed by a Welcome Dinner.
Your ship remains in Vienna overnight.
Welcome Reception, Dinner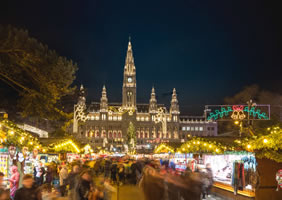 Day 2 - Vienna, Austria
Enjoy exploring wintery Vienna today! A morning city sightseeing tour in a comfortable bus takes you past the most beautiful sights of the Austrian capital. In the afternoon, you have the opportunity to view the magnificent Schönbrunn Palace, as well as to visit the traditional, romantic Christmas market in front of the palace.
In the evening, we recommend that music lovers attend the atmospheric "Sound of Vienna" concert, which will present a kaleidoscope of Viennese classical music.
Breakfast, Lunch & Dinner
City tour of Vienna
While it may take days or weeks to fully discover Vienna, this tour will give you an overall impression of the most important sights Vienna has to offer. First, you will drive along the famous Ringstrasse, passing several magnificent buildings like the stunning opera house, the parliament, the Court Theatre and Vienna's imposing city hall.
The panoramic drive is followed by a guided walk through the city center where you will get to know Vienna at its fullest. Begin at the well-known Hofburg Imperial Palace, walk along the Kohl market and finish at Vienna's iconic St. Stephen's cathedral. Before returning to the ship, enjoy free time to stroll along the pedestrian area.
Duration approx. 3.5 hours
Afternoon Guided tour of Schönbrunn Palace with Christmas market
Travel by coach to one of the most beautiful sights of Vienna, Schönbrunn Palace. As one of the most important cultural heritage sites in Austria, Schönbrunn Palace and its gardens were declared a UNESCO World Cultural Heritage site. The reign of Maria Theresia signified the most splendid era for Schönbrunn. Visit many of the ceremonial rooms and then have the opportunity to walk around the beautifully designed gardens of the palace.
Duration approx. 3.5 hours
Evening Concert "Sound of Vienna"
In the very place where Johann Strauss himself once directed his orchestra from his position as first violin, the true essence of Vienna's classical music can once again be heard daily. The "Salonorchester Alt Wien", one of the best-known interpreters of classical Viennese music, presents an evening full of Viennese charm with the lilting sound of waltzes, polkas, arias and duets, as well as operetta and piano concert melodies. Accompanied by excellent opera singers and enchanting ballet soloists, Vienna's classical music reveals itself as a living firework display for the senses.
Duration approx. 3 hours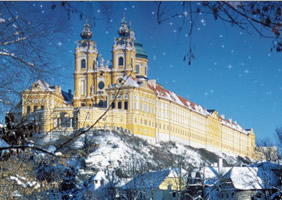 Day 3 - Melk, Austria
In the morning, your floating premium hotel reaches the UNESCO World Natural Heritage region of the Wachau. Your ship docks in Melk/Emmersdorf, where you can join an excursion to Melk Abbey and Dürnstein. At the end of the excursion, defy the weather and join us for a mug of warming glühwein (mulled wine), after which you will return to your ship.
The rest of the day is spent on board, where you will have a wonderful view of the passing winter landscapes as your cruise ship travels towards Passau.
Breakfast, Lunch & Dinner
Excursion to the Wachau with Melk Abbey & Mulled Wine Party
Start the excursion at Melk Abbey, which is an Austrian Benedictine abbey and one of the world's most famous monastic sites. The impressive Baroque abbey was built between 1702 and 1736. The abbey's church and the impressive library with countless medieval manuscripts and frescos are particularly noteworthy. A guided tour takes you through the abbot's chambers, along the imperator's walk, through the marble hall, the balconies and the library.
Continue by coach to Dürnstein, one of the best-known wine villages in the Wachau. Situated in the heart of the magnificent valley, on the banks of the mighty river Danube, the charming town offers the unique combination of breathtaking scenery, traditional architecture and places of historic interest. A walk through the town allows you to appreciate its beauty before returning to Emmersdor. In Emmersdorf we invite you to enjoy a mug of hot mulled wine at the end of the tour.
Duration approx. 4.5 hours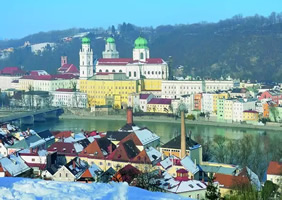 Day 4 - Passau, Austria
During breakfast, arrive in Passau, also known as the "City of Three Rivers", situated at the confluence of the Danube, Inn and Ilz Rivers. In the morning, enjoy the romantic old town with its historic buildings during the course of an optional guided walk.
The afternoon is a perfect time to visit the traditional Passau Christmas market. Early this evening your ship will depart this lovely city and head towards Regensburg.
Breakfast, Lunch & Dinner
Passau Walking Tour
Join us on a gorgeous walk through the old city of Passau. The baroque city on three rivers has long been a magnet for traders and travellers. Our "Little Venice" will astonish you from your first moments in its winding streets. In the heart of the Old Town lies our most known site – St Stephen's Cathedral, often known as a baroque cathedral with a gothic soul. The impressive pipe organ helps make St Stephen's a true highlight of our three river city. High above the Old Town sits one of the largest fortress complexes in all Europe – the Veste Oberhaus which can be discovered on your own at the end of the walking tour.
Duration approx. 2 hours
Afternoon Tour of Passau Christmas Market
Join us for another stroll and discover the magic of a Christmas market.
Duration approx. 2 hours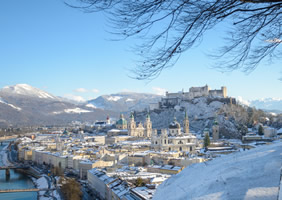 Optional All-Day Tour of Salzburg
Enjoy a coach ride to Salzburg — the city of music and best known as a film location for the famous movie "The Sound of Music".
Duration approx. 9.5 hours (5.30/6.00pm return)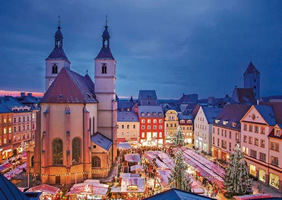 Day 5 - Regensburg, Germany
A full day is spent in festively adorned, historic Regensburg. This magical destination where time seems to stand still, is best explored during a morning optional guided sightseeing walk.
After lunch, explore on your own or opt to join an excursion to the Christmas market in the royal Thurn and Taxis Castle. Revel in the festive pre-Christmas atmosphere filled with the aroma of lebkuchen (gingerbread) and roasted almonds, and stalls filled with local handicrafts.
The captain invites you to join him at an elegant Gala Dinner onboard, while your ship continues its journey later this evening.
Breakfast, Lunch & Dinner
Regensburg Walking Tour
Regensburg is one of the best-preserved medieval cities in Germany and its historic buildings are very impressive. Among these architectural treasures are churches, monasteries, the town hall and one of Europe's oldest bridges that has spanned the Danube since the 12th century. During this walk you will feel the former power and wealth of this city, which once controlled the trade route to the Orient. During a short visit to the Regensburg Cathedral, dedicated to St. Peter, you can admire this masterpiece of Gothic architecture in southern Germany.
Duration approx. 2 hours
Christmas Market at the Thurn and Taxis Castle
Enjoy magical and unforgettable moments at the "Romantic Christmas Market" at the Thurn and Taxis Castle of Regensburg. A short visit to the palace shows you the gorgeous marble staircase in the south wing, ascending to the splendid chambers of the princely residence. The entire interior decoration in Neo-Renaissance style is modeled on Roman antiquity. The bough-covered wooden stalls offer unique products, obviously chosen for their quality and beauty. It's one of the most beautiful Christmas markets in the world.You will have an unforgettable evening.
Duration approx. 2.5 hours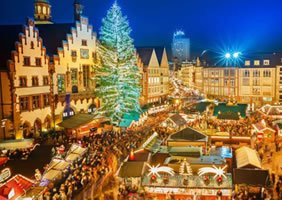 Day 6 - Roth / Nuremberg, Germany
After lunch, you arrive in the Bavarian town of Roth, where the city tour of Nuremberg starts. The tour will take you to the most significant monuments and sights in picturesque Nuremberg. Don't miss the opportunity to visit the romantic Christmas market and taste the world-famous Nuremberg lebkuchen (gingerbread) before returning to your ship, which will be waiting for you in the Nuremberg harbor. Your ship remains here overnight.
Breakfast, Lunch & Dinner
Nuremberg City Tour with Christmas Market
The city tour leads you to the major sites and highlights of the city, from its medieval beginnings to the present. The historic town of Nuremberg, once a free imperial city, is the second largest city in Bavaria and the capital of Franconia. Ringed walls, towers and the castle provide a vivid image of the town as it may have looked during medieval times. After passing the Palace of Justice, the venue of the Nuremberg trials, the coach will take you to the old town at the heart of Nuremberg. The walk through the narrow medieval alleyways starts at the foot of the castle. The final stop of this tour is the main market, where you can stroll through the shops, or enjoy coffee before the coach takes you back to the ship.
Before returning to the ship, enjoy a stroll through one of the most famous Christmas markets in the world. Here Christmas is at home, with original gingerbread and mulled wine.
Duration approx. 4 hours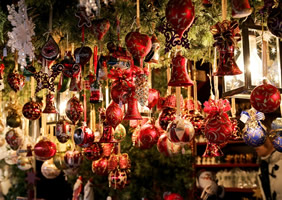 Day 7 - Nuremberg, Germany
Enjoy another generous breakfast on board before starting your homeward journey, or extend your stay in Nuremberg
.
The entire Brand g crew wishes you a pleasant journey and a happy festive season. We hope to welcome you again soon!
Disembarkation transfers are available anytime.
Breakfast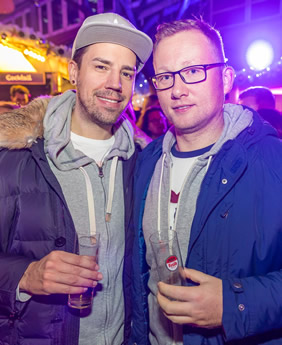 Length: 135 m • Width: 11.4 m • Guests: 164 • Year Built: 2019 • Decks: 4 • Guest Cabins: 82

European Christmas Markets Danube River All-Gay Cruise 2022 Rates

Amadeus Suite
Mozart Deck (301 - 312). Suite (26.4 m² / 284 sq.ft.) with walk-out exterior balcony. Comfortable corner sofa, luxurious bathroom, walk-out exterior balcony, mini-bar, walk-in wardrobe, choice of bed configuration (double or twin bed), flat-screen television, individual climate control, en-suite bathroom with shower/WC, bathrobe, hair dryer, direct dial telephone and in-room safe.
$ 5,299

Category A-1
Mozart Deck (315 - 332). (17.5 m² / 188 sq.ft.) Spacious bathroom, drop-down panoramic window, mini-bar, walk-in wardrobe, choice of bed configuration (double or twin bed), flat-screen television, individual climate control, en-suite bathroom with shower/WC, hair dryer, direct dial telephone and in-room safe.
$ 4,499

Category B-1
Strauss Deck (201 - 232). (17.5 m² / 188 sq.ft.) Spacious bathroom, drop-down panoramic window, mini-bar, walk-in wardrobe, choice of bed configuration (double or twin bed), flat-screen television, individual climate control, en-suite bathroom with shower/WC, hair dryer, direct dial telephone and in-room safe.
$ 4,199

Category B-4
Strauss Deck (233 - 236). (17.5 m² / 188 sq.ft.) Spacious bathroom, drop-down panoramic window, mini-bar, walk-in wardrobe, choice of bed configuration (double or twin bed), flat-screen television, individual climate control, en-suite bathroom with shower/WC, hair dryer, direct dial telephone and in-room safe.
$ 3,999

Category C-1
Hayden Deck (101 - 115). (16 m² / 172 sq.ft.) Spacious bathroom, small panoramic window (cannot be opened), spacious wardrobe, choice of bed configuration (double or twin bed), flat-screen television, individual climate control, en-suite bathroom with shower/WC, hair dryer, direct dial telephone and in-room safe. Cabins with connecting doors are available on request.
$ 3,599

Category C-4
Hayden Deck (116 - 119). (15 m² / 161.5 sq.ft.) (16 m² / 172 sq.ft.) Spacious bathroom, small panoramic window (cannot be opened), spacious wardrobe, choice of bed configuration (double or twin bed), flat-screen television, individual climate control, en-suite bathroom with shower/WC, hair dryer, direct dial telephone and in-room safe. Cabins with connecting doors are available on request.
$ 3,499

The fares above are per person USD, based on double occupancy (except Single Cabins).

Port Charges of $180 per person are additional.

Pre-paid Gratuities of $165 per person are additional.

Initial deposit is $1,000 per person. The balance of the trip is due 120 days before departure on August 04, 2022.

Single Travelers Single supplement of $2,000 applies to single occupancy bookings in staterooms A-1 through C-4.
Amadeus Suites, 100% single supplement applies.

Traveling alone? Ask about our single roommate share program to help you avoid the single supplement charges.

Special Airfares








Pre-Cruise Hotels







Post-Cruise Hotel