Sky Princess
Ship Facts
Gross Tonnage: 141,000
Length: 1,083 feet
Height: 217 feet
Guests: 3,660
Crew: 1,346
Staterooms: 1,830
Service Speed: 22 knots
Decks: 19
Ships Registry: Bermuda
Eastern Caribbean Gay Bears Cruise 2022
7 nights from/to Fort Lauderdale, Florida
January 08 – 15, 2022
Princess Cruises Sky Princess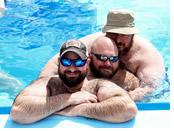 Explore the sparkling magic of the Eastern Caribbean. Known for it's world-famous beaches, natural surroundings and limitless water activities, this is the perfect option for a sunny Caribbean gay bears cruise vacation. Soft sandy beaches, warm winds blowing through palm trees and crystal-clear waters stretching as far as the eye can see... that's the Eastern Caribbean cruise experience. Enjoy the calm waters around the islands and snorkel, swim and sail your way through engaging activities. Relax on world-famous beaches, cool drink in hand, for a day of rejuvenation topped off by luxurious shopping. Dive in; the Caribbean is waiting.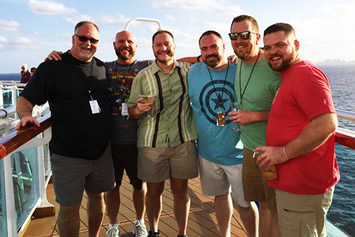 With just a little exploration on a Caribbean cruise, you can open up a world of jungle adventures, breathtaking barrier reefs and powerful cultural connections unlike any other.
With a half mile of white-sand shoreline and 40 acres of relaxation, shopping and picturesque beaches, Princess Cays is one of the best private Eastern Caribbean cruise line ports in the world. Relax in a private cabana, dive into the dozens of available water activities, explore the gorgeous back roads of Eleuthera in a dune buggy, or indulge in shopping from local craftspeople.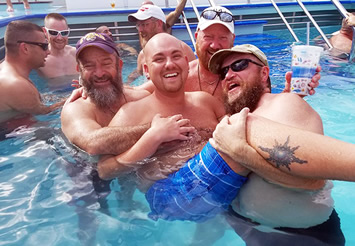 Surrounded by some of the most vibrant, healthy coral reefs of the Caribbean and filled with Bermudan-British history, Grand Turks is a rich island destination for anyone looking for the complete Caribbean cruise experience. Explore the nearby Gibb's Cay and swim with stingrays, discover the vibrant history of the island from 700 A.D. to today, or explore the beauty of the island from a dune buggy.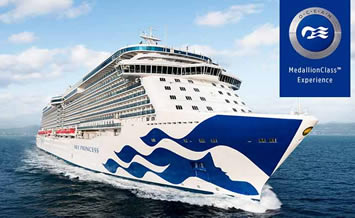 Your Ship - New Sky Princess
Sky Princess, the newest addition to Princess Cruises fleet, elevates the distinctive, contemporary design and luxurious attractions of our renowned Royal-class ships to even loftier heights. You can look forward to our most exciting entertainment venues yet, our newest dining choices and award-winning chef partnerships, as well as more staterooms than ever to relax in. And that's just the start!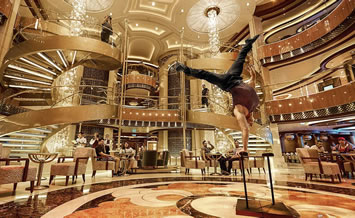 Built in 2019 the Sky Princess offers space for up to 3,660 passengers. With a length of 330m she is one the largest cruise ships in the world. Thanks to Princess Cruises' "Big Ship - Small Ship Feel" concept guests nevertheless enjoy a feeling of intimacy on board. A special feature on the Sky Princess is the "SeaWalk" - a glass-paneled walkway extending several meters beyond the edge of the ship.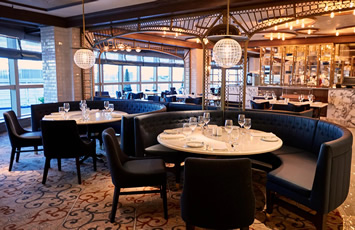 On the Sky Princess you will enjoy all amenities of a large and modern ocean liner, but at the same time get the intimate feeling of much smaller ships. Many small bars, lounges and public areas are one reason - the crew's individual and discreet service is another. Though most guests are English native speakers the travellers come from all over the world and create an international and classy atmosphere. This is reflected in the dress code: casual during the day and elegant in the evenings.
All staterooms are spacious, comfortably equipped and provide enough storage room for your luggage. Staterooms have a minimum size of 16m². Most of the cabins on board feature a private balcony.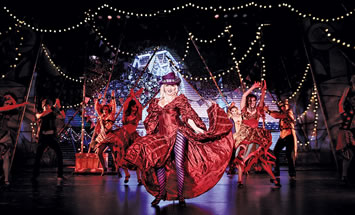 Gourmets will be delighted by the excellent food on board Sky Princess. No matter if you dine in the included buffet and à la carte restaurants or in one of the specialty restaurants - quality and taste have a superior level. Guests may choose between the traditional early and late dining with assigned tables or "anytime dining", where you are free to dine whenever it suites you best.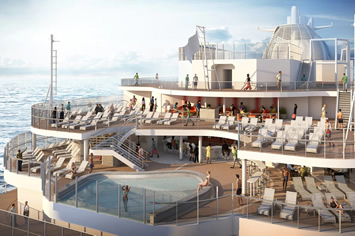 Princess Cruises is famous for their "movies under the stars" where the pool deck turns into a romantic cinema. Daily shows are entertaining the audience in the evening, the Casino invites all who love to play and several lounges and bars are ideal places to socialize. On the other hand the Regal Princess offers wonderful places to relax and enjoy calmness. The large Spa area is the perfect place to revitalize yourself. For all those who enjoy sports the fitness center, a jogging track, the court for volleyball, basketball and tennis are some of the places to be.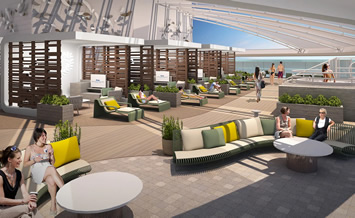 The Chumley's BearCruise (CBC) package includes but is not limited to:
• 7 nights' accommodations on brand new Sky Princess
• All shipboard meals
• Limited beverages (coffee, tea and iced tea)
• Group credentials
• All cruise ship's entertainment
• Private CBC online group access to get to know others & to stay abreast of trip details
• Access to negotiated pricing at the official CBC host hotel
• Access to all exclusive pre-cruise and shipboard private CBC dances, parties and events
• Access to private group dining area
• Access to optional private CBC shore excursions
• Exclusive gifts for CBC attendees
• Princess Cruise Line's Premier Beverage Package
• WiFi for one device per guest
• Gratuities for your Dining Room Staff and Cabin Stewards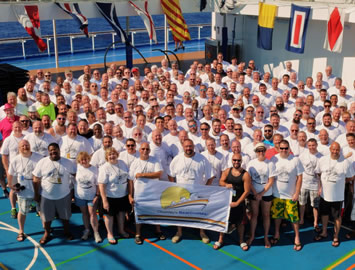 Eastern Caribbean Bears Cruise 2022
Itinerary


Date

Port

Arrive

Depart

08 Jan
Fort Lauderdale, Florida
4 PM
09 Jan
Princess Cays, Bahamas
9 AM
5 PM
10 Jan

Fun Day at Sea!

11 Jan
San Juan, Puerto Rico
7 AM
5 PM

12 Jan

Amber Cove, Dominican Republic
9 AM
6 PM
13 Jan
Grand Turk, Turks & Caicos
7 AM
5 PM

14 Jan

Fun Day at Sea!

15 Jan
Fort Lauderdale, Florida
6 AM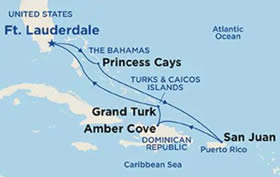 Fort Lauderdale, Florida
Experience Greater Fort Lauderdale's 23 miles of promenade-lined beachfronts and explore a destination that boasts luxury hotels, an impressive art scene, world-class restaurants, craft breweries, nightlife, shopping, casinos, and the Everglades on its doorstep. Cruise along the "Venice of America", explore shipwreck dive sites in the "Wreck Capital of Florida", and get lost in botanical gardens with lush tropical plants and native wildlife.
Fort Lauderdale is Florida's lesbian, gay, bi-sexual, transgender and family capital, and is proud to have hundreds of LGBT-owned and operated businesses in an open and welcoming community.
Plan to stay a few days before or after
your sailing to enjoy this resort-style town; have a beach day, shop and grab a drink in Wilton Manors... you'll be glad you did.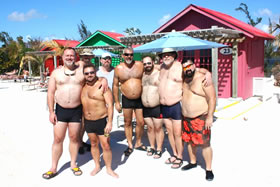 Princess Cays, Bahamas
With a half mile of white-sand shoreline and 40 acres of relaxation, shopping and picturesque beaches, Princess Cays is one of the best private Eastern Caribbean cruise line ports in the world. Relax in a private cabana, dive into the dozens of available water activities, explore the gorgeous back roads of Eleuthera in a dune buggy, or indulge in shopping featuring the wares of local craftspeople.
San Juan, Puerto Rico
Puerto Rico's capital and largest city, San Juan sits on the island's Atlantic coast. Its widest beach fronts the Isla Verde resort strip, known for its bars, nightclubs and casinos. Cobblestoned Old San Juan features colorful Spanish colonial buildings and 16th-century landmarks including El Morro and La Fortaleza, massive fortresses with sweeping ocean views, as well as the Paseo de la Princesa bayside promenade.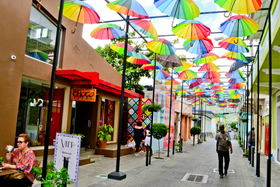 Amber Cove, Dominican Republic
Located in the province of Puerto Plata in the Dominican Republic's north coast region, Amber Cove merges the historic colonial architecture with the modern contemporary amenities of the greatest ports in the world. Amber Cove encompasses 30 acres of waterfront property and features a welcome center with myriad of retail and entertainment options.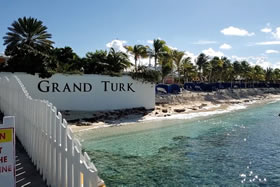 Grand Turk, Turks & Caicos
Grand Turk is the historical center of the Turks and Caicos, and is the second most populated island in the country after the island of Providenciales. Originally founded by settlers from Bermuda as a site for sea salt production in 1681, Cockburn Town on Grand Turk has been the official capital of the Turks and Caicos since 1766. Several important historic events have taken place around this small island, including being the likely spot of Columbus's first landfall in the New World, and the first dry land American astronaut John Glenn stepped foot on after orbiting Earth in 1962.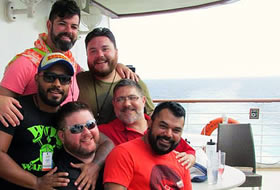 Guests: 3,668 • Crew: 1,350 • Gross Tonnage: 143,700 • Length: 1,083' • Beam: 154' • Guest Cabins: 1,834 • Year Built: 2020

Eastern Caribbean Gay Bears Cruise 2022 Rates

Interior Cabin
Approx. 158 to 162 sq ft.These staterooms are the perfect place to recharge your batteries. Our most affordable option, featuring two twin beds or a queen-size bed. Other amenities include a refrigerator, hair dryer, TV, closet and bathroom with shower.
$ 1,149

$ 1,878

Balcony Cabin
Approx. 214 to 222 sq. ft., including balcony . This impressive stateroom offers the added indulgence of a balcony and gives you more space than a standard stateroom. Enjoy your own private outdoor space with a table, two chairs, and a relaxing view of the inspiring scenery surrounding you, whether a beautiful sunset over the ocean or a new city to explore. It's also perfect to enjoy cocktails before dinner or a leisurely breakfast.
$ 1,539

$ 2,658

Deluxe Balcony Cabin
Approx. 233 to 279 sq. ft., including balcony. Choose this enhanced version of a Balcony stateroom with more space and a comfortable sofa bed. Enjoy a larger balcony with more room to view the beautiful scenery as you sail from destination to destination and take in the ocean breeze for a wonderful and romantic evening or morning. This stateroom also includes some of the amenities offered in a Mini-Suite stateroom.
$ 1,654

$ 2,888

Mini Suite
Approximately 323 sq. ft., including balcony. Choose a luxurious Mini-Suite with balcony which is substantially larger than a Balcony stateroom and receive a complimentary welcome glass of Champagne. Mini-Suites include a separate sitting area with sofa bed, premium bathroom amenities and two flat-panel televisions. For families or groups needing a little extra space, Mini-Suites offer an appealing and affordable option.
$ 1,834

$ 3,248

All prices are per person, occupancy selected, and include all meals, accommodations and entertainment!

Taxes & charges of $235pp, gratuities and optional insurance are additional.

Current rates may be lower or higher than rates as listed above based on current promotions and availability of cabins at the time of booking. An agent will apprise you of any changes, available pricing promotions and cabin options specific to your interests before moving forward with any booking or charging of your credit card.

First deposit of $400 per person (or 30%) is required upon booking. Final payment is due September 29, 2021

Optional shore excursions will be offered.

Prices are cruise only and DO NOT INCLUDE return airfare! Please ask for airfare add-ons back to your home city.

Fares are subject to availability and may change without prior notice.

Also included are the traditional Chumley's Bear Cruise activities, subject to minimum participation. To enjoy Chumley's Group functions and excursions you must reserve room with us.

Please ask for further details.

Current Promotion!
Book Now and Your Rate (shown above) Also Includes:
• Princess Cruise Line's Premier Beverage Package
• WiFi for one device per guest
• Gratuities for your Dining Room Staff and Cabin Stewards

Special Airfares








Pre-Cruise Hotels







Post-Cruise Hotel