Wonder of the Seas
Ship Facts
Gross Tonnage: 236,857
Length: 1,188 feet
Beam: 210 feet
Draft: 30 feet
Cruising Speed: 22 knots
Guests: 5,734
Crew: 2,300
Decks: 18
Maiden Voyage: March 4, 2022

Mediterranean European Gay Bears Cruise 2022
7 nights from/to Barcelona, Spain
September 11 – 18, 2022
Royal Caribbean Wonder of the Seas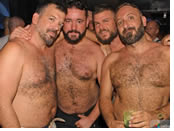 Join us on Cruise4Bears European Bears gay group cruise as we set sail straight after the Sitges Bears Week 2022 (September 2 - 11, 2022) on World's Largest Royal Caribbean's packed with activities Brand new Wonder of the Seas to Western Mediterranean! From the High Renaissance to high fashion and from a fascinating heritage to fantastically chic beaches, the Mediterranean has it all. Enjoy the very best that Europe has to offer on our European Gay Bears Mediterranean cruise.
Stand in awe before Spanish landmarks, Italian landscapes, and French icons that echo the history-changing moments that once happened there. Climb up inside the spires of Gaudí's Sagrada Familia Cathedral in Barcelona, whisper in awe in the Sistine Chapel, and discover French Marseilles. Explore the Western Mediterranean cities where myth and history converge on your next vacation.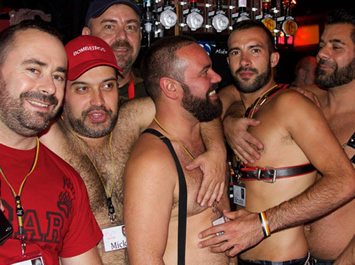 With its fast-paced cities, laid-back islands and passion for football, fashion, food and wine, Spain is a truly fascinating country. In buzzing Barcelona you can marvel at Gaudi's inspiring architecture or feast on delicious tapas in a shaded pavement café; explore the city's many churches and cathedrals or hit the shops for a shot of Catalan style. Nice is a cosmopolitan city where you'll find a colorful Old Town, elegant Belle Epoque architecture, French Riviera chic and much more.
Italy is home to one of the world's most historical and spiritual sites, a universally adored cuisine and a passionate nation. In ancient Rome you can gaze at Michelangelo's magnificent Sistine Chapel ceiling or explore the Colosseum where gladiators once fought. In Florence, feast your eyes on intricate Renaissance art or browse the jewellery shops along the Ponte Vecchio, the bridge dating back to 1345. Pose in Pisa for the essential holiday snap standing against the famous leaning tower or lick some of the most sensational gelato under the Mediterranean sun.

Your Ship - Royal Caribbean's Wonder of the Seas
What do you get when you combine the world's biggest ship with the boldest thrills ever to set sail? A gravity defying, status-quo denying, electrifying expedition onboard Wonder of the Seas. It's all new first-at-sea feats, plus all the favorites - turned up a big bold notch to give you the best adventure ever.
The Wonder of the Seas is a world-class cruise ship with all the amenities and more! 18 passenger decks, an ocean view from anywhere on the ship, ultra-modern lofted suites, and fine dining - what reason do you have to NOT take a cruise on the Wonder of the Seas?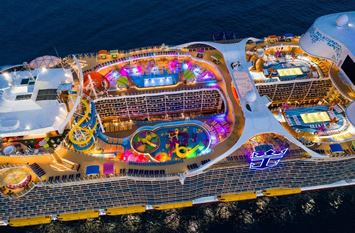 You'll find something for everyone onboard - adrenaline filled activities, a peaceful, adults-only Solarium for you and yours - and entertainment for everyone to enjoy!
Wonder of the Seas is one of our most popular ships in the fleet and from the moment you step onboard you'll see why. There's amazing entertainment, thrilling activities, delectable dining, boutique shopping, not to mention some of the most incredible destinations in the world. All that's missing, is you.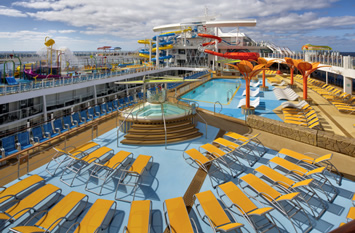 Activities on Wonder of the Seas
If you're wondering what there is to do on the Wonder of the Seas, rest assured that this ship has you covered! Take a dip in one of the four swimming pools, or relax in one of the ten whirlpools! The Pool Zone has a water park (H2O Zone), cantilevered whirlpools, a Flowrider surf park - which is a state of the art wave simulator where you can surf on the ship - and, there's even a zip-line that goes through the pool area so you can get a birds-eye view of the ship and ocean! Relax in the quiet Solarium (which is adults-only)!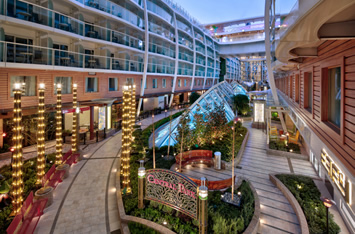 Take a stroll through the Boardwalk neighborhood, and look through the shops and restaurants - and there is even a classic carousel for you to ride! The Central Park area is full of lush greenery and restaurants, so you know you're in for a treat when you meander through! If you'd just like to relax, head over to the spa and pamper yourself with a massage! The Vitality at Sea Spa and Fitness center offers cardio machines, pilates, kickboxing, spinning, a weight room, and even full hair and makeup services! Check out the onboard amphitheater, the AquaTheater - and take in the breathtaking view from any of the decks on the ship!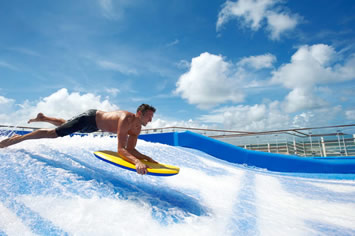 Dining / Food on Wonder of the Seas
On the Wonder of the Seas, your mouth will start watering when you see the array of food available! Choose from your regular dining options for breakfast, lunch and dinner and enjoy delicious food prepared to your taste! Or, check out the Johnny Rockets on the ship for 50's style diner food! There's a Portofino Italian Restaurant, a Chops Grille, Sorrento's Pizza and even a Ben and Jerry's Ice Cream parlor! Don't forget, there's 24-hour room service as well, serving the full menu!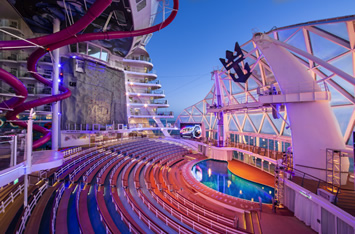 Entertainment on Wonder of the Seas
If you're ready to enjoy what the night has to offer, head out and brace yourself! The Wonder of the Seas features a jazz club, a comedy club, Studio B (which features ice shows), Dazzles (which features musical performances of anything from big band to disco), and the Opal Theater, a 1,380-seat theater! There is also the Blaze Nightclub, where you can dance the night away, and the Casino Royale, where you can bet you'll have a great time! Ready for a great party? The Wonder of the Seas has themed parades and themed nights, so you can get swept away in your favorite fantasies! Join in the fun! Head over to one of the bars, pubs, or lounges and just relax with your favorite beverage! Your night will be full of fun on the Wonder of the Seas!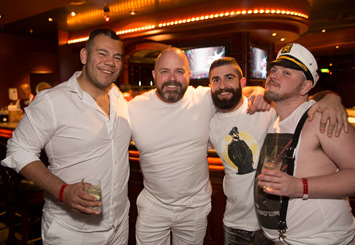 Only for Bears!
Theme Parties
White party, Hot'n'Sexy party or Costume party. Only for bears. Private.
Tours & Transfers
We work very hard to offer the best all-bear tours at incredible rates.
Pre- & post-cruise
Includes meetings, parties, tours and host hotels. Our Hotel packages also include transfer from/to port.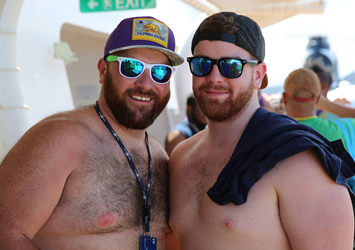 Mediterranean Bears Gay Cruise 2022 Itinerary


Date

Port

Arrive

Depart

11 Sep
Barcelona, Spain
6 PM
12 Sep
Palma de Mallorca, Spain
8 AM
4 PM
13 Sep
Provence (Marseille), France
9 AM
6 PM
14 Sep
Florence/Pisa (La Spezia), Italy
8:30 AM
8:30 PM

15 Sep

Rome (Civitavecchia), Italy
7 AM
8 PM
16 Sep
Naples (Capri), Italy
7 AM
8 PM

17 Sep

A Day at Sea!

18 Sep
Barcelona, Spain
5 AM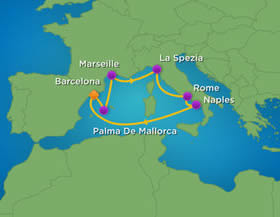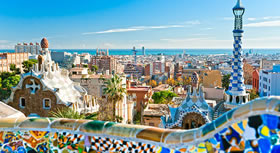 Day 1 - Barcelona, Spain
See and be seen in bustling Las Ramblas, where the shops and street performers will catch your eye. Enjoy the colourful creations of celebrated architect Antoni Gaudi, including La Sagrada Familia, Casa Vicens and Parc Guell. Take a trip to Camp Nou, the home of FC Barcelona or jog, cycle or stroll on the city's fine beaches. For pleasure seekers, there's thriving nightlife and brilliant dining in Barcelona
too.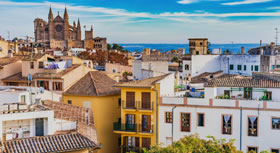 Day 2 - Palma De Mallorca, Spain
Flirt with Flamenco in this beautiful town, the capital of Mallorca. Try tapas or wine tasting or explore the city by bike with an expert guide. Be inspired by the magnificent Santa María Cathedral, a 13th century Gothic landmark overlooking the Bay of Palma, or visit the Almudaina, a Moorish-style Arab fortress, or medieval Bellver Castle. Enjoy swimming, sailing, diving or snorkelling in Palma de Mallorca too.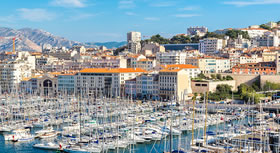 Day 3 - Provence (Marseille), France
Feel the vibe in dynamic Marseille, a cosmopolitan port steeped in 1,500 years of history and trade. A European Capital of Culture in 2013, it has many historic buildings and smart new museums and galleries such as Mucem and Villa Méditerranée. Discover the delights of the old fishing port, with its fishing boats, pleasure craft and bustling shops, bars and cafes, or for adventure go snorkelling or diving.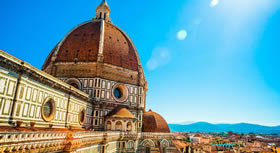 Day 4 - Florence/Pisa (La Spezia), Italy
Bask on the beach at Viareggio, explore Lucca's charming streets or indulge in delicious Tuscan cuisine. Marvel at Pisa's famous toppling tower or wonder at the breath-taking artistic treasures of Renaissance Florence. Visit the Cinque Terre to see picturesque villages clinging to the cliffs on the Ligurian coast or for exhilarating fun, traverse the treetops at the Val di Vara Aerial Forest Adventure Park.
Day 5 - Rome (Civitavecchia), Italy
Follow in the steps of gladiators in the Colosseum, make a splash in the Trevi Fountain or explore the stunning architecture of the Vatican and Sistine Chapel. In Rome you can lose yourself in fascinating history, shop for gorgeous fashions in exquisite boutiques or savour the delights of pizza, cappuccino or gelato. With numerous galleries, gardens and piazzas – ideal for people watching - you'll find plenty to do.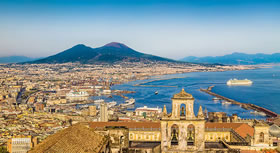 Day 6 - Naples (Capri) Italy
Smile – you're in unmissable Italy. Whizz on a zip-line over a 16th-century reservoir, hike around the rim of scary Mount Vesuvius or indulge in a boat ride to stylish Capri. Sample Limoncello liqueur, salami or fresh mozzarella and explore dramatic Pompeii and stunning Sorrento. In Naples, discover the Royal Palace, the San Carlo Opera House and the Duomo, the city's Cathedral.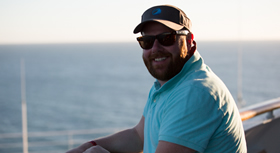 Day 7 - Day at Sea
Sit back, kick off your shoes and put your feet up during our 'at sea' days, where you can chill in the bar, lounge by the pool or enjoy a relaxing beauty treatment in the spa. For simple pleasures, why not try a game of table tennis? Or if you're feeling energetic, now's the chance to explore all the amazing activities the ship has to offer, from spectacular, West-End-style entertainment to adrenalin-charged sports.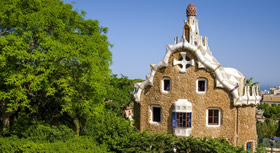 Day 8 - Barcelona, Spain
An important cultural and economic center in Spain, and indeed Europe, Barcelona
is known as much for its unique architecture as its gay friendliness. Since its founding, Barcelona has always been a center of art and design, culminating with Gaudi's masterpiece, the Sagrada Familia Basilica, a prime example of Art Nouveau architecture, with its bold color, beautiful tile work and swirling lines. Spend a day wandering through the old Gothic quarter or take a 30-minute trip to Sitges, the famed gay Spanish beach resort.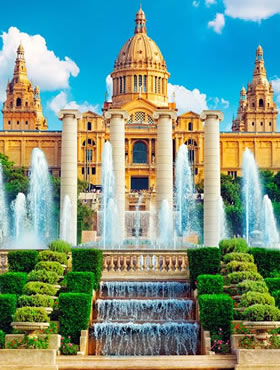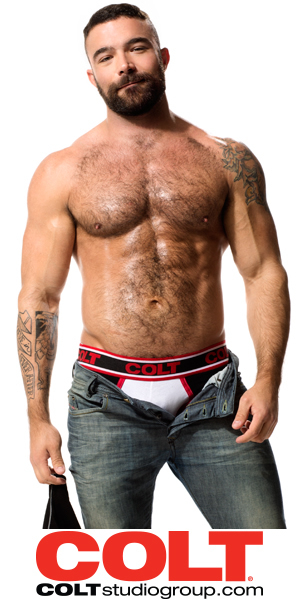 Guests: 5,734 • Gross Tonnage: 236,857 • Length: 1,188' • Beam: 210' • Draft: 30' • Cruising Speed: 22 knots

Mediterranean Gay Bears Cruise 2022 Rates

Interior Stateroom
Have a fabulous holiday staying in one of our affordable and accessible interior staterooms, with super comfy beds and everything you'll need, including TV, sitting area, telephone, safe, private bathroom with shower, vanity area and hair dryer.
€ 999

€ 1,099

€ 1,799

Oceanview Stateroom
Have a fabulous holiday staying in one of our affordable and accessible oceanview staterooms, with super comfy beds and everything you'll need, including TV, sitting area, telephone, safe, private bathroom with shower, vanity area and hair dryer.
€ 1,099

N/A
€ 1,999

Central Park View /
Boardwalk View
Balcony Stateroom
Relax with a view over Central Park or Boardwalk in our spacious, luxurious and accessible balcony staterooms. With your own private balcony, telephone, refrigerator or minibar, private bathroom with shower, vanity and sitting area, hair-dryer and TV, you'll be in heaven.
€ 1,199

€ 1,299

€ 2,199

Oceanview Balcony Stateroom
Relax with beautiful sea views in our spacious, luxurious and accessible balcony staterooms. With your own private balcony, telephone, refrigerator or minibar, private bathroom with shower, vanity and sitting area, hair-dryer and TV, you'll be in heaven.
€ 1,599

€ 1,749

€ 2,999

Suite
Indulge yourself with one of our stunning suites, where you'll find facilities to rival the best hotels in the world. With elegant and glamorous interiors, spacious private balconies, superior facilities such as a mezzanine or private bathroom with bathtub, and special privileges such as a complimentary Concierge service, you'll have the holiday of a lifetime.
On Request
N/A
On Request
All prices are per person, occupancy selected, and include all meals, accommodations and entertainment!

Taxes of €95pp, Gratuities of €95pp and optional insurance are additional.

First deposit of €500 per person is required upon booking. Full payment is due by June 01, 2022.

Optional shore excursions will be offered.

Prices are cruise only and DO NOT INCLUDE return airfare! Please ask for airfare add-ons back to your home city.

Fares are subject to availability and may change without prior notice.

Also included are the traditional Cruise4Bears activities, subject to minimum participation.

If you cancel 91 days before departure: 150 EUR. 90-60 days: 20% of total. 60-30 days: 35% of total. 30-8 days: 60% of total. Less than 8 days: 100% of total. Name change: 100 EUR/pers, permitted until 10 days before cruise. Costs are applied to total (incl. Taxes).

Please ask for further details.

Pre- & post-cruise
We recommend Sitges before the cruise with its amazing Bear Week, where we offer a Bear Week Pack that includes cocktails, dinner, party, transfer to the port, and many more things. Barcelona is the best option after the cruise.

Tours & Transfers
We work very hard to offer the best all-gay tours at good rates. All we need from you is to book a Tour Pack of 5 excursions. With rates much more competitive than official cruise line shore excursions.

Special Airfares








Pre-Cruise Hotels







Post-Cruise Hotel