Wonder of the Seas
Ship Facts
Gross Tonnage: 236,857
Length: 1,188 feet
Beam: 210 feet
Draft: 30 feet
Cruising Speed: 22 knots
Guests: 5,734
Crew: 2,300
Decks: 18
Registry: Bahamas
Maiden Voyage: March 4, 2022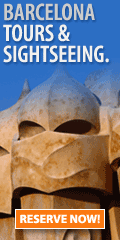 Transatlantic Halloween Gay Bears Cruise 2022
14 nights from Barcelona, Spain to Orlando, Florida
October 30 – November 13, 2022
Royal Caribbean Wonder of the Seas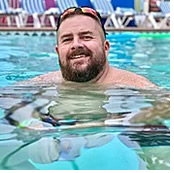 Bears in Wonder land! Halloween in Spain, mild temperatures and 8 days of relaxed cruising on brand new World's Largest cruise ship, Wonder of the Seas!. Join us on Cruise4Bears Barcelona to Orlando Transatlantic Bears gay group cruise as we set sail from Spain to Florida on Royal Caribbean's packed with activities Wonder of the Seas! Discover more of the world with an exciting Transatlantic cruise, where the journey is part of the fun. Start and finish your holiday on different sides of the ocean, with the flexibility to extend your stay and explore more amazing destinations at either end.
Enjoy unrivalled relaxation and entertainment onboard, taking your time to experience all the fabulous things your ship has to offer, from indulgent spa treatments to casinos, duty-free shops, world-class shows, adrenalin-fuelled sports and outstanding restaurants.
Transatlantic cruise offer a wealth of relaxing days at sea, punctuated by stops at ports that let you explore the local culture and the natural thrills of each area. Transatlantic cruises include a combination of city and island stops, taking you from beautiful gay friendly Barcelona to Bahamas & Florida beaches.
Have you ever thought of traversing an entire ocean from coast to coast? You can go further than you ever thought possible on a transatlantic cruise, crossing the waves between Europe and the U.S.. Departing from Barcelona, this cruise include Halloween at Sea, and cultural and tropical island stops, five ports in Spain, and Nassau in the Bahamas.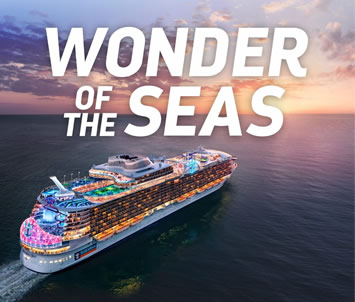 Your Ship - Royal Caribbean's Brand New Wonder of the Seas
The World's Newest Wonder - Wonder of the Seas
The ship class that redefined cruising just got bolder. The world's biggest ship, Wonder of the Seas, brings even bigger adventures to the award-winning Oasis Class. Like eight unique neighborhoods, including the all-new Suite Neighborhood. A totally redesigned pool deck with more ways to soak up the sun — or shade — than ever before.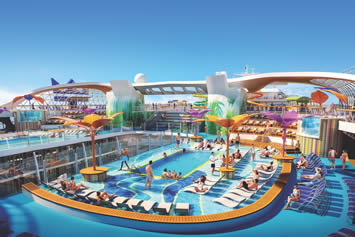 AquaTheater adds edge-of-your-seat-inducing entertainment to the line-up with stunning ocean views and a dramatic new backdrop. And the all-new Playscape, an underwater world studded with slides, climbing walls and games, where imaginations can soar. Plus returning fan-favorites like the FlowRider® and Ultimate Abyss.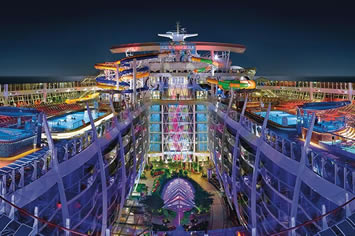 The biggest ship in the world and the first of its class to feature eight unique neighborhoods — including the luxurious new Suite Neighborhood — Wonder of the Seas offers even more room for onboard adventure, palate-pleasing dining and awe-inspiring entertainment.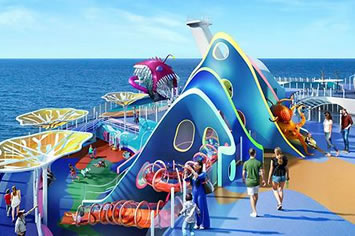 All Out. All Day.
This isn't just another day at sea. It's way more to see — and do. From fleet favorite thrills, like the FlowRider® surf simulator's 30,000 gallons of rushing awesome, to all-new adventures designed to change the way you play, including a whole new immersive spin on mini golf and a climbable, slidable space that's leagues away from your ordinary playground.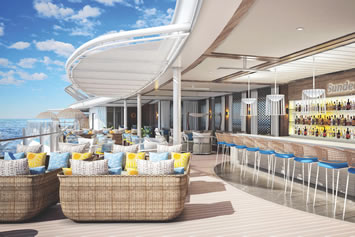 Bold Bites and Endless Delights
The biggest ship in the world is going even bigger on flavor, with limitless options to satisfy every palette. Upscale cuisine? Check. Craveable comforts? Check. Quick but delicious bites you can grab between adventures? It's all on the menu.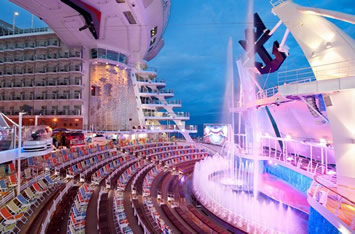 Shows Whoas
Vacation is no time for tame — and the new Wonder of the Seas definitely ups the ante on downtime. Whether you're looking for jawdropping feats at the AquaTheater, your own slice of the spotlight at our signature karaoke bar, or cocktails with a view at the all new Vue Bar.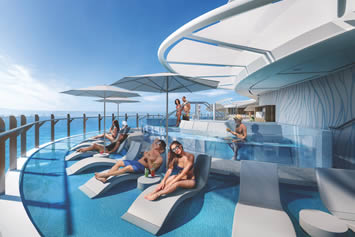 For the Sun Of It
It's all about that vacay wade of life at the redesigned pool deck on the all-new Wonder of the Seas. Soak up the sun, chill in the shade, get your adrenaline fix, or grab a cocktail from the two-story poolside bar The Lime & Coconut. And for the ultimate pool day upgrade, reserve one of our private poolside casitas..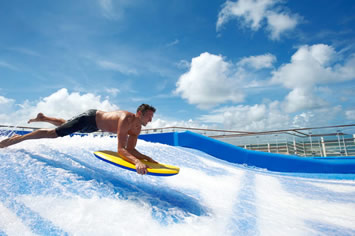 Big Time Playtime
Ditch the same-old neighborhood playground for a whole new way to explore. The all-new Playscape is studded with slides, climbing walls, games and puzzles where adventurers of all ages can discover an underwater world with endless possibilities.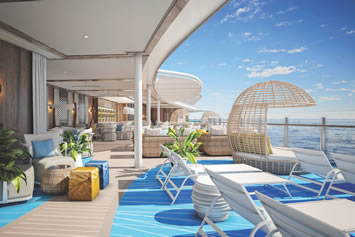 A New Way To Sea Day
Make the most of every moment at sea, with more to see, do, play and conquer. Like the all-new Playscape, an underwater-themed world with endless opportunities to explore. Wonder Dunes, where you can tee up under the sun or stars for an immersive, story-based mini golf journey like nothing you've played before. The fleet-favorite FlowRider surf simulator. And the twisting, turning, fun-drenched thrills of The Perfect Storm waterslide trio.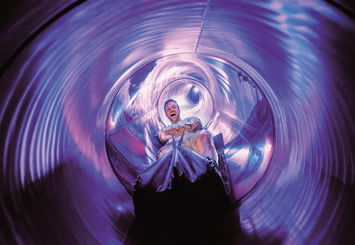 Only For the Brave
There's a place where only the bold venture and only the bravest return. Step to the edge. Peer into the darkness. There's no turning back once you take the plunge 10 stories down the tallest slide at sea. Are you brave enough — or will you become a permanent resident of the Ultimate Abyss?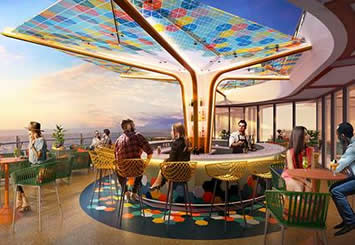 Dialed Up Dishes For Days
Wonder what it's like to dine onboard the biggest ship in the world? Wonder no more — this ship is packed with an abundance of options to please every possible craving. Whether you're dressing up for date night, taking your taste buds on a world tour, or just looking for a quick and easy meal that delivers on big time quality and flavor.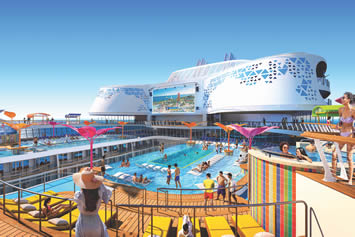 Fine Dining Is Our Speciality
If you're looking to upgrade your already amazing dining experience onboard, specialty restaurants are the move. Snag favorite coastal faves like melt-in-your-mouth lobster rolls at Hooked SeafoodSM. Savor elevated cuisine driven by seasonal ingredients at the elegant 150 Central Park. And dine on dishes that defy the imagination at Wonderland Imaginative Cuisine.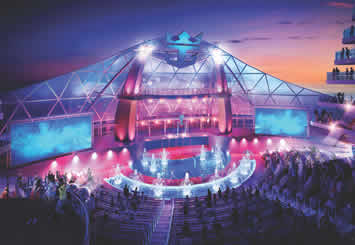 Showstopping & Chart Topping
The shows onboard set a new high-water mark for entertainment at sea — starting with the AquaTheater featuring 30-foot diving platforms, stunning ocean views, a dramatic new backdrop and 137,000 gallons of water. Or head to Music Hall for a front row view of cover bands that rock like the real thing.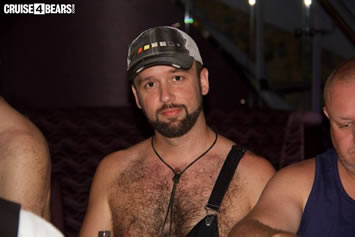 Only for Bears!
All-Gay Parties
Firstly, we hire the best venues and DJs. Secondly, we have the most fun themes like Roman Gods, Navy, White, Costume or our signature Hot&Sexy. And to sum up, the parties are exclusive for us, so the fun is always guaranteed.
All-Gay Tours
Our tailor-made tours and transfers are designed only for us and, above all, are a very good value because we cut costs by packing them up in a Pack.
Pre- & post-cruise
Includes meetings, parties, tours and host hotels. Our Hotel packages always include port transfers. We'll organize a big Halloween Pre-cruise party in Barcelona on October 29. Post cruise in Orlando.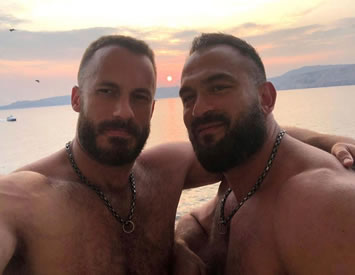 Transatlantic Bears Gay Cruise 2022 Itinerary


Date

Port

Arrive

Depart

30 Oct
Barcelona, Spain
5 PM
31 Oct
Plama de Mallorca, Spain
8 AM
6 PM
01 Nov
Valencia, Spain
8 AM
6 PM
02 Nov
Cartagena, Spain
8 AM
6 PM

03 Nov

Malaga, Spain
8 AM
6 PM
04 Nov

A Day at Sea!

05 Nov

A Day at Sea!

06 Nov

A Day at Sea!

07 Nov

A Day at Sea!

08 Nov

A Day at Sea!

09 Nov

A Day at Sea!

10 Nov

A Day at Sea!

11 Nov

A Day at Sea!

12 Nov
Nassau, Bahamas
7 AM
2:30 PM

13 Nov

Orlando (Port Canaveral), Florida
6 AM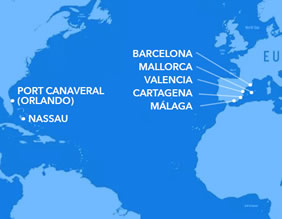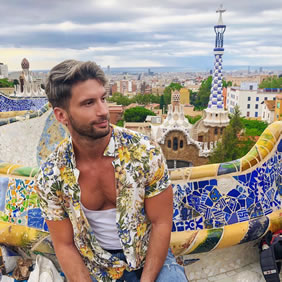 Day 1 - Barcelona, Spain
It's easy to see why gay friendly Barcelona
is the most-visited city in Spain. As the capital of the country's Catalonia region, this cityscape's cultural mosaic pieces together a 2,000-year-old hodgepodge of sun-drenched beaches, cutting edge architecture, and a world-renowned dining and drinking scene. Catalan architect Antoni Gaudí left his modernist handprint all over the city, while medieval treasures linger in historic Gothic Quarter squares. Get lost in the whimsical gardens of Park Güell or savor a chef-led Catalan cooking class. Browse art collections dedicated to Picasso and Miro— or ride a cable car to the top of Montjuïc Hill, relishing citywide views along the way.
• Barcelona Pre cruise October 28-29, 2022
• Last Embarking 1 PM • Set sail 5 PM • Hospitality table • Bear Dinner • Welcome Party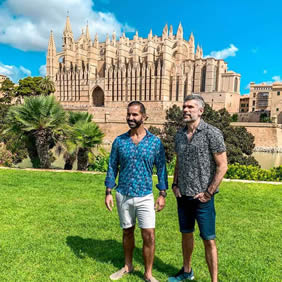 Day 2 - Palma de Mallorca, Spain
The Spanish island of Mallorca offers towering mountains and dramatic cliffs rising over clear, blue water — but its hidden gem is Palma de Mallorca, the island's capital and largest city, where you'll find quaint historic streets, Gothic castles and gastronomic delights. Cruise to Palma de Mallorca and check out one-of-a-kind Palma Cathedral: The 14th-century Gothic spires of exterior contrast the modernist interior designed by in the early 1900s by Gaudi. See the circular courtyard and Arab-inspired arches of Castell de Bellver, and take in the fresh scent of the miles of pine forest that surround it. Or rent bikes and pedal east to Palma Beach, where you can soak in the sun on the white sands and clear waves.
• We arrive 8 AM • Half day Tour (not incl.*) • Bears by the pool • All aboard 5 PM • Set sail 6 PM • Bear dinner • Theme Party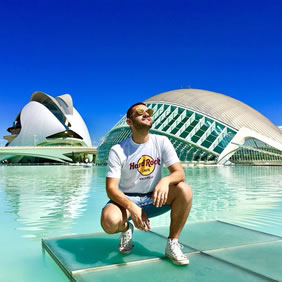 Day 3 - Valencia, Spain
Spain's third largest city, Valencia offers a little bit of everything, from historic sites and bustling city squares to placid beaches. Soak up the sun at Malvarrosa Beach along the urban seafront, or head to El Saler for a more remote beach experience surrounded by white-sand dunes and pine trees. Cruise to Valencia and get your culture fix at Gothic Valencia Cathedral, and see the 15th-century renaissance paintings housed in its interior. Head to Plaza de la Reina in the city's old town and do some people-watching over a fresh glass of horchata, a classic Valencia beverage made from almond milk with cinnamon and spices, or take a picnic lunch of fresh pears and local cheese to the quiet Turia Gardens.
• We arrive 8 AM • Half day Tour (not incl.*) • Bears by the pool • All aboard 5 PM • Set sail 6 PM • Bear dinner • Theme Party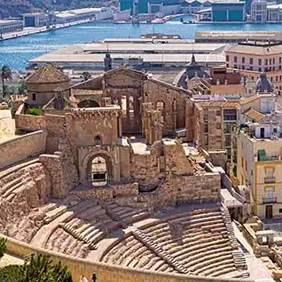 Day 4 - Cartagena, Spain
Cartagena greets you with its ancient Mediterranean port on Spain's southeastern coast. Originally governed by the Carthaginians and subsequently by the Romans, Arabs and Castilians, this pedestrian-friendly city is a history buff's dream port. Visit the 2,000-year-old Roman Theatre and the attached museum, where you'll find an ancient altar to Jupiter and a statue of Apollo. Then, check out the late 19th-century modernist architecture of Cartagena's historic center. Cruises to Cartagena, Spain allow you to stroll down blue-marble-tiled pedestrian-only Calle Mayor. Or take the 30-minute drive to the Batteria de Castillitos, a medieval-style fortress situated among the picturesque mountain landscape.
• We arrive 8 AM • Full day Tour (not incl.*) • Bears by the pool • All aboard 5 PM • Set sail 6 PM • Bear dinner • Theme Party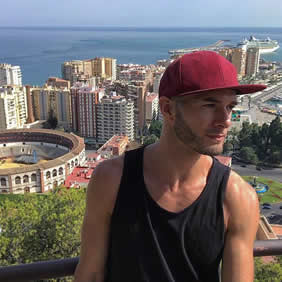 Day 5 - Malaga, Spain
The hub of Spain's southern Costa del Sol, Málaga is the picture of paradise. Scale the hilltop to dramatic La Alcazaba, the sandy-colored Moorish fortress dating back to the 11th century that overlooks this ancient seaside city. Sun yourself on the idyllic beaches of Caleta and Malagueta, taking in views of the mountains across the bay. See the eccentric works of modernist master Pablo Picasso, the city's most famous native son, at the Picasso Museum. Cruise to Málaga and immerse yourself in baroque and renaissance architecture at Málaga Cathedral, with its elaborate arches and stone reliefs depicting the saints, or turn the clock back to the first century A.D. at the ruins of the Roman Theatre.
• We arrive 8 AM • Half day Tour (not incl.*) • Bears by the pool • All aboard 5 PM • Set sail 6 PM • Bear dinner • Theme Party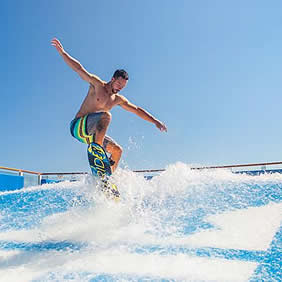 Days 6 - 13 - Fun Days at Sea!
Up for adventure? Put on your brave face and get ready to race through twists, turns and next-level thrills on the boldest slides at sea. No matter which ship you sail on, The Perfect Storm waterslides take excitement off the charts. Grab your board and get ready for 30,000 gallons of rushing awesome headed your way. The surf's always up on the 40-foot-long FlowRider® surf simulator.
• Bears by the pool • Bear dinners • Theme Parties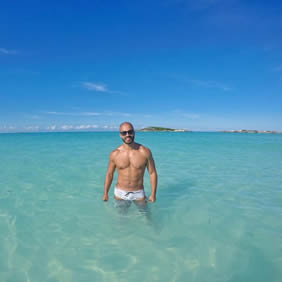 Day 14 - Nassau, Bahamas
Caribbean charm shines in the Bahamian capital, where you're never more than a few steps away from rhythmic percussions, appetizing flavors, white-sand beaches, and some of the clearest waters in the world. This picture-perfect paradise was once a pirate's haven— and you can explore its colorful past of buccaneers, blockade-runners and bootleggers along historical streets and at the three colonial fortresses that line the shores. If you're looking for a more hands-on maritime adventure, look no further.
Cruise to Nassau and swim with stingrays, dive with dolphins, or spot colorful coral on a glass-bottom boat. And just across the bridge is beautiful Paradise Island, home to world-famous luxury hotels and resorts. Spend the day at the famous Atlantis
and splash your way through its expansive water park, grab a piña colada at the Marina Village, and spot the hammerhead sharks in Predator Lagoon.
• We arrive 7 AM • Half day Tour (not incl.*) • All aboard 1:30 PM • Set sail 2:30 PM • Bears by the pool • Bear dinner • Theme Party
Day 15 - Orlando (Port Canaveral), Florida
As the home of Kennedy Space Center, Cape Canaveral is the launching point for all-out adventure in Central Florida. Its beaches offer a mix of gay-friendly shores and secluded swaths of sand. And with Orlando's theme park sprawl only an hour away, you can easily mingle with your favorite characters. Beyond the parks lie equally amusing gems packed with Old Florida character. Kayak past manatees in the Banana River Lagoon and zip line above alligators at Brevard Zoo. Discover notable art museums and Park Avenue's ritzy charm. Orlando
cruises give you access to trace the region's roots at the Orange County Regional History Museum.
• Breakfast • Disembark 7-9 AM • Orlando Post cruise from November 13, 2022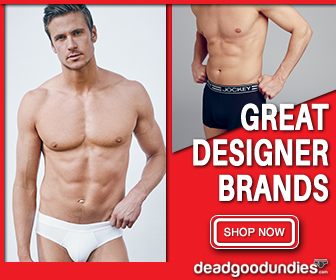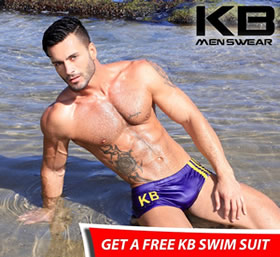 Guests: 5,734 • Gross Tonnage: 236,857 • Length: 1,188' • Beam: 210' • Draft: 30' • Cruising Speed: 22 knots

Transatlantic Gay Bears Cruise 2022 Rates

Interior Stateroom
Have a fabulous holiday staying in one of our affordable and accessible interior staterooms, with super comfy beds and everything you'll need, including TV, sitting area, telephone, safe, private bathroom with shower, vanity area and hair dryer.
€ 1,099

€ 1,199

€ 1,799

Oceanview Stateroom
Have a fabulous holiday staying in one of our affordable and accessible oceanview staterooms, with super comfy beds and everything you'll need, including TV, sitting area, telephone, safe, private bathroom with shower, vanity area and hair dryer.
€ 1,299

N/A
€ 2,149

Central Park View /
Boardwalk View
Balcony Stateroom
Relax with a view over Central Park or Boardwalk in our spacious, luxurious and accessible balcony staterooms. With your own private balcony, telephone, refrigerator or minibar, private bathroom with shower, vanity and sitting area, hair-dryer and TV, you'll be in heaven.
€ 1,449

N/A
€ 2,199

Oceanview Balcony Stateroom
Relax with beautiful sea views in our spacious, luxurious and accessible balcony staterooms. With your own private balcony, telephone, refrigerator or minibar, private bathroom with shower, vanity and sitting area, hair-dryer and TV, you'll be in heaven.
€ 1,649

€ 1,799

€ 2,749

Suite
Indulge yourself with one of our stunning suites, where you'll find facilities to rival the best hotels in the world. With elegant and glamorous interiors, spacious private balconies, superior facilities such as a mezzanine or private bathroom with bathtub, and special privileges such as a complimentary Concierge service, you'll have the holiday of a lifetime.
On Request
N/A
On Request
All prices are per person, occupancy selected, and include all meals, accommodations and entertainment!

Taxes & charges of €150pp, Gratuities of €180pp, and optional insurance are additional.

First deposit of €500 per person is required upon booking. Full payment is due July 20, 2022.

Optional shore excursions will be offered.

Prices are cruise only and DO NOT INCLUDE return airfare! Please ask for airfare add-ons back to your home city.

Fares are subject to availability and may change without prior notice.

Also included are the traditional Cruise4Bears activities, subject to minimum participation.

If you cancel 91 days before departure: 250 EUR. 90-60 days: 40% of total. 60-30 days: 60% of total. 30-8 days: 85% of total. Less than 8 days: 100% of total. Name change: 100 EUR/pers, permitted until 10 days before cruise. Costs are applied to total (incl. Taxes).

Please ask for further details.

Special Airfares








Pre-Cruise Hotels







Post-Cruise Hotel