Norwegian Escape
Ship Facts
Gross Tonnage: 164,998
Length: 1,069 ft
Beam: 153 ft
Draught: 28.29 ft
Guests: 4,266
Crew: 1,733
Built: 2015
Registry: Bahamas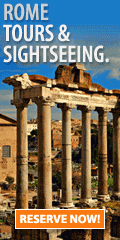 Mediterranean Gay Daddy Cruise 2024
7 nights from Rome to Venice, Italy
August 14 – 21, 2024
NCL Norwegian Escape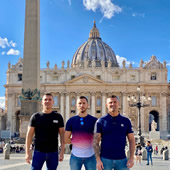 Come join our intimate and super-friendly group of gay men, daddies, bears, admirers and friends for a special Italian gay cruise adventure. We sail from Rome, and make our way around Italy to finish in Venice. Along the way, every port features a UNESCO World Heritage Site. You'll experience Italy (and a few nearby countries) without having to pack and unpack along the way. But wait, there's more: join us in Rome a few days before the cruise for our private tour of the Eternal City, and then stick around after the cruise for our private tour of Venice. You're going to get more than just a taste of Italy—you're getting a full course meal—mangia!
In addition to all the great activities provided by the cruise line, you'll have the option of joining our various private activities that will facilitate and encourage everyone to meet and get to know each other in fun, safe and creative ways.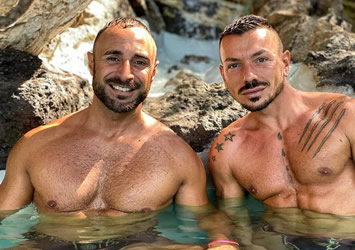 Set sail aboard Norwegian Escape on a 7-day cruise that is sure to exceed all your wildest expectations. From Civitavecchia, explore Rome's ancient ruins and works of art, from Michelangelo's awe-inspiring Sistine Chapel to the beautifully-constructed Trevi Fountain.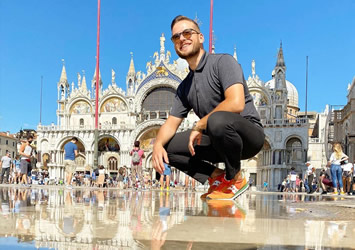 From Naples, step back in time visiting the ruins of Pompeii - a UNESCO World Heritage Site - and journey to Sorrento to savour lunch at a local family-owned farm. Drive through Corfu's countryside dotted with lemon and olive trees and visit the magnificent 19th century Achilleion Palace. Game of Thrones fans will enjoy a tour of Dubrovnik's Old Town where several historic sites were featured in the hit TV show.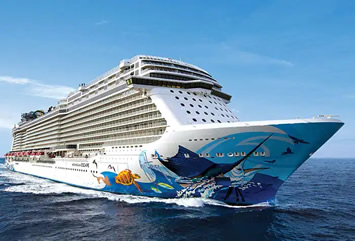 Your Ship - NCL Norwegian Escape
Get ready to sail on one of the most exciting ships on the seas! Cruise Critic
gives the Escape four out of five stars and raves about the "exceptional" dining, bar, and entertainment options. With almost 30 bars and restaurants, you may not get to try all of them in our short week! Broadway-quality performances are "…pitch perfect. The music and performers are flawless and among the best we've seen at sea." Cruiseline.com agrees the entertainment is "phenomenal" and calls it one of the best ships in Norwegian's fleet.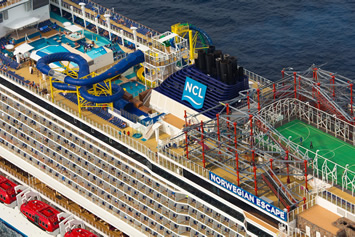 US News & World Report ranks Escape as #3 in Norwegian's fleet, and one of the best ship of any cruise line for groups. Overall rating is 4.1 out of 5, with particular mention of the unique feature of a brewery on board. Reviewers everywhere comment that the Escape really does cater to almost every taste—from cabins to dining to bars to entertainment to activities to everything elsey—ou're going to love her.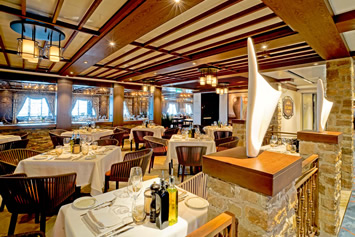 More than 25 Dining Experiences
Dine like nowhere else at sea with all of the freedom and flexibility of Freestyle Dining. Travel somewhere new with familiar favourites and unique additions from around the globe at Food Republic. Or indulge in premium cuts with a side of delicious Parmesan dusted truffle fries at our American steakhouse, Cagney's. Whatever you're in the mood for, we have something for everyone.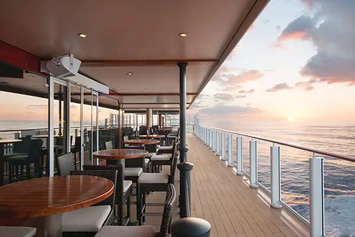 The Waterfront
Connect with the sea on The Waterfront, our quarter-mile oceanfront promenade. Discover a new restaurant or bar each day and night! Pull up a stool at The Cellars Wine bar, offering the ultimate wine experience. Dine oceanside at La Cucina and enjoy delicious lobster fettuccine. Or simply bask in the ocean air and watch the sunset with your friends.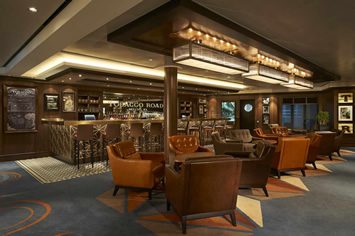 14 Bars & Lounges
Pull up a stool at The Cellars, Norwegian's first ever wine bar. Let your hair down in the District Brew House, offering more than 50 different bottled beers and 24 draft beers on tap. Sip on a hand-crafted mojito at Sugarcane. Or reminisce about the good 'ol days at Miami's oldest bar, Tobacco Road! Grab your glass, make some new friends, and let the good times roll!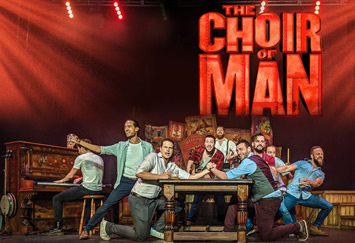 The Choir of Man
Pull up a chair at The Choir of Man and raise your glass to high energy dancing and hit songs that flow as freely as the beer. You'll feel right at home in The Jungle, the rockin' English pub where the talented cast performs everything from classic rock hits and pub tunes to sing-along favourites. Leave your worries behind and toast to a memorable night at this feel good show!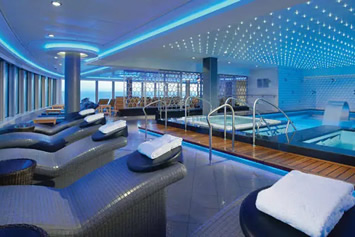 Mandara Spa
When you want some "me" time, look no further than Mandara Spa®. Relax with a hot-stone massage, one of over 50 speciality treatments offered. At our onboard spas, treatments range from the classic to the luxurious. Let our pampering professionals soothe and rejuvenate you with facials, massages, acupuncture and a full menu of services.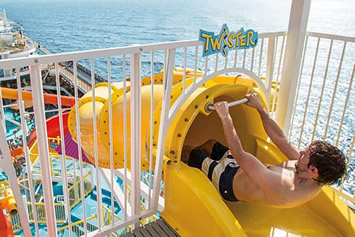 Activities
From top to bottom and from bow to stern, Norwegian Escape has enough onboard activities to fill every minute of your cruise. Think you're brave? Splash around at Aqua Park with Free Fall - the fastest waterslides at sea. Or visit our multi-level Sports Complex and walk The Plank, which extends 8 feet over the side of the ship. Wanna get lucky? Bet it all at our award-winning Casinos at Sea®. With so much excitement, you'll have to come back for more.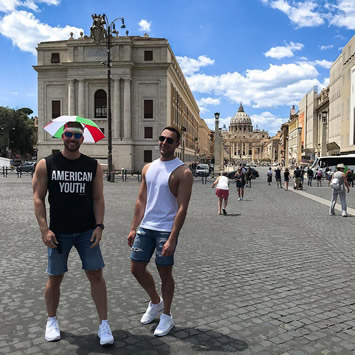 Exclusive extras for our group only
• Cruise Eve Dinner - meet your fellow travelers face-to-face, get a jump start on your vacation and a taste of your host city, Rome, the night before we sail.
• Welcome Aboard Party (with free drinks!) - come meet your fellow Daddies and friends in a warm, welcoming, and casual atmosphere. Play our fun mingling/get-to-know-you activity, and start forging friendships that will last a lifetime.
• Free Welcome Aboard Gifts, including a lanyard for your sailing card ... and them some other surprises!
• Specially reserved group dining in the main restaurant—you'll always have a seat for dinner, surrounded by a bunch of Daddy Cruise friends.
• Onboard Host/Cruise Director - We'll be there to make sure you have a great vacation. We will resolve any issues that may arise, answer questions, and help you enjoy your cruise to the utmost. We'll coordinate and host activities and parties each day-all of which are optional (it's your vacation: pick and choose what you want to be a part of).
• Exclusive excursions just for our group (additional fee applies) - including at least one Impact Activity where we connect with local people while performing a helpful service for the community.
• Special Daddy group activities on board (card games, trivia contests, happy hours, parties, and more!)
• Special discounted rates at our host hotel in Rome before, and Venice after the cruise.
• Private Rome and Venice tours available pre- and post-cruise (additional fees apply).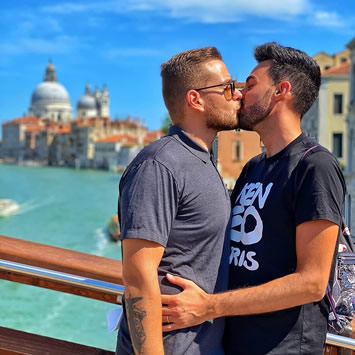 Mediterranean
Gay Daddy Cruise 2024 Itinerary


Date

Port

Arrive

Depart

14 Aug
Rome (Civitavecchia), Italy
7 PM
15 Aug
Naples, Italy
6 AM
6 PM
16 Aug
Messina (Sicily), Italy
7 AM
6 PM
17 Aug
Valletta, Malta
7 AM
3 PM

18 Aug

Corfu, Greece
12 PM
8 PM
19 Aug
Dubrovnik, Croatia
8 AM
8 PM

20 Aug

Fun Day at Sea!

21 Aug
Venice (Trieste), Italy
7 AM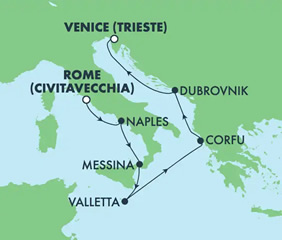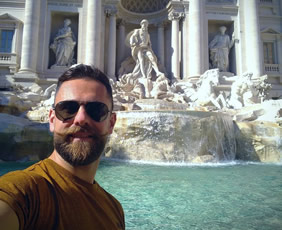 Day 1 - Rome, Italy
As we sail from Rome, the City of Seven Hills, we'll gather for a hosted Meet-n-Greet Party where you'll meet your fellow cruisers and start making new friends right away. We'll be cruising down the Italian coast as the sun sets over the Mediterranean Sea. Dinner is with the Daddy Cruise® group (there's a whole section of the dining room reserved just for us), followed by dancing, a show, comedy act, or whatever you want to do—it's your vacation!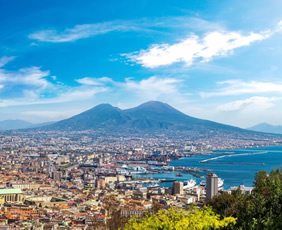 Day 2 - Naples, Italy
Naples is Italy's third-largest city, and a bustling metropolis famed for its stately buildings, crowded streets and of course its signature dish: pizza! But despite that, you'll likely want to leave the city. You face a tough choice, though. Do you tour the fabled Amalfi coast? Miles of beautiful scenery, from the fragrant lemon groves that dot the lush landscape, to the dramatic cliffs that meet the sea below. Or do you take a quick trip to Isle of Capri—posh destination of the rich and famous since Roman times? Or do you walk the ancient streets of Pompeii? When Mt. Vesuvius erupted in 79 AD, it completely buried this city. Today, it's a UNESCO World Heritage Site with fascinating ruins that hint at a once-thriving metropolis. Of course, if you're feeling more adventurous, you can actually climb Mt. Vesuvius itself!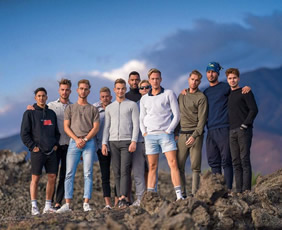 Day 3 - Messina, Sicily
"Picture it: Sicily 1922, a beautiful young peasant girl…" Yes, we're going to Sophia Petrillo's homeland! This part of Sicily has seen forms of human settlement since ancient Greek times. Throughout history, it has served as an important port and gateway to the Mediterranean Sea and Italy. It lies in the shadow of Mt. Etna, a UNESCO World Heritage Site, and the most active volcano in the world! You can stay in Messina and visit the impressive cathedral, square and clock tower. Or venture out to the countryside and see ancient Greek ruins. Maybe even follow the path Michael Corleone walked with his bride, or visit the bar where he stopped to ask her father's permission to marry in The 'Godfather' trilogy—filmed in villages near Messina.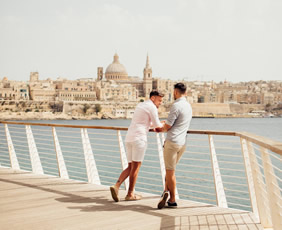 Day 4 - Valletta, Malta
Strategically located between Europe and Africa, Malta has a long and turbulent history. Everyone from the Normans to the Nazis have vied for control of this small, honey-colored rock. Founded in 1566, Valletta's bustling streets are lined with superb Baroque buildings and churches. It was designated a UNESCO World Heritage Site back in 1980. The nearby megalithic stone temples at Gozo are believed to be the oldest freestanding structures on Earth. English is an official language here, and according to the ILGA-Europe Rainbow Index, Malta is the most gay-friendly country in the world. Enjoy!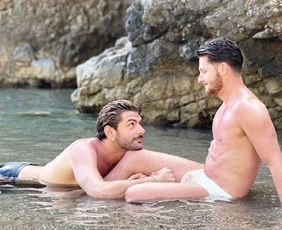 Day 5 - Corfu, Greece
The lush and verdant island of Corfu has a long and colorful history. First colonized by the city-state of Corinth, Corfu has been ruled by the Romans, the Venetians, the French and the English. Corfu Town boasts fortresses bearing the insignia of the Venetian Republic, an esplanade lavishly planted by the French during the Napoleonic Wars, and an English cricket pitch. It's no wonder UNESCO declared the well-preserved old town as a World Heritage Site. While it's not Santorini or Mykonos, Corfu—with cobblestone streets full of old taverns, cafes and shops, with a 15th-century fortress as its backdrop—is truly one of the most intriguing cities in Greece!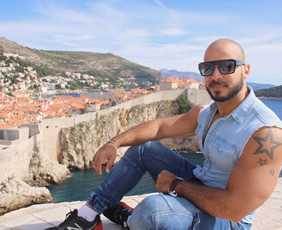 Day 6 - Dubrovnik, Croatia
Dubrovnik is a beautiful stone jewel hugging the Adriatic Sea, nicknamed The Pearl of the Adriatic. This picture-perfect medieval walled city—populated for over 14 centuries—offers ancient stone buildings, narrow cobbled streets and fortified ramparts rising above red-tiled rooftops. An obvious UNESCO World Heritage Site. Dubrovnik starred in 'Game of Thrones' as Kings Landing, stronghold of the Lannister family. Filming exploited the outer walls, as well as the narrow streets of the old town, where several scenes were filmed early in the series. Stradun, the city's main central artery is wonderfully free of vehicular traffic, so you may stroll to your heart's content in a city that has been lovingly restored to its pre-war beauty.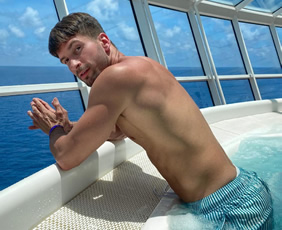 Day 7 - Fun Day at Sea!
This is our only day at sea, so take advantage of the down time before we get to Venice! Relax, unwind. Perhaps you'll want to indulge in a spa treatment (book early!). Lounge on your private balcony or near one of the pools, or maybe even find a quiet nook to settle in with a book. Want to be more active on your day at sea? Play bingo, work out at the gym, watch a movie, dance all night, attend a cooking seminar, soak in a hot tub, watch a sunset (or a sunrise), play trivia games, sing along at the piano bar, do some wine tasting, check your email or surf the internet, grab a snack, watch live entertainment, catch the game in the sports bar, get lucky in the casino, and on and on.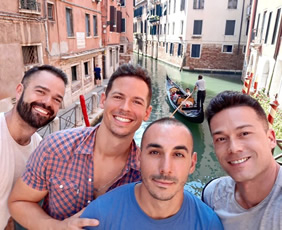 Day 8 - Venice, Italy
Your cruise ends today, but your vacation doesn't have to! Stick around for a few days and explore Venice with us! Near the top of everyone's must-see city, Venice will enchant you. We offer an optional three-day Venetian private tour including hotels, tours, some meals, ground transportation from the ship, and more. Yes, see marvelous Venice with some of your newly made best friends!