Norwegian Viva
Ship Facts
Gross Tonnage: 142,500
Length: 965 ft
Beam: 133 ft
Draught: 28.7 ft
Guests: 3,099
Crew: 1,506
Built: 2023



Puerto Rico Caribbean Gay Daddy Cruise 2024
7 nights from/to San Juan, Puerto Rico
January 21 – 28, 2024
NCL Norwegian Viva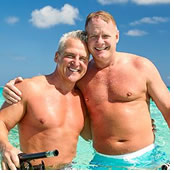 Come join our intimate and super-friendly group of gay guys, daddies, bears, admirers and friends cruising to a part of the Caribbean often missed: the far eastern islands. We'll sail from exotic Puerto Rico to Antigua, St Lucia, St Maarten, St Thomas, Tortola and Barbados. With no days at sea, this cruise is all about the islands! But trust us, when you're on board you'll love the ship, too - you'll be on Norwegian's newest: the Viva! She will only be a few months old when we sail so she'll still have that "new ship" smell. Make your vacation complete with a few days before or after in Puerto Rico - one of our favorite Caribbean islands!
In addition to all the great activities provided by the cruise line, you'll have the option of joining our various private activities that will facilitate and encourage everyone to meet and get to know each other in fun, safe and creative ways.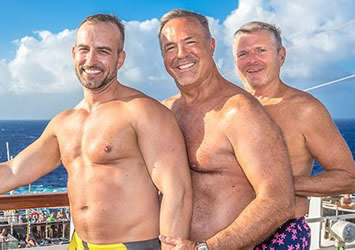 Live it up in paradise on board our newest and most innovative ship ever, Norwegian Viva. Enjoy the scenic vistas along Tortola's Sir Frances Drake's Highway and explore picturesque villages. Then slow things down, way down, in St. John's as you take a sea taxi to expansive beaches for a dip in the warm waters or simply to recline on the sand with your favourite beverage in hand. From Philipsburg, kayak Simpson Bay Lagoon on a guided tour amongst mangrove trees, iguanas and vibrant sea life.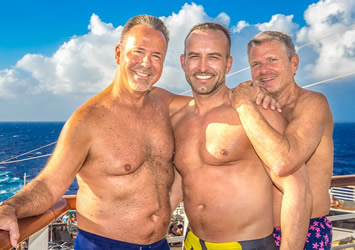 Enjoy an Eastern Caribbean Cruise by travelling to awe-inspiring Islands. Cruise to St. Thomas, St. Maarten, Antigua, the US and British Virgin Islands and everything in between, you're sure to experience it all. Immerse yourself in rich cultures - Dutch and French - whilst you cruise to St. Maarten. Explore underground waterfalls in the caves of St. Thomas. Try amazing Eastern Caribbean street food throughout your trip. Keep your eyes open as you zip through trees and valley. Whatever you dream, your possibilities are as wide open as the Caribbean Sea.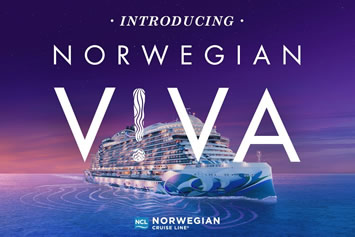 Your Ship - NCL Brand New Norwegian Viva
Escape the dead of winter as you sail the tropics on the brand new Norwegian Viva. Rather than massive spaces, the Viva will have multiple small spaces designed to feel more intimate. She sails first in mid 2023, so there are no reviews out yet, but her sister, the Prima recently debuted to raves.
Cruise Critic
says the Prima feels like a swanky resort instead of a cruise ship. It's "blissfully smaller" than the mega ships coming out these days. The smart design puts all the fun stuff in the middle of the ship, making it easy to navigate - you'll learn your way around by Day 2, not Day 7!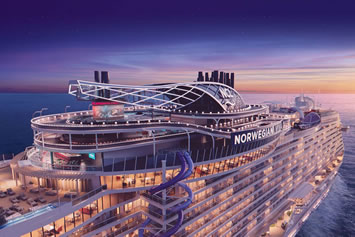 Cruiseline gives the Prima (and likely the Viva, too) 4.8 out of 5 for cabins—spacious and comfortable. They give the same score for staff and service. You'll be treated well here!
The Points Guy says the Prima's (and likely the Viva's, too) array of onboard entertainment and amusements that are as impressive ever. The Prima, he says, takes Norwegian cruising to a new level. Let's see, shall we?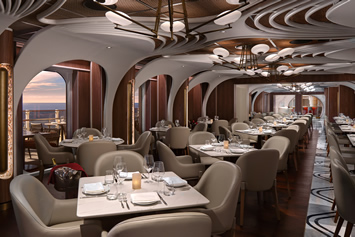 Dining & Bars
Viva's new food scene is something to dine for. Every element of our program has been elevated to a new "Viva standard." New complimentary dining experiences are sure to impress like Hudson's, with its 270-degree views overlooking the stern, and Indulge Food Hall offering 11 stations of extravagant, contemporary, upscale food that can be enjoyed indoors or out.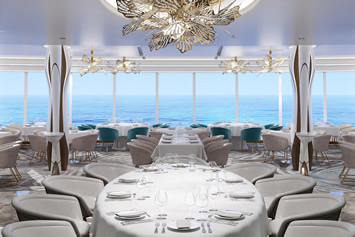 Our newest specialty dining outposts are memorable standouts, especially Palomar - our first-ever Mediterranean seafood restaurant. And, no cruise would be complete without amazing cocktails - from the gorgeous Observation Lounge to drinking under the stars at Vibe Beach Club, you'll be able to sip in style day or night.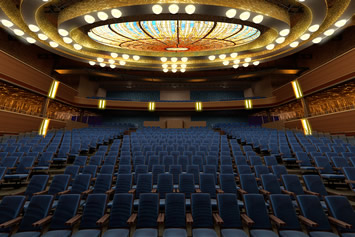 Experiences
Feel the rush of the fastest slides on the open ocean. Then zoom around the world's first three-level race track at sea on our Prima Class ships. From exploring virtual worlds to sipping bubbly at Vibe Beach Club, there's excitement for everyone aboard Norwegian Viva.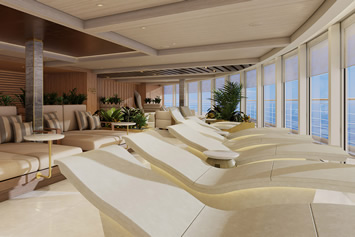 Spa & Fitness
Welcome to a place where the ocean meets the healing waters within — the breathtaking new Mandara Spa. From multiple detoxifying saunas to state-of-the-art pools to a two-story waterfall, the experience on Norwegian Viva will awaken every sense.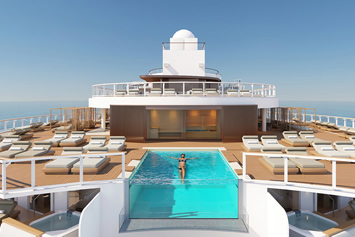 The Haven
Discover unparalleled luxury in The Haven, an exclusive enclave with our most premium and spacious accommodations. Enjoy the personal service of a 24-hour butler and world-class amenities, exclusively reserved for guests of The Haven.
The Haven on Norwegian Viva offers our most exclusive & centralized suite complex ever - all suites are within easy walking distance of private elevators reserved exclusively for The Haven guests. The Haven accommodations are some of our largest suites ever and include our first new three-bedroom suite in 15 years, and the public areas and suites were designed by Piero Lissoni, one of Italy's preeminent designers. Additionally, for the first time, every public area in The Haven offers stunning sea views.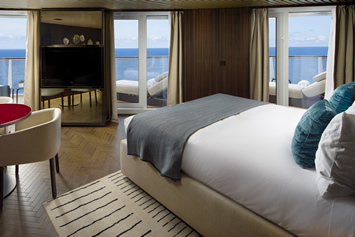 Accommodations
Welcome to your home at sea in some of our most spacious accommodations. Whether you want to freshen up, wind down or kick back with delicious room service, you'll have more room than ever before.
Viva's roomy accommodations are built to accommodate everyone and anyone. Our Balcony, Oceanview and Inside staterooms are the largest they've ever been and all bathrooms and showers are larger than ever before with generous open spacing (are you sensing a theme?).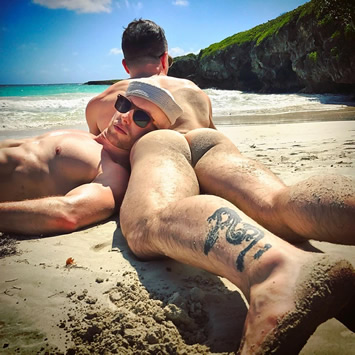 Exclusive extras for our group only
• Cruise Eve Dinner - meet your fellow travelers face-to-face, get a jump start on your vacation and a taste of your host city, San Juan, the night before we sail.
• Welcome Aboard Party (with free drinks!) - come meet your fellow Daddies and friends in a warm, welcoming, and casual atmosphere. Play our fun mingling/get-to-know-you activity, and start forging friendships that will last a lifetime.
• Free Welcome Aboard Gifts, including a lanyard for your sailing card ... and them some other surprises!
• Specially reserved group dining in the main restaurant—you'll always have a seat for dinner, surrounded by a bunch of Daddy Cruise friends.
• Onboard Host/Cruise Director - We'll be there to make sure you have a great vacation. We will resolve any issues that may arise, answer questions, and help you enjoy your cruise to the utmost. We'll coordinate and host activities and parties each day-all of which are optional (it's your vacation: pick and choose what you want to be a part of).
• Exclusive excursions just for our group (additional fee applies) - including at least one Impact Activity where we connect with local people while performing a helpful service for the community.
• Special Daddy group activities on board (card games, trivia contests, happy hours, parties, and more!)
• Special discounted rates at our host hotel in San Juan before, and/or after the cruise.
• Special Puerto Rico after-cruise tour (additional fee applies).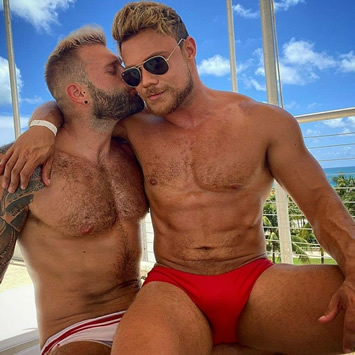 Puerto Rico Caribbean
Gay Daddy Cruise 2024 Itinerary


Date

Port

Arrive

Depart

21 Jan
San Juan, Puerto Rico
8:30 PM
22 Jan
Tortola, British Virgin Islands
8 AM
5 PM
23 Jan
St.John's, Antigua
7 AM
4 PM
24 Jan
Castries, St. Lucia
8 AM
5 PM

25 Jan

Bridgetown, Barbados
7 AM
1 PM
26 Jan
Philipsburg, St. Maarten
10 AM
7 PM

27 Jan

St. Thomas, US Virgin Islands
8 AM
5 PM
28 Jan
San Juan, Puerto Rico
7 AM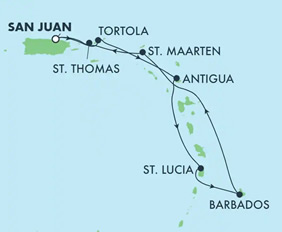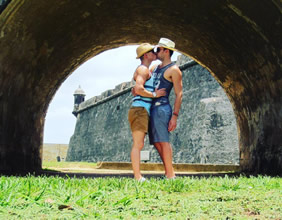 Day 1 - San Juan, Puerto Rico
Our itinerary is a perfect blend of connecting, relaxing, and having fun together. Shortly after sailing out of San Juan, we gather for a hosted Meet-n-Greet Party where you'll meet your fellow cruisers and start making new friends right away. We'll have fantastic views as we sail into the Atlantic, with El Morro and the lights of San Juan in the distance. Dinner is with the Daddy Cruise group (there's a whole section of the dining room reserved just for us), followed by dancing, a show, comedy act, or whatever you want to do—it's your vacation!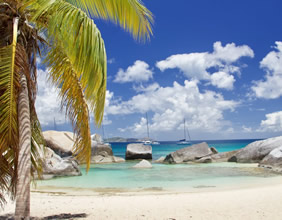 Day 2 - Tortola, British Virgin Islands
Once known as a hideaway for pirates and freebooters, Tortola, the largest island in the British Virgin Islands, is home to Road Town, the islands' capital. Browse the many small shops, enjoy a drink at a harbor café, or simply relax on the spectacular beach at Cane Garden Bay. The island's mountainous terrain makes for fabulous views. On a clear day, you can glimpse the U.S. Virgin Islands (which we'll visit in a few days!). For a real treat, take a ferry across the channel to Virgin Gorda, home of the famous Baths. At this unique beach, gigantic boulders create secluded coves and form picturesque grottos.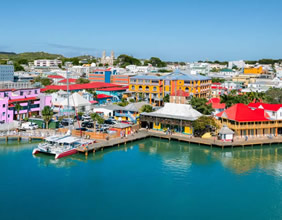 Day 3 - St. John's, Antigua
The largest of the British Leeward Islands, Antigua boasts one of the Caribbean's most spectacular coastlines with secluded coves and sun drenched beaches. The island's rolling hills are dotted with stone sugar mills, relics from the bygone era when sugar was king. Historic Nelson's Dockyard, where Admiral Horatio Nelson quartered his fleet in 1784, attests to Antigua's long and colorful nautical history during colonial times. And St. John's, the island's bustling capital, offers visitors a wealth of boutiques, restaurants and pubs.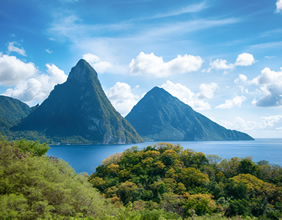 Day 4 - Castries, St.Lucia
St Lucia boasts the world's only drive through volcano. How convenient is that?! Drive right up to the crater and view bubbling pools letting off odorous puffs of steam. Soufriere is the island's oldest town and the birthplace of Napoleon's Empress Josephine. Visit the marketplace with its colorful murals and gingerbread trim. Explore Diamond Botanical Gardens where waterfalls gush from the mouth of a volcano, mineral springs fill the baths with medicinal waters, and flora and fauna abound. From just about anywhere on the island, you'll see the majestic twin peaks of the Pitons, a UNESCO World Heritage Site. They rise directly from the blue waters of the Caribbean Sea. Each mound, created from hardened lava, towers over 2,000 feet in the air.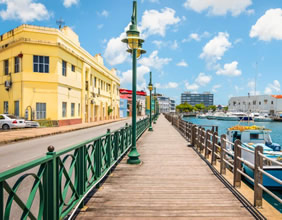 Day 5 - Bridgetown, Barbados
Because Barbados is one of the few Caribbean islands colonized by a single nation, Bajans (that's what they call themselves) describe their country as "more English than England sheself!" But look around and you'll quickly see the difference: lush tropical fields meet a glistening azure sea. From underwater submarine tours to swimming with the sea turtles; from tours of the Sunbury Sugar Plantation to tours of Mount Gay Rum factory (I know, right?!); from climbing around Harrisons' Cave (complete with caverns and underground waterfalls) to climbing up to Gun Hill Signal with its sweeping views of the entire island, Barbados will amaze and astound.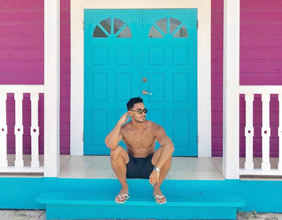 Day 6 - Philipsburg, St. Maarten
This is the smallest inhabited island divided by two countries in the world: Dutch and French. There are no border crossings but the difference between the islands will be quite obvious. The Dutch capital, Philipsburg, claims colonial architecture, historic buildings, wonderful shopping and sun-swept beaches. The French capital, Marigot, is filled with designer boutiques, sidewalk cafes and bistros and trendy art galleries. Wander through the charming streets and experience a taste of France! Venture out to a nearby butterfly farm where large mesh enclosures house a dazzling array of exotic butterflies in their natural, tropical setting. Or find yourself on the famous Orient Beach noted not only for the cool trade winds, light waves and sparkling sand, but the clothing-optional side for the truly natural experience!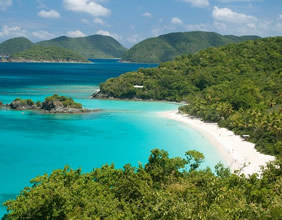 Day 7 - St. Thomas, US Virgin Islands
Like most islands in the Caribbean, St Thomas has plenty of opportunities to lounge on the beach, splash in the sea, or amp it up with watersports. Venture to the other side of the island to behold Magens Bay, often heralded as one of the best beaches in the world! Or stay close to the ship and enjoy Charlotte Amalie, the shopping capital of the Caribbean. While great deals surely abound for art, crafts, and souvenirs, the real prize is jewelry. You'll find some of the best prices (and selections!) anywhere in the world for gold, platinum, silver, watches and gemstones.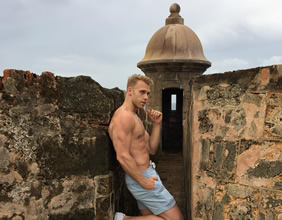 Day 8 - San Juan, Puerto Rico
We sail back to Puerto Rico, arriving San Juan at dawn. Disembark today with great memories, great pictures, and new friends from your all-too-short vacation. You'll quickly realize Puerto Rico's capital city is the gay Caribbean destination you've been searching for. Rich in history & breathtakingly beautiful.