Rhine River Christmas Markets Gay Daddy Cruise 2023
7 nights from Amsterdam, Netherlands to Basel, Switzerland
December 06 – 13, 2023
Viking River Cruises Viking Longship Einar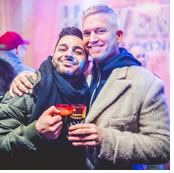 Come join our intimate and super-friendly group of Gay Daddies, Bears, admirers and friends aboard the Viking Longship Einar for a special Christmas-themed cruise on the Rhine River. We sail from cosmopolitan Amsterdam to medieval Basel, Switzerland. After we leave perhaps the most gay-friendly city in the world—Amsterdam, we'll explore the lowlands of the Netherlands before we make several stops in Germany (including Cologne), and end just shy of the Swiss Alps, in Basel. Sailing in early December means we get to visit the famous European Christmas Markets in every port, but still get home in time to spend the holidays with loved ones.
Raise a glass of Riesling to our Rhine River cruise through The Netherlands, Germany, and Switzerland. See how the Rhine, Main and Moselle river systems unfold to create a spellbinding display of storybook villages, Dutch windmills, German vineyards and Gothic cities.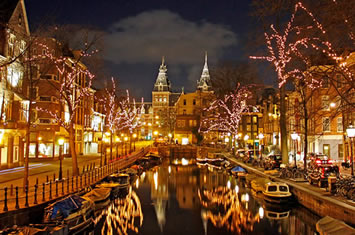 Explore one of Europe's best-loved rivers, the Rhine. Discover the turreted fortresses, grand cathedrals, historic cities, medieval towns and spectacular scenery of the Middle Rhine—a UNESCO World Heritage Site. Taste the region's renowned white wines, the roots of its terraced vineyards reaching back to Roman times. Savor the various culinary traditions of Alsace. From Amsterdam to Cologne and Basel, this journey reveals a rich landscape of beauty and culture.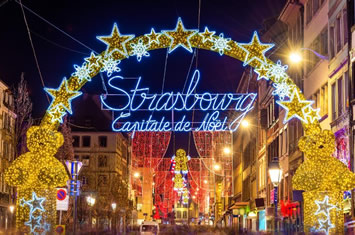 Highlights of the Rhine River Cruise
A Rhine River cruise takes you into the heart of Middle Europe, where stately castles, fairytale villages and cultural centers have long been witnesses to history. The river's banks are brimming with historic treasures, natural beauty and vibrant capitals. Here are a few highlights Viking reveals to you:
• Amsterdam's charming canals and gabled houses
• Windmills of Kinderdijk, a UNESCO World Heritage Site
• Cologne's Gothic Dom
• Rüdesheim's wine-growing region
• Marksburg Castle, perched above scenic Braubach
• Multicultural Strasbourg
• Breathtaking views of the legendary Black Forest
• The distinct French-German culture of Alsace
• Mythical Lorelei Rock at the Middle Rhine Gorge
• Stunning Heidelberg, inspiration to writers and philosophers
• Famous European Christmas Markets in every port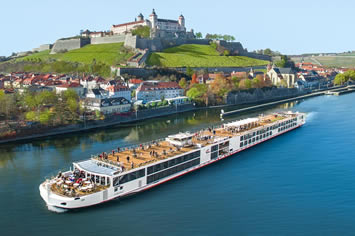 Your Ship - Viking River Cruises Viking Longship Einar
We sail out of Switzerland on the brand new Viking Longship Einar (she launched in late 2019). Cruise Critic
awards her 5 out of 5 stars and members' ratings also average 5 out of 5! The first thing you notice upon boarding is all the natural sunlight—yes, views from anywhere on board will be great! Decked out in Scandinavian styling, the ship makes clever use of space. And you can feel good knowing you're on a 'green' ship with hybrid diesel-electric engines that burn less fuel and produce 20% fewer emissions. Solar panels on top help fuel the engines and the ship's chef even maintains an organic herb garden up there!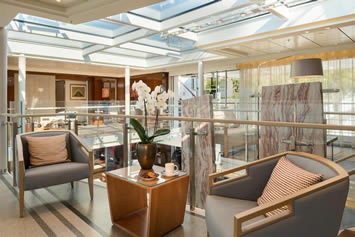 Because we spend so much time in port, the focus is more on the destinations, and less on the actual sailing. That's why a shore excursion in each port is included in the price of this cruise! There's no gym on board (you'll get your exercise exploring the fabulous cities and towns we visit). No theater with huge Broadway-style productions because you'll still be in port checking out the local nightlife instead! That said, you'll still have plenty to appreciate on board. Service is top notch! According to Cruise Critic
, food is "another highlight" with a menu that focuses on regional cuisine and signature dishes that are "perfectly prepared". The décor throughout is understated and minimalist. Little touches everywhere will amuse, pamper and amaze you.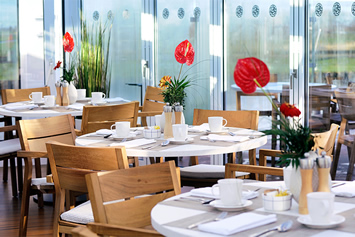 Longship Features
• 95 comfortable outside staterooms (25 Standard Staterooms, 22 French Balcony Staterooms, 39 Veranda Staterooms, 7 Veranda Suites, 2 Explorer Suites)
• All suites feature two full-size rooms with a veranda off the living room & a French balcony in the bedroom
• Sun Deck with 360-degree views & shaded sitting area; organic herb garden & solar panels; putting green & walking track
• Aquavit Terrace & Lounge, a revolutionary indoor/outdoor viewing area at the bow of the ship for al fresco dining
• Viking Lounge & Bar with floor-to-ceiling glass doors
• Restaurant with floor-to-ceiling windows for panoramic views
• Library & onboard shop
• Elevator from Middle to Upper Deck only; no elevator access for categories E & F
• Free Wi-Fi (connection speed may vary)
• Laundry service
• Ecologically friendly hybrid engines producing less vibrations for a smoother ride
• 40" flat-screen Sony TV with infotainment system featuring Movies On Demand, plus CNBC, CNN, National Geographic & more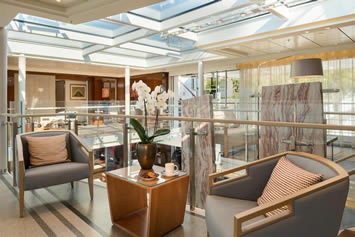 Exclusive extras for our group only
• Cruise Eve Dinner—meet your fellow travelers face-to-face, get a jump start on your vacation and a taste of your host city, Amsterdam, the night before we sail, on a canal dinner cruise (additional fee).
• Let's Cruise Away Welcome Aboard Party (with free drinks!)—come meet your fellow Daddies and friends in a warm, welcoming, and casual atmosphere. Play our fun mingling/get-to-know-you activity, and start forging friendships that will last a lifetime.
• Free Welcome Aboard gifts for each guest
• Onboard Host/Cruise Director—We'll be there to make sure you have a great vacation. Our colleagues will resolve any issues that may arise, answer questions, and help you enjoy your cruise to the utmost. We'll coordinate and host activities and parties each day—all of which are optional (it's your vacation: pick and choose what you want to be a part of).
• Exclusive excursions just for our group (in addition to the free excursions offered by the ship), including at least one service project: in the past we've helped deliver vital home supplies to hurricane victims, and assembled hygiene kits for local LGBTQ homeless, etc.
• Special Daddy group activities on board (card games, trivia contests, happy hours, parties, etc.)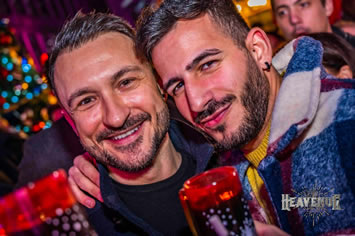 Rhine River Christmas Markets
Gay Daddy Cruise 2023
Itinerary


Date

Port

Meals

06 Dec
Amsterdam, Netherlands
D
07 Dec
Kinderdijk, Netherlands
B, L, D
08 Dec
Cologne, Germany
B, L, D
09 Dec
Koblenz, Germany
B, L, D

10 Dec

Speyer & Rudesheim, Germany
B, L, D
11 Dec
Strasbourg, France
B, L, D

12 Dec

Breisach, Germany
B, L, D
13 Dec
Basel, Switzerland
B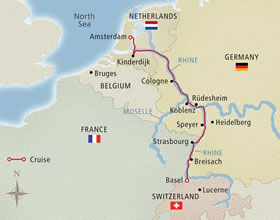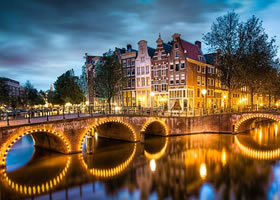 Day 1 - Amsterdam, Netherlands
Our adventure begins in one of the greatest—and gayest—cities in the world. It would be a shame to come all this way and not explore a bit before the cruise, so we'll offer a hosted tour of Amsterdam
before the cruise even begins, including a gay Amsterdam walking tour and a canal cruise dinner the night before we depart (additional fee).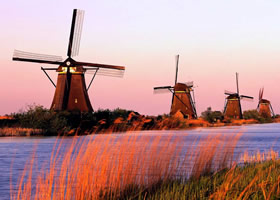 Day 2 - Kinderdijk, Netherlands
This morning, we enjoy sailing the scenic Rhine along the Dutch countryside. We'll sample Dutch cheeses and jenever—a distilled juniper liquor made here. Kinderdijk is a UNESCO World Heritage Site for its windmills and other flood management systems that will amaze you with their ingenuity. Buy your wooden shoes here before we enter Germany tomorrow!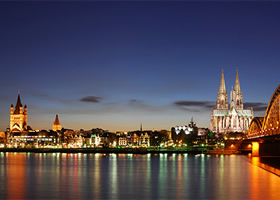 Day 3 - Cologne, Germany
Germany's 4th-largest city, Cologne offers so much! The most impressive sight, though, is Cologne Cathedral—Germany's largest cathedral and yet another UNESCO World Heritage Site. It's Germany's most visited landmark for good reason: it's massive! At 515 feet, it's the world's tallest two-spired church, and the towers for those spires help give it the largest façade of any church in the world. Culinary thrills abound, brewhouses are plentiful here, and there's even a chocolate museum. While each of our ports hosts at least one Christmas Market, Cologne has several, including a gay Christmas Market! Yes, the "Heaven is a place on Earth" market will boast colorful booths in pop art style, and decorations with romantic elements—you won't want to miss this one!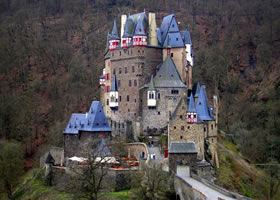 Day 4 - Koblenz, Germany
This morning we visit Koblenz and tour the 700-year-old Marksburg Castle—the only castle on the Rhine that has never been destroyed. After lunch, we'll sail along the most scenice part of the Rhine, where turreted castles and fortresses overlook the river from their hilltop posts. Another UNESCO World Heritage Site, this is the beautiful Middle Rhine. Here, too, are some of the steepest vineyards in Europe, which means great wines abound!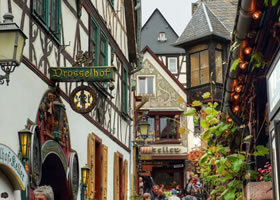 Day 5 - Speyer and Rudesheim, Germany
See the Speyer Cathedral (yet another UNESCO World Heritage Site) built in the 11th century. The building's design influenced Romanesque architecture for centuries after, and is the final resting place of eight German monarchs. Or, visit Heidelberg, home to Germany's oldest univeristy and the famous Heidelberg Castle with fantastic views of the Neckar River Valley.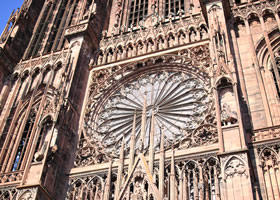 Day 6 - Strasbourg, France
Capital of the Alsace region, Strasbourg is the first place designated by UNESCO as a World Heritage Site that was not a monument, but an entire historic city center. At the German border, Strasbourg boasts a strong German influence here in France—food is hearty, but with the delicacy and presentation of the French. Fois gras was invented here, as was the tarte flambee—like pizza—which is great for snacking any time of day! Don't forget to see the Strasbourg Cathedral, one of the greatest examples of late Gothic architecture in the world.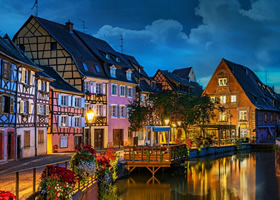 Day 7 - Breisach, Germany
Breisach is the gateway to the Black Forest. We'll take a scenic excursion (included) through the area's renowned mountain landscape, rolling meadows and dense forests. While there, we visit a local workshop to see a cuckoo clock-making demonstration, and learn how Black Forest Cake is made. After lunch, explore on your own: discover the storybook charm of nearby Colmar, France with its streets lined with medieval, Gothic and Renaissance buildings, and visit a fine arts museum. Or, check out Colmar's World War II history.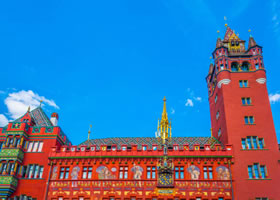 Day 8 - Basel, Switzerland
Our journey ends in Basel
, a charming, medieval Swiss city. Its old town centers around Marktplaz, dominated by the 16th-century, red sandstone Town Hall, and its Gothic cathedral that has fantastic city views. You won't want to go home just yet: join us on our post-cruise tour of Zurich and the Swiss Alps (additional fee).