Paul Gauguin
Ship Facts
Guests: 332
Crew: 217
Tonnage: 19,200
Length: 513 feet
Width: 71 feet
Draught: 16.9 feet
Maximum speed: 18 knots
Registry: Bahamas


Tahiti, Marquesas, Society Islands & Tuamotus
French Polynesia Luxury Gay Group Cruise 2022
15 days from/to Papeete, Tahiti, French Polynesia
April 09 – 23, 2022
Paul Gauguin Cruises M/S Paul Gauguin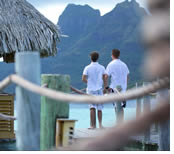 With two full weeks in the Marquesas, Tuamotus & Society Islands, there is ample time to soak up everything that makes this corner of the world so spectacular. Whether you're inclined to wander white-sand beaches and read a book in the shade of a palm tree or would rather dive right in to the active pursuits available both above and below water, in the South Pacific, it's all here waiting for you.
Beauty surrounds you on this 15-day sojourn, both on land and underwater. The Society Islands beckon with lush rainforests, crystal-clear lagoons, and warm breezes that encourage nothing but indulgent beachside lounging. Continue on to the Tuamotu Archipelago & Marquesas Islands, a collection of low-lying atolls known the world 'round for their vibrant underwater ecosystem. The cruise of a lifetime aboard the award-winning m/s Paul Gauguin is closer than you think!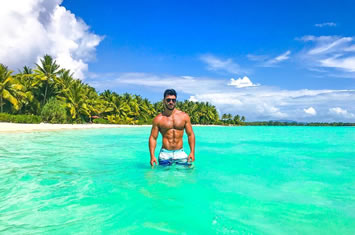 Paul Gauguin Cruises is proud to offer an extraordinary value in luxury cruising, thanks to their all-inclusive pricing. Spend more time enjoying your cruise vacation and less time worrying about every little detail when it's all been taken care of—from gourmet dining to onboard gratuities, and so much more.
We will have a gay group aboard (not a private charter) and will have a gay group host (on minimum participation.)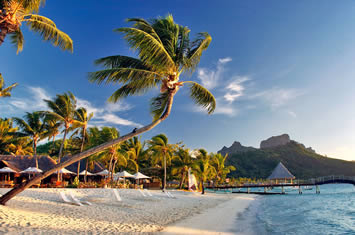 Tahiti, Marquesas, Tuamotus & Society Islands
French Polynesia Gay Group Cruise Highlights
With two indulgent weeks in the Marquesas, Tuamotus, and Society Islands, there's ample time to soak up everything that makes this corner of the world so spectacular. Whether you're inclined to wander white-sand beaches and read a book in the shade of a palm tree or would rather dive right in to the active pursuits available both above and below water, in the South Pacific, it's all here waiting for you.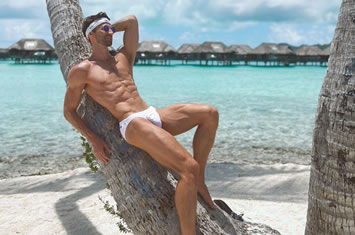 • The nature lover's paradise of Fakarava offers front-row seats to rare birds, plants, and crustaceans you won't see anywhere else in the world. And, you won't need to take an excursion deep into the jungle to see them—many of these exotic species can be spotted from the island's pink-sand beaches.
• History and culture are in the forefront on the island of Hiva Oa, which is the home of the largest stone sculptures in the Marquesas, which are said to be linked to the famous tikis of Easter Island.
• Live the life idyllic with a memorable day on Motu Mahana, our own private slice of paradise. On this exclusive islet, treat yourself to sand between your toes, the shade of swaying palm trees, a sumptuous barbecue lunch, and, of course, drinks sipped from coconuts.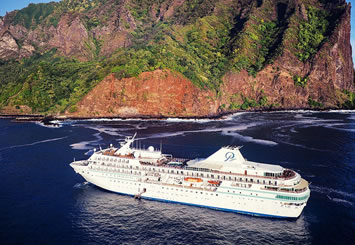 Your Ship - Luxury m/s Paul Gauguin
Designed specifically to glide through the shallow seas of the South Pacific, The Gauguin is the flagship of Paul Gauguin Cruises and a small-ship cruiser's dream. She delivers travelers to intimate ports inaccessible to larger cruise ships, all the while providing an onboard experience that is nothing short of luxurious. Guests aboard our luxury cruises enjoy spacious suites and staterooms (more than 70% with private balconies), an onboard watersports marina, three dining venues, an extensive spa, and five-star service. Life onboard also reflects the beauty and rich cultural heritage of the islands she calls upon, with a warm, friendly feel, informal setting, and even a beloved troupe of Gauguines and Gauguins—local Tahitians who serve as cruise staff, entertainers, and storytellers.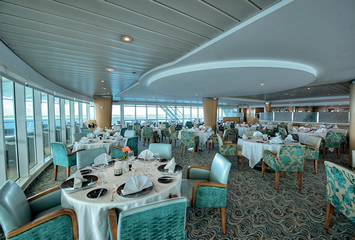 Dining
During every meal onboard The Gauguin, with every sumptuous bit you sample, and each time our attentive staff fill your glass, you'll begin to realize that dining on the high seas with Paul Gauguin Cruises is truly something special. Embark upon a five-star culinary adventure, designed just for you by some of the world's most talented and award-winning chefs, including Jean-Pierre Vigato. What's more, every one of our onboard dining options is included in your cruise fare. Bon appétit!
La Veranda
Dine al fresco or enjoy wraparound ocean views from the dining room of La Veranda, where we offer an ever-changing selection of buffet breakfast and lunch items and a la carte options, many of which are inspired by the destinations we visit. In the evening, La Veranda is transformed to a reservation-only dining venue serving Jean-Pierre Vigato's gourmet cuisine.
Le Grill
When your day's plans call for a more casual dining experience, join us at Le Grill, located by the pool and offering a buffet breakfast, grilled lunch favorites, salads, and fresh tropical fruit. In the afternoon, stop by for tea with finger sandwiches, fresh fruit, desserts, pastries, and petit fours. Return in the evening to sample Polynesian specialties in a relaxed atmosphere. Reservations required for dinner.
L'Etoile
Our exquisite main dining room is dressed to impress with perfectly appointed décor, fine table linens, and delicate china. Join us every evening for dinner and sample a tantalizing array of expertly prepared dishes, perfectly paired with complimentary wines.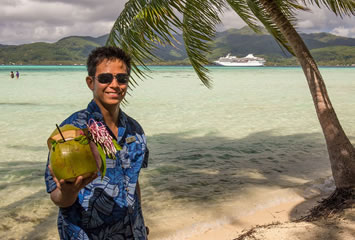 Life Onboard
When you travel onboard The Gauguin, you won't spend your days at sea simply biding your time until we arrive at our next destination. On our ship, every day (and night!) brings new and exciting opportunities for entertainment and enrichment.
Les Gauguins & Les Gauguines
On every voyage of The Gauguin, we're accompanied by our own troupe of Tahitian hosts and entertainers that bring the spirit of Polynesia to life. Enjoy a retelling of ancestral legends through dance, delight in traditional songs onboard and on our private motu, and learn local handicrafts during hands-on demonstrations. Couples celebrating a honeymoon or anniversary can even attend a Polynesian blessing ceremony.
Local Entertainment
In addition to Les Gauguins & Les Gauguines, on every voyage we invite local performers onboard to entertain you. Don't miss an evening spent with local group Mamas and Papas, whose dynamic performance of Polynesian dance and singing is a perennial guest favorite.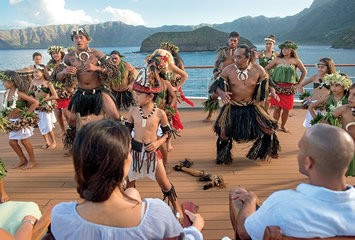 Crew Show
The crew members onboard The Gauguin are certainly experts at providing first-class service to our guests, but they also boast many other talents that we're proud to showcase in our crew show. Every voyage offers something different, but you're always guaranteed a night of amazing entertainment, much of which showcases the unique cultures of our crew members' home countries.
Le Grand Salon
When the sun goes down at sea, Le Grand Salon comes alive with spectacular performances. Every night brings something different, whether it's Les Gauguins & Les Gauguines performing ote'a—a complex line dance accompanied by drums—live piano music, Broadway show tunes, or foot-tapping rock music. Return to our main lounge during the day for a game of table tennis or lecture from a roster of anthropologists, archeologists, and marine biologists, as well as visiting experts on other popular topics.
Le Casino and Piano Bar
Try your luck in Le Casino, which features slot machines, blackjack, and roulette, and is open every evening, except where prohibited by port regulations. We also invite you to grab a drink at the Piano Bar and enjoy nightly piano entertainment.
La Palette
This versatile lounge offers morning snacks, serves as the backdrop for special events, hosts Polynesian activities led by Les Gauguines, and is the perfect place to grab a nightcap and dance under the stars to live music.
Pool and Pool Bar
Soak in the South Pacific sunshine with a day spent lounging by our outdoor pool. Cool off in the refreshing water, grab a cocktail from the adjacent Pool Bar, or take in the scenery from a comfortable lounge chair.
La Boutique
Just steps from your stateroom, find the perfect memento of your South Pacific cruise, like genuine Tahitian black pearl jewelry exclusively designed for Paul Gauguin Cruises, Tahitian vanilla, local arts and handicrafts, souvenir apparel, and more. It's also the perfect place to pick up any necessary sundries or toiletries, like swimwear, beach attire, sunscreen, and batteries.
Photo Shop
Ensure that your vacation memories last a lifetime with services from Paul Gauguin Cruises' Photo Shop. A dedicated photographer accompanies us throughout our cruise, giving you the opportunity to take home professional photos of significant events, like embarkation, the Captain's Welcome Reception and Tahitian Night. Family portraits and casual photo-ops are also available. The Photo Shop is also stocked with everything you need to take your own photos, including single-use cameras, digital cameras, photo accessories, and media cards.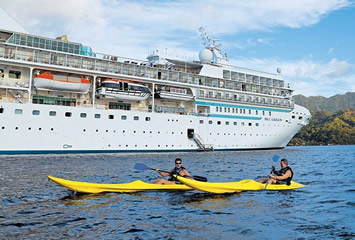 Watersports
The waters of French Polynesia and the South Pacific offer a world of wonders with translucent lagoons, rainbow-colored coral reefs, and a myriad of tropical fish. A highlight of the Paul Gauguin Cruises' experience is watersports and we offer many opportunities to explore these seas.
SCUBA Diving Excursions
If you've always wanted to try SCUBA diving, your cruise on The Gauguin is the perfect opportunity. Our onboard marina offers diving excursions for all experience levels, and we're the only luxury ship in French Polynesia to offer PADI certification classes for novices.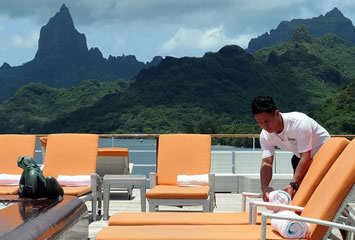 Fun in the Sun
You'll also have plenty of time to enjoy the South Pacific sunshine on our pool deck. Take a refreshing dip in the water or perhaps grab a beverage from the Pool Bar, a good book, and a deck chair, and settle in for a leisurely afternoon.
Watersports Marina
Our specially designed watersports platform turns the ship into your headquarters for all kinds of adventures on the water. It's as easy as descending to sea level and hopping aboard a paddleboard or launching a kayak.
Our watersports equipment is also available when we call upon our private beaches. Plus, if you plan on snorkeling in multiple ports, you're welcome to check out snorkeling gear from the marina for the duration of your cruise.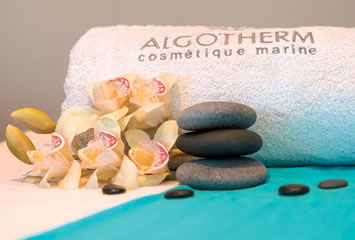 Spa & Fitness
Leisurely days at sea offer the perfect opportunity to treat yourself to a little "me time," whether that's an indulgent treatment at our award-winning onboard spa, or a workout in our fitness center.
Deep Nature Spa by Algotherm
With its unrivaled approach to beauty and rejuvenation, the spa onboard The Gauguin combines the art of gentle pampering with services that are uniquely tailored to the needs and wishes of each individual.
Our spa offers an extensive range of services, enveloped in an atmosphere that is both tranquil and luxurious. Shipboard treatments include skin care therapies, skin exfoliation, massage, reflexology, aromatherapy, body wraps, facials, beauty treatments, nail services, and hair styling. We are also happy to offer relaxing overwater massages during the day you'll spend on Motu Mahana, our private South Pacific paradise.
Fitness Center
Our convenient fitness center is outfitted with the latest fitness equipment, including Lifecycles, treadmills, stair climbers, and weight machines. Other onboard fitness opportunities include a morning mile-long walk around decks 8 and 9 and a sunrise Polynesian-inspired Zumba class, both hosted by Les Gauguines.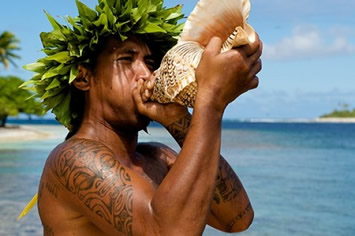 Tahiti, Marquesas, Tuamotus &
Society Islands
French Polynesia Gay Cruise Itinerary


Date

Port

Arrival

Depart

09 Apr
Papeete, Tahiti, Society Islands
3 PM
11:55 PM
10 Apr

Fun Day at Sea!

11 Apr
Fakarava, Tuamotus
8 AM
5 PM
12 Apr

Fun Day at Sea!

13 Apr

Omoa, Fatu Hiva, Marquesas Islands
8 AM
6 PM
14 Apr
Atuona, Hiva Oa, Marquesas Islands
8 AM
6 PM

15 Apr

Hapatoni, Tahuata, Marquesas Islands
8 AM
6 PM
16 Apr
Taiohae, Nuku Hiva, Marquesas Islands
8 AM
6 PM

17 Apr

Fun Day at Sea!

18 Apr

Fun Day at Sea!

19 Apr

Huahine, Society Islands
8 AM
5 PM
20 Apr
Bora Bora, Society Islands
8 AM
11 PM

21 Apr

Taha'a, Society Islands
9 AM
5 PM
22 Apr
Moorea, Society Islands
8 AM
5 PM

22 Apr

Papeete, Tahiti, Society Islands
7:30 PM
23 Apr
Papeete, Tahiti, Society Islands
8 AM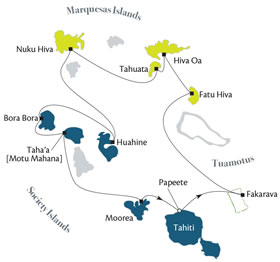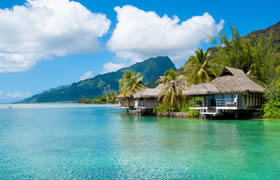 Day 1, Saturday, April 9, 2022
Papeete, Tahiti, Society Islands
Embark the m/s Paul Gauguin in Papeete, Tahiti
, Society Islands. A gorgeous collection of volcanic islands strewn across the blue Pacific, Polynesia paints a stunning picture. And, as the capital city on the largest of all 118 islands, Papeete offers endless opportunities for exploration and relaxation. Dynamic dining, nightlife, and shopping can be found around every corner, and Papeete serves as a departure and arrival port for this exciting 15-day voyage.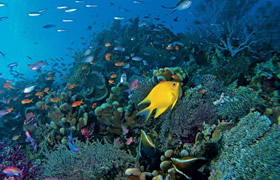 Day 3, Monday, April 11, 2022
Fakarava, Tuamotus
An atoll in the west of the Tuamotu group, the unspoiled paradise of Fakarava has been designated as a UNESCO Biosphere Reserve for many rare species that call this island home, both above and under the water. In addition to nature lovers, those in search of historical and cultural significance can explore charming villages, ancient temples, and coral churches.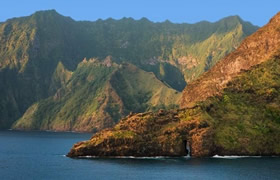 Day 5, Wednesday, April 13, 2022
Omoa, Fatu Hiva, Marquesas Islands
The southernmost island in the Marquesas, Fatu Hiva may also be the most beautiful. This remote paradise has no airstrip, only one road, and just 500 residents. A century ago, the island was known as a haven for sailors looking to avoid the attention of the authorities. Today, it's known for the production and sale of tapa, beaten bark cloth decorated in ink with traditional Polynesian artwork.
Day 6, Thursday, April 14, 2022
Atuona, Hiva Oa, Marquesas Islands
Above the steady rumble of the Pacific surge, the sharply sculpted mountains of Hiva Oa hide their summits in the mists of rain-filled clouds. The largest and most fertile island in the southern group of the Marquesas, Hiva Oa has deep valleys, lush plateaus and thickly wooded forests. The main town of Atuona is a favorite port of call for yachters, who dock within Traitors Bay. And, Paul Gauguin himself called the town home and is buried on the island.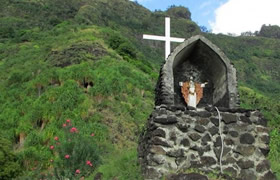 Day 7, Friday, April 15, 2022
Hapatoni, Tahuata, Marquesas Islands
Its name means "sunrise" in Marquesan, and this tiny, 19-square-mile island in the Marquesas archipelago is just as beautiful as the name suggests. Visitors arrive via the charming seafront village of Hapatoni, with tamanu trees shading an ancient paved royal walkway and the air smelling of tiare and frangipani. The island's beauty extends to its architecture too, especially its huge Catholic church, which was built by the Vatican and decorated with stunning stained-glass windows and beautiful local carvings.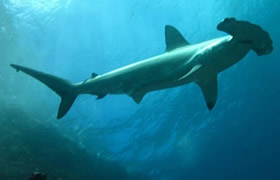 Day 8, Saturday, April 16, 2022
Taiohae, Nuku Hiva, Marquesas Islands
A charming seafront village, Taiohae is the administrative, economic, educational, and health center of the Marquesas Islands and the gateway to the island of Nuku Hiva's natural beauty. Visitors are enchanted by lush valleys, impossibly blue bays, sky-high waterfalls, and ancient ruins—it's no wonder Nuku Hiva is called "Mystic Island."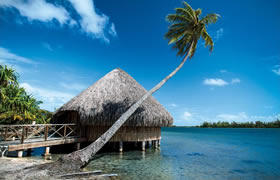 Day 11, Thursday, April 19, 2022
Huahine, Society Islands

Huahine is known as "The Garden Island" for its beautiful rainforests, dramatic terrain, and enchanting lagoon. Travelers will find something new to explore around every bend, from sacred sites and archeological landmarks that are among the best preserved in French Polynesia to the colorful sea life that can be experienced on a SCUBA or snorkeling expedition.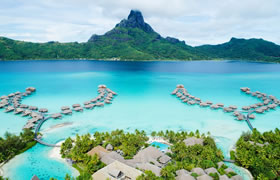 Day 12, Wednesday, April 20, 2022
Bora Bora, Society Islands

You will enjoy a full day in the dream destination of Bora Bora. This magical island just begs to have its picture taken, with lush peaks, white sand beaches, and romantic lagoons. But perhaps Bora Bora's most iconic image that of Mount Otemanu, with its jagged, emerald-hued peaks rising high above the shoreline. With only 4,225 inhabitants and a laid-back, island vibe, visitors to this beautiful corner of the world can't help but just relax and take it all in.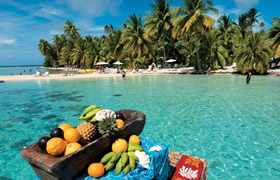 Day 13, Thursday, April 21, 2022
Taha'a, Society Islands
Enclosed in a common lagoon with Raiatea and accessible only by boat, Taha'a is an ideal island for a relaxing getaway. A sleepy island that boasts only a handful of guesthouses and small hotels, Taha'a maintains an authentic Polynesian flavor. And speaking of flavors, it produces about 80% of French Polynesia's world-renowned vanilla, a must-buy during a visit to the island.
Taha'a is also home to Motu Mahana, Paul Gauguin Cruises' private island. Guests are welcomed with traditional music performed by Les Gauguines & Les Gauguins, a beachside barbecue, and ample opportunities for watersports, swimming, and relaxation.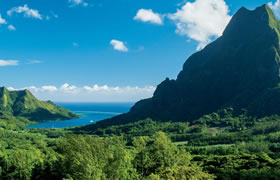 Day 14, Friday, April 22, 2022
Moorea, Society Islands
Moorea, often likened to James Michener's mythical island of Bali Hai, is worth a visit just to experience its spectacular vistas. Volcanic peaks, reflected in the waters of Cook's Bay and Opunohu Bay, rise like a shark's jaw above palm tree-lined beaches. The underwater world is just as enchanting, with sharks, tuna, dolphins, and tropical fish—no wonder it's a popular destination for divers.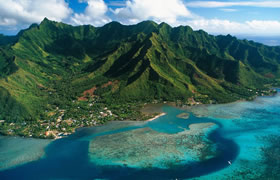 Day 14, Friday, April 22, 2022
Moorea / Papeete, Tahiti Society Islands
Vibrant colors abound on Moorea, in everything from fresh fruits and flowers to multi-hued lagoons, and from spectacular mountain peaks to palm-fringed beaches. Shop for local handicrafts, embark on an optional dolphin-watching expedition with a marine biologist, and sample the local pineapples, said to be the most delicious in all of French Polynesia.
We arrive back to Papeete at 7:30PM where you will overnight aboard the m/s Paul Gauguin. Take in some of the exciting nightlife including the food truck round up.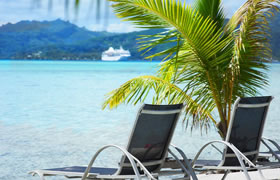 Day 15, Saturday, April 23, 2022
Papeete, Tahiti Society Islands

Disembark in Papeete, Tahiti
, Society Islands. Tahiti's capital city of Papeete welcomes you back with emerald hillsides, sapphire waters, and warm breezes. If you're not ready for your South Pacific vacation to end, spend a few days here experiencing resorts, spas, restaurants, nightlife, and shopping.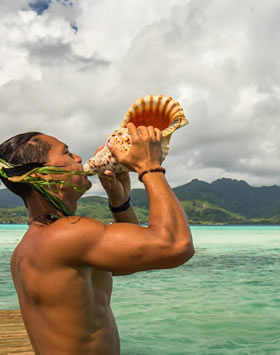 What's Included ?
When you travel on board The Gauguin, you'll enjoy:
• All shipboard meals, in your choice of venues
• Complimentary 24-hour room service
• Complimentary beverages, including select wines and spirits, beers, soft drinks, bottled water, and hot beverages served throughout the ship
• In-room refrigerator replenished daily with soft drinks, beer, and bottled water
• All shipboard entertainment, including our troupe of Polynesian performers and live music in the evenings
• Presentations by onboard experts, and select sailings feature guest hosts
• Onboard gratuities for room stewards, dining and bar staff
• Watersports, including complimentary kayaking and paddleboarding from our marina or destination beaches
• Use of Paul Gauguin's secluded, white-sand beach in Bora Bora with bar service, volleyball, and snorkeling
• A day on our private islet, Motu Mahana, off the coast of Taha'a, featuring snorkeling, watersports, a barbecue, full bar service, and Polynesian hospitality