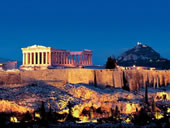 Gay Nude Sailing Cruise along the beautiful Greek Islands of of the Cyclades in Greece, starting on the Gay Island of Mykonos and sails you (back) to Athens. Let our Gay skipper guide you over the Greek seas. You can also book this cruise together with the week before and make a two week nude cruise. Both weeks have a different itinerary. We sail with two luxury sailing yachts, so 22 nude gay guys together!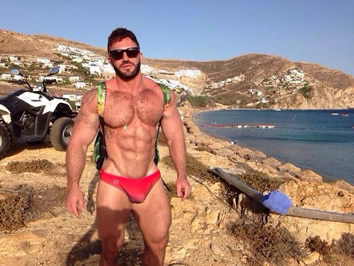 Day 1 - Mykonos
Disembark in the morning for the guys who are leaving and after cleaning the yacht we are ready to receive the new guys. Boarding starts at 5 PM. Welcome drink by the Skipper and dinner in Mykonos town. After dinner time to explore the gay life of Mykonos.
Day 2 - Syros
Syros you visit for the Greek atmosphere, the culture or just because you want to see something different. The capital with all the streets, staircases, churches and old buildings are beautiful. Actually is Syros a "must see".
Day 3 - Kithnos
After breakfast we set sail to the island Kithnos. On the West side there is bay with an interesting sand bar for swimming and great pictures. We can take a hike up to the top of the island were the white Chora (town) lies. On the East side there is an ancient Greek/Roman mineral springs.
Day 4 - Poros
Today a long sail to the famous Island of Poros where Mike will welcome is with a drink and dinner.
Day 5 - Perdika
Perdika, a small village on the Island of Aegina. From here you can visit the famous temple of Aphaea.
Day 6 - Epidavros
The last harbor we usually call at is Epidavros, a small, natural harbor on the Peloponnese. Here you can visit a world famous amphitheater, renowned for its wonderful acoustics. If you like to sing, this is your chance.
Day 7 - Athens
From Epidaurus we sail back to Athens. We will have in dinner in the historical neighbourhood of Athens: Plaka and if you like, visit the Gay bars and clubs after dinner.
Day 8 - Athens
Disembark after breakfast.
This itinerary is subject to change. Local circumstances such as weather may influence the itinerary..