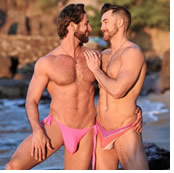 A cruise in the Ionian islands means admiring the magnificent landscapes between white cliffs and turquoise waters while disconnecting and enjoying a relaxing holiday, rocked by the sun. The Ionian Islands are an emerald scattering of seven main islands – Zante, Kefalonia, Atokos, Ithaca, Corfu – found off the west coast of mainland Greece. The region is famed for pristine beaches, the unforgettable blue of the sea, and the lush Mediterranean landscape. Several lesser-known smaller islands make up this paradise cluster. Join us for sightseeing & relaxation on Greek Ionian Islands Zante all-gay cruise!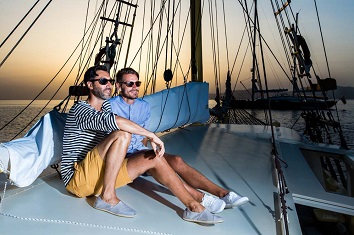 We will spend a week at sea, exploring the very best of this island cluster paradise, stopping in Poros, Agia Efimia, Vathi, Fiskardo, Meganisi, in a round trip from Zante .
This trip is best suited for those who want to set sail for discovery, heritage and historical sightseeing, the best of nature and deserted beaches, on-deck sea-view unwinding and the friendly atmosphere of a small ship gay cruise.
The friendly crew will attend to all your needs along the way. There are freshly prepared meals (Breakfast and Lunch), and all cabins include a private bathroom and air-conditioning. More about Zante cruise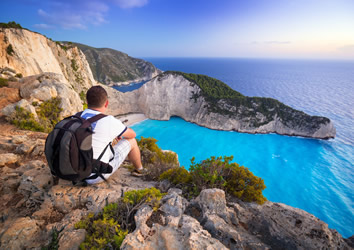 Gay Zakynthos is not about clubbing, Gay Zakynthos is about exploring, relaxing and, of course, swimming. Zakynthos is one of the most beautiful islands in Greece, especially known for its golden-sand beaches, and picturesque villages. The gay acceptance on the island is at very high levels, and a great percent of its annual visitors are gay.
Zakynthos, also known as Zante doesn't have any local gay community, actually, the population of Zakynthos is very little, just like in most of the Greek islands, with a few exceptions. The best period to visit Zante is naturally summer since we are talking about a Mediterranean island, with its main attraction being its beaches.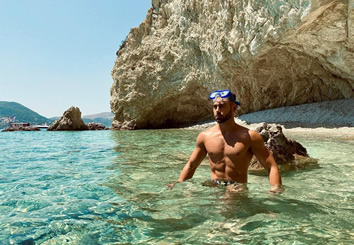 Greeks love Zakynthos and many visit the island for summer vacations, however, many foreign travelers seem to include Zakynthos in their Greek Mediterranean holidays as well.
There is not an organized gay scene in Zakynthos, however, it's pretty well hidden and only available during the summer months. Hotlips Karaoke Showbar Zante is the only gay bar in Zakynthos, attracting most of the island's gay visitors. Nevertheless, all the bars and clubs of Zakynthos are gay-friendly, so you will meet fellow gay men even in the most unexpected places.
If you are looking for a reason to visit Zakynthos, your best bet will be the beaches. The island is blessed with so many wonderful beaches, most of which featuring golden sand and crystal-clear waters. A good array of those beaches are nudist, so this is why Zakynthos is considered a paradise for nudist travelers. There is also a gay nudist beach, called Vrontonero Beach, that is particularly beloved by gay travelers.
Zakynthos does not feature any gay-only hotels, however, it attracts many gay travelers, so it could not but be the home to several gay-friendly hotels and beach resorts!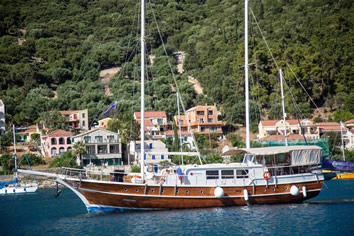 Take a trip of a lifetime aboard a Greek Goddess this year… sun, sea and a super luxurious yacht, all at a great price! What more can you ask for?
The gulet M/S Aphrodite was built in 2017 . After a renovation in 2019 It took its final form that you can all enjoy today. This boat that is 26 m long and 8,5 m large is providing Small Ship Cruise services to our dear guests with its 3 crew members. Watch MS Aphrodite Video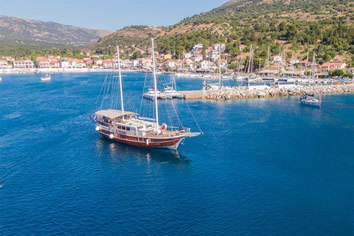 Luxury Cruising
Aphrodite boasts a spacious clothing optional sun deck – perfect for soaking in the rays, a wide interior lounge room made cosy with cushions galore, a sumptuous dining area and an inviting bar. Once you've topped up your tan, move inside to mingle with other group members, play fun games or read a book from their library. With a private bar also at your disposal, these gatherings can often get quite merry as the day goes on...
The English speaking crew are there to meet your needs and ensure you all have a fabulous time. A typical example of one of their Greek captain's is Bill (aka "Captain Nemo"), who has spent his whole life sailing in Greece. He's bound to have many a good story to share! And, for those of you who like to keep connected, there's no need to feel isolated at sea… Aphrodite offers WiFi on board too.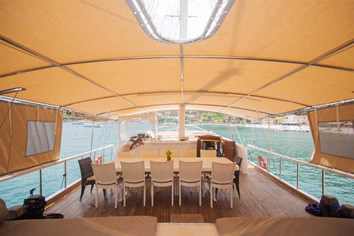 All aboard...
We're feeling very impressed by this goddess of a yacht. All Cabins are ensuite with AC, 7 doubles/triples (comfort at its finest!) Prices are affordable too and you can be sure this will be money well spent. Whatever you choose, Aphrodite will float you directly into the docks of Heaven, offering up an experience of a life-time, as well as a glorious suntan any Greek God would be proud of!
More about MS Aphrodite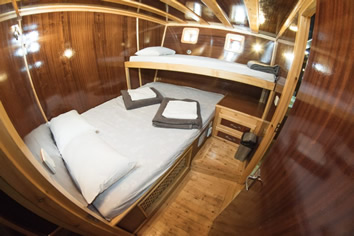 • 7 nights accommodation on board 20 guests M/S Aphrodite
• Buffet Breakfast daily
• 6 Lunches
• 1 Dinner + 1 Captains Dinner
• Private & nude beaches
• Swim stops
• Traditional ensuite ship
• Clothing optional sun deck for nude sunbathing
• Free Wi-Fi onboard (subject to limitations )
• Your flights/transfers
• Visitors tax 80 EUR pp (to be paid on board)
• Travel Insurance
• Most Dinners
• Local transportation
• Optional Excursions