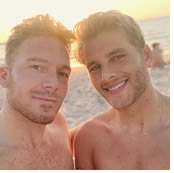 A cruise in the Ionian islands means admiring the magnificent landscapes between white cliffs and turquoise waters while disconnecting and enjoying a relaxing holiday, rocked by the sun. The Ionian Islands are an emerald scattering of seven main islands – Zante, Kefalonia, Atokos, Ithaca, Corfu – found off the west coast of mainland Greece. The region is famed for pristine beaches, the unforgettable blue of the sea, and the lush Mediterranean landscape. Several lesser-known smaller islands make up this paradise cluster. Join us for sightseeing & relaxation on Greek Ionian Islands Zante all-gay cruise!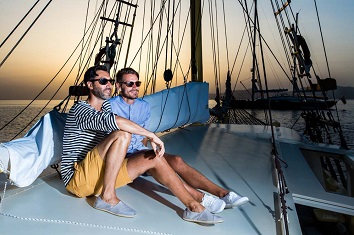 We will spend a week at sea, exploring the very best of this island cluster paradise, stopping in Poros, Agia Efimia, Vathi, Fiskardo, Meganisi, in a round trip from Zante .
This trip is best suited for those who want to set sail for discovery, heritage and historical sightseeing, the best of nature and deserted beaches, on-deck sea-view unwinding and the friendly atmosphere of a small ship gay cruise.
The friendly crew will attend to all your needs along the way. There are freshly prepared meals (Breakfast and Lunch), and all cabins include a private bathroom and air-conditioning.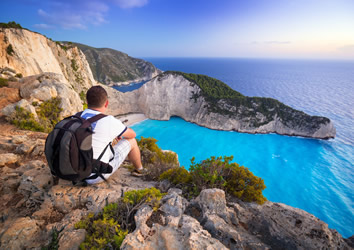 Gay Zakynthos is not about clubbing, Gay Zakynthos is about exploring, relaxing and, of course, swimming. Zakynthos is one of the most beautiful islands in Greece, especially known for its golden-sand beaches, and picturesque villages. The gay acceptance on the island is at very high levels, and a great percent of its annual visitors are gay.
Zakynthos, also known as Zante doesn't have any local gay community, actually, the population of Zakynthos is very little, just like in most of the Greek islands, with a few exceptions. The best period to visit Zante is naturally summer since we are talking about a Mediterranean island, with its main attraction being its beaches.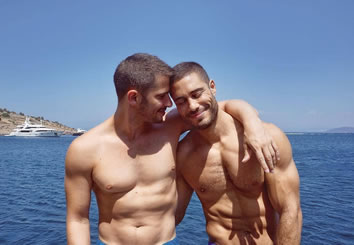 Greeks love Zakynthos and many visit the island for summer vacations, however, many foreign travelers seem to include Zakynthos in their Greek Mediterranean holidays as well.
There is not an organized gay scene in Zakynthos, however, it's pretty well hidden and only available during the summer months. Hotlips Karaoke Showbar Zante is the only gay bar in Zakynthos, attracting most of the island's gay visitors. Nevertheless, all the bars and clubs of Zakynthos are gay-friendly, so you will meet fellow gay men even in the most unexpected places.
If you are looking for a reason to visit Zakynthos, your best bet will be the beaches. The island is blessed with so many wonderful beaches, most of which featuring golden sand and crystal-clear waters. A good array of those beaches are nudist, so this is why Zakynthos is considered a paradise for nudist travelers. There is also a gay nudist beach, called Vrontonero Beach, that is particularly beloved by gay travelers.
Zakynthos does not feature any gay-only hotels, however, it attracts many gay travelers, so it could not but be the home to several gay-friendly hotels and beach resorts!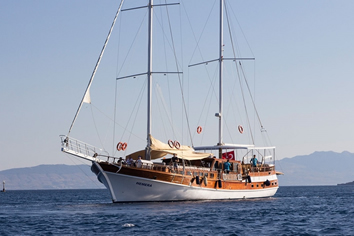 Take a trip of a lifetime aboard a Greek Goddess this year… sun, sea and a super luxurious yacht, all on a budget! What more can you ask for?
For those of you who know your Greek mythology, you'll know that Hemera was the ancient Greek primordial goddess (protogenos) of the day. Sail in Greece have just acquired their own piece of heaven in the 'eye-catching' form of a 30 metre long motor sailor yacht. They have justly christened her as Hemera.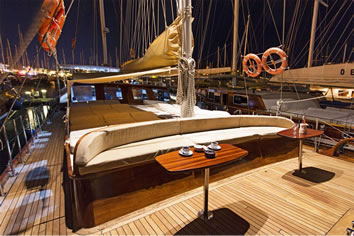 Luxury Cruising
Hemera boasts a spacious clothing optional sun deck – perfect for soaking in the rays, a wide interior lounge room made cosy with cushions galore, a sumptuous dining area and an inviting bar. Once you've topped up your tan, move inside to mingle with other group members, play fun games or read a book from their library. With a private bar also at your disposal, these gatherings can often get quite merry as the day goes on...
The English speaking crew are there to meet your needs and ensure you all have a fabulous time. A typical example of one of their Greek captain's is Bill (aka "Captain Nemo"), who has spent his whole life sailing in Greece. He's bound to have many a good story to share! And, for those of you who like to keep connected, there's no need to feel isolated at sea… Hemera offers 3G WiFi on board too.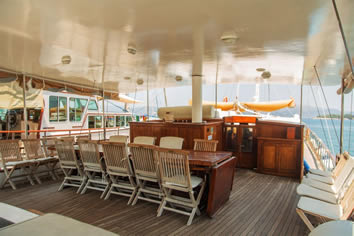 All aboard...
We're feeling very impressed by this goddess of a yacht. All Cabins are ensuite with AC, 9 doubles (comfort at its finest!) Prices are affordable too and you can be sure this will be money well spent. Whatever you choose, Hemera will float you directly into the docks of Heaven, offering up an experience of a life-time, as well as a glorious suntan any Greek God would be proud of!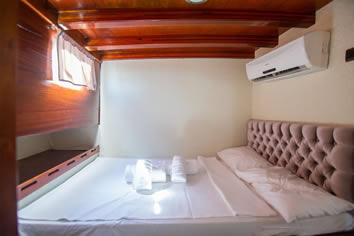 • 7 nights accommodation on board 18 guests M/S Hemera
• Buffet Breakfast daily
• 6 Lunches
• 1 Dinner + 1 Captains Dinner
• Private & nude beaches
• Swim stops
• Guided tour
• Traditional ensuite ship
• Clothing optional sun deck for nude sunbathing
• Free 3G Wi-Fi onboard (subject to limitations )
• Your flights/transfers
• Travel Insurance
• Dinners
• Local transportation
• Optional Excursions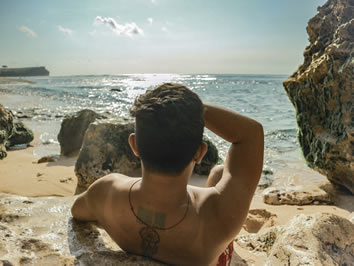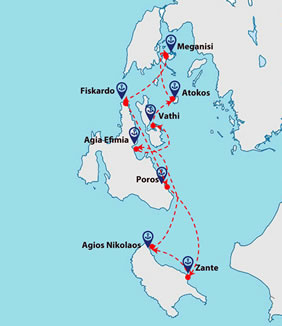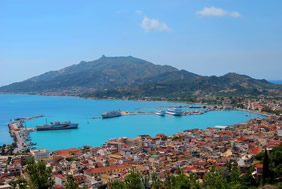 Day 1 - Zante (Zakynthos) - Agios Nikolaos
As today is the arrival day (ZTH) and we don't set sail from the Port until after sunset, you have plenty of time to explore the wonders of Zante Island
.
If you have time to see more of the island, don't miss the chance to explore the Byzantine Museum, the National Marine Park in Laganás Bay.
In the evening, we get acquainted with our sailing home for the next few days and get settled in, starting by dining with a view of the ocean as we set sail towards Agios Nikolaos.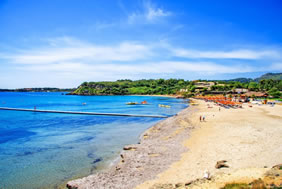 Day 2 - Agios Nikolaos - Agia Ethimia
The rainfall on the Ionian Islands is what enables its lush and verdant landscapes to flourish. Think of thick forests, natural coves, green hills with olive groves, and ardent valleys that sit back-to-back with crystal clear waters and sparkling white beaches.
In the evening, stroll the traditional Marina village and take your pick of Greek eats from the idyllic tavern-lined promenade, where you can watch the sunset.
We head towards Agia Ethimia.
Optional: Day Cruise to Navagio
Day 3 - Agia Efimia - Ithaca (Vathi)
Nestled on the Ionian coastline of the Greece Mainland, Ithaca has been described as one of the region's most beautiful villages. This is because of its two crystal clear bays that line either side of its main town and the iconic Venetian fortress that forms an impressive backdrop.
Known for its stunning natural environment that gives it an island feel. We will have lunch onboard, but stay in town for an evening of Greek feasting and hospitality.
Optional: Odysseus Coach Tour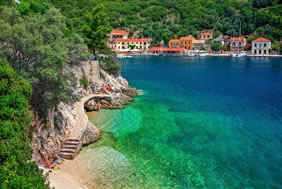 Day 4 - Ithaca (Vathi) - Meganisi
Not many people know of Meganisi, overshadowed by the main island of Corfu, but you will be glad you got to experience this lesser-known beauty spot.
First, we fuel up with a lunch before stopping for some coastal relaxation time at some of the islands secluded. Go snorkelling in the turquoise waters, feel the pebbles under your feet, take a walk amongst the clifftop surroundings and visit the Town.
We will dine at a pop-up beach tavern in a secluded bay tucked away from the crowds, and later watch the stars from the deck of the yacht.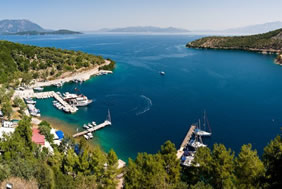 Day 5 - Meganisi - Fiskardo
With white pebble beaches, striking blue seas and lush green countryside, Fiskardo is one of Greece's best-kept secrets. We will dock at the port of Gaios ready for a full day on the island.
You can easily explore with a motorcycle, although it's also easy by foot, bike or car too. Spend the day seeking out the secluded coves and bays for swimming.
Watch the fisherman go about their work from one of the seafront cafes, before enjoying some of the best and freshest seafood at one of the excellent local tavernas that stock the best catch of the day.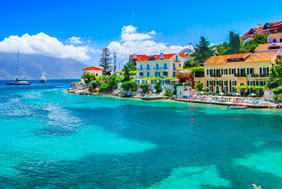 Day 6 - Fiskardo - Poros
Dotted with secluded bays and sea caves, with shallow waters for those keen to explore the underworld of the Ionian Sea, this part of Kefalonia Island is an explorer's dream.
Enjoy lunch on the vessel while we sail towards bustling Poros, the second largest village on the island set in a horseshoe bay to a backdrop of olive and cypresses trees. Visit the pebbled Kanoni beach and sandy Harami beach and wander amongst nature.
Later, stroll the vibrant promenade along the seafront. Full of bars and tavernas Poros is the epitome of old school Greek charm. We will dock overnight at a picturesque bay here.
Captains evening dinner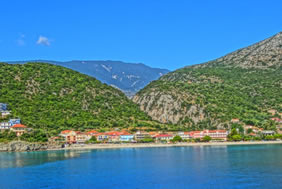 Day 7 - Poros - Zante
Before we head back to the mainland of Zante Island, with free time to explore, we take the chance to fit in one more of Zante's long sandy beaches. We visit the beautiful Shipwreck Beach and village on the east coast of the island, enjoying an onboard lunch on the way for some final sweeping sea views.
We spend the night in the Marina of Zante Old Town, where we enjoy a Captain's dinner with the group in our final farewell.
Optional: Wine Tasting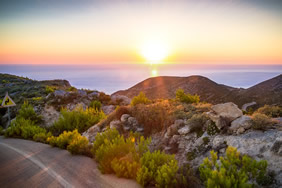 Day 8 - Zante - Departure
As we come back in full circle to Zante
, this is our departure day, where you'll say goodbye to your new friends and your crew. Hopefully, we have inspired you with this Greece sailing trip and hope to see you next year for more sailing around the Greek islands, or join us on following - Corfu, Ionian Islands All-Gay Cruise!