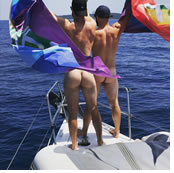 Gay Sailing Holidays in Greece. Join us on our exclusive clothing optional (nude) Gay Sailing holiday between the beautiful Greek islands, a round trip, starting and ending in Athens & stopping in the party island. Our gay and gay friendly crew comprise of Captain and host/hostess, so you're taken care of while on the yacht. On your gay sailing holiday in the beautiful Greek Islands, you can enjoy nude gay sailing while we're underway sailing the gorgeous Greece waters or just sit back and enjoy.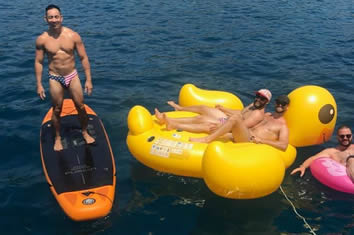 We have the most exciting itinerary, theme days, host to prepare your onboard meals and Friday and Saturday night in Athens!
Your gay and gay friendly crew cater to your breakfast and lunch while on the boat, so you have nothing to worry about. You can also bring your favorite tipple to drink while on your gay sail too.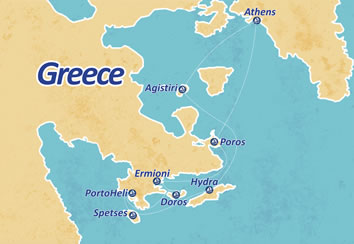 When you gay sail Greece with us, we also have optional dress up and dress down theme days, while in the privacy of your private yacht. Your experience is a fun and exciting way to meet new people while sailing the Greek Islands, so either book your private gay sail for up to 8 people on a private charter, or book your private cabin.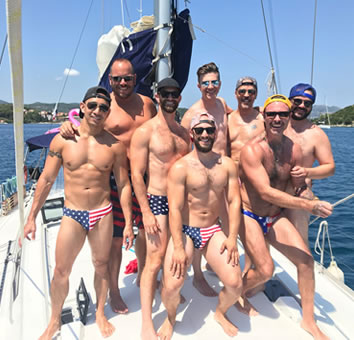 Join us in Athens at the Alimos Marina, and check in at 17:00.
Day 1, Saturday - Athens / Agistri
5pm: Check into your private yacht and meet your crew and fellow Gay Sailing guests
After checking in and we're ready to go, we'll set sail for the port Megalochori on Agistri island.
Settle into your boat with sunset cocktails before dinner in a traditional Greek taverna.
Evening: Local tavernas & Cocktails on the boat
Day 2, Sunday - Hydra
Hydra - is a spectacular little port, with no shortage of excitement in the harbour!
After securing a place to dock, you can wander the cobble streets, donkey ride up the hill, cliff jump or explore the rugged coastline.
If you fancy an afternoon sipping cocktails, you can wander round to Mandraki Beach Club or take their fast boat that leaves every 30 minutes.
The sunset from Hyrda is not to be missed!
Activities: Donkey rides; Wine tours; Day beds at beach clubs; Cliff jumping / swimming / paddle boarding; Hiking
Evening: Bars; Local tavernas; Cocktails on the boat
Day 3, Monday - Spetses
Spetses - is the St Tropez of the Saronics and the playground of the rich and famous.
You can hire a quad to explore beyond the port, or stay local and wander the streets with the wonder array of boutique shops.
There are plenty of restaurants, bars and clubs to choose from to party the night away.
Activities: Rent a scooter / quad; Horse carriage riding; Beach day; Swimming / paddle boarding
Evening: Clubs; Bars; Hip restaurants
Day 4, Tuesday - Porto Heli / Dokos
Porto Heli / Dokos - depending on weather and what the group wants to do, we can either head to Porto Heli for day beds at Nikki Beach Club on the mainland then enjoy the chic night life,
OR (weather dependant) we can go to the uninhabited island of Dokos for an afternoon full of swimming, sunset views at the top of the hill and a beach BBQ.
Activities: Snorkelling / diving; Hiking; Swimming / paddle boarding; Star gazing (no light pollution); Porto Heli Beach Club
Evening: Porto Heli Cocktail bars; Porto Heli Trendy restaurants; Cocktails on the boat
Day 5, Wednesday - Ermioni
Ermioni - although we're on the mainland, you'd think you were on a charming island.
Start off with cocktails on your boat before dinner, then head to some of the busy bars and clubs. It's riviera dining and partying at it's best.
Activities: Rent a scooter / quad; Swimming / paddle boarding
Evening: Cocktail bars; Trendy restaurants; Cocktails on the boat
Day 6, Thursday - Poros
Poros - a bustling island with a plenty of life.
You can climb the clock tower for a birds-eye view of the riva, take a quick ferry ride across the channel to wander the Lemon Forest or hire a scooter and find Poseidon's Temple ruins.
After a day of swimming, activities and cocktails on the boat, you'll have worked up an appetite for one of the traditional tavernas.
Activities: Poseidon's Temple ruins; Explore the Lemon Forest; Rent a scooter / quad; Swimming / paddle boarding
Evening: Bars; Local tavernas; Cocktails on the boat
Day 7, Friday - Athens
Athens - we have a great sail back to Athens, stopping half way for lunch and swim stop in a protected bay.
We'll return to Alimos Marina in time for cocktails and heading out into the capital.
Dress up, as we're not done yet!
After dinner there are plenty of roof top bars, or we can go straight to the gay district to party the night away.
Activities: Swimming / paddle boarding
Evening: Athens Gay district; Cocktail bars; Chic restaurants; Cocktails on the boat
Day 8 - Athens
Sadly, it's time to say goodbye, until next time. Check out is at 9am.
This itinerary is subject to change. Local circumstances such as weather may influence the itinerary.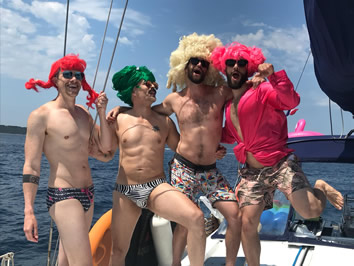 We include everything you could want, for the most fabulous gay vacation in Greece, ever.
• Champagne arrival
• Seven days/nights on your own private all-gay yacht in Greece
• Theme days for extra excitement, including 'Speedo / Nude Sunday' & 'Wig Wednesday'
• Clothing Optional (nude) sail the Greek Islands on a private Catamaran
• Fully gay crew: Skipper and host
• Your host will escort you to all the local gay spots in all the ports: beaches, clubs etc.
• Your host will prepare your breakfast & lunch daily
• Snorkeling gear is available for underwater fun
• You can learn how to sail with your qualified skipper, or just sit back and enjoy
• You will have your own yacht with your friends or make new ones
• Always a small group on board (max 8 guests)
• All on board costs are covers: fuel, water & port/marina charges, tourism taxes, linen and final cleaning fee, etc.
• WiFi
• No hidden charges or 'departure taxes'
Our packages offer a one-off price, so you know exactly what to expect. This doesn't however include your restaurant dinners, alcohol or crew gratuities.