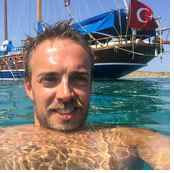 This fully catered relaxing and enjoyable clothing optional Gulet cruise is along the beautiful Turkish coast, visiting all the highlights between (gay friendly) Bodrum and Bozburun, visiting the Datca markets, the Knidos castle and of course the picturesque Greek island of Symi with itís Venetian style architecture. On the way are plenty of beaches and unspoiled bays to enjoy the sun and sea fully naked.

We will set sail on 2 very spacious and comfortable traditional classic wooden gulet yachts, with each 6 large double bedrooms with ensuite bathrooms. In the lounge area there is a full service bar open all day (and night). The front deck has 12 very comfortable sunbeds for relaxing or sunning nude.

Our fully catered Saltyboys all-gay cruise with amazing food 3 times a day. From your favourite style eggs in the morning, to a healthy lunch with nothing but fresh ingredients, to amazing diners with fresh fish and meat from the BBQ. A cruise formula set up for relaxing and being pampered, swimming, snorkeling, kayaking, socializing, some fun partyís at night.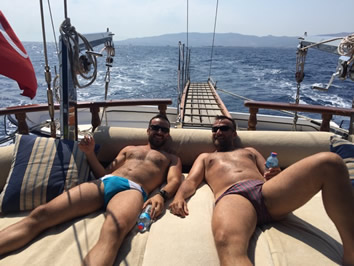 For everyone that has his doubts about going to Turkey: donít. Bodrum and itís coastal area has been known many years to be very liberal and thatís why we have been sailing here for many years with our Turkish gay & gay frindly skippers and crew.
The first night we will sample Bodrums gay beach bar (Queen) and nightclubs (Murphys in the Gumbet area), and during the cruise we even drop anchor in front of Bodrums gay nude beach. If still doubts about this matter, feel free to contact us.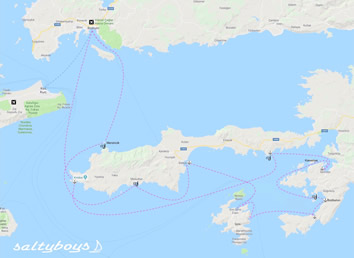 • Fly to: Bodrum (BJV) or Kos (KGS) international airport and use Kos-Bodrum ferry (approx. Ä 15)
• Fly from: Bodrum (BJV) or Kos (KGS) international airport
• Boarding first day at 15:00 pm, Bodrum
• Disembarking last day before 10:00 am, Bodrum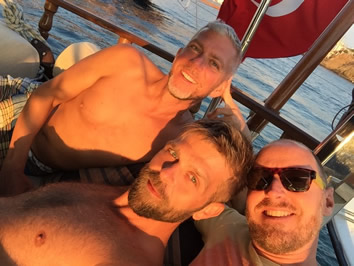 • Carefully selected sailing cruise itinerary
• Your accommodation on the gulet yacht
• The professional guidance of a Saltyboys host
• Professional skipper
• The service of 2 bartenders/cooks
• 7 on board breakfasts, wide selection of food, fresh fruit, etc.
• 7 on board warm lunches (or cold if preferred)
• 5 dinners with wide selection of fresh food, fresh fish, etc.
• Drinks; juice, beer, wine
• Bed linen & towels & shampoo/shower gel/body lotion
• Daily cabin & bathroom cleaning
• Harbour/mooring fees
• Your flights/transfers
• Reservation fee Ä 55 p/person
• 2 diners in one of the restaurants on land (by own choice)