Costa Pacifica
Ship Facts
Gross Tonnage: 114,500
Length: 290.2 m
Width: 36 m
Draft: 8.2 m
Cruising Speed: 23 knots
Guests: 3,780
Crew: 1,100
Decks: 14
Registry: Italy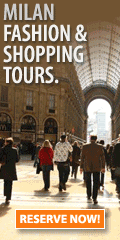 Redefinition Gay Cruise 2024
Italy, Spain & France Mediterranean Gay Cruise
4 nights from/to Savona (Genoa), Italy
May 05 – 09, 2024
Costa Cruises Costa Pacifica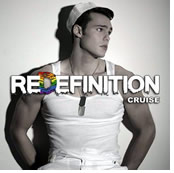 Join us for five days of fun & parties on Travel Gay fourth edition Italian gay & lesbian cruise on board of Costa Pacifica. Enjoy the most beautiful places in Italy, Spain & France and 4 nights of fun in company of of the most Famous Stars, Drag Queens, DJ's, and Gay Performers. For the fourth time you can enjoy the main & fanciest Italian gay clubs in one place. Redefinition Cruise has partnered with the most important gay DJs and performers from all over Italy. Gay Village Rome, Drag Factor Rome, COX, Mamamia Tuscany, Disegual La Notte Genova, JOIN the Gap Milan, Red Bologna, Padua Pride Village, Queever Turin, G -break event, and others will join us on cruise, and entertain you! And of course hot Italian gay guys... so are you still thinking about?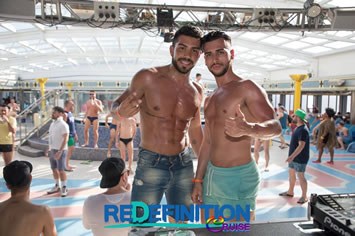 Redefinition Mediterranean Cruise is an exclusive gay cruise group departing at May 05th, 2024 from Savona, Italy to enjoy the itinerary Savona (Italy) - Barcelona (Spain) - Marseilles (France)- Savona (Italy), with a lots of fun, exclusive activities, the best animation of the Italian LGBT nightlife. Once docked you can decide visit each city or just stay on board and relax with friends.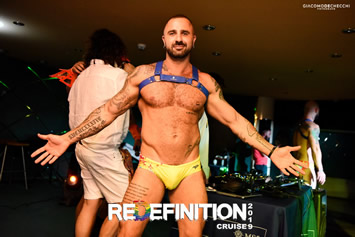 Join us for the 4th edition of Redefinition Cruise, with a completely new itinerary and a hot travel dates! The most beautiful beaches and cities of the Italy, Spain & Mediterranean await you for 4 nights of pure fun with our EXTRAVAGANT STAFF! On board exclusive private parties only for Redefinition gay cruise customers....
There is no airport in Savona so most passengers beginning or ending cruises there normally fly into or out of Genoa, or Milán-Malpensa Airport which lies 190km to the north. Shuttle transfers are available from the airport to Milano Centrale train stations from where there are some direct trains to Savona and others which require a change in Genoa.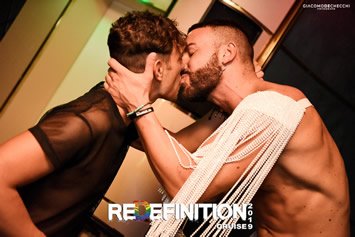 Cruise ship passengers who are beginning or ending their cruise in Savona will find a selection of modern hotels
in the historic centre or can stay in a beach hotel at the Playa de Luna resort to the south. A little further south but still only 15km from the cruise port is the lovely resort of Spotorno
which is highly recommended for a few nights' stay.
An evening in Savona is best spent dining on Ligurian seafood dishes at a local restaurant such as Ristorante Verso il Maestrale (Calata Pietro Sbarbaro) which overlooks the harbour. Alternatively, you can head for one of the city's many family-run trattorias such as Pizzeria Vesuvio (Piazza Goffredo Mameli) which serves excellent pizzas and pasta dishes to a mainly local clientele.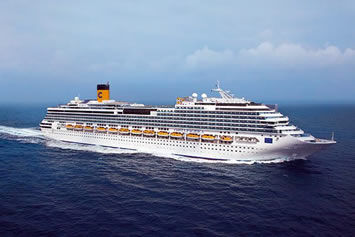 On Board the Costa Posta Pacifica
The Costa Pacifica
is already a ship from the Guinness Book of Records because it was christened in Genoa on the same day as the Costa Luminosa. Its motto is "the sea in music": the styling and the deck names are all related to the world of music.
A stave of emotions on board amongst composers, operas and musical instruments that decorate each room. Costa Pacifica's interior design is the work of an innovative artist in a harmonious blend of different styles. Music is played throughout the ship during the day. Particular care was taken to provide flawless sound quality aboard, and the maestro Mauro Pagani has also written thirty pieces of music exclusively for this cruise ship. When you're tired of the music, visit the external decks to listen to the melody created by the lapping of the water.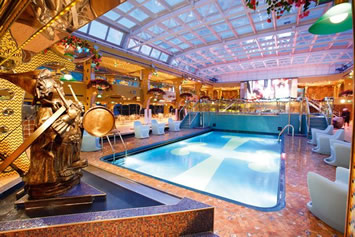 Atmosphere on Board
The atmosphere is very international with a special focus on the Italian way of life. Many passengers and crew members speak German & Spanish. The dress code is casual and informal. On a few days in the main restaurant there are Gala evenings for which a more elegant clothing is suitable. Costa Pacifica is like a swimming city with a varied range of entertainment programmes. First time travellers will love the fun, entertainment and Italian food aboard the ship.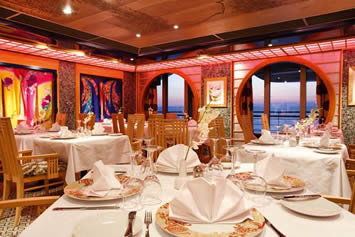 Food and Beverages
There are five different restaurants including the Club Restaurant and the Samsara Restaurant. Additionally, there are 13 bars with a big variety of beverages e.g. the Cigar Bar and Coffee & Chocolate Bar. For breakfast and lunch there are some buffet restaurants opened. In the evening there are two dining seatings in the main restaurant.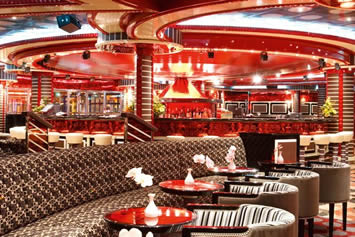 Entertainment, Sports and Relaxation
Every evening fascinating shows take place in the big theatre. Apart from that there are some shops, a casino, a disco, a water slide and much more to discover. In preparation to the shore excursions presentations about the different ports are given. For the sports lovers there is a big gym and an outside sports court. The passengers who are interested in wellness and relaxation should try the 6000 sqm large Samsara Spa and participate in a sports class or book a special treatment.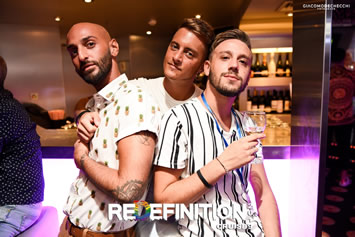 Redefinition Cruise Package Includes
• Accommodation on Costa Pacifica in cabin of your choice
• Special Redefinition cruise entertainment, shows, Pool party, Disco nights
• Full board and buffets and snacks throughout all day
• Required Redefinition cruise bracelet to access parties & shows (150 Euro value!)
• Personalized entertainment with parties, events and Disco nights
• Redefinition cruise staff assistance
Not Included:
• Taxes & Port Charges
• Shore Excursions
• Gratuities
• Travel Insurance
• DRINK PACKAGE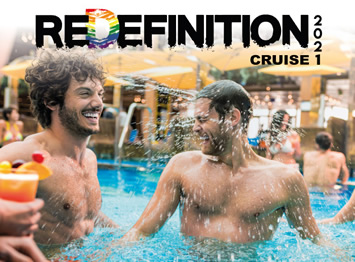 Redefinition Mediterranean
Gay Cruise 2024 Itinerary


Date

Port

Arrive

Depart

05 May
Savona (Genoa), Italy
4:30 PM
06 May

Fun Day at Sea!

07 May
Barcelona, Spain
7:30 AM
5:30 PM
08 May
Marseilles, France
9 AM
6 PM
09 May
Savona (Genoa), Italy
8 AM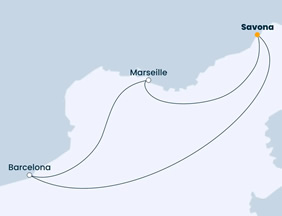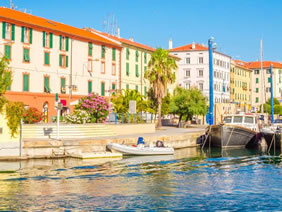 Day 1 - Savona, Italy
Located on the Ligurian coast of Italy between Monaco and Genoa, Savona has served as an important port since it was occupied by the Romans in 180 BC. Above the port of Savona
, the Priamar Fortress greets our departure and arrival of the Costa Pacifica ship sailing in the Mediterranean. Genoa and its aquarium are nearby. The port of Savona is one of the prettiest of the Italian Riviera. The lovely climate, summers that are never to hot, mild winters and the exceptional beauty of the sea near the town makes Savona an excellent base to set out to explore Liguria. Savona is notable for the Priamar Fortress, which has dominated the town since the 16th century, and also for its historic centre where you can visit Savona Cathedral. A stop in Savona can also be an opportunity to visit the nearby city of Genoa
and its narrow, picturesque streets, known as "caruggi".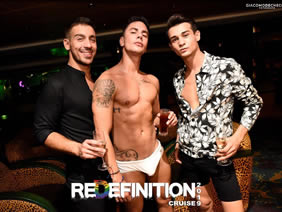 Day 2 - Fun Day at Sea!
While at sea, take the time to recharge before the next adventure. Lounge by the pool, be spoiled at the spa, taste the delicacies or explore the venues on-board, until we arrive at the next amazing destination.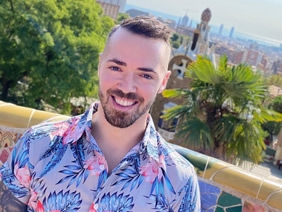 Day 3 - Barcelona, Spain
A top European center for art, architecture, design and cuisine, this stylish city has its own language and culture. The soul of old Barcelona is its Gothic Quarter; outside the medieval district, discover iconic landmarks and more. Vying for your attention in Catalonia's visually stunning capital are the magnificent medieval buildings of the lively Gothic quarter and the exotic creations of architect Antoni Gaudi - the Sagrada Familia Temple and Parc Güell, to name just a few.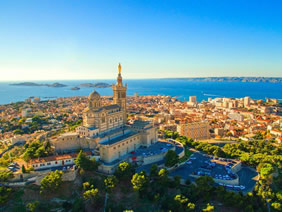 Day 4 - Marseilles, France
A pleasant thing to do is simply sit down at one of the cafes overlooking the port of Marseilles and, sipping a Pastis, observe the landscape and the people who inhabit it. Also called the "Porpoise City ", Marseille is France's sunniest town, charming with its gullies where you can swim, its history and culture and restaurants with cosmopolitan cuisine. You cannot leave without having first toured on the "Cours Julien", the street for shopping. The port of Marseille is perhaps a typical tourist destination, but it deserves to be visited for the ferry that leaves from the Town Hall and the old church, which replaced a Templar building.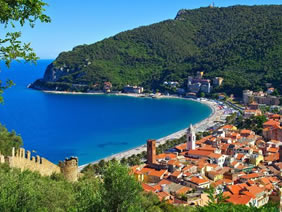 Day 5 - Savona (Genoa), Italy
Behind Savona's
sprawling port facilities, the city's unexpectedly graceful medieval centre is well worth a stop. Among the old-town treasures to survive destruction by Genoese forces in the 16th century are the baroque Cattedrale di Nostra Signora Assunta and the lumbering Fortezza del Priamàr. There's also a nice urban buzz, with lots of new shops, bars and restaurants regenerating the old centre. Don't miss an opportunity to visit the capital of the Italian region of Liguria the nearby city of Genoa
.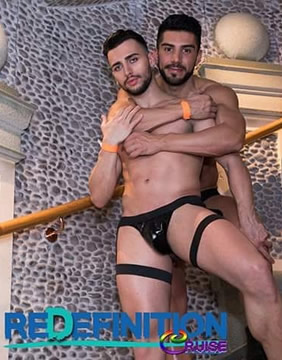 Guests: 3,780 • Gross Tonnage: 114,500 • Length: 952' • Beam: 118' • Draft: 27' • Cruising Speed: 23 knots

Redefinition Mediterranean Gay Cruise 2024 Rates

Interior Stateroom
Approximately 150 sq ft. Two twin beds or a queen bed, private bath and shower, minibar, television, telephone, hairdryer, and safe deposit box. Classic Cabins are located on the first decks of the ship. They offer more affordable prices for each cabin type, providing all the comforts of a standard class cabin and the freedom to enjoy all the services and facilities available on the ship.
€ 858

€ 449

Oceanview Stateroom
Approximately 190 sq ft. With large windows to admire the view, or simply enjoy the first rays of morning sunshine. Two twin beds that convert to a queen, a private bath with shower, telephone, television, hairdryer, safe deposit box, and minibar. Classic Cabins are located on the first decks of the ship. They offer more affordable prices for each cabin type, providing all the comforts of a standard class cabin and the freedom to enjoy all the services and facilities available on the ship.
€ 978

€ 509

Balcony Stateroom
Approximately 220 sq ft. including balcony. An ocean view with balcony, two twin beds that convert to a queen, a private bath with shower, telephone, television, hairdryer, safe deposit box, and minibar. Classic Cabins are located on the first decks of the ship. They offer more affordable prices for each cabin type, providing all the comforts of a standard class cabin and the freedom to enjoy all the services and facilities available on the ship.
€ 1,098

€ 569

Mini Suite
Approx. Size: 286 sq ft (including balcony). Sleeps 2 guests. Mini-Suites have large panoramic windows with glass doors that lead to your spacious private veranda, two twin beds most of which convert to a queen-sized bed, accomodating closet space, a private bathroom with shower, as well as a large sitting area with desk, vanity, drawer space, and sofa. Each stateroom also has its own interactive television with satellite, thermostat controlled air-conditioning, direct-dial telephone, hair dryer, mini bar, individual safe, complimentary continental breakfast, and 24 hour room service.
On Request
On Request
Suite
Approx. Size: 337 sq ft (including balcony). Suites have large panoramic windows with glass doors that lead to your spacious private veranda, two twin beds most of which convert to a queen-sized bed, accomodating closet space, a private bathroom with whirlpool tub and shower, as well as an expanded sitting area with desk, vanity, drawer space, and sofa bed. Each stateroom also has its own interactive television with satellite, thermostat controlled air-conditioning, direct-dial telephone, hair dryer, mini bar, individual safe, complimentary continental breakfast, and 24 hour room service with a private butler.
On Request
On Request
Taxes & charges of €90pp, gratuities (€60pp), and optional travel insurance are additional.

All prices are per person in Euro, and include all meals, accommodations and entertainment!

Minimun Deposit EUR 560 per stateroom due at the time of booking. Balance payment is due by February 05, 2024

Optional shore excursions will be offered.

Prices are cruise only and DO NOT INCLUDE return airfare! Please ask for airfare add-ons back to your home city.

Fares are subject to availability and may change without prior notice.

The price includes:
- Accommodation in the chosen cabin for 4 nights
- Full board and buffets and snacks throughout all day.
- 150 euro - Bracelet to access all Redefinition Cruise programs.
- Redefinition cruise assistance
- Costa Pacifica entertainment.

Redefinition Cruise - disco nights; funny drag cocktails each day; pool parties; performers, go go boys, many other surprises for our guests ...

Not included: -Transfers (quote on request)
-Tips, excursions.

TRAVELLING ALONE?
To avoid singles surcharges ask for the program "Cabins Buddy" and share a cabin with new friends. 90 EUR Share fee applies

Pre and post cruise extension packages available on request

Please ask for further details.

Special Airfares




Pre-Cruise Hotels







Post-Cruise Hotel