Redefinition Halloween Gay Cruise 2022
Italy, Spain & France Mediterranean Gay Cruise
4 nights from/to Savona, Italy
October 30 – November 03, 2022
Costa Cruises Costa Fortuna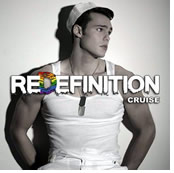 Join us for five days of fun & parties on Travel Gay Italian gay & lesbian cruise Mediterranean Gay Halloween Edition on board of Costa Fortuna. Enjoy the most beautiful places in Italian Riviera and 4 nights of fun in company of of the most Famous Stars, Drag Queens, DJ's, and Gay Performers. For the fourth time you can enjoy the main & fanciest Italian gay clubs in one place. Redefinition Cruise has partnered with the most important gay DJs drag Queens, and performers from all over Italy. Gay Village Rome, Drag Factor Rome, COX, Mamamia Tuscany, Disegual La Notte Genova, JOIN the Gap Milan, Red Bologna, Padua Pride Village, Queever Turin, G -break event, and others will join us on cruise, and entertain you! And of course hot Italian gay guys... so are you still thinking about?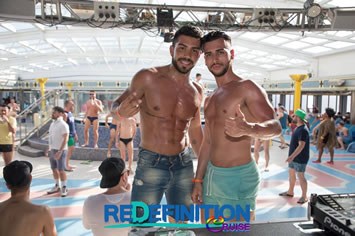 This is thrilling Mediterranean gay cruise in Redefinition style. Zombies, Draculas, skeletons and witches are called to embark on October 30, 2022 for the new Redefinition Gay Cruise Halloween Edition.
During the day we will visit Barcelona and Marseilles in search of the sexiest ghosts of the Spanish and French scene. At night, make way for fun and space for witches and witches At night, enjoy a lot of fun in company of other witches and sorcerers.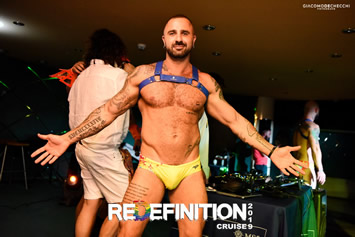 October 31st comes "Trick or treat" and you can reveal your Demonic side, space for nightmare, terror, perversion and lust: Punishments for those who will not be disguised. The full sea day at sea will allow us to better prepare ourselves for the incredible Gay Halloween Party!
The most beautiful beaches and cities of the Italian Riviera & Mediterranean await you for 4 nights of pure fun with our EXTRAVAGANT STAFF! On board exclusive private parties only for Redefinition gay cruise customers....
As other Redefinition Gay Cruises, this is not an entire ship charter but a gay group on board with tailor-made fun and parties available exclusively for Redefinition Gay Cruise guests. This year an Spain Gay Haloween Cruise group will be on board also!
After the great success of the May 22 Redefinition Gay Cruise edition, the most famous witches are back on board: the disturbing LAWANDA GASTRICA, the crazy LORENZO PEZZOTTI, the mephistophelic LADY TOLEMAIDE, the surly STELLA P ROGERS and many other exponents of the evil world of the night including the NEW MOST BEAUTIFUL GAY MAN IN ITALY.
Do you dare not to book? Watch out, evil eyes and spells are just around the corner!
There is no airport in Savona so most passengers beginning or ending cruises there normally fly into or out of Genoa, or Milán-Malpensa Airport which lies 190km to the north. Shuttle transfers are available from the airport to Milano Centrale train stations from where there are some direct trains to Savona and others which require a change in Genoa.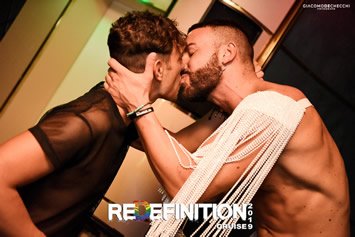 Cruise ship passengers who are beginning or ending their cruise in Savona will find a selection of modern hotels
in the historic centre or can stay in a beach hotel at the Playa de Luna resort to the south. A little further south but still only 15km from the cruise port is the lovely resort of Spotorno
which is highly recommended for a few nights' stay.
An evening in Savona is best spent dining on Ligurian seafood dishes at a local restaurant such as Ristorante Verso il Maestrale (Calata Pietro Sbarbaro) which overlooks the harbour. Alternatively, you can head for one of the city's many family-run trattorias such as Pizzeria Vesuvio (Piazza Goffredo Mameli) which serves excellent pizzas and pasta dishes to a mainly local clientele.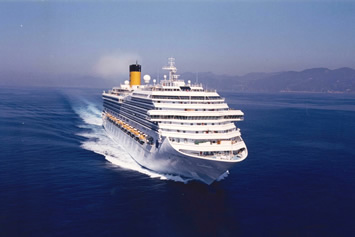 Redefinition Gay Cruise Ship - Costa Fortuna
Costa Fortuna
is a tribute to ocean liners of the past. Symbolically built in the legendary shipyards of Genova Sestri ponente, it is the sister of Costa Magica. Its motto is "first class" for the refinement of the furnishings and the elegance of its atmosphere.
The public areas and restaurants are decorated with reproductions of advertising images of the roaring '20s and '30s. In the lobby there are models of 26 ships of the past that have been part of the Costa Cruises fleet.
Thirteen decks are dedicated to international ports. 4 pools, one with a retractable roof, hot tubs and slide, open decks, casino, disco, and theater; all of this classified Costa Fortuna as one of the first ships with new standards of quality and hospitality for cruise vacations, to sail in great comfort to any destination in all seasons.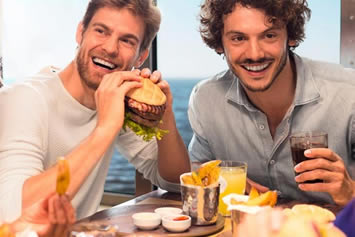 Dining
For guests who want to try something different! There are 4 restaurants, including one the Club Restaurant and 11 bars, including a Cognac & Cigar Bar. Club Restaurant is the special restaurant for Suite Guests and Members of the highest level of the Costa Club, where you can enjoy breakfast, lunch and dinner in an intimate and elegant setting. In the Club restaurants, pure flavor is the order of the day, and the presentation and service is even more meticulous. For dinner, the restaurant serves both regional menus from the main restaurants and gourmet specialties.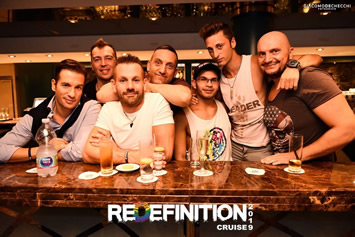 Entertainment & Nightlife
Plenty of the Entertainment places on-board. Theatre on three levels Casino Disco Pool deck with retractable glass roof Water slide Internet Point Library Shopping Center Virtual World and Squok Club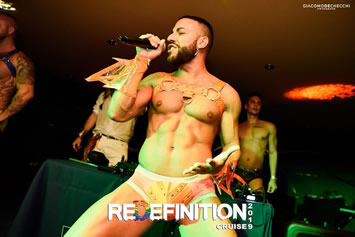 Bars & Lounges
The Ferrari Wine Bar is a classy corner on a Costa Cruise ship, where they can sip exceptional Italian bubbly. Ferrari is the Italian brand of excellence for sparkling wine. Arising from the desire of its founder to create a wine able to compete with the best French Champagne in Trentino, it is now known worldwide as a high-quality label. Costa ships have a wonderful Ferrari Bar on board, where you can taste a brut, rose or demi-sec or participate in the tasting of grande cuvee labels. Meanwhile, the windows of the ship overlook the sea, which will accompany you during this exclusive experience.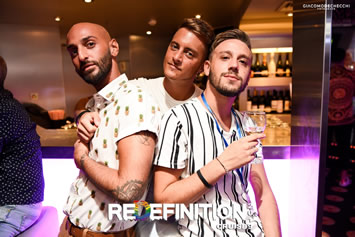 Redefinition Gay Cruise Package Includes
• Accommodation on Costa Fortuna in cabin of your choice
• Special Redefinition gay cruise entertainment, Shows, Pool party, Disco nights
• Full board and buffets and snacks throughout all day
• Required Redefinition cruise bracelet to access parties & shows (120 Euro value!)
• Personalized entertainment with parties, events and Disco nights
• Redefinition cruise staff assistance
• Optional DRINK PACKAGE MyDrinks (additional 119 € per person)
Drink Package 'MyDrinks' Include:
• Selected Drinks Priced Up to €6!
• House wines by the glass
• One brand of draft beer (Heineken, or similar)
• Selected spirits and cocktails, non-alcoholic cocktails
• Soft drinks, fruit juices by the glass, bottled water
• Classic hot drinks (espresso, cappuccino, cafe latte, hot tea, hot chocolate
The perfect package for those of you who like to relax with your favourite drink by the glass throughout the day. Coffees and cappuccinos, soft drinks and refreshing beers, popular aperitifs and a great selection of wines and spirits.
Not Included:
• Taxes & Port Charges
• Shore Excursions
• Gratuities (€ 11 per person per day to be paid on board)
• Travel Insurance