RSVP 35th Anniversary Caribbean
All-Gay Cruise 2020
February 09 – 16, 2020
Holland America Nieuw Statendam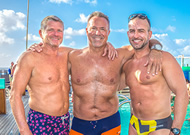 Celebrate 35 years of RSVP gay cruises on the newest and most sensational ship in the Caribbean! We're pulling out all the stops with spectacular new entertainment alongside a few favorites, fresh and innovative parties to bring out the smiles in everyone, and new ways to connect with friends old and new. Sailing the gorgeous Nieuw Statendam, Holland American's newest flagship, to four of the Caribbean's most beautiful destinations.
This is the new RSVP Caribbean All-Gay Cruise. And you're invited to experience it all in 2020! With rates from $949 we've made it easier for everyone to join in the celebration!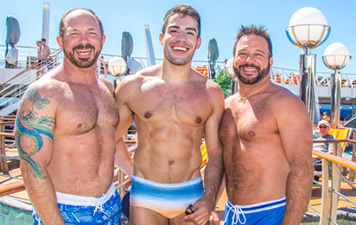 Holland America's "Nieuw"-est Ship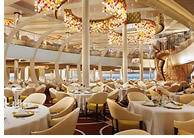 Holland America's sparkling new Nieuw Statendam offers our 2650 RSVP guests more of what you love, upgraded with cutting-edge innovations and brilliant modern design everywhere you turn. With more dining options than ever before, sensational entertainment venues, and simply gorgeous staterooms, she's the perfect ship for an RSVP Caribbean cruise!
Spacious open decks and inviting pools offer plenty of places work on your tan, finish a great book, meet new friends, and of course set the stage for our signature T-dances and extremely silly pool gaymes!
Key West & The Caribbean Await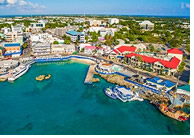 From gay-friendly Ft. Lauderdale you'll sail to our private island of Half Moon Cay, always an RSVP favorite for a day on a perfect private beach. Head south with a relaxing day at sea to enjoy all that Nieuw Statendam has to offer. Fascinating Grand Cayman offers more to do than any other island in the Caribbean, from picture-perfect white sand beaches to superior duty-free shopping to swimming with the rays at the famous Stingray City.
Some of the world's best snorkeling and diving await you in Cozumel, or spend the day basking in endless sunshine surrounded by crystal blue waters. And after one more action-packed day at sea, there's no better ending to an RSVP cruise than a day in legendary Key West, where the locals turn out in force to welcome us to Duval street and showcase both the island's amazing weirdness and natural beauty.
More Fun Than Ever Onboard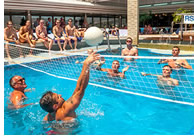 The best days on RSVP yours to enjoy at sea. Start with a lazy brunch with friends. Wander up to Nieuw Statendam's sunny decks, sparkling pools, and whirlpools to play and relax. Treat yourself to a treatment in the modern and inviting Greenhouse Spa.
Take in a fitness class or work out in the super-modern gym. Or get your game on at our outdoor volleyball court. Just save some energy for RSVP's signature T-dances, pool games, and general good times all day long.
Incredible Dining Options Everywhere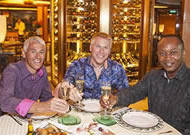 It's easier than ever to share a meal with friends old and new onboard, with more choices than any ship in RSVP's history. The two-story ultra-modern main restaurant features an ever-changing menu of international specialties in an Adam Tihany designed space that's truly one of the most beautiful rooms at sea. It's the perfect place for everything from a group of friends to an intimate dinner for two. And that's just the beginning!
Nieuw Statendam features five distinctive specialty restaurants catering to virtually every palette and desire, starting with the classic Pinnacle Grill steakhouse and Tamarind's pan-Asian cuisine. Fresh seafood is the star at the all-new Sel de Mer, and you'll find family-style rustic Italian at Canaletto. For something more casual, forget everything you've heard about cruise ship buffets - the new Lido Market turns out a never-ending spread day and night that will keep you coming back for more.
And of course, each meal on RSVP is designed to be relaxed with no assigned dining times and no stuffy dress codes.
Bright Stars On The Best Stages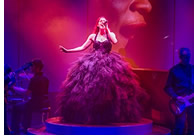 The sensational new and stunningly modern World Stage and the two-story BB Kings showcases RSVP's signature performers like never before as we present top talent from the LGBT world, stage and screen, alongside Holland America's award-winning productions. RSVP's stellar line-up of musical artists, comedians, cabaret acts has included such legends as Kathy Najimy, Ann Hampton Callaway, Leslie Jordan, and Ty Herndon along with RSVP favorites Amy & Freddy, Bob the Drag Queen and so many more. And for our 35th anniversary we're introducing some exciting new stars at every level!
The brand-new music walk offers seemingly endless musical experiences, from RSVP piano and cabaret stars to the classical showcase Lincoln Center Stage to Billboard Onboard's chart-busting hits to the raucous Rolling Stone Rock Room. Add some movies under the stars, poolside concerts and a few surprises for the greatest set of entertainment RSVP has ever offered!
Friendly Parties. For Everyone.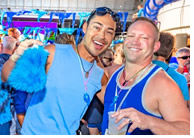 Nieuw Statendam's wide-open center pool creates the perfect setting for RSVP's fantastic themed T-dances and evening parties under an endless Caribbean sky (with a retractable dome three floors up -- just in case of inclement weather).
Our talented DJs play everything from today's hits to legendary disco, and just about everything in between. No matter what your taste in music, we'll welcome you to the party with friends like you everywhere you turn. It's all about having a great time with friends!
Amazing Values From $949. That's Your RSVP.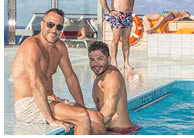 We want everyone to join in our anniversary celebration and continue to bring you the best value in gay & lesbian vacations. Our low fares start at just $949, which includes virtually everything – from world-class entertainment and fabulous parties to incredible accommodations and dining.
For 35 years, RSVP has been creating amazing vacations where everyone is truly welcome. Whether you're traveling with your partner, spouse, friends, or on your own, you'll find endless opportunities to connect, play, and simply relax. There's no better place in the gay and lesbian world where you belong.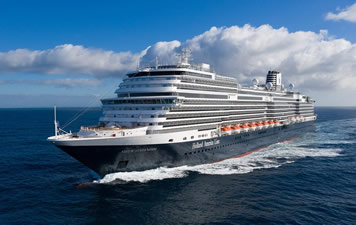 Having debuted in December 2018, Nieuw Statendam is Holland America's newest and most luxurious ship, with modern updates to their timeless traditions. This groundbreaking 2650-passenger vessel features striking modern design and seemingly endless ocean views along with truly unique entertainment venues and cutting-edge dining options.
Outstanding and Flexible Dining Choices
Nieuw Statendam offers an exciting blend of delicious options for all tastes and styles in an incredible choice of new venues. As with all RSVP gay cruises, there is never an assigned table, dress code (that's right... no more formal nights) or assigned dining time – you're always free to dine whenever, wherever, and with whomever you like. It's the perfect way to make new friends!
Framed by views of the sea and anchored by a stunning glass enclosed wine tower, the heart of Nieuw Statendam rests in The Dining Room, with an ultra-modern interior and lavish multi-course menus to delight the senses.
Abundant casual options begin with the Lido Market, a modern marketplace featuring themed stations that change throughout the day to tantalize your palate. From pizza and panini to comfort classics and hand-carved meats, you'll find a wide range of choices. Grab a delicious slice at New York Deli & Pizza or a mouth-watering burger poolside at Dive-In or a sumptuous snack at the Grand Dutch Café. The choices are endless and virtually always available.
And of course, if those options aren't enough, there's always 24-hour room service. Please note that charges apply to some room service offerings.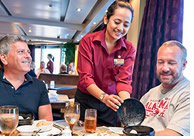 Specialty Restaurants
For a masterpiece of grilled premium steaks and fresh seafood, look no further than Holland America's classic Pinnacle Grill. This intimate venue offers an elegant, sophisticated dining experience that's perfect for a date or celebratory dinner.
Canaletto Restaurant, Nieuw Statendam's signature Italian restaurant, serves fresh made pastas and other fabulous Italian specialties family-style in a casual yet sophisticated setting.
Tamarind Restaurant, Nami Sushi and Silk Den Lounge offer spectacular pan-Asian cuisine with truly stunning panoramic views of the ocean.
Sel de Mer is an intimate seafood brasserie offering French classics with a twist. From bouillabaisse and fresh oysters to salt-crusted whole fish, this new restaurant concept is sure to impress.
Club Orange Restaurant, an exclusive dining room for guests in Neptune and Pinnacle Suite categories, is open for breakfast and lunch.
Please note that an extra charge applies for all specialty restaurants.
Healthy Options & Special Needs
For guests with special dietary needs, RSVP and Holland America offer "Light and Healthy" menu items featuring meals low in sodium and cholesterol, vegetarian, vegan, gluten-free, fat-free, diabetic, or other special needs, as requested.
Unique Places to Relax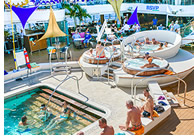 Whether you want to enjoy private time outdoors or spend the week in a spa stateroom, Nieuw Statendam offers an amazing selection of new choices for total pampering and relaxation.
The striking and modern main pool features plenty of space to relax, swim, and play. There's even a full "magradome" roof that can be closed to create an indoor pool space. Private cabanas will be available to reserve by the day onboard. They are tastefully decorated, filled with amenities, and provide an exquisite poolside retreat.
On the aft end of the ship, you'll find the inviting Sea View Pool. It's the perfect place for sunning, relaxing, and taking in the endless ocean views.
The Greenhouse Spa & Fitness Center is the ideal place to go for heavenly beauty and wellness rituals. Enjoy a facial, hot stone massage, or a steam in the thermal suite. Soothe your tensions away in the relaxing hydro pool, or make time for a workout in Nieuw Statendam's state-of-the-art fitness center.
Innovative Entertainment and Enrichment Venues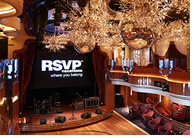 The incredible World Stage breaks new ground theatrically with its reimagined 270-degree stage that puts guests right in the center of the action. You'll be closer than ever to our star entertainers surrounded by vibrant LED screens that will leave you breathless.
Nieuw Statendam's Lincoln Center Stage showcases outstanding chamber music performances each evening, as well as afternoon recitals on leisurely sea days.
One of RSVP guests' favorite spots, Crow's Nest, boasts panoramic views that change with each nautical mile, creating an airy, expansive place to relax and the perfect venue for many of our social gatherings.
If you're feeling lucky, Nieuw Statendam's Casino, with its popular slot machines and table games, offers an elegant way to play in style.
Spacious and Modern Staterooms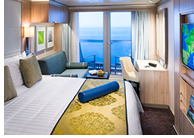 Guided by guest feedback, the designers at Holland America were given complete freedom to reimagine Nieuw Statendam's staterooms, creating private havens characterized by light, space, and elegance. With welcome modern touches like bedside USB ports and frameless shower glass doors, her staterooms and suites are larger than most in the industry and provide the perfect retreat after a busy day experiencing all that RSVP has to offer.
Most staterooms offer a private verandah and all feature modern amenities, such as flat-screen televisions with video on demand, HAL's signature Mariner's Dream bed with finely woven cotton linens, large bathrooms, and 100% Egyptian cotton towels.
Nieuw Statendam's luxurious suites offer a series of luxurious amenities along with spacious rooms with sitting areas. Suites SQ, SC, SB, SA, & PS even boast access to the private Neptune Lounge.
Should you need anything day or night, Nieuw Statendam's pampering staff is just a phone call away and ready to take care of your every need.