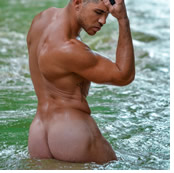 Imagine one week in Bali with naked men, everywhere. A dazzling array of activities, from the most famous things to do on the Island of the Gods, to things off-the-beaten-path. This experience is for men of all orientations, and features a clothing-optional upscale villa. A luxurious property with three pools, several "outdoor living rooms", magnificent ocean views, and twelve guest rooms – carefully positioned on multiple levels for maximum vistas. This is the ultimate naked villa experience in Bali.
Combine The Ultimate Bali Villa with our Flores, Komodo & Padar Nude Gay Cruise – trip dates are specifically set so both can be experienced back to back!
Our sprawling accommodation features spacious and airy dining and sitting pavilions, zen water gardens complete with fish and turtles, a wall of cascading water, plush gazebos, and stunning views of the sunset each night. With generous amenities including whirlpools, massage spaces, and a gym, this villa has everything you could ever need to unwind and relax with other travelers.
Air conditioned rooms feature ensuite bathrooms, and can be shared or reserved as private rooms, if desired.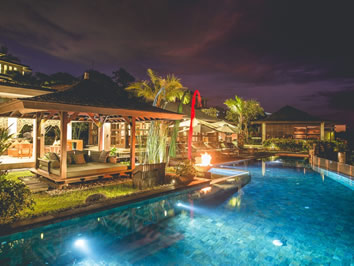 Perched near the top of the Uluwatu cliffs overlooking the Indian Ocean, this generous accommodation is gently staggered on several levels, affording beautiful views of the Balinese sunset to the west and 180 degree views of the ocean.
Our villa is actually configured in a traditional Balinese architectural layout, meaning it's made up of several buildings joined by paths, just a few meters from each other. It can accommodate up to 28 guests, in twelve luxuriously appointed guest rooms. Additional space for socializing includes open living and dining rooms, two kitchens, indoor lounges, gorgeous pools, jacuzzis, and gazebos.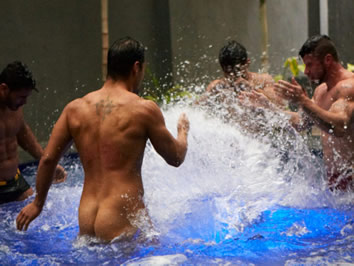 Each day, you can choose from two options, a "Famous In Bali Activity" or an "Off-The-Beaten-Path Activity". Or just hang out naked that day… at our upscale, luxury villa, or even do something on your own.
Breakfasts are in the villa. Lunches are out if you choose an activity, or you can always be in the villa and have a simple lunch there. Dinners vary: some will be prepared by our chef, or brought in (like pizzas on the night of our Villa Pool Party); others will be out in restaurants selected to give you a wide range of food choices and dining environments.
Evenings will vary, too. Some nights will be out – a jaunt to Bali's gayborhood one night, a visit to the upscale Kempinski another. We've purposefully left two nights during the week open for you to do your own thing. And naturally, there'll always be guys around the villa each evening, doing what men do best when left to their own devices.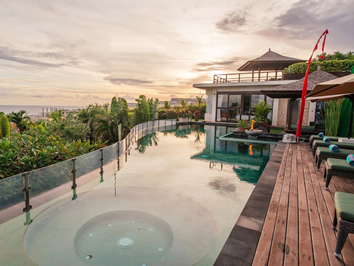 Day 1 - The Ultimate Bali Villa
We'll pick you up from the airport (or your hotel) between 1 and 4pm, and bring you to The Ultimate Bali Villa. Settle into your room, unpack, and get naked. Later, we'll take you on a tour through the expansive villa grounds.
Our first day is a relaxed day – a chance to kick back in our gorgeous accommodation, meet other guys, go for a swim in one of the pools, or even take a nap if you want. But don't sleep too long – we've got a classic Indonesian spread for dinner at the villa, and a most amazing show afterwards: a private Kecak theatrical dance at our estate, performed by a troupe of shirtless men from the village.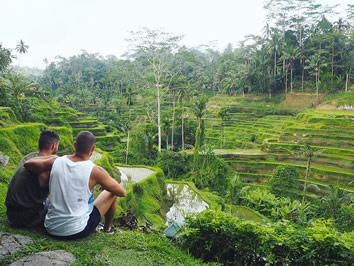 Day 2 - Jatiluwih Rice Terraces / Palace at Kerambitan
Wake up to sunshine and songbirds singing. We'll take the morning slow, then, you can choose between the "Famous in Bali" Jatiluwih Rice Terraces or the "Off-the-Beaten-Path" Kerambitan Palace. As always, you can choose to hang back at the villa too – relaxing and sunning the day away.
Dinner this evening is at a sophisticated beachside restaurant in the Seminyak area. An extensive menu features both eastern and western cuisine, including sushi, burgers, and pizza. You'll love the food, the music, and the relaxed island vibe. Later, hit the bars for a drink and hit the dance floor too, in Bali's well-known gayborhood. Or just head back to our villa for a quieter time, maybe a soak in the villa's whirlpool bath with others…
Famous In Bali: Jatiluwih Rice Terraces
A UNESCO World Heritage Site, these rice fields are a gorgeous sight – as well as an astounding feat of agricultural ingenuity. Enjoy a delicious meal overlooking sprawling, bright green terraces for as far as the eye can see. Take a light trek through the ricefields to get a closer look at how the Balinese maintain them in accordance to nature's cycles.
Off-the-Beaten-Path: Palace at Kerambitan
Built in the 1620s, this royal palace housed the regency's royal family. As recent as fifty years ago, feasts were still presented here for rock stars and politicians alike, including Mick Jagger, David Bowie, and Supertramp, as well as Prime Minister Fukuda of Japan and ambassadors from all over the world. Enjoy a casual tour through the ancient palace, and take a deep dive into the Balinese caste system, history, and traditional way of life.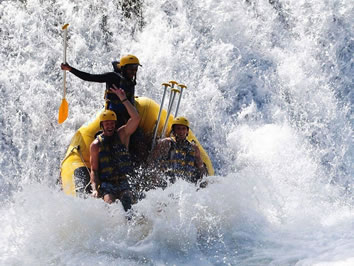 Day 3 - River Rafting / Mask Museum
Let's get physical, physical! Today we'll explore the physical body from multiple perspectives.
Start your day early with an optional, breathwork session at the villa. Breathwork is a popular healing modality that's known to improve your physical and mental well-being. The 1-hour session will be led by our handsome British buddy and certified breathwork instructor, Anthony.
For our activities today, choose to physically use your body to navigate down a river in a raft, or explore how masks – some covering not just faces, but the entire body – can transform a person from one being to another. Pick between the "Famous in Bali" River Rafting adventure, or the "Off-the-Beaten-Path" Mask Museum.
Dinner at an open air restaurant close to the villa. With a pool and the ocean both just steps away, this eatery features casual grilled favorites, fresh salads, delicious beef, pork and seafood, and a full bar with creative cocktails.
Famous In Bali: River Rafting
Cruise on a raft through the Ayung River, which steadily winds through the enchanting Balinese rainforest. Look around and take in the sights: soaring trees, swinging vines, and hand-carved riverbed rocks depicting jungle animals. It's a fun adventure immersed in nature, with minimal effort – this isn't white water rafting – but maximum wonder and awe.
Off-the-Beaten-Path: Mask Museum
The Setia Darma House of Masks includes a vast collection from different regions in Indonesia. This display impresses us each time we go for its variety, craftsmanship, creativity, curation, and world-class museum quality. Gawk at the incredible detail that goes into over 1300 handcrafted masks, discover aspects of their cultural significance, and gain a deeper understanding of masterful, local traditions.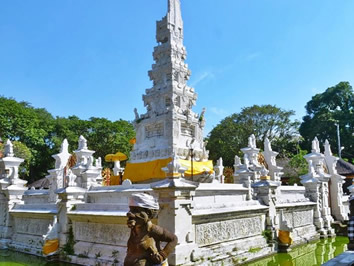 Day 4 - Jagatnatha Temple / Jeep Ride Up Mount Batur
Authenticity is the theme of the day! Choose between finding authenticity in a Balinese temple with the "Famous In Bali" Jagatnatha Temple, or have a more adventurous authentic outing to a unique Balinese village – and a most impressive Balinese mountain – with our "Off-the-Beaten-Path" activity today.
Dinner in the villa, in conjunction with our Ultimate Villa Pool Party. Our all-male naked pool parties aren't famous, but they do result in lasting memories. And why not? They always take place in a beautiful villa, take place on a balmy Balinese night, and have a unique combination: men au naturel, camaraderie, great music, and sexy vibes. We've thrown pool parties many times, and they're always, um, raging successes.
What makes them so special? Perhaps the better question to ask is, What actually happens at these parties? Well… these private gatherings vary as much with the activities, as with the men who attend. Sometimes there's a naked Twister game. Other times, nude local massage guys are brought in. Sometimes there's body painting. Sometimes there's pizza deliveries. And sometimes, a few local friends from the island join us. Always, there's time at the pool… and delicious cocktails. With our events, you can definitely expect everything, including lots of cocks – and tails!
Famous In Bali: Jagatnatha Temple
Made from white coral, these temple walls are decorated with stunning depictions of scenes from ancient Hindu teachings. Stroll through the grounds, and gather a sense of the sacred spiritual nature of Bali. Of all the activity options, this temple outing is our closest to the villa. Just 20 minutes away by car, you can choose this lighter activity and still return to the villa early enough to enjoy a relaxing afternoon.
Off-the-Beaten-Path: Jeep Ride Up Mount Batur and Trunyan Village
We'll start out very early on Day 4, by waking up in the middle of the night to see the sunrise from Mount Batur. After a 2+hour ride to the base, we'll change vehicles and ascend the magnificent volcanic mountain in a Jeep, driving up black, solid lava. As the sun comes up, enjoy breathtaking views over neighboring islands far across the ocean. Upon our descent, we'll visit Trunyan Village, where the local people carry out a unique ritual. When a person dies here, their body is placed openly on the ground, covered only with cloth and bamboo canopies, and left to decompose. The influence of a nearby magical tree is said to remove any putrid smells.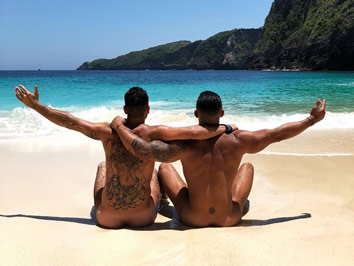 Day 5 - Dreamland Beach / Local Crafts
Yours to create: A relaxing day… a silver masterpiece… or a hand-carved cock. It's time for some, uh, hard choices. Today our "Famous In Bali" activity is Dreamland Beach - a turquoise-water, white sand, quintessential island beach. Or choose our Off-the-Beaten-Path option pursuing local crafts, and take a workshop either learning how to make silver jewelry, or how to carve wood in the form of a phallus. And yep, you get to take your artwork home…
Dinner will be in a local beachside restaurant. Enjoy barbequed seafood al fresco, accompanied by an icy beer, a fresh coconut, or another drink of your choosing – while the waves lap upon the shore.
Famous In Bali: Dreamland Beach
Need a rest after the villa party? How about a day at Dreamland – the classic Bali beach experience! Picturesque white sand, turquoise blue waters, a chance to watch Balinese surfers ride the waves, and lots of nooks and crannies to explore in the cliffside. Nibble on fresh fruit and sip on a hydrating coconut at the beach bar… and recharge in paradise.
Off-the-Beaten-Path: Local Crafts
If you're into arts and culture, this "Off-the-Beaten-Path" activity is an opportunity to make local crafts alongside Balinese experts. Choose between silver jewelry crafting or wood carving
Silver Jewelry – Learn how to design, silversmith, and weld your own piece of jewelry. Come with an idea, or be open to crafting something in an iconic Balinese style. Take home lasting memories, as well as a lasting objet d'art.
Woodcarving – learn ancient Indonesian methods of woodcarving, and create your own piece of art in the form of a dick. Seriously… wooden penis carvings really are a thing in Bali! This experience may redefine Morning Wood for you.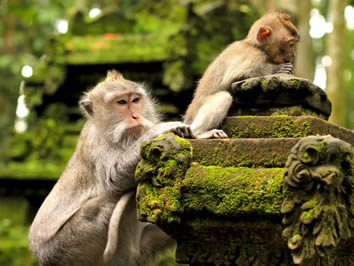 Day 6 - Sacred Monkey Forest / Taman Beji Griya Waterfall
Sacred monkeys and spiritual waterfalls… both special places for the Balinese. Today's Famous In Bali option is Bali's Sacred Monkey Forest and a stroll on Hanoman Street. Our Off-the-Beaten-Path choice is the Taman Beji Griya Waterfall – believed to have purifying and healing waters.
Tonight's dinner is a highlight of The Ultimate Bali Villa experience: Koral Restaurant in the Apurva Kempinski. Get ready for an aquatic dining adventure, unlike anything you've had before. This is true bistronomy: elegant dishes inspired by Indonesian coastal flavors, surrounded by an "architectural aquarium" with music that captures the mystery of life below the waves. The multi-course feast is an adventure in slow food, and every morsel is a taste sensation arousing your senses.
Famous In Bali: Sacred Monkey Forest and Ubud's Hanoman Street
In Bali, monkeys represent the energy surrounding temples and their powers. With clans of free-roaming wild long-tailed macaques, the forest is a sanctuary from the hustle and bustle of Ubud. As intelligent as they are mischievous, these monkeys are fascinating to observe as they swing through their lush, natural habitat. Plus, who doesn't like to see a naughty monkey humping something inappropriate?
You'll then head into the town itself. Ubud is the island's center for traditional crafts, dance, and healing. Stroll down Hanoman Street's shops and view some of the island's best handicrafts. Fun fact: Hanoman was the monkey commander of the army in the Hindu epic, The Ramayana. As a child, he once tried to grab the sun, which he mistook for a fruit. Now there's an epic story!
Off-the-Beaten-Path: Taman Beji Griya Waterfall
If you're looking to connect with the spiritual forces of the island, join in a Hindu water purification ceremony to symbolically let go and refresh your life. The ceremony takes place in the jungle, and includes screaming under a cascading waterfall at the top of your lungs, to release stuck energy. Then, laugh as loud as you can under a second waterfall, to invite joy into your life. The scene itself is breathtaking with natural pools of water lined with detailed rock carvings, traditional Balinese flower offerings, and an abundance of sweet-smelling incense.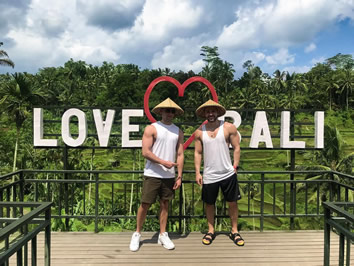 Day 7 - Bali Gay Villa Departure
A leisurely morning, with another delicious breakfast compiled by our naked chef. There will plenty of time to pack this morning…
Oh wait, are you continuing on for our Flores, Komodo & Padar Nude Gay Cruise? In that case, you may fly on to Labuan Bajo (LBJ) this day. Or perhaps you haven't had enough of Bali, and you'd like to extend your trip one more day before heading over.
After a hearty breakfast spread to get you ready for your upcoming journey, we'll make sure you're prepared for wherever your next move takes you. Our cars await with air conditioned comfort.