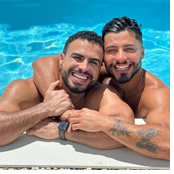 One week in Phuket, Thailand with men naked, everywhere. A dazzling array of activities, from the most famous things to do, to things off-the-beaten-path. A stunning villa outfitted in rich woods, gorgeous tiles, and sumptuous marble. Indoor and outdoor living areas, eight guest rooms, and numerous private spots, spread out on three levels. Perched on a hill, the pool affords picture-perfect views of coconut palms, with the Andaman Sea in the distance. This is The Ultimate Naked Gay Villa experience in gay Phuket.
A stream of water splashes into the beautiful infinity pool, featuring a swim-up bar with stone seats. Orchids abound on trees, and greenery is everywhere. Even an outdoor dining area is beside a wonderfully fragrant frangipani tree. With sun loungers by the pool, great socializing areas, and high-speed wifi, this villa's well appointed.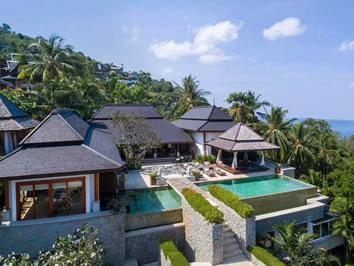 And the design fits perfectly within property. The shady poolside pavilion features a round revolving table with sunken seating. Bedrooms are both spacious and upscale, and many have built in nooks with couches. Wherever you are, you can relax and unwind with other travelers.
Bedrooms can be shared or reserved as private rooms, if desired. All are fully air-conditioned, along with floor and ceiling fans. Ensuite bathrooms are outfitted with sleek fixtures. Rooms have lots of storage space with floor to ceiling closets, and many open onto private terraces.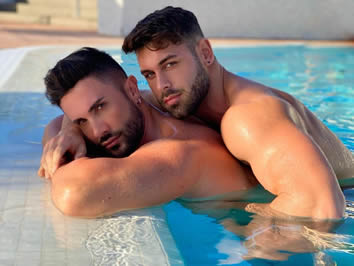 Each day, do things that truly interest you. Choose from two options:
• A "Famous Activity" (things first-timers to Thailand often seek)
• An "Off-The-Beaten-Path Activity" (ideal for guys who've already been to Thailand; this is a chance to go deeper)
Or, just hang out naked that day ... at our upscale, luxury villa.
Whatever you like, however you wish: this is The Ultimate Naked Gay Villa Holidays!
After booking, you'll be sent a selection form so you can make your activity choices.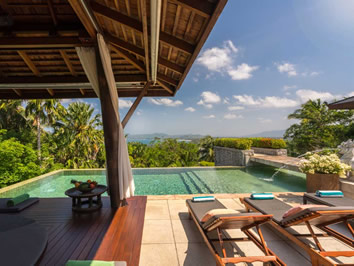 Day 1 - The Ultimate Thai Naked Gay Villa
This trip takes place on one of Thailand's southernmost islands, Phuket. We'll pick you up from the Phuket airport (HKT) (or your hotel) between 1 and 4pm, and bring you to The Naked Thai Villa. Settle into your room, unpack, and get naked.
Our first day is a relaxed day – a chance to kick back in our gorgeous accommodation, meet other guys, go for a swim, or even take a nap if you want. But don't sleep too long – we've got welcome cocktails as the entire group meets for the first time, with a delicious dinner of both Thai and international selections to follow, prepared by our in-villa chef. It's a chill evening of socializing in a relaxed, Southeast Asian fashion.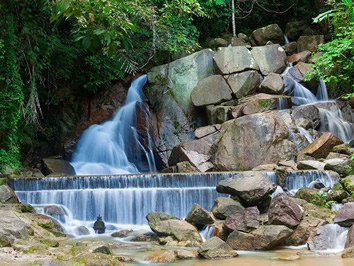 Day 2 - Phuket Old Town / Waterfall Hike
Wake up to a sense of calm. We'll take the morning slow, then, you can choose between a "Famous" walking tour of Phuket's old town, or the "Off-the-Beaten-Path" nature hike to a simple-but-sweet island waterfall.
We'll head out to a nearby restaurant for dinner, well-known by the locals for fresh authentic Thai food. Think coconut chicken curry, shrimp cakes, morning glory greens, satay, seafood soup, pork fried rice, salt and pepper squid, or tom kha gai. Their Singapore Sling's delish, as are the other cocktails (the owner was a bartender for over 10 years). Be sure to leave room for that most essential of Thai desserts: mango sticky rice!
Famous: Phuket Old Town Tour
Off-the-Beaten-Path: Waterfall Hike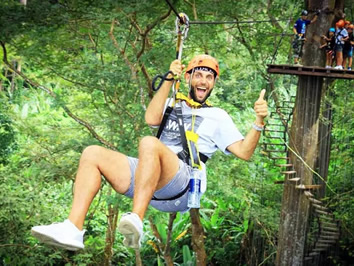 Day 3 - Zipline or Sky Bridge / Thai Cooking Class
Get physically "high" traversing the treetops, by gliding on cables as you zipline or walking on sky bridges, through the jungle.
Or, take a cooking class and learn to perfect Thai dishes, with a local market visit first to choose your ingredients.
Dinner this evening is in a stylish casual rooftop steak and seafood restaurant located in the hills, affording views of both the sky and surrounding area. Showcasing a BBQ grill, delicious desserts, and a good vibe… you'll feel the spirit of Phuket alive and well here in the hills!
After dinner, we'll continue on to an over-the-top cabaret, where you'll be dazzled by Thailand's famous ladyboys. You won't believe your eyes! It's the costumes. It's the stage props. It's the songs. But in the end, it's the marvelous ladyboys… probably the most spectacular drag show you'll ever see.
Famous: Zipline or Sky Bridge
Off-the-Beaten-Path: Thai Cooking Class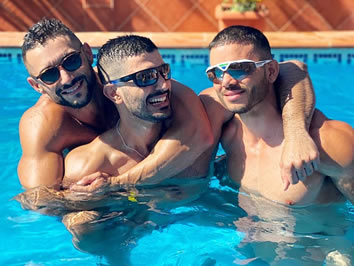 Day 4 - Free Day / Naked Gay Villa Party
Today's a day with nothing to do. Hell, there's anything to see – er, we mean, do! Hang out at the villa, and give yourself a real day "free of plans". That's refreshing in itself! Sun, sleep, talk with others, nap with someone, do whatever you want.
If you'd rather head out on your own, and explore whatever (or whomever, as Grindr's alive and well in Phuket), feel free to do so…
In the evening, bond with other guys at our trademark Naked Gay Villa Party – a mid-week event complete with music, drinks, and connection. Between the "free" day – and being free of clothes in the evening – you're sure to feel a renewed sense of freedom.
Our all-male naked pool parties aren't famous, but they do result in lasting memories. And why not? They always take place in a beautiful villa, take place on a balmy night, and have a unique combination: men au naturel, camaraderie, great music, and sexy vibes. We've thrown pool parties many times, and they're always, um, raging successes.
What makes them so special? Perhaps the better question to ask is, What actually happens at these parties? Well… these private gatherings vary as much with the activities, as with the men who attend. Sometimes there are naked games. Other times, there's body painting. And sometimes, a few local friends from the island join us. Always, there's time at the pool… and delicious cocktails. With our events, you can definitely expect everything, including lots of cocks – and tails!
Dinner tonight will be poolside pizza, delivered to our villa by one of the island's finest providers.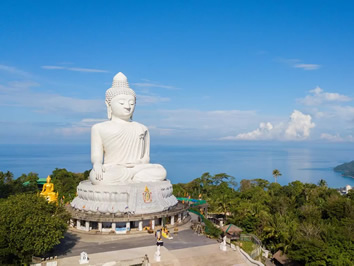 Day 5 - Great Buddha / Rum Distillery
See The Great Buddha of Phuket, one of the tallest statues in the country, and learn a bit about Buddhism. Or visit a world-renowned Thai rum distillery, where you will sample flavored rums in a tasting session and learn how to make delicious cocktails.
Our dinner tonight's in a well-known night market, and it'll soon have us licking our lips. All sort of food's for sale – from skewers, to fresh fish, to vegetable curries, with noodles and rice dishes and – well, we promise, everyone will find something they're keen on eating. We'll coordinate as each guy picks his own dinner choices. While your meal's cooking, we'll gather together at small tables in one section, taking in the myriad views of a typical Southeast Asian market.
We'll continue on to watch an authentic Muay Thai kickboxing match. Kickboxing isn't just for self-defense… Thai guys do it to keep fit, too. Bouts takes place in a boxing ring, with gloves, mouth guards, shorts, and bare feet to favor the use of kicks. Ritual abounds, as the kickboxers perform ram muay beforehand – a movement to show us their skills and control. The fighter circles the ring three times before kneeling and bowing to show respect for humanity. Some see it as reminiscent of Fight Club, but not nearly as dark. Others sense a homoerotic component, as half-naked men are wiped down by their attendants, ultimately squirmishing against each other for the win. Our seats are so close, we're nearly in the ring!
Famous: Great Buddha
Off-the-Beaten-Path: Rum Distillery
Day 6 - ATV Ride / Authentic Temple
Be the driver or passenger in an All Terrain Vehicle, and ride through local villages, tropical forests, a waterfall, and an unspoiled beach. Safe, but moderately bumpy!
Or, Visit Wat Phra Nang Sang – a curious, low-key, most authentic Thai temple – with fascinating paintings on the walls.
Relish our farewell dinner in a 3-star Michelin-rated restaurant set in an antique palace. One of Thailand's top dining establishments, the highly lauded menu features dishes unique to Phuket. Located in what was the former governor's house, the buildings and gardens have been exquisitely restored to their original Sino-Portuguese architectural style.
Famous: ATV Ride
Off-the-Beaten-Path: Authentic Temple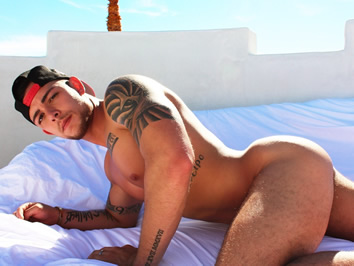 Day 7 - Thai Gay Villa Departure
A leisurely morning, perhaps with a swim in the pool, a reflective chat, or an exchange of contact details with newly-acquired friends. Don't worry, there'll plenty of time to pack this morning, too…
Are you planning to see another part of Thailand? In that case, you may have a flight this day. Or perhaps you haven't had enough of the island, and you'd like to extend your trip a bit.
After a hearty breakfast spread to get you ready for your upcoming journey – wherever that will be – we'll make sure you're prepared for your next move. Our cars await with air conditioned comfort.