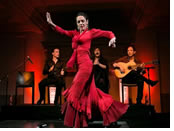 11 days of the best Spanish experience mix ever: culture, food, adventure, fun, people. Get ready to enjoy our favourite cities in Spain. Madrid, its capital, always awake. Its majestic streets, its monumental parks and one of the best museums in the world: El Prado. Seville, the city where flamenco was born, and Córdoba, with one of the wonders of the Moorish world-wide: The Mosque. Then, Barcelona, with that "cool" touch that makes the city special. The modernist city par excellence where you can enjoy one of the best architects of history: Gaudi and we will be amazed with the work of Dali, one of the most genuine painters of the whole history.
The best way to finish our history, tapas, architecture, shopping is resting on the beach of Sitges, one of the main gay hotspots in Europe.
For the accommodation, we have chosen our favorite gay hotels in all 3 locations. And we have included all the transfers between them.
• Explore Spain's political and cultural capital of Madrid
• Tour the Prado Art Museum and the Royal Palace in Madrid
• Admire the city of Toledo. It´s considered "the museum alive"
• See the juxtaposition of Christian, Jewish and Moorish traditions in Seville
• Stroll through Cordoba's old quarter and see the Catholic Cathedral built inside one of the finest surviving Moorish buildings, the Mezquita
• Visit Barcelona and find out why it is on the top 3 touristic gay cities in Europe
• Experience the wow factor of Gaudi and his architecture along Barcelona
• Learn about the region's culture and history from a national guide throughout the tour
• Enjoy the easy camaraderie of vacationing with a diverse group of gay travellers
• Amazing centrally-located, historic 4-star hotels in each city
• Food culture in every single city of our 11 day trip
• Spanish men, Spanish men, Spanish men!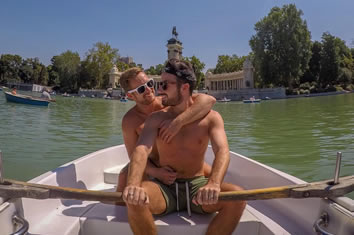 The capital of Spain has undergone a great transformation in recent years and has put it back as one of the most visited LGBT destinations in the world. The magic of Madrid begins in its museums. It´s greatness in every corner. You can breathe its history in a simple walk through its majestic streets. The passion of the chefs for the local product can be seen in the hundreds of restaurants scattered around every corner of the metropolis.
We have a well-known saying in Spain: Seville has a special color! The sheer joy of its people, its international reputation as the cradle of traditional tapas, its flamenco soul and year-round sunny days make Seville a welcoming, vibrant and beautiful city! We can guarantee that Seville is one of the most beautiful cities you've ever seen! There is a reason visitors fall in love with this Andalusian city that is full of life and a contrast of old and new. It is a city of football, history, romance, tapas, sangria, dancing, and culture.
Barcelona has become one of Europe's favorite destinations for the lesbian, gay, transsexual and bisexual community. As an open-minded and cosmopolitan metropolis, the city offers its visitors a whole host of attractions associated with diversity, freedom, and tolerance. The LGTB district, with its year-round offer of services, is a good example of this. It´s architecture is stunning: GAUDI!!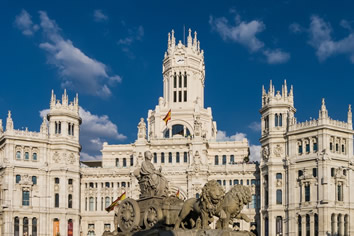 Day 1
Arrive in Madrid, Spain
• Arrival in Madrid. Check in at the Room Mate Oscar Hotel
.
• 7 PM: Welcome Cocktail at Hotel Oscar
• 8 PM: Welcome dinner
Day 2
Madrid Highlights
• 10 AM: Madrid city center walking tour
• 1 PM: Mercado de San Miguel tapas tour
• 10 PM: Gay night tour with drag show at Chueca neighborhood, Madrid's gay district.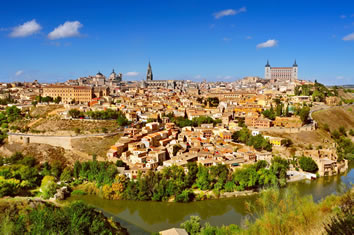 Day 3
Toledo
• 10 AM Half day trip to Toledo
• 4 PM Meet your driver and transfer back to Madrid
• Rest of evening at leisure
Day 4
El Prado
• 10 AM: El Prado expert guided tour
• Afternoon at leisure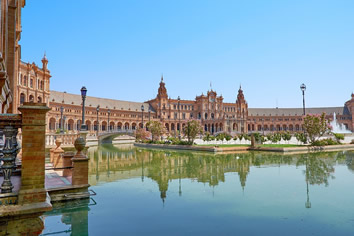 Day 5
Arrival to Seville
• Private transfer to High Speed train station.
• 2 PM Check in Inglaterra Hotel
, Seville
• 6 PM Boat tour
• 8 PM Tapas tour
Day 6
Seville Highlights
• 10 AM: Seville City Centre walking tour
• Afternoon at leisure to freshen up
• 7 PM: Flamenco performance and dinner at El Arenal
Day 7
One day trip to Cordoba
• 10 AM: AVE High speed train to Cordoba
• 11 AM: Cordoba Highlights Walking Tour
• Afternoon and evening at leisure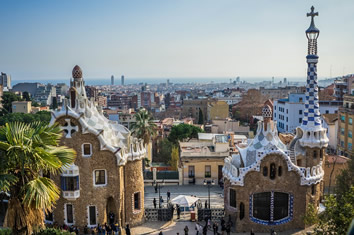 Day 8
Arrival to Barcelona
• 9 AM: AVE High speed train to Barcelona
• 3 PM: Check in Room Mate Carla Hotel
, Barcelona
• 6 PM: Barcelona City Centre Walking tour
Day 9
Relax in Barcelona
• Free day for relax or check our optional activities.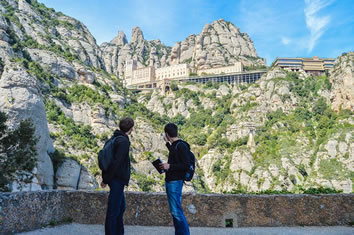 Day 10
Montserrat Tour & Farewell
• 10 AM: Half day trip to Montserrat
• 4 PM: Back to the Hotel. Afternoon at leisure.
• 8 PM: Farewell dinner
Day 11
Return Flights
• 11 AM: Breakfast
• 12 PM: Check out and private transfer to Barcelona airport for return flights.
Optional extension: Day 11-13: Gay Sitges.