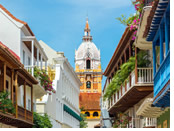 Gifted with tropical rainforests, romantic towns, magical beaches and colourful cities brimming with culture, Colombia could just be South America's best-kept secret! Experience the beauty and vibrancy of enigmatic Colombia. Once only famous for drug lords and its guerrilla groups Colombia has since seen a resurgence in popularity – and for good reason. There's an amazing mix of history, culture, beaches and amazing scenery here!
If there were ever a country that suffered from a case of seriously bad press, it's Colombia. It's not well known by travellers, so the border feels like crossing one of the last frontiers of travel. Colombia is ripe for discovery, and there is a little of everything: green valleys, golden beaches and snow-capped mountains, colonial fortresses and Bogota's frenetic energy... everything, it seems, except tourists. From intellectual Medellin to Cali's salsa clubs (birthplace of both cumbia and Gabriel Garcia Marquez) Colombia is musical and literary in equal measures. Welcoming and intelligent, the spicy, fun-loving Colombians too may surprise you. And while it is true that travel in Colombia demands some extra awareness, care, and preparation, the extra energy is rewarded a hundredfold.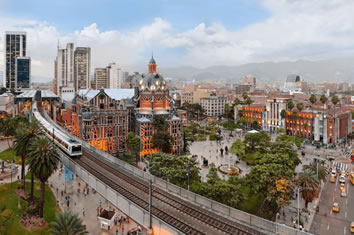 Day 1 - Friday, January 05, 2024
Arrive in Bogota, Colombia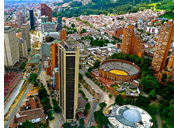 Arrive in Bogota, Colombia (BOG) on any regularly scheduled flight, and transfer to the hotel. You may book a transfer with us to be met at the airport and transferred to the hotel.
Check in at Casa Medina Hotel. long recognized as one of the finest in Bogota, this stately and urbane jewel of composure and calm is now a signature Four Seasons experience- perfectly located in the Zona G (for Gastronomy), the designated area for the best restaurants in the city. Meet in the lobby bar of the hotel (get to know your fellow travelers). Cocktails and Art Encounter at Lamazone Art Gallery, this is one of Bogota's top exhibition spaces. It opened doors to the public in 2014 and it hosts worldwide recognized Colombian artists. Owner Joyce Lamazone will welcome us, she is an artist herself and created a magnificent space for artistic interchange.
Welcome dinner: A culinary experience at the home of famed Colombian chef Jorge Ivan, we will be presented with a fabulous tasting menu paired with world class wines. After over a decade working on TV Jorge Ivan left his media career and got inspired by his mother's cooking. For the past 10 years, superstars, politicians, designers and friends have enjoyed Jorge's special menus at the comfort of his own home in Bogota.
Hotel: Four Seasons Casa Medina Hotel, Bogota, 5*
Room: Superior Room
Day 2 - Saturday, January 06, 2024
Bogota, Colombia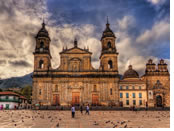 After breakfast, begin with a visit to La Plaza de Mercado Paloquemao, one of the biggest and most famous local markets in Bogotá. Then, enjoy a visit to the historic center La Candelaria with an impressive main square, Plaza de Bolivar.
Continue to the Botero Museum, a colonial house exhibiting some of Fernando Botero's works of art and pieces from his personal collection that includes works by Picasso, Renoir, Dalí, Matisse, Monet and Giacometti.
Lunch at San Isidro restaurant located at The Monserrate mountain: this hill is a pilgrim destination and dominates the city. It rises (10,341 ft.) above the sea level, where there is a church built in the 17thcentury.
After lunch, tour the Gold Museum which has a permanent exhibition of some 32,000 pieces of gold, 20,000 stones, ceramics and textiles all precious to the Quimbaya, Calima, Tayrona, Sinu, Muisca, Tolima, Tumaco and Magdalena cultures.
This evening dinner is on your own, we recommend Criterion located next to the hotel: This place is elegant but not stiff with a relaxed atmosphere. Located in the Zona G, Criterion is the place to be seen. Amazing service, variety and quality of food. With no doubt, a signature creation by the famous Rausch brothers.
Meals: Breakfast & Lunch
Hotel: Four Seasons Casa Medina Hotel, Bogota, 5*
Room: Superior Room
Day 3 - Sunday, January 07, 2024
Bogotá / Zipaquira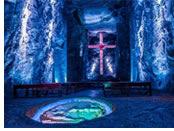 Today we visit "La Catedral de sal" at Zipaquira village, approx. 1-hour drive depending on traffic. Zipaquira area played an important role as the center of salt trade-vital to preserve food- before the arrival of conquistadors. This mineral, the essence of the town (founded in July of 1600), is abundant in the Salt Cathedral, a religious sanctuary built in an underground mine that we will have the opportunity to visit.
Lunch at "Andres Carne de res", Located outside central Bogota, this restaurant is a sprawling 2.76-square-mile venue that encompasses 11 dining areas, two dance floors, more than five kitchens, and a climbing wall. The perfect location to enjoy the typical food of the region.
Dinner on your own. Reservations will be made at: Harry Sasson: this restaurant is located at a renovated English house where classic and modern coo-exist to create a very special ambiance, thanks to the magnificent work of architect Saúl Sasson Ruiz. Famous chef Harry Sasson offers a very well executed menu mostly based on local and imported products, exquisitely presented in harmony with colors and flavors of the region.
Meals: Breakfast & Lunch
Hotel: Four Seasons Casa Medina Hotel, Bogota, 5*
Room: Superior Room
Day 4 - Monday, January 08, 2024
Bogotá | Medellin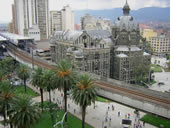 After breakfast, depart to the airport and fly to Medellín.
Today, learn about Medellín: No city has borne the brunt of that international infamy as much as Medellín, former home of Pablo Escobar. However, the bad days are over and you'll be more likely to find narco-warfare on Netflix's series Narcos than on the streets of Medellín. The city of "eternal spring" situated in a valley of Colombia's mountainous northwest region is undergoing a major renaissance, making it arguably one of most interesting places to be in Latin America right now.
Upon arrival at local airport we are taken on a guided Graffiti Tour of Comuna 13. Comuna 13, was once the epicenter of extreme violence during the narco wars due to the neighborhood's strategic position off of the highway leading out of the city. In recent years, an urban renewal project brought a metrocable and an escalator to the neighborhood, replacing the 350 steps that were once the residents' only way to reach the main city. The government also commissioned Colombian and other Latin-American artists to cover the public spaces of the neighborhood and around the escalators with murals that tell the story of Medellin and the Colombian people.
Dinner at Carmen - One of the top restaurants in the country, owned by an American-Colombian couple who both trained at the prestigious Cordon-Bleu, the menu melds Colombian flavors with a strong Californian influence.
Meals: Breakfast, Lunch & Dinner
Hotel: Park 10 Hotel, Medellín, 4+*
Room: Luxury Premium Room
Day 5 - Tuesday, January 09, 2024
Day trip to Guatapé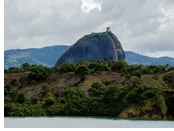 Departure from our hotel to the town of Guatapé in order to visit the enormous rock. The drive takes around two hours, during which you can appreciate the outstanding landscape of Antioquia. Guatapé has a reservoir created by the Colombian government for a hydro-electric dam. In the middle of the reservoir is the Peñol Rock.
The Peñol Rock is possibly a meteorite due to its size, walk up the stairs if you are full of energy (there are 654 steps to get to the top), to view the entire Guatapé reservation, this is an optional activity otherwise you can enjoy the surroundings.
We continue with a quick stop at the picturesque village of Guatapé where all of the houses are painted in quaint pastel colors.
After lunch (included), tour the Guatapé reservoir by boat (30 minutes) before returning to Medellin, rest of the afternoon and evening free.
Meals: Breakfast & Lunch
Hotel: Park 10 Hotel, Medellín, 4+*
Room: Luxury Premium Room
Day 6 - Wednesday, January 10, 2024
Medellin | Cartagena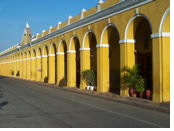 After breakfast we check out of the hotel and head to downtown Medellin for a quick visit to the Museum of Antioquia: This building houses one of the largest collections of works by Botero. The museum and its director, Maria del Rosario Escobar, seek to explore the meaning of Medellín's transformation through contemporary art.
We visit Plaza Botero, surrounded by the Museum of Antioquia and Rafael Uribe's Palace of Culture, this is a 7,000 m2 outside park that displays 23 sculptures by Colombian artist Fernando Botero who donated these and several other artworks for the museum's renovation in 2004.
Lunch at In Situ located in the Botanical Gardens, with a quick visit to Orquidiário at the Botanical Gardens, designed by Mr. Restrepo.
Transfers to the airport to get on a flight to Cartagena, upon hotel check-in evening at leisure.
Meals: Breakfast & Lunch
Hotel: Bastion Luxury Hotel
, Cartagena, 4*
Room: Superior Room
Day 7 - Thursday, January 11, 2024
Cartagena, Colombia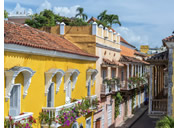 We depart for a stop at San Felipe Fortress built on San Lázaro hill to defend the city from pirates and erected in honor of the poet from Cartagena, Don Luis Carlos López, back in Ciudad Vieja (old city), visit the Convent and Church of San Pedro Claver, built in the middle of the XVII century.
Also visit the Zenú Gold Museum, inaugurated in 1982 by the Bank of the Republic, which has a gold and ceramics collection from the main pre-Columbian cultures. Lastly, continue to the handicrafts zone of the Bovedas, a collection of archways built into the city wall of Cartagena and that were used until the end of the 1700s to house armaments and then later as a prison in the 14th century.
The afternoon is at leisure to spend at the pool or on an optional excursion tour to the fishing village of La Boquilla, also a former slave colony.
Farewell dinner at Celele culinary project: Project Caribbean lab was created as a research initiative which focuses on visible food culture and biodiversity of the territory. Chefs Jaime Rodriguez and Sebastian Pinzon started this experimental venture with the goal of demonstrating that Caribbean food is much more than fried fish, coconut rice and fried plantains.
Meals: Breakfast, Lunch & Dinner
Hotel: Bastion Luxury Hotel
, Cartagena, 4*
Room: Superior Room
Day 8 - Friday, January 12, 2024
Cartagena | Departure
After breakfast, transfer to the Cartagena airport (CTG) to take your departure flight.
Meals: Breakfast