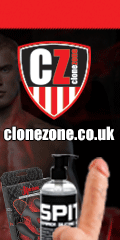 By all means! Although the vast majority of our groups are made up of men, we don't discriminate between genders. Just make sure you're prepared for a fun-loving bunch of gay guys as trip mates.
If you really need to use your cell phone, you may be in luck. If your phone is "unlocked" and has an external SIM card then you can usually just buy a local SIM card to swap with yours. This is a simple and cheap solution, but you'll be operating with a local phone number. Some cell phones do work in the countries we operate in without the SIM card switch, but roaming charges could be very costly. Check with your wireless provider for detailed roaming info.
The philosophy of living care-free and easy-going has been the backbone of our organization from the beginning. We concentrate on creating epic travel experiences by spending an endless amount of time researching and travelling throughout all of our destinations. We seek out the best spots that we feel the average traveler would not find on their own. We're not your typical "tour" company... Detours and Epic Travel is an organization made up of travelers, travelers who love to travel! We are not people in suits running a business in search of wealth, we're all constantly travelling because it's our passion and hey, we're good at it!! Our trips have their own unique style to them, we don't show up to a destination and hand out a regimented itinerary...instead we get to know our groups and plan accordingly to what each group's interests are! Because after all who are we to make you do something you don't want to while on vacation! We know from experience which activities, day trips, sports, and cultural sights etc etc etc are the best and we offer our advice and we let you plan your own itinerary at each destination with your leaders. By consulting with your leaders once you arrive, you can make your journey as busy as you desire... from all day every day activities or maybe you're there just to lounge on the beach and catch a tan with minimal activities planned. We understand every type of traveler and we feel that having a pre-planned day to day itinerary set in place before even meeting our travelers would be ridiculous! It's your trip... and we're there with you to create the best experience possible!
It is pretty typical for us to have about 50% or more of the group being single travelers, and then most of the other people come with 1 or 2 other friends or a partner. Everyone who is coming on a trip is excited, so it's only a matter of time before the group has all become one big group of friends. From past experience, the people who were concerned about this were pleasantly surprised how quickly and easily they made friends with the other group members. We think that coming on your own can be an ideal way to do these trips because you have the benefits of having many friends to hang out with, but you are never really obligated to one person in particular.
You might think that showing a bunch of guys around a beautiful, tropical country might be your dream job but not everyone will fit the requirements of being a great Detours trip leader. Each leader has to go through a rigorous training session for months before actually getting the role and title of 'trip leader'. These training sessions involve numerous experiments on the quality of sand, weather & temperature in different areas around the globe to make certain our trip members receive the most sunshine, soft sand, and adventure for their hard earned dollar..... food & beverage testing to ensure maximum deliciousness and hours of pillow punching at numerous bungalows/huts to guarantee ultimate comfort. As well, they are often forced to pack their bags, gather people up, get them on a boat, bus, train or plane (whether the people want to leave or not) to the next epic destination while ensuring everyone has all their belongings, travel friends and a smile on their face. It is a tough job and only a select few people will make the cut but if you are interested...let us know and we'll keep our eye out for you during your trip! We're proud of our team of leaders in the sense that we are all travelers who have extensive travel experience and we love having the opportunity to share our travel knowledge with our group members!
No problem! We've had travelers join us from South Africa, Australia, Switzerland, Ireland and everywhere in between! If you'd like assistance with airfare just contact us and we'll quote a trip price for you from your home and can even assist in arranging all of your international flights and airport transfers if you'd like.
A lot of the food in Asia is cooked with peanuts but you shouldn't be too worried about it. If you take the appropriate precautions, you will be fine.
In the past we've had many other travelers in the same circumstance. What we've recommended they do is:
1) Bring an epi-pen and carry it with you at all times. You can also store it at each bungalow we stay in the restaurant's fridge. Your group leader will be able to help you out with this at each destination.
2) Make sure you are informing other people in the group that you have an allergy and where to find your medication. This way, if anything were to happen...they would know what to do. The most important person to communicate this with is the group leader. Regardless of whether or not your leader speaks the native language they will always be able to direct you to someone who can help you get the allergy written out and translated to avoid any potential problems!
3) Speak to your trip leader once you arrive in Bangkok. They will be able to have a card printed out in the Thai language, you can then carry this card with you at all time and present it to your server at each restaurant. They will then make sure that peanuts do not come into contact with any of your food. Also, please make use of your leader as many of our leaders have been trained in the Thai language and can help you translate your allergy.
Be sure to let us know about any health problems when you sign up so that we can properly take care of you and ensure you have an accident free adventure!
If you purchase flight cancellation insurance for your plane ticket (which we highly recommend) and you need to cancel for any type of medical or family emergency, the full cost of the flight may be reimbursed to you.
The other portion of your payments which go towards our costs of preparing the trips, advertising, etc….are partially refundable depending at what point you cancel your trip. The $200 deposit is non-refundable but each subsequent payment is 50% refundable until the next payment is due – at which point they become non-refundable. At 60 days prior to trip departure the entire trip becomes 25% refundable.
One of the most important aspects of travelling is immersing yourself into a new culture and consequently, learning from it! We encourage everyone who travels with us to join us in taking in the culture whether it is by exploring ancient temples, testing local cuisine, learning local language, helping out the community, or learning about each destination's history etc. With the help of our awesome leaders and our local contacts, the opportunity to experience a lot of culture and history is continuously offered. It's up to you and how much you'd like to learn and be involved and no matter what type of traveler you are, there will never be a lack of interesting culture and history surrounding you!
DO NOT worry about this at all. We are not your typical regimented travel company, so the idea of the trip is to be living carefree, and easy-going, so we definitely plan as few early mornings as possible. We believe your wakeup should be to the sounds of crashing waves and local animals, not a screeching alarm clock. There may be a couple of early mornings on days that we have to travel, but it is certainly not the norm. Also, we would expect that after a day or two that you are accustomed to the time change on our trips. For many people, it takes hardly any time to switch over because as soon as you arrive, you are too excited to be tired.
Absolutely not, that's heavy!! Although it is not recommended you drink the water out of the tap in some of our destinations you will be able to purchase bottled water everywhere we go. So no need to pack a suitcase with a full supply of bottled water for your trip!
You may need to get some additional boosters or shots before traveling to our destinations but this information can change often. Our best advice is to check with local health clinics or your family doctor so please contact a professional and let them know which region of the world you are travelling to and they will ensure you are prepared for your trip with us! More info about this is in your Preparations Guidebook which you'll receive after registration.
There are banking machines all over Costa Rica, Thailand and Greece, which will dispense to you the local currency and your leaders will be sure to direct you to them! In all our destinations you will be using the local currency. You will need to have a debit card that has the "Plus" or "Cirrus" logo on the back of the card. We suggest having at least one debit card and one credit card. We also suggest signing up for Online Banking if you have not already. This is a great way to transfer funds and juggle your money accordingly to ensure you always have enough cash for food, activities, and good times! Traveler's cheques have become a thing of the past just like the mullet and we do not suggest bringing travelers cheques along with you (mullets are ok). Your leaders are knowledgeable travelers who can help you sort out any issues with your bank.
Group sizes generally range from (including trip leaders) 8-12 people. This gives everyone plenty of opportunity to meet other guys on the trip and have a good number of BFF's by the end of it. Every trip is different and regardless of the size of the group, you're assured an awesome adventure. Our minimum group size is 4 and our maximum is 15 with one trip leader and 20 with two trip leaders.
Everyone who travels with us will need a passport. Wait times vary for passport approval so if you haven't got a passport then it is best to begin working on obtaining yours shortly after making your initial trip deposit. This is the most important document you need to enable you to travel, so we suggest ensuring you have one and that it has at least 6 months validity left on it from the date of your departure.
For our North American travelers you will not need a Visa for any of our destinations as long as you are not extending your Detours trip. If you do intend to extend you trip past the group dates, you should apply for a Visitors Visa from the appropriate Consolate before your trip.
Everyone traveling on a Detours trip absolutely needs some sort of medical travel insurance. It can be arranged through Detours or in some cases you will be covered through a credit card, work or school. Whatever the case is, you will need to provide proof that you have medical coverage before you are allowed to join your trip.
Our unstructured style of trip seems to appeal to travelers from all ages! We find that the majority of our travelers are in their 30's and 40's but travelers outside of this are warmly welcomed. No matter what the difference in age is everyone joining us will have lots of things in common and be looking forward to having the most amazing experience of their life! Keep in mind that all of our trips require a moderate level physical ability for certain activities, hiking, or just carrying your bag onto boats/busses/etc. If you're concerned about the level of physical activity required on a specific trip please contact us to chat about it.
Each group will have knowledgeable and outgoing Detours group leader responsible for showing you the best experiences our destinations have to offer. These leaders are usually different from trip to trip as our team is continually changing and getting stronger. For Example: If your friend did a trip with Justin, he may be busy saving puppies and testing sand somewhere else on the globe so don't expect to have the same leaders as your friends did! All of our leaders have spent loads of time in the destinations that they lead trips in and will have answers to most of your questions. As well, they are there to provide you with knowledge regarding the culture and language of the country and what there is to do and see in each of your trip destinations. The leaders will also help plan group activities depending on what the group wants to do. Whether it's scuba diving, rock climbing, ziplining, etc etc etc..... your leaders have been trained by Deoturs as well as through their own travel experiences to direct you and ensure you make the best choices to maximize awesomeness on your trip! Your leaders are also there to deal with any issue that may arise whether it's that the cooler is out of cold beer, you need some assistance stringing a hammock, or you maybe ate the wrong food and are not feeling so hot and need some advice. All our leaders are experienced in the way of Detours... you can feel confident that they are going to be an essential part of your trip and experience!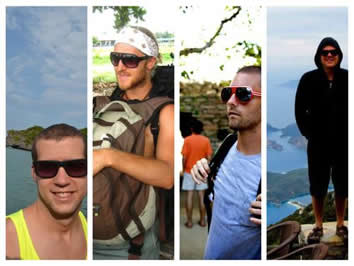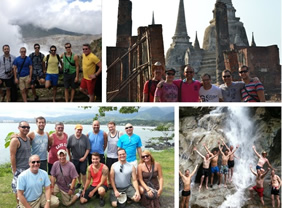 Still have questions about the trips that Detours runs? Wanna hear first hand feedback from past trip members from our groups? We're very proud of our growing list of feedback from past group members. Check out the following testimonials from people who have been on a trip with us, and wanted to share what their experience meant to them.
Detours Travel: 5.0 out of 5.0 stars, based on 54 ratings. 54 user reviews.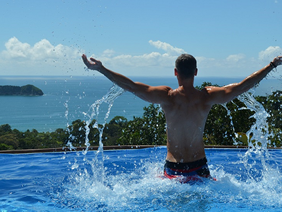 Amazing trip with a great guy. Perfectly organised, with many different activities to discover different aspects of Thailand. A lot of friends made during this trip. I highly recommend, even for non native English speaking travelers!
Bernard C. - France
15 Days in Thailand
Beyond Amazing for any gay traveler seeking adventure and fun in a flexible tour. A perfect mix of an urban journey and ocean escapade, all in the company of a small group of like-minded guys. Seriously, it does not matter if you're a solo traveler or going with a partner. With a typical group size between 10-15 people of various age groups, I promise you will become fast friends with everyone on Day 1. I went by myself and felt that I had traveled to Thailand with a group of life long pals. Miles Mitchinson goes above and beyond to insure that each person gets to experience any activity you set out to accomplish. At times, all of us would take a day trip together snorkeling to the gorgeous islands of Ko Phi Phi or a drag show in Bangkok. At other times we break off into smaller groups who may want to experience zip lining, hiking, elephant riding, or simply relaxing on the beach. This is not a group tour that is structured 24/7. Detours allowed us to customize our experience during the trip itself. Traveling with Miles was like having our own personal concierge who takes care of all arrangements. Thailand is gay friendly, beautiful, fluent in English, and very inexpensive (I came back with some of my spending cash). The value of the tour price was exceptional. Just get yourself to/from Bangkok and bring money for meals/drinks (Typical meals were under $10 and drinks often $3 - $5). I discovered Detours on a google search and anticipate returning next year for another adventure. Go Have Fun!
Steve C. - USA
15 Days in Thailand
I was a little nervous at first about detours travel, however, after paying for my trip, Miles Mitchinson (the director) contacted me telling me I had over paid by $1600. That made me realize I wasn't dealing with some travel agency that was just after my money, but that I was dealing with honest people.
When my boyfriend and I got to Thailand we found the person Miles had told us was going to be there waiting for us and we arrived at our hotel soon after without any problems.
The next day we got to meet Miles in person and found him to be a knowledgeable, engaging, and fun individual that made us all feel like family. We were a group of 17 people from all over the world and everyone got along. We will be traveling with detours again in the future!
Nelson G. - USA
15 Days in Thailand
I had never thought about going to Thailand before this trip. Miles was so patient with ALL my travel questions, bouncing between all 3 of Detours offered locations. At the time my partner and I registered, there was a political situation and Miles assured us that all would be fine. Even though the country was still under martial law when we were there, there was no sign of anything the news tried to portray as bad. All 15 of us got to view Thailand in its true beauty.
Not only did Miles do an amazing job of keeping tabs on 15 guys wandering through a country of 66 million people, but he kept the whole thing together. From vans, to taxis, to planes, yachts, catamarans, hotel rooms, he did it all! To us, it all appeared seamless, even though we knew he fixed it before we knew about it. He was able to organize any event we could think of.
If you are thinking about Thailand, or any trip with a gay company, Detours is definitely the perfect choice. Never once did I feel unwelcome by any of the other travelers and especially Miles. I have made some great friends in a short time, and a lifetime of memories. As I finish writing this, I am reading a testimony of a fellow traveler (Bill). My words cannot compare to his. I cannot begin to thank Miles, Detours Travel, and all of my travel companions enough for such an amazing time. I was able to hold back tears until now, but they are certainly happy ones.
Tom P. - USA
15 Days in Thailand
This tour was all around awesome! Miles was a great guide and was always available to help out. We had plenty of activities and excursions, but also the chance to go off on your own if you so liked. I really appreciate that Detours included two flights within Thailand to save us from excessively long travel days. I will join them again in the future!
Carlos S. - USA
15 Days in Thailand
Miles Mitchinson is the affable face and brand of Detours – Gay Adventure Travel and was our guide on our just-completed 12 day trip to Thailand. As promised we had an unforgettable experience in this beautiful country. My day job requires that I organize the schedule of a very busy President and CEO and ensure his international travel is done meticulously, therefore, I really appreciate the highly organized way in which Miles got 14 different personalities to where they needed to be, leaving us with no responsibility other than to have a good time. Thailand is known as a serene country – the land of smiles and after years in Thailand this has obviously ingrained itself in our host. No matter how you chose to interact with him, he was always gracious, genuine and warm and it was amazing to watch. Few people can be that upbeat all the time. He also truly went that extra mile to make the trip memorable and was not worried about improving the bottom line for his company. A case in point was a ferry ride we were supposed to take from one island to another. Instead, he and another traveller (JP) got together and booked a 70-foot yacht to give us a day trip that included snorkeling, fishing lunch and some amazing scenery. The two of them paid for the bulk of that trip themselves and I have never heard of a tour operator doing that for their clients before. We had some great times on the trip. My husband got to tick off zip-lining on his bucket list. We also participated in a Thai cooking class that was a lot of fun, had a day trip to some amazing Buddhist temples in Bangkok, accompanied by a wonderful Thai guide. We also enjoyed little things such as dinner at an amazing roof top restaurant on the beach in Phuket and one of the best sunsets seen to date at a bar at the W Hotel in Koh Samui, where we sat outside near a reflecting pool, high atop the town and watched the beauty that surrounded us. There were also many more opportunities for those that embraced more of the "adventure" aspects of the tour. The hotels we stay at are as promised; they are gay friendly and provide adequate accommodation for your Thai adventure at a low cost. I know that we could not have organized this trip ourselves and done it as cheaply, which is one of the things Detours Travel does the best. Even if we could have got to the locations, we never would have found the sites or the restaurants that Miles knew about and would not have been able to put so much into a 12 day trip. We also would not have had the opportunity to travel with and meet some amazing new people in our lives. Thanks Detours!
Bill W. - Canada
12 Days in Thailand
Thailand's allure was an impulsive choice but a prototypical tour had no appeal. A serendipitous Google search led me to Detours Travel's site. After a few prompt electronic communications with Miles Mitchinson, the Adventure Director (also co-founder and owner) and a week's time, I was on my way across the world.
First stop was Bangkok- a wild metropolis with calm Buddhist roots. It is home to millions, has murky rivers lined with dilapidated shacks in the foreground of countless skyscrapers and temples all connected by a plexus of streets with vendors offering most wares and services imaginable to mankind. Here vehicles coexist with pedestrians in a state of chaotic fluidity. Bangkok's sense of lawlessness can easily intimidate most visitors; but our group guide with his command of the language and familiarity of the city made the visit non-threatening and engaging.
Next were the islands and Phuket- the impetus to my visit. They proudly represent Thailand's glory with majestic unspoiled clear-blue water and white sand beaches despite heavy tourism. Detours Travel offers to arrange an optional hiking trip, elephant riding, wild monkeys feeding, full spectrum of aquatic activities, height-terrifying zip lining and even bungee jumping. Or one could choose to just relax and enjoy Thailand's natural beauty by the beach or poolside; drink or book of choice at hand. No pressure, no "must do" list; it is all one's prerogative. Your trip; your choice.
The accommodations were comfortable, clean, safe and pleasant. Air, bus and boat travel to the internal destinations were included. Some meals were included. Daily group dinner arrangements were offered as an optional esprit de corps building activity. The weather is hot and humid.
Accompanied or solo travel is welcomed. This grants the possibility of intersecting with people with diverse histories and the prospect of making long lasting friendships...or not. Again, the latitude of exchange is a personal choice.
And then there is Miles, our guide. He is easy on the eyes, with a ready smile, gentle disposition and intent on making the trip a true adventure. His authentic love of Thailand, its people and its offerings is infectious and he makes every attempt to assure that everyone in the group is enjoying the experience.
In all it was a phenomenal trip. Detours Travel delivers an indelible experience; the memories shall bring many smiles upon recollection. It is a truly a customized group travel adventure allowing for one final exclamation: "Why not? It is Bangkok!" Be warned however, at the end of the trip and once at home, the heart may feel a heavy void for Thailand and the friendships newly made.
JP L. - USA
12 Days in Thailand
For the best vacation take; one brilliant, patient, fun, enthusiastic guide, and twelve strangers. Visit in comfort various locations in one of the most beautiful places on earth. Dare yourself to do things that you'd never remotely consider doing. Not forgetting to enjoy the luxury of a private chief, take a night swim in one of many infinity pools overlooking the Pacific Ocean or chill in your own cabin under a volcano. Leave to enjoy for 12 days. Result 13 friends and extraordinary memories. If you're thinking about doing this trip, stop thinking, just book now while you can; you won't regret it. Like so many of my companions I'm already booking for a new location next year!
Russell L. - U.K.
12 Days in Costa Rica
I had an absolutely wonderful time on this trip. It was full of adventure, new places and friends. From the moment you arrive until you leave everything is organized for you. We stayed in a beautiful Villa, fun hotels and extraordinary cabins with views of a volcano. Our leader Dan did an amazing job. He takes care of everything. All you have to do is show up. I would sign up for another Detours trip in a heartbeat.
Brian B. - USA
12 Days in Costa Rica
I recently went to Greece, my second trip with Detours and once again I had an AMAZING time! I really enjoyed the islands, each had it's own charm and personality. I loved Milos for its serenity and found driving a dune buggy to be thrilling. Santorini had some exciting hikes and stunning views of the sunset. But Mykonos was my favorite island because of its crisp, blue waters and hot men. Yet what really made this trip so special was the group of friends I made. And I can't thank Miles enough for being such an outstanding tour guide and friend. I'm already planning my third trip with Detours!
Andrew H. - USA
12 Days in Greece