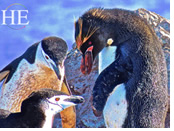 A 11-day gay group cruise along the waterways of the Antarctic Peninsula: rugged, savage, and teeming with extensive wildlife. Sail the Beagle Channel and Drake Passage, seeing icebergs, massive mountains and ice shelves. Step onto the continent, itself, and live an explorer's dream.
Starting in Ushuaia, we head to the world's most remote continent: Antarctica! For ten days, we'll sail along the waterways of the Antarctic Peninsula, exploring the bays and trekking onto the continent, as often as possible. We'll sail down the Beagle Channel accompanied by albatross, then head across the Drake Passage toward the mainland. Along the way, we'll see the most stunning wilderness areas on earth, rugged and savage, teeming with extensive wildlife. We'll watch for Weddell seals, Elephant seals and rookeries of penguins. Along the coast, we'll see icebergs, massive mountains and ice shelves. On land we'll explore an old whaling station on Deception Island, and perhaps take a thermal dip in the waters at Pendulum Cove. Our ship is the mv Hondius, a 174-passenger ship. This is not a private charter, but it should be a fun, friendly group from around the world. This is truly a voyage of a lifetime during which, weather and ice conditions permitting, you will encounter the ever-changing world of Antarctica.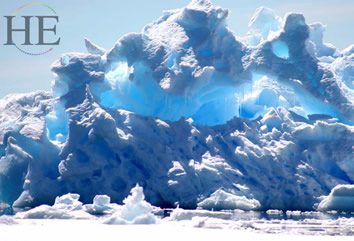 Your experience visiting the Antarctic Peninsula may vary depending on local ice and weather conditions, the availability of landing sites and opportunities to see wildlife. The final itinerary will be determined by the Expedition Leader on board. Flexibility is paramount for expedition cruises.
Our trip starts in Ushuaia, Argentina, the southernmost city in the world and the capital of the province of Tierra del Fuego, Antarctica and Southern Atlantic Islands. For those arriving early you may want to check out a number of activities including: horseback riding, hiking, wind sailing, canoeing, kayaking, fishing, and diving. You may want to visit the nearby Parque Nacional Tierra del Fuego, or Lago Escondido and Fagnano (lakes). The official tour starts when we board our ship on Day 1, but we highly recommend arriving in Ushuaia at least one day before sailing to minimize risk of travel problems impacting your cruise.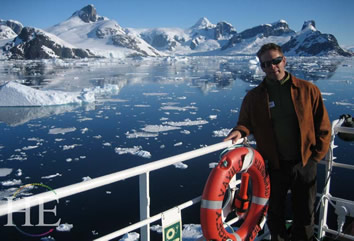 • Journey to Earth's most remote continent!
• See some of the most stunning wilderness on earth.
• View extraordinary concentrations of versatile wildlife such as penguins, seals and giant petrels.
• Glide alongside icebergs, as glacier fields rise up to rugged mountains.
• Ride a Zodiac raft to shore, then walk on the continent, a once-in-a-lifetime experience.
• Travel on the m/v Hondius, operated by Oceanwide Expeditions, the World Travel Award winner for Polar Expeditions.
• Enjoy this once in a lifetime trek with a friendly group of gay men, lesbians and friends. (Please note that this is not a charter, so our group will be among other passengers on this 174-passenger ship.)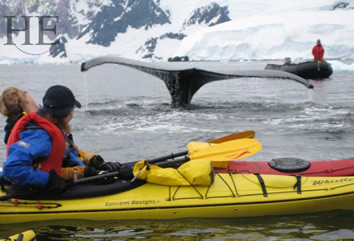 Day 1 - Embarking on our Great Journey!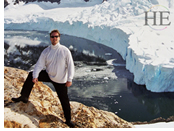 After a leisurely day in Ushuaia to get last-minute provisions, walk over to the pier to board our ship in mid-afternoon. Our ship is a former Dutch Navy oceanographic research vessel that has been rebuilt as a comfortable passenger vessel with multiple observation decks, dining room, and private bathrooms.
Later in the afternoon we set sail and follow the Beagle Channel (Canal Beagle) into the evening.
Days 2 - 3 - Crossing the Drake Passage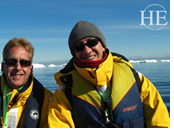 Over the next two days, we will sail across Drake Passage, where the waters of the South Atlantic and the Southern Ocean converge. Some of the birds we'll see include Petrels (Blue, Wilson's Storm, and Antarctic); Albatross (Wandering, Grey-Headed, Black-browed, and Light-mantled Sooty); Southern Fulmars; and Cape Pigeons. We'll begin seeing icebergs as we near the South Shetland Islands.
Days 4 - 8 - Antarctica!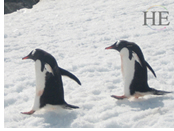 During our days of sailing, we'll see the Melchior, Brabant, and Anvers Islands, as well as many others. We'll have the opportunity to see or visit diverse wildlife colonies (Gentoo Penguins, Brown and South Polar Skuas, Antarctic Terns, Dominican Gulls, Chinstrap Penguins, Adelie Penguins, Blue-eyed Shags, Weddell or Crabeater Seals). We'll glide past breathtaking scenery of myriad icebergs, deep-cut fjords, glaciers, and alpine peaks. From the deck it's likely we'll spot Humpback, Minke, and Fin Whales. Zodiac cruises, kayaking, and hiking excursions provide close-up wildlife viewing and a deep appreciation for the unique landscape (and icescape) of the region. Adventurous visitors may enjoy optional camping and snowshoeing activities!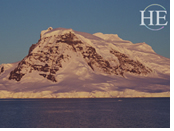 Visiting Antarctica's research stations will allow us to learn about modern scientists' life and work on the White Continent; where visitors always receive a warm welcome. When we arrive at the South Shetland Islands, braving the crater entrance past the awe-inspiring Neptune's Bellow, we'll sail into the ring of Deception Island, a natural harbor. We'll find hot springs and an abandoned whaling station. The volcanic islands of the windswept South Shetlands are often shrouded in fog and mists that nourish a variety of flora (mosses, lichens and flowering grasses) and fauna.
Days 9 - 10 - Back Across the Drake Passage

After several exhilarating days exploring the ice-covered land of Antarctica, we start our way back across the Drake Passage. We'll again have the chance to observe a wide variety of seabirds that call this bleak region home.
Day 11 - Back to Mainland South America
Our journey ends with early morning arrival in Ushuaia Harbor. A mid-morning transfer will be provided to Ushuaia Airport for flights around noon or later, or you can stay in downtown Ushuaia to begin your next adventure.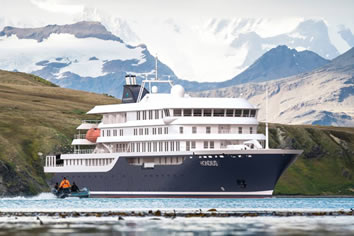 Hondius is the first-registered Polar Class 6 vessel in the world, meeting the latest and highest Lloyd's Register demands for ice-strengthened cruise vessels. Hondius also exceeds the requirements of the Polar Code as adopted by the International Maritime Organization (IMO), allowing you to enjoy the polar regions as much as possible while impacting them as little as possible. Upon completion, Hondius will be the most flexible, advanced, innovative ice-strengthened vessel in the polar regions. It is optimized for exploratory voyages that provide you the utmost first-hand contact with the Arctic and Antarctica.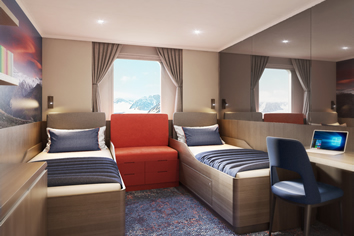 Hondius offers high-quality accommodation for 176 passengers in one spacious suite (35 square meters, 377 square feet), six grand suites with balconies (27 square meters, 291 square feet), eight junior suites (19 to 20 square meters, 205 to 215 square feet), eight superior cabins (20 to 21 square meters, 215 to 226 square feet), 11 twin deluxe cabins, (19 to 21 square meters, 205 to 226 square feet), 14 twin window cabins (12 to 14 square meters, 129 to 151 square feet) as well as 28 twin porthole cabins, two triple porthole cabins, and four quadruple porthole cabins that vary in size from 12 to 18 square meters, or 129 to 194 square feet.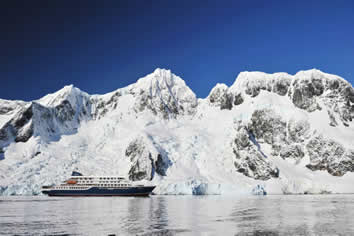 The passenger capacity certificate for Hondius is 196 persons. One deck consists of a large observation lounge and separate lecture room, which are reserved for a wide variety of interactive workshops, exhibitions, and performances particular to Hondius. Though elegantly designed in stylish mid-century modern décor, this vessel holds true to Oceanwide's distinctive cozy and informal atmosphere.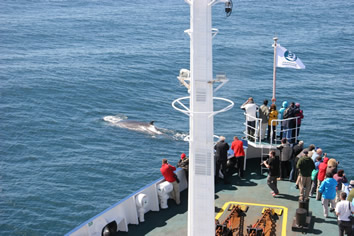 It is our philosophy to keep sea time short so that we can focus instead on fast, effective access to shore and near-shore activities. To give you the maximum contact with the nature and wildlife you traveled so far to see, we employ a tough fleet of rigid-hull inflatable Zodiac boats that guarantee swift and safe landing operations for all passengers at the same time. Hondius has two separate gangways and a sheltered indoor Zodiac embarkation platform that can also be used for special outdoor activities, such as kayaking.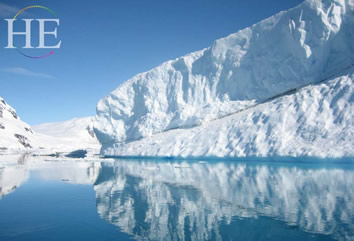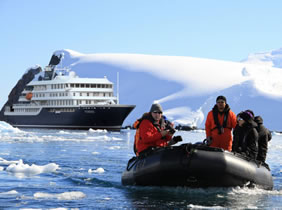 • Shared accommodations aboard our Expedition ship;
• All meals on board the ship;
• Expedition leaders and lecturers;
• All shore excursions by Zodiac boat;
• Lectures, videos, slide and film shows;
• Free use of rubber boots and snowshoes for shore landings;
• Opportunity for kayaking and/or camping on the ice for a night, subject to availability (for additional charge);
• Resident on-board medical officer;
• Transfer from ship to Ushuaia Airport on morning of disembarkation;
• HE Travel tour director (pending minimum participation) and assistance from local guides;
• Assistance with flights and extra nights in Buenos Aires or Ushuaia available upon request;
• HE Travel provides complimentary Medical & Evacuation Insurance for every US Resident on our group tours who does not have other coverage.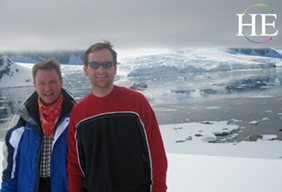 • Airfare to and from Ushuaia (we strongly suggest arriving at least one day, and preferably two days before sailing and departing 12:00 noon or later on final tour day);
• Visa, entry fee and passport fees (US, Canadian and Australian citizens must pay a Reciprocity Fee BEFORE departure from home; citizens of most other countries do not need visas);
• Airport departure taxes;
• Transfers from Ushuaia Airport to hotel and from hotel in Ushuaia to ship;
• Hotel nights in Ushuaia, Buenos Aires or other locations in Argentina;
• Warm weather clothing other than rubber boots and showshoes that the ship loans while on board;
• Alcoholic drinks;
• Personal items such as laundry, telephone calls, and gratuities;
• FUEL SURCHARGE: Oceanwide Expeditions reserves the right to levy a fuel surcharge if world fuel prices are significantly higher than budgeted when cruise prices were put in place.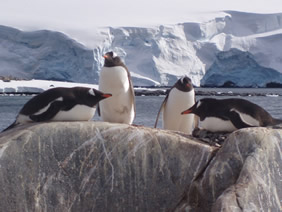 When and where does the Antarctica cruise start and end?
The cruise starts and ends in the southernmost city in the world, the Beagle Channel port of Ushuaia, Argentina and the cruise dates are the date that the ship departs from Ushuaia and the date it returns to the port.
We strongly urge you to arrive in Ushuaia one or two days before the tour starts, since it is nearly impossible to catch up to the cruise if you miss the sailing. There is lots to do around Ushuaia in your extra time.
For those arriving early, we offer an optional afternoon guided tour to the "end of the world" monument in Tierra del Fuego National Park.
What flights are required to get there?
Most travelers will fly between their home airport and Buenos Aires (the international airport is EZE). Aerolineas Argentinas, American Airlines and LAN Argentina fly non-stop between Miami and Buenos Aires several times a week, and various other North American and European carriers fly to Buenos Aires from other hub airports. Most flights between North America and Argentina are overnight in both directions, but there are now a handful of morning departures from each end.
Within Argentina, all travelers will need to fly the four-hour flight between Buenos Aires and Ushuaia, at the southern tip of the country. At this time, Aerolineas Argentinas is the main airline flying this route, but LanArgentina flies this route once or twice a day.
Anyone visiting Iguazu Falls before the cruise will also need to reserve the two-hour flight between Buenos Aires and Iguazu.
Flights are not included in the tour package, but we would be happy to assist with flights.
What about additional travel between my home and Ushuaia?
Since nearly everyone will need to take a long flight to Buenos Aires, then a 4-hour flight to Ushuaia, we encourage you to consider spending at least a day or two in Argentina's vibrant capital while you are passing through. You may also want to take a few more days and take in the amazing waterfalls of Iguazu Falls. Please contact us if you'd like suggestions about how best to plan extra time to explore more of Argentina.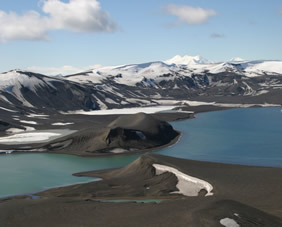 What is the Activity Level of This Tour?
Antarctica is a challenging and remote destination. You should be physically fit and ready to deal with uncertain weather and seas, able to hike comfortably and able to deal with extremes in temperature.
What if I am traveling alone?
So are most of the people who travel with us. You do not need to pay extra to travel by yourself. Prices are per-person, and the single supplement applies only if you'd like a room by yourself.
What cabins are available on the Hondius?
There are several cabin types on this ship. We are holding several TWIN PRIVATE WINDOW cabins for our group, with upgrades to Superior and reductions for Twin Porthole and Quad cabins available on request. Prices per person based on double occupancy. Please note that for guests asking us to match them with a roommate or roommates to share a cabin, roommates are matched by gender, but may or may not be traveling as part of the HE Travel group.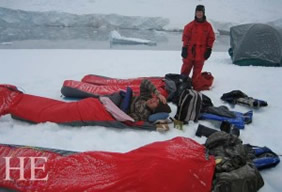 What is the Camping on the Ice option?
Our cruise offers an exciting 'open air' camping option, providing an intensive experience of the Antarctic wilderness for a limited number of participants. The camping is on the Antarctic Peninsula or nearby islands. The camping group will be taken ashore after dinner, and returns to the ship just before breakfast. We'll be ashore up to 10 hours, but it will never get completely dark during December-February cruises.
Polar sleeping bags and sleeping mattresses will keep campers dry, warm and comfortable during the night in the open air of Antarctica. Depending on the weather, you will have the option of sleeping in a 3-person tent or using individual waterproof, breathable bivouac bags (lightweight alternative to tents) to sleep under the open sky.
Our Basecamp cruises include one night on the ice for all interested participants, at no additional charge. For other cruises, one night on the ice can be reserved in advance (subject to availability), but the expedition team will offer more camping occasions when the ship will remain close to shore overnight and weather conditions permit. On shore a camp will be made in a place where wildlife will not be disturbed.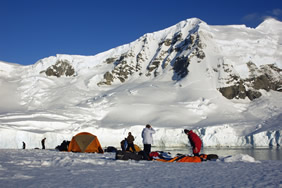 According to international regulations we are not allowed to take stoves, fuel nor food ashore, in order to prevent the spreading of diseases and seeds of alien plant species. (The exception is that our guides are able to carry emergency rations and survival gear, drinking water and medical supplies.) Toilet facilities are extremely limited since everything must be taken back to the ship. Details will be sent to those who select this option. Upon departure everything that was carried ashore must be returned to the ship.
Our tour director on a recent cruise said: "Camping on the Antarctic Continent is a once-in-a-lifetime experience. If you've never tried winter camping, this will definitely be a unique experience in many ways. (In December) there was daylight for about 20 hours, with a dusk-like darkness for the other 4 hours.
You have the choice of sleeping under the sky (no stars) or in tents. Most folks on a clear night choose to sleep out in the open providing it is not too windy.
The ship provides all the necessary equipment to provide comfort – a warm sleeping bag and a sleeping pad. The excursion starts after dinner and you will be back on the ship in time for breakfast the next morning around 7:30. There is nothing quite like the stillness and sheer beauty of a night out in the Antarctic wilderness. It's a special experience and one you will remember forever."