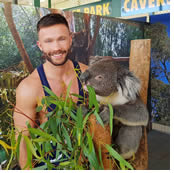 A Gay Australia Cultural Tour Down Under, including Sydney's Gay and Lesbian Mardi Gras & World Pride 2023!
What is the mystery surrounding the Great Land called "OZ?" And no, it's not the ruby slippers, although the broad landscapes, unique wildlife, and wonderful locals will combine for an experience far and away from Kansas!
Explore Gay "Down Under", including Melbourne, with its boutique laneways, vineyards in the Yarra Valley, and penguins on the ocean's edge. Then a few days in the Outback that will surprise you, especially at sunrise and sunset as Uluru glows red, fire in the wonderland of the Anangu people. And on to Sydney, a stunning harbor setting with beaches nearby, for a tour of a penal colony on Cockatoo Island and a tour of that architectural icon, the Sydney Opera House. From sophisticated tasting tours and " Dreamtime" in the Outback to sunset dinner aboard a private yacht and a fabulous Gay Mardi Gras Parade and party, this trip highlights the wonders Down Under!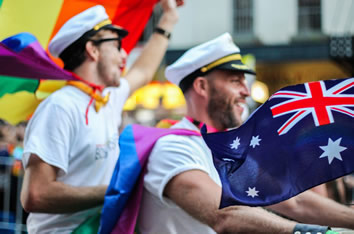 Beginning in Melbourne and ending in Sydney, on this Gay journey enjoy Australia's two largest cities and experience the culture and wonder of the great Red Center! We will spend three glorious nights in luxurious accommodations in central Melbourne. From Melbourne, we drive into the hills to explore the Yarra wine region and taste the delights it has to offer.
Our next two nights are in the Outback, marveling at sunrise and sunset on iconic Ayers Rock, while learning about local Aboriginal legends and their way of life.
We conclude our journey with four nights in Sydney. While there we will sip, stroll, prance, shop, savor, shine, and sail our way through seductive Sydney during the weekend of Gay Mardi Gras, immersed in one of the biggest GAY Parties in the world!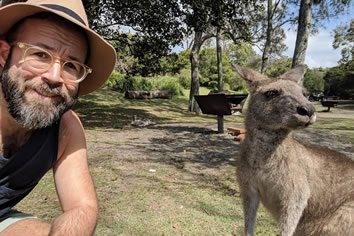 • Savor the diverse cuisine of Australia's second city, Melbourne
• Tour the magnificent Yarra Valley wine region
• Explore monolithic Uluru (Ayers Rock), rich in geologic and cultural significance
• Glide above the Outback on a scenic flight and saddle-up for a camel ride!
• Sing a high note in the world-famous Sydney Opera House
• Encounter Sydney's darker side at the 19th century convict facility on Cockatoo Island
• Frolic with Kangaroos and dingoes at an animal sanctuary
• Join big GAY fun at Sydney's magical Mardi Gras parade and a weekend of events & WorldPride!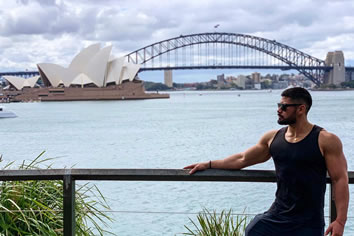 Day 1 - Arrival in Melbourne, Australia. Welcome to OZ!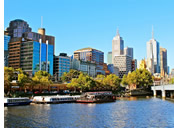 When you arrive at Melbourne International Airport, one of our representatives will greet you and assist with your transfer to our luxurious hotel in central Melbourne.
Most flights from North America arrive by mid-morning, whether non-stop or via Sydney, so an afternoon Melbourne city tour will welcome us to this sophisticated city.
Our welcome dinner this evening will introduce you to the flavor and taste of Australia. Then take time to rest and recover from the long journey and adjust to the time change. You've just jumped ahead an entire day
Day 2 - Wine and Dingoes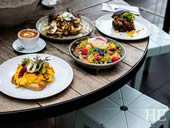 After a delightful breakfast, we will venture out to the world-famous Yarra Valley, a beautiful vineyard region especially renowned for its pinot and chardonnay wines. As we leave the city and enter the bush, our first stop will be at a wildlife sanctuary. Have you always wanted to feed a kangaroo or walk a dingo? We will have our chance!
Then, the vistas of vineyards blanketing peaceful hills and valleys awaken our thirst and build our hunger to see what's on offer, We will tour a vineyard, chat with local winemakers, sample some of the region's best local wines, and feast upon a vineyard lunch before returning to Melbourne later this afternoon.
Day 3 - Phillip Island and Penguins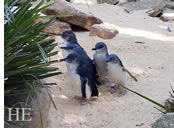 After a morning on your own in Melbourne, considered "one of the most liveable cities in the World," you will be whisked off to Phillip Island to experience one of Australia's most loved wildlife phenomena, adorable penguins returning to their beachside nests at dusk!
During this excursion, we will visit natural attractions, search for wallabies, and learn about the local Boonwurrng people who are native to the area.
A farm-to-table dinner is included before the penguin parade.
Day 4 - Outback here we come!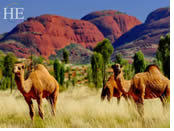 After breakfast, we say goodbye to Melbourne, and head to the airport for our included flight to Uluru / Ayers Rock. Here we discover the rugged red desert in the center of Australia, indulge our Crocodile Dundee fantasies, and learn the mysteries of the inhabitants of this unique landscape, one of the oldest civilizations in the world.
We will visit Uluru-Kata Tjuta National Park, including Uluru, the Aboriginal name for what many people know as Ayers Rock. While its presence on the horizon is immense, only a third of it is exposed above ground. Learn about the local flora and fauna, what "bush tucker" is (it's not what you think), and the Aboriginal Dreamtime stories of creation.
Day 5 - All about Uluru!

We will get up before dawn today for our guided walking tour to a special location from which to observe an amazing sunrise over Uluru. Early light often causes the huge monolith to seemingly begin to glow gold, then orange, and eventually red. After an Outback picnic breakfast, we will learn about the Mala people and hear their stories of world creation with "Liru" and "Kuniya," two snakes often depicted in their petroglyphs. We will visit the Mutitjulu watering hole, an amazing natural phenomenon, before returning to our resort for relaxation and lunch.
Later this afternoon, we will be whisked into the air on a short scenic flight to gain a better overview of Uluru and the eroded mounds of nearby Kata Tjuta.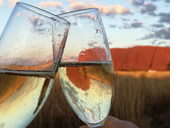 This evening, sparkling wine and canapes at hand, we relax on top of a remote sand dune with majestic views of Uluru in the setting sun. As darkness comes, above the skies fill with stars from the southern hemisphere. And below, a soft glow sparkles as tens of thousands of colorful lights come into view across the landscape, glowing wildflowers under this huge, starry sky. Feel free to wander around this large light installation before returning to the hotel.
Day 6 - Mardi Gras & World Pride 2023 in Sydney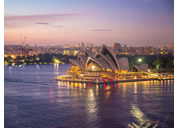 After breakfast, it's party time! We fly out to Sydney, a sunny, seductive, and friendly city famous for its large harbor and wide beaches, where we start to get ready for the celebration of a lifetime! Enjoy our luxurious, 5-star hotel, with a daily social hour of bites and bevvies, and a rooftop pool. Later, meet the group for a casual Sydney dinner and to see what is happening around town.
Mardi Gras will be in full swing. And with the 2023 WorldPride opening ceremonies the next day, we will be working to maximize our enjoyment of this colorful fest by letting you know about spontaneous party opportunities as they present themselves. Flexibility will be the key to having the most fun possible at one of the biggest parties on Earth!
There is so much to see and do in Sydney that you will have a hard time deciding! We have allowed open afternoons for you to explore on your own, pursue Pride events, or rest up for the big events in the evenings. Here are a few ideas!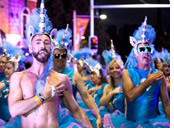 • Tan, bodysurf, and swim. Head to Tamarama Beach, a particularly gay spot during this pre-Mardi Gras week, then enjoy the seaside walk to its more famous neighbor, Bondi Beach. These are perfect spots for the great Australian sport of lifeguard-watching.
• Ride the "Manly Ferry" or one of several other ferries to points all over Sydney's extensive harbor, departing from Circular Quay
• Check out Sydney's many museums
• Shop at the grand Queen Victoria Building, once claimed by Pierre Cardin as "the most beautiful shopping center in the world."
• Rent a bike and ride along the network of bike paths in the active-lifestyle-oriented city, or even all the way around the bay to the secret Gay beach, ask your tour host for details
In the evenings, the gay Oxford Street district will be particularly active during Mardi Gras weekend, with lots of fun to be had!
Day 7 - Sydney Opera House Tour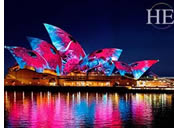 After breakfast, we are off to one of the most iconic buildings on the planet. The Sydney Opera House. Our tour brings to life the long saga behind the making of this modern masterpiece. We will go inside one of the working venues to experience the magic behind one of these extraordinary artistic spaces.
Lunch follows at or near the Opera House. Then feel free to wander through the Botanical Gardens, see the dramatic view from Mrs. Macquarie's Chair, and then stop by the Art Gallery of New South Wales as you return to the hotel.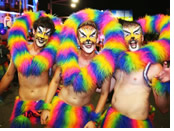 Alternatively, after lunch enjoy the historic district under Sydney Harbor Bridge, known as The Rocks, perhaps stopping by the Museum of Contemporary Art on your return to the hotel.
This evening is the Opening Ceremony for Sydney WorldPride at the Domain. As of this writing, details are not yet provided, but the evening is open to enjoy the festivities or take advantage of one of Sydney's gourmet restaurants.
Day 8 - Ferry to Cockatoo Island and Gay Australia Mardi Gras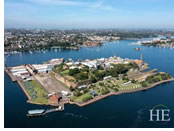 We start our day with a short ferry ride across the harbor to Cockatoo Island for a guided tour of the penal establishment from the 1850's. Convicts created the entire facility themselves, much of which is made from rock quarried on site and includes large silos carved into the limestone. Enjoy the views across the harbor and back toward the central business core as the ferry brings us back to the city.
The rest of the day will be soaking up the festival atmosphere. There's no way to describe the Sydney Gay & Lesbian Mardi Gras except with superlatives. It's one of Australia's biggest attractions for overseas visitors (and for locals, both gay and straight), and one of the world's grandest gay parties. In fact, Sydney Mardi Gras is a month-long event, with gay and lesbian cultural, social, and sporting events, culminating in the festive parade and countless parties.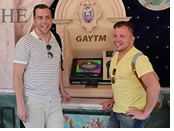 This evening, our group will enjoy premium grandstand seats for the Mardi Gras parade, an event so extravagant it draws a crowd of some 500,000 people and is televised on Australian TV.
The parade is followed by an official all-night Mardi Gras party and dozens of unofficial parties around the city. Party tickets are not included with our package, but we'll advise on how to get them if we don't handle them on your behalf. It's not difficult, but you do need to order well in advance most years.
Day 9 - Do what you will...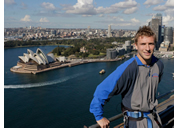 Until this evening, today is for recovering from the party! Rest, relax, lounge, or hit the beach—it's up to you.
Optional excursion: Sydney Harbour Bridge Climb:
For those who have recovered from last night's party, we offer the amazing Sydney Harbour Bridge Climb as an optional tour this afternoon. It is a 3.5-hour experience, with views down onto the Opera House and across its magnificent harbor. (Be warned, you have to pass a breathalyzer scan to be allowed up!)
Harnesses, helmets, and gloves are provided. The Climb starts when you attach a strong carabiner (hook) onto a continuous metal rod that goes all the way up to the top of the bridge, and all the way down the opposite side. You walk partway onto the bridge, climb up a ladder, then start the gradual ascent to the top. The footpath is wide enough that most people don't get too scared – but it's not recommended to spend much time looking down at the speeding cars and subway trains a few stories below!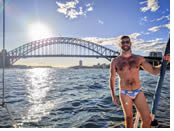 At the top, you walk from one side of this great icon to the other, and Climb Leaders will point out key landmarks. A clear day will afford you views that stretch from the Pacific Ocean to the Blue Mountains. You then return to the starting point on the opposite side of the bridge.
Tonight, we will sail on our private yacht across Sydney Harbour for our Farewell Dinner! We relax and enjoy the views. As the sun slowly sets, we enjoy a shipboard gourmet barbeque dinner with 5-star service. Toasting each other, we celebrate with friends and begin to say farewell to this land down under.
Day 10 - Goodbye Mates!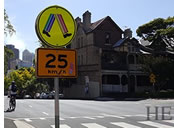 After breakfast, transfers will be provided to the airport, then it's off to your home.
Or for a completely different take on the lands down under join our New Zealand Vineyards and Vistas Gay Cultural Tour! February 28 - March 11, 2023
Take a journey through New Zealand, located only three to four hours away, but a much different country and experience. The natural beauty and rich cultural heritage abound. In this beautiful cultural tour of New Zealand, you'll enjoy all three of its main cities, visit multiple vineyards, enjoy tasting tours, sail in Auckland harbor, travel along scenic coastlines, between towering mountains, and across grand glacial lakes, not to mention enjoying a backstage tour of the finest museum of the region.