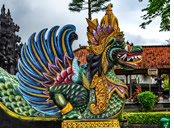 A Gay Travel Bali Cultural Tour. Experience Bali's culture, history, people and cuisine firsthand as you visit its colorful temples, rice terraces, markets and natural attractions including hot springs, volcanos, and lush jungles. The island of Bali, its people, plus its many religious shrines and sites are permeated with Balinese Hinduism, which has its roots in Indian Hinduism and Buddhism.
This Bali gay group tour experience includes visits to many of its most famous cultural and religious sites, including the famous Monkey Temples and some of the most beautiful Hindu and Buddhist temples in mountain and beachside locations.
Our reverent visits to these colorful religious sites are rounded out with sojourns to worldly sites. Experiences and pleasures on these trips include tasting famous Balinese coffee while touring a working coffee plantation at Sribatu, a hands-on Payuk Bali Cooking Class, a visit to the beautifully landscaped natural Banjar hot springs, a dolphin-watching ride in our own jukung (a traditional boat designed as a small outrigger canoe), visits to picturesque rice terraces, markets, and wood-carving sites plus the slopes of the still-active Mt. Batur volcano!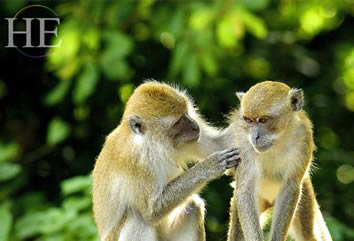 • Explore the famous Monkey Forest and meet the macaques who guard its sacred temples and cultural sites.
• Admire Batuan's famous 1,000-year-old temple, designed in a traditional Balinese style.
• Learn about Bali's internationally famous wood carving traditions.
• Relish the local cuisine with a hands-on Payuk Bali Cooking Class.
• Admire the local coffee processing style at a Sribatu plantation and relax with a tasty cup of Bali Coffee.
• Reflect on the famous characters of the Indian epic Ramayana depicted in full form, decorating the landscapes of the Pura Kehen temple compound.
• Scan the Lovina Beach waters for frolicking dolphins from our very own "jukung" – a traditional outrigger-style boat.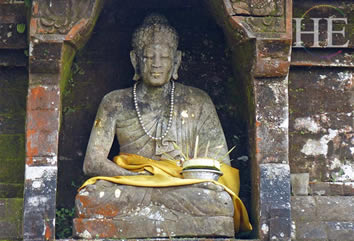 Day 1 - Arrival in Bali, Indonesia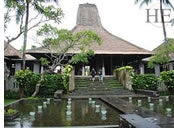 Upon arrival at Ngurah Rai Airport in Denpasar, our guide will meet us and transfer us to our first Balinese hotel in Ubud. Situated in the tropics close to the equator, Bali is part of the Indonesian archipelago, but has always retained a unique identity. Balinese Hinduism, which has its roots in Indian Hinduism and Buddhism, is the predominant religion and shapes much of the island's life and culture. An estimated 20,000 temples and shrines scatter the island and colorful religious ceremonies can regularly be seen. This evening we will enjoy our welcome dinner and get to know our travel companions.
Day 2 - Sacred Monkey Forest, Ubud, Batuan and Mas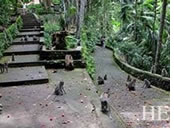 After breakfast, we begin our exploration of Ubud. One of the settings in Elizabeth Gilbert's novel Eat, Pray, Love, it is easy to see Ubud's attraction and its ability to create positive energy. Set in beautiful countryside, it is the cultural heart of Bali, and its center is a delight to explore with numerous temples, shops, restaurants, and art galleries. In the morning, we will travel to the Monkey Forest, a nature reserve home to three Holy Monkey Temples and hundreds of long-tailed macaque monkeys. Not only is the Monkey Forest sacred in itself for the villagers, but it is their belief that the animal is a fundamental part of their spiritual lives as it guards the temple site against evil spirits. We will step into the cooling lush jungle sanctuary made up of 115 tree species and enjoy the company of cheeky macaques all vying for attention and food.
After our monkey forest visit, we'll drive to Ubud to explore this vibrant town and its picturesque market. We will also make our way to the nearby village of Batuan, famed for its 1,000-year-old temple designed in a traditional Balinese style. Here we will learn how the locals worship. Our next stop is the village of Mas, internationally famed for its wood carving. In this artistic countryside, we will visit a gallery where we will have the opportunity to learn about this traditional art form. Later, we will return to our hotel for our included dinner.
Day 3 - Ubud Hands-On Balinese Cooking Class

After our delicious breakfast, we will prepare for lunch with a special Payuk Bali Cooking Class. We'll learn by doing (and then eating!), using fresh local ingredients as we hear stories and folklore about the markets and the history of cuisine in Bali. Depending on what's freshest at the local market today, we'll make our lunch with some combination of Bali's most famous herbs and spices, likely to include Kaempferia galanga (galangal), shallots, garlic, turmeric, ginger, and Kaffir lime. Balinese 8-spice is made with white pepper, black pepper, coriander, cumin, clove, nutmeg, sesame seed, and candlenut. Other ingredients might include some palm sugar, fish paste, and basa gede (a spice paste). This afternoon and tonight, we relax and refresh ourselves again in our beautiful hotel, including a relaxing dinner.
Day 4 - Ubud – Lovina – The Kehen Temple, Coffee Plantation, and Mt. Batur Volcano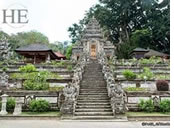 After our breakfast this morning, our guide will escort us on an exploration of the beautiful Kehen Temple, nestled in the Bangli Regency's foothills. Strategically located in the highlands, we'll take in the beautiful views of the surrounding areas. The temple's terraced landscape is decorated with stone statues representing colorful personae from the Indian epic, the Ramayana. The temple's outer sanctum is home to a famous banyan tree (Jaba Pisan) known to be at least 400 years old, and you'll marvel at the many shrines and courtyards here, dedicated to gods including Brahma, Shiva, and Vishnu.
We will continue to a Coffee plantation at Sribatu, where local workers show us the steps involved in growing and processing the famous Bali coffee. Then we are treated to a delicious cup of it ourselves! Next, a visit to Kintamani treats us to a view of the still-active Mt. Batur volcano and its magnificent panorama at Lake Batur. The volcano stands at an elevation of 5,633 feet and its last major eruption was in 2000 but has had a number of small eruptions every few years.
Our delicious lunch today is at a local restaurant, then we continue with a drive to the north on some very scenic roads and stop several times to check out local markets and events. We wind down our day at our final destination in Lovina, checking into our comfortable lodging. Dinner will be on your own today.
Day 5 - Lovina – Dolphins, Pura Beji, Brahma-Asram Vihara and the Banjar Natural Hot Springs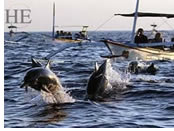 Today we head out before breakfast on our excursion to scan for dolphins around Lovina Beach aboard a "jukung" – a boat traditionally designed as a small outrigger canoe. Traditionally, it's a fishing boat but newer versions take locals everywhere plus whisk scuba enthusiasts out to great dive locations. If we're lucky today, we'll see some dolphins frolicking and showing off alongside us. We boat back to our hotel for a delicious breakfast. The rest of the morning and lunch are on our own.
This afternoon we take a drive to visit Pura Beji near Lovina. Its shrine bases and white sandstone walls are covered in arrays of carvings, inspired by the great Hindu epics with a mixture of fables and legends, such as serpents, menacing demons, and guardians. The stone staircases and temple gates of Pura Beji temple also feature intact statues.
We will continue with a visit to the Buddhist monastery of Brahma-Asram Vihara. It is the biggest and the most special Buddhist Monastery in Bali, completed in 1970. There are many features dealing with Buddhism in this monastery complex including the Uruvella Forest, Bodhi tree and Buddhist Stupa. A stunning religious and cultural site recognized with special features sponsored by the government of Thailand as well as the Great Dalai Lama from Tibet. Located high up on the hillside, you'll enjoy breathtaking views of the ocean, rice fields, and mountains.
After this, we may continue on to visit the Banjar natural hot springs, whose tiered landscape structure includes numerous bathing pools surrounding the hot water spring source. Ornate dragon spouts and impressive architecture are stunning highlights in this hybrid world of both natural and manmade beauty. Our late afternoon drive back to our hotel allows for even more relaxation, rest, and a great dinner.
Day 6 - Lovina – Travel to Munduk and Local Markets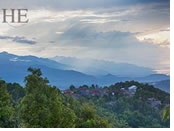 We will enjoy a tasty breakfast, then drive from Lovina to Munduk. Along this two-hour drive, we'll make several stops to peruse some fascinating local markets and mountain vistas, and stop for lunch. Then we'll check ourselves into our lodging for tonight and have free time to enjoy the hotel's amenities until we meet for dinner. A hideaway nestled in a working coffee plantation surrounded by jungle, it's been named the best Eco-Luxury resort in Indonesia in 2016 and it's main pool nominated by Asia Spa as one of the world's best infinity pools in 2014.
Day 7 - Munduk – Ulum Danu Temple at Lake Beratan, the Candi Kuning Fruit Market and the Tanah Lot Temple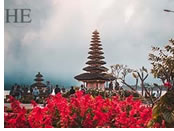 After a great breakfast, our guide picks us up this morning to take us on a full-day exploration of the Tabanan Regency of Bali. The valleys streaming down from the western mountains into the regency are among the most fertile in Bali. Our first stop will be at Ulun Danu Temple at Lake Beratan. Referred to as the "floating" temple, it's a juxtaposition with the lake's smooth, reflective waters and epic mountain range creates a hypnotic vision. Ulun Danu was built in the 17th century to worship the main Hindu trinity, Brahma-Vishnu-Shiva, as well as the lake's goddess, Dewi Danu.
From Ulun Danu, we will have lunch and visit the Candi Kuning fruits market, one of two main markets in the Bedugul region. As you stroll through the local farm produce you'll be amazed at the variety of fresh flowers, tropical fruits (mangosteen, bananas, tamarillos, tangerines, and most importantly, strawberries!).
After our market visit, we will make our way to Tanah Lot temple built on a small, offshore island of barren rock on the southern shore of Bali. Legend has it that an intruding East Javan high priest built it in 1489 to spread Hinduism. Facing resistance, however, from the Balinese locals, he famously "meditated" this whole rock formation out to sea, magically turning his robe's sashes into sea snakes which would guard the site's base. Presently, a third of the site's geology is now actually artificial rock, after many cooperative efforts to address its erosion! Today's final drive is to Sanur for the evening. After checking into our rooms we will meet for dinner.
Day 8 - Sanur – Rice Terraces and the Batukaru Temple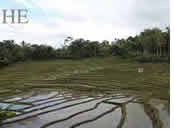 After breakfast at the hotel, we'll drive to Wongaya Gede village for some fun exploration on foot. As we drive closer to Wongaya Gede, we'll see more instances of rice terraces. We will make a stop at Mengesta 1 Elementary School where we will witness some first-rate pro-social and pro-environmental education happening right now in the world. At Wongaya Gede village, we'll walk through the chill, fresh air past Balinese houses then step directly into the rice fields for the closest of encounters with this ancient cultivating art. Comfortable shoes are recommended and you should watch your step as the paths through these rice terraces can be slippery after the rain or morning dew. As you trace these paths, you can chat with locals who work these terraces, then say farewell as we cross a bamboo bridge and head back up to our walk's final destination at the hilltop. Once back on the hilltop, we'll enjoy a traditional snack and have lunch, surrounded by glorious views of the rice terraces plus five mountains in the background.
After lunch, we will drive to visit Batukaru Temple, referred to by locals as Pura Luhur Batukaru and one of Bali's key temples. Located at the foot of Mount Batukaru, it's the second-highest peak in Bali after Mount Agung. The 11th-century Batukaru Temple is devoted to the Hindu god Mahadeva, the master of the air, water, and plants. It's fitting that this temple resides within the Wongaya Gede farming community and the cool, natural forests we've been enjoying all day. This evening we will drive back to our hotel for rest and leisure. Dinner will be on your own.
Day 9 - Sanur – Relaxing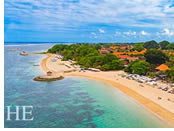 After breakfast today, this day is ours to relax, to explore the nearby shops and markets or to hike the surrounding areas. Later this evening, we will enjoy our last group gathering with a delicious farewell dinner.
Day 10 - Farewell
After breakfast, we say farewell to our guides and the new friends we've made on this tour, and our drivers will whisk us back to the Denpasar Airport to embark for our next destinations.
Day 10 - Transfer to Jimbaran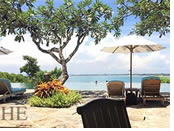 A local guide will pick you up in Sanur and drive you to Jimbaran where you can relax for the next two nights at an oceanfront resort in an oceanview room. Our clifftop resort is known for its sunset views, indoor and outdoor dining options, a small white-sand beach, and a world-class spa. There are no pre-scheduled activities, allowing plenty of time to leisurely explore the resort and surrounding area.
Day 11 - Free Day
Breakfast at the hotel and a free day of leisure.
Day 12 - Departure
Enjoy breakfast at the hotel before being transferred to the nearby airport for your flight home.