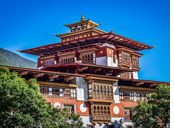 A Gay Travel Bhutan Cultural Tour. Our gay cultural tour takes a leisurely trip through the remote Himalayan kingdom of Bhutan. Since emerging from its self-imposed isolation and opening its doors in 1974, Bhutan has mesmerized its visitors. We will visit the Tiger's Nest monastery, the bustling capital Thimphu, and small villages on our journey through this once forbidden country.
We'll climb up to the Tigers Nest Monastery, the most iconic symbol of Bhutan, hugging the side of a mountain cliff. For the middle five days of the tour we will separate into two groups, then reunite in the capital city of Thimphu for the last couple of days to share our tales with each other.
Travelers who thrive on high-adrenaline experiences will enjoy a magnificent trek to see landscapes only accessible on foot and spend four nights at high-altitude camps. Veterans of HE Travel's Inca Trail tour and OutQuest's Kilimanjaro Climb will enjoy adding this trek to their personal achievements.
Those who want to indulge in the splendors of Bhutan but don't want to work quite so hard will stay in hotels for the entire trip. There will be several hikes for our Overland Tour travelers as well, but at lower altitudes, and with overnight stays at simple but comfortable hotels in some of Bhutan's smaller towns.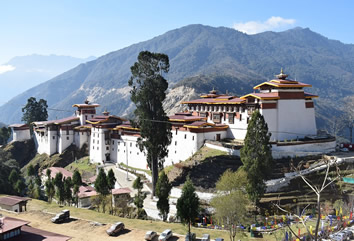 • Visit Buddhist monasteries in a remote mountain region
• Hike on trails nestled beneath the Himalayas
• Experience a society mostly uninfluenced by the West
• Enjoy an exclusive experience as one of the limited numbers of tourists allowed in Bhutan each year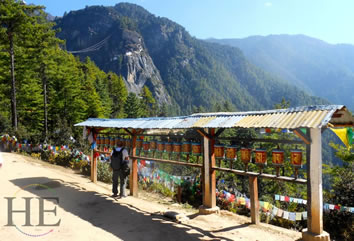 Day 1 - Arrival in Paro, Bhutan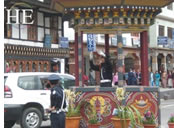 The scenic flight into Paro offers a spectacular view of the Himalayan ranges. If you're lucky, you may even see Mount Everest and other famous peaks like Kanchenjunga, Makalu, and Chomolhari. HE Travel will arrange your flight to Paro from Bangkok.
Upon arrival, you'll be greeted by our local hosts and enjoy sightseeing in the Paro valley. We begin with Ta Dzong, a monastery/fortress that was later converted into the National Museum in 1967. A Dzong is a fortress-like structure that functions as a monastery. Inside the museum, you will find many antique paintings, carvings, statues, textiles, and jewelry. We'll drive to the Rimpung Dzong which was built in the 17th century. This dzong is now the administrative center and school for the monks. In the afternoon, we'll check into our charming small hotel nestled in the trees.
Day 2 - Paro, Drukgyel Dzong, and the hike to Taktsang (the Tiger's Nest)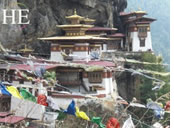 Today's approximate five-hour hike will bring us to the Taktsang (Tiger's Nest) Monastery on the side of a cliff 900m above the floor of Paro valley. As believed by the Bhutanese, Guru Padmasambhava (a very famous Buddhist saint) flew here on a Tigress's back in the 8th century and meditated for three months. Guru Padmasambhava was the one who later converted the whole Paro valley into Buddhism. After the hike, we'll stroll in the Paro market before returning to our hotel.
*Optional horses are available for payment on the spot and will go up to 1st view point only (40-45 minute ride). It cannot be used on the way down, only up.
*Optional Hot Stone Bath at a farmhouse or hotel. Optional cost below.
Day 3 - Paro to Bumthang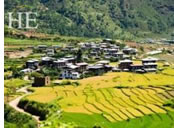 Today we take a short but scenic 30-minute flight to Bumthang. In the Bumthang region, Jakar Dzong is one of the highlights. According to legend, when the lamas assembled in 1549 to select a site for a monastery, a big white bird rose suddenly and settled on a spur on a hill. This was interpreted as an important omen and the hill was chosen as the site for the monastery. Jakar Dzong roughly translates as "castle of the white bird."
Today's itinerary will feature a visit to Jakar Dzong, and 2 additional Buddhist temples, Kurje Lhakhang and Jambay Lhakhang. If time allows, we will do some hiking in the area and shopping in the village. We may also visit a cheese factory and a brewery. Tonight we stay in a traditional small lodge.
Day 4 - Bumthang to Jakar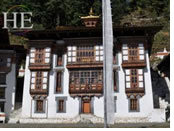 Today we will visit the Burning Lake of the Great Treasure Revealer "Pedma Lingpa," who is a great figure in the History of Bhutan. Next, it's on to the Nunnery and the village nearby where we'll visit the local government school and interact with students and teachers. This evening we will take a short drive to the Chumey Valley and check into our quaint guest house.
Day 5 - Chumey Valley to Trongsa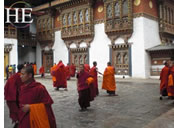 Today we will take a 2-hour drive to Trongsa, with a lovely hike to Gyetsa Valley en route. Trongsa is in the center of the country and is separated from both east and west by high mountain ranges. The Vanguard of the Warriors – Trongsa Dzongkhag is located near the center of Bhutan and was considered crucial in controlling the kingdom in earlier years. The dzong and surrounding town are perched above a gorge, with fine views of the Black Mountains to the south and west. It's a sleepy and pleasant town, lined with whitewashed shops decorated with pot plants.
Day 6 - Trongsa to Phobjikha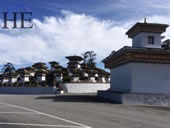 Today we will start with a visit to the Trongsa Dzong which is one of the most impressive in the country. It can be seen from great distances from the Mangde Chhu Valley. Trongsa Dzong has been described as perched so high on a mountain that the clouds float below it. It is one of the most aesthetic and magnificent works of traditional Bhutanese architecture.
After our visit to the Dzong, we will head to Phobjikha valley where we'll explore the Gangteng Monastery which is an important monastery of the Nyingmapa School of Buddhism. The monastery's history dates back to the 17th century. We may be able to meet with the monks at the Gangtey Compa(depending on their schedule) or have time for mediation on our own. Afterward, we'll stroll around the village nearby.
Day 7 - Phobjikha to Punakha with a stop in Wangdi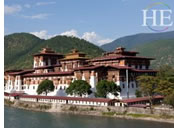 We'll start the morning with a visit to the Nature Conservation Center, afterward taking a short walk toward the Gangten Monastery. After lunch, we'll drive to Punakha and will pass by the Wangduephodrang district. The Wangduephondrang Dzong was burned down in July 2012 and is currently in ruins, though it is currently under reconstruction.
We'll then visit Chhimi Lhakhang, the seat of Lama Drukpa Kuenley, popularly known as the "Mad Monk." It's a 20-minute brisk walk through the paddy fields and its village that leads to the Temple. That evening: relax.
Day 8 - Vist to Punakha Dzong and Thimphu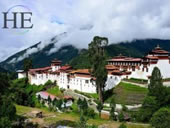 Punakha Dzong is a magnificent fortress that was the capital of Bhutan until 1955. It was built in 1637 and was named as Pungthang Dechen Phodrang (Palace of Great Happiness). In 2011 the royal wedding was held here. Then we'll travel on to Thimphu, Bhutan's capital. Perhaps the only world capital without traffic lights, Thimphu keeps many of its traditions rather than adopting modern ways. In this case, they prefer traffic circle cops to the electric lights.
Day 9 - Thimphu Sites and Paro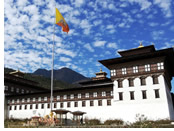 Today the tour includes visits to a variety of types of sites- religious, political, intellectual, and commercial. The Memorial Chorten is a Tibetan-style shrine and a place of devotion for Buddhists. The Handcrafts Emporium is the market where you'll find locally made crafts and souvenirs. We'll also visit the mini Zoo to see the national animal, the Takin, which appears to be half goat and half cow.
After lunch, we'll visit a traditional (indigenous) hospital to see how traditional medicines are made. In the late afternoon, we'll drive down the valley to Paro and our hotel, which is close to the international airport.
Day 10 - Departure
From Paro airport, you can fly to Bangkok and connect to other parts of Asia or return home. Happy travels!